5 Reasons to offer Online Booking for your Salon and Spa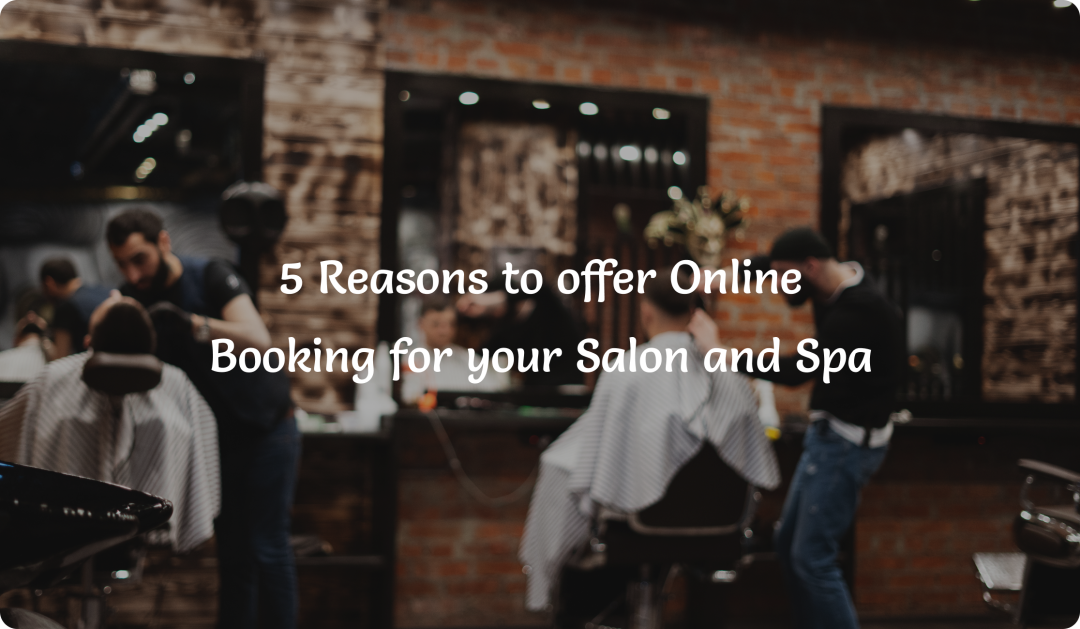 Running a salon business has significantly changed over the last decade. From paper and pen appointments to the click of a digital button, times have evolved dramatically. Besides being a potent advertising and promotion platform, the internet is being leveraged on as an active business platform. Salon and spa owners have introduced online booking software to drive customer loyalty, engage with customers and make operations easy.
Did you know? 35% of clients prefer scheduling appointments during non-business hours. Also, 25% of millennials only take appointments using salon booking software. 30% of clients get frustrated when the call does not go through to the salon/spa.
If you really want to carve a place for yourself in the competitive salon and spa ecosystem, salon booking software is the way to go.
We've discussed 5 reasons why a salon and spa must ditch the appointment register for online booking software:
Accessibility:
Every customer desires a seamless appointment booking process. In today's busy world, no one has the time to wait for the salon receptionist to answer the phone, and take down the details. A continuously busy phone at a front desk can make the client feel frustrated. They might change their mind, and choose another nearby salon for a particular service. Offering poor customer experience can build a negative image for your salon. With salon booking software, you can fully automate your appointment bookings. The business hours of your salon may be only eight hours, but with an online booking system, you are available 24/7. It gives your clients the ease to take appointments at their convenience. It also prevents any miscommunication that usually occurs with phone-based appointments. Online booking also gives customers the liberty to choose appointments that fit their schedules.
Immediate access to salon and spa menu:
When a client takes an appointment online, they have immediate access to your salon and spa menu. This would have not been possible if your salon bookings were limited to phone appointments. Many clients find it embarrassing to keep asking the receptionist for the prices of various services. The kind of services you offer also builds the credibility of your salon/spa. An online spa or salon menu gives the client immediate access to your treatments, the description, duration, various packages, and prices. Based on their budget and need, they can choose from basic and premium hair and nail services. With a phone appointment booking process, the client may not know the various categories for every service and may end up being booked for the most expensive service. Thus, with salon booking software, your clients have access to everything your salon or spa has to offer.
Appointment reminders:
One common problem most salons face is no-shows. When clients miss their appointments it affects the business. Besides keeping the stylist waiting, it also increases unproductivity. The perfect way to deal with salon no-shows and appointment cancellations is by implementing salon booking software. Since clients have to leave their names and phone number while scheduling their appointment, it becomes easier to contact them via text message and emails. Sending out automated appointment reminders to clients reduce no-shows by up to 70%. Calling each and every client to reconfirm their appointment can be a time-consuming process. The time used to call clients can be instead devoted to increasing the visibility of a salon or spa on social media platforms and the internet in general. Making phone calls to remind clients can be annoying to them as well. In case they do not take the call, the receptionist may decide to call the next client on the list, and may altogether forget about the first client. Thus, to save the person at the front desk from being bad-mouthed by clients and stylists, every salon and spa should implement salon booking software.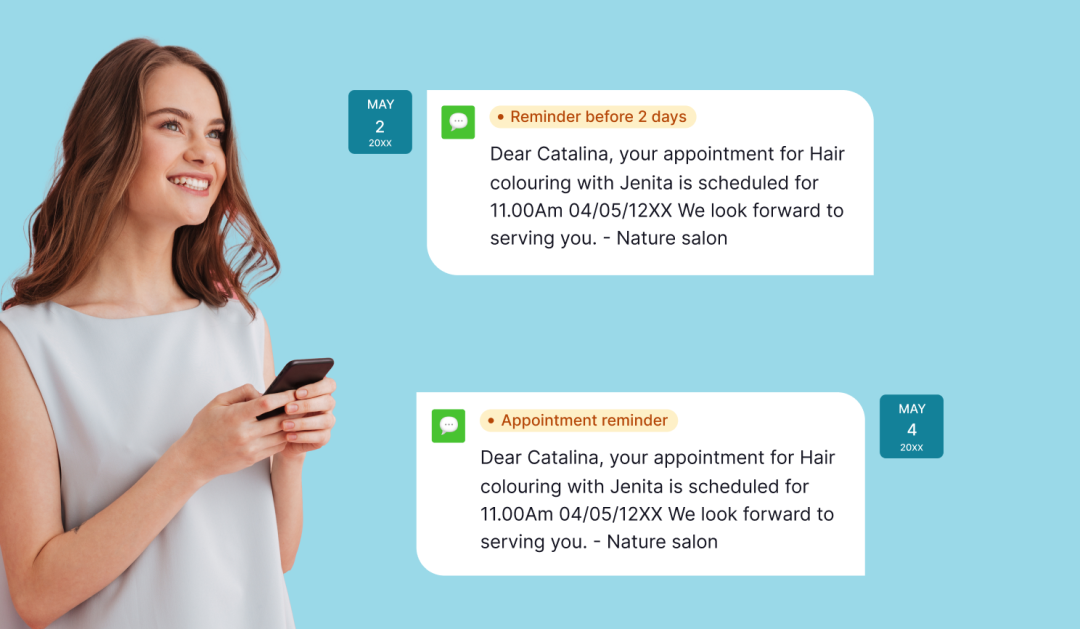 Bookings through Facebook & Instagram:
The best part of the internet age is that the possibilities are limitless. You can engage with your on almost any platform. Today, social media is an important part of every individual's life. It almost shapes our daily actions. That being said, a salon or spa can effectively leverage on clients social media to schedule client appointments and bookings. Each time you post a picture in your #clientdiaries album, you can provide the online booking link that will immediately redirect users to the salon booking software where they can schedule their next visit within few seconds, in a hassle-free manner, at their convenience and without any assistance. Sounds good, right? Customers love it when their favorite salon or spa makes things easy for them. With things becoming simpler, clients find it a pain to find the phone number of a salon and make a call. When you have your online booking link everywhere, you'll instantly start seeing a boost in your daily appointments.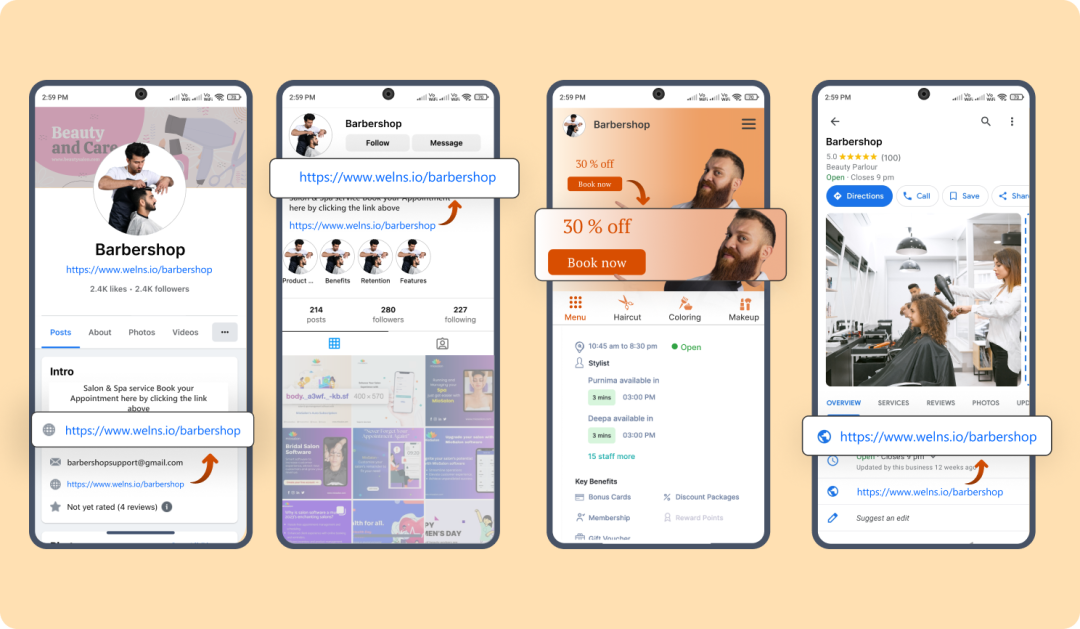 Feedback & Referrals:
Satisfied customers are nothing but unpaid advocates for your business. After your clients avail of their services, encourage them to post positive reviews of your salon and spa on your social media pages and salon booking software as well as their social media. New clients are more likely to check out your salon or spa when they see positive reviews from fellow clients. Since they are real reviews, they know they can trust them. Over a period of time, a large number of reviews will show how liked you are by your clients. This also builds the reputation of your salon and spa in general. Besides written reviews, urge your clients to post pictures and videos of their hairdos, nail art, haircut, blow-dry or anything else. With salon booking software, you can redirect and filter all the positive reviews to your website and Facebook page.
MioSalon, the salon booking software, is a powerful tool used by thousands in the hair and beauty industry. As you can see, the pros of an online booking process definitely outweigh the traditional appointment-taking process. If you would like to know how MioSalon will redefine the online booking experience, request a demo.