Grow your Salon Business with Salon Offer Messages Templates

Running a successful salon business is fun and exciting but it requires more than just providing quality services and having a stunning ambiance. It also involves ensuring a steady flow of clients to keep your chairs and cash registers busy. But with the increasing competition in the beauty industry, it can be challenging to stand out and attract new customers.
Effective salon promotion messages can help with that. You can grab potential customer's attention and keep them interested in your brand by creating messages that are captivating and engaging. Never undervalue the effect of no-shows or cancellations; they can cost your company thousands of dollars annually, which can have an influence on your revenue.
But now, thanks to the power of SMS marketing, you can reduce your salon no-show rate by more than 30% with Salon Offer messages. While the cost incurred of sending a text message is low, the returns are high. Besides being the most effective and quickest way of reaching out to a client, it is also a potent marketing tool for a salon.
Table of Contents:
Salon Offer SMS & Salon Text Message Marketing
Benefits of SMS marketing for Salons
3) How to write Salon & Spa Promotional messages
5) SMS marketing for Hair Salons
7) Feedback after appointments
Salon Offer SMS & Salon Text Message Marketing:

Salon Text message marketing can be used to boost sales, confirm appointments, attract new customers, interact with clients and offer top-notch customer service. Most salons wonder if SMS marketing actually works. Here are a few statistics:
➢ 98% of text messages are read within minutes of receiving them.
➢ 30% of consumers interact with brands via SMS.
➢ Text messaging is the largest mobile marketing channel by revenue.
Keeping this in mind, it is true that SMS marketing is the best way to create an identity for your salon.A Salon management software gives you the ability to send and receive text messages within minutes.
We have discussed a few benefits of SMS marketing for Salons:
1) Appointment Reminders:
In today's hyper-paced world, life can get busy and everyone is subject to forgetting. People may forget an appointment they may have taken a week ago. While they may take it lightly, it costs your salon greatly. Client no-shows increase administrative costs significantly. Sending appointment confirmation messages via SMS is the best way to deal with this.Two-way text messaging makes it easy for a salon to send appointment reminders as well as help clients confirm, cancel or reschedule appointments.From a salon's point of view, it improves productivity as well as profitability. Below we have highlighted two Appointment Reminder.
Message templates for Salon & Spa:
➢ "Hey <client's name>! Just want to remind you of your upcoming appointment at <salon name>tomorrow evening at <time>.In case you wish to cancel, call us at <phone number>.See you soon."
➢ "Hey <client's name>, we can't wait to see you tomorrow at <time> for your <service>. Reply to this text message with 1 to confirm or 2 to cancel your appointment. Have a great day."
When sending your clients appointment reminders, always address them by their name. When sent via the salon management software, it will auto-detect the client's name. Always send the reminder 24 hours before the appointment. This gives the client enough time to reorganize their schedule in case they have forgotten about it.
2) Automated scheduling:
Most salon managers find text messaging a pain because they think they need to manually send individual messages to every client. Well, not anymore. By integrating SMS into your salon management software, you can automatically send reminders, text messages, salon offer messages, or discounts to your clients at a set threshold.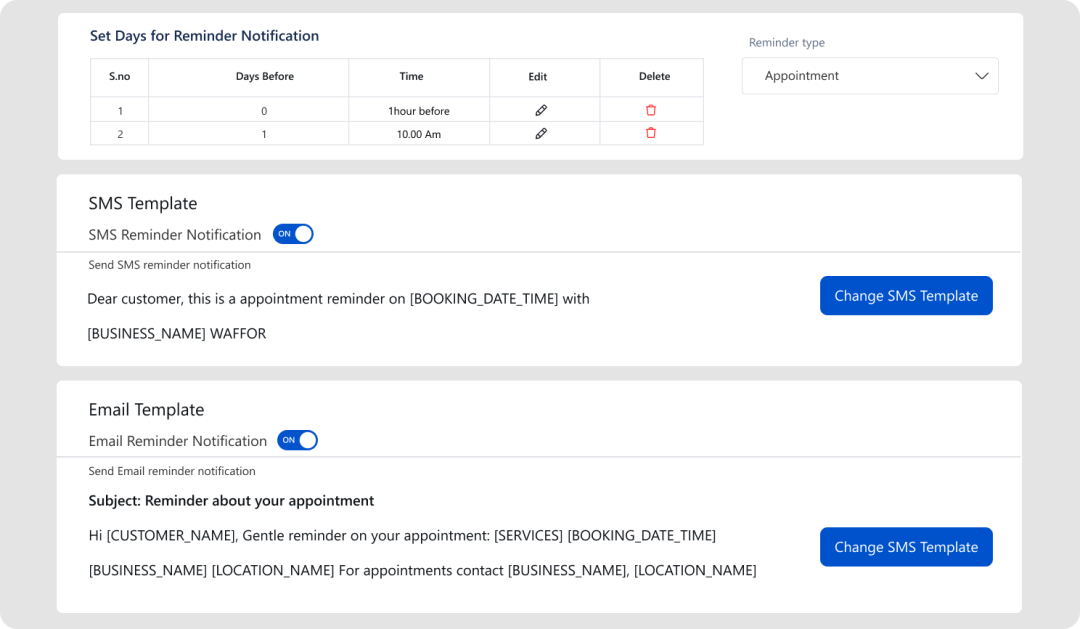 3) How to write Salon & Spa Promotional messages:

Once you have sufficient data on your clients and their preferences, you must start sending them promotional text messages and also promotional emails. You can analyze the appointment history of your clients on the salon management software and understand what services they avail of from you the most. For instance, if you have a client who gets their hair colored every three weeks, send them a text message reminding them it's time for their root touch-up. If you are feeling generous, you can also offer them a tiny discount.
The Best Salon Offer SMS Message example is – "Hey <client's name>! We at <salon name> thought you would enjoy 10% off on your next hair coloring service." Sending targeted promotional messages to your Salon clients increases customer loyalty. Clients are more likely to visit your salon when they know you care about the services they avail and their overall well-being.
4) Special occasions:

Birthday marketing will make your salon business alive. This is the time when you should capitalize on the moment and attract clients whom you haven't seen in a while. Sending out an annual SMS and email to your clients on their special day will make them truly happy.
The simple & effective Birthday wishes SMS template for Salon Clients – "Happy Birthday, <client's name>! Drop by <salon name> to celebrate your special day and get 20% off on a service of your choice."
5) SMS marketing for Hair Salons:
Whether you want to advertise new services, draw traffic to your website or engage with customers, SMS marketing is a great idea.Offering weekly beauty tips increases your spa's reputation of having expert staff. Add value to your Spa promotion messages and use this as an opportunity to expand your customer base too. You can also use SMS marketing as part of your referral program for Salon & Spa. For example, salon text messages – "Share this message with your friend, and reply to this message to get a free blow-dry at <salon name>."
6) Return customers:

An important group of customer segments every salon must target is its first-time clients. These are the people whom you will want to see in your salon often. If you want to see them return, send them text messages. On your salon management software, you can filter your frequent clients from your new clients, and create an SMS template to send only the latter. Few Salon promotion messages you can send to this segment include:
➢ "We miss you! Schedule an appointment in the next 24 hours at <salon name>, and receive a complimentary blow-dry".
➢ "We haven't seen you in a while, and would love to see you. Book an appointment today, and receive a complimentary gift from <salon name>."
7) Feedback after appointments:
Another way salons can take advantage of SMS marketing is by asking their clients for feedback.Once a client leaves the salon premises, send them an SMS asking them to rate your services. Most clients would prefer rating your services rather than giving a long-tailed testimonial. Encourage customers to complete the surveys to access exciting rewards. Your request for feedback message can read something like – "Hope you are happy with our service. Please rate your experience on a scale of 1 (extremely unhappy) to 10 (extremely satisfied). Thank you!" 
How SMS can be a Game-Changer for your Salon Business?
If you still have not leveraged the benefits of SMS marketing, it's high time you do.SMS marketing can be a game-changer as experts in the salon industry find text messaging a fool-proof and cost-effective way to be seen and remembered by clients. We understand the unique needs of the beauty industry and thus we help you harness the power of SMS marketing in your business.
Miosalon – The easiest way to manage your Salon & Spa