9 Client Text Messages you must automate on your Salon Software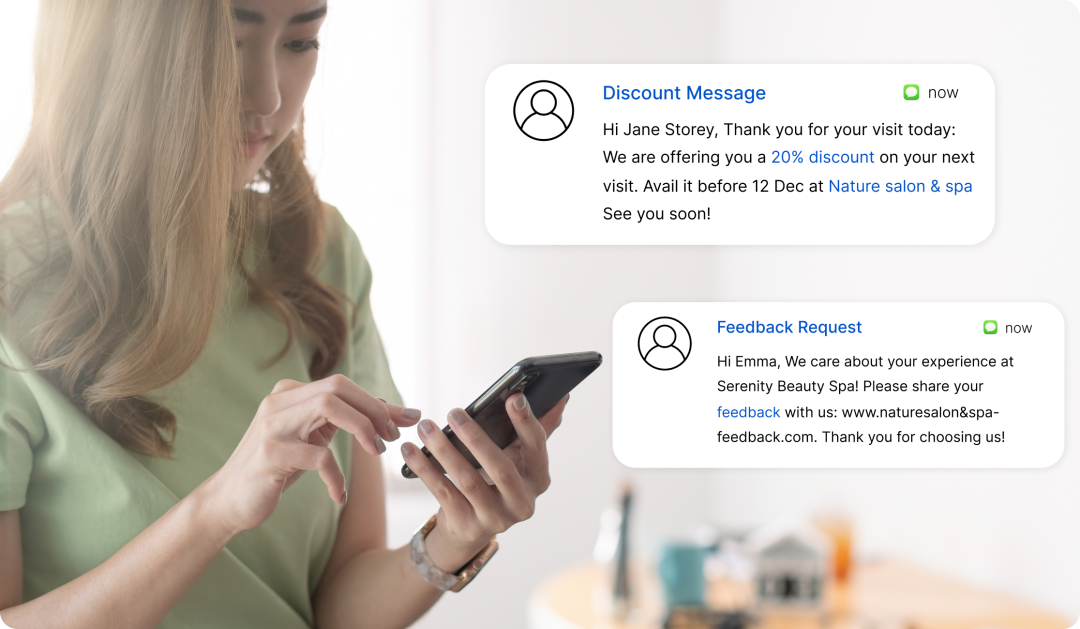 In the hair and beauty business, it is extremely important to maintain some kind of relationship with your existing clients. Whether it's following up with them or sending them discount vouchers, text message marketing for salons and spas is invaluable.
Studies suggest that sending out welcome messages frequently to clients not just increases client retention rate but also encourages repeat purchases. However, most salons and spas seem to be hitting the wall when it comes to creating these messages. Also, sending out these messages manually can be extremely time-consuming
If you're a budding salon or spa and are not too sure about the kind of messages you need to send your clients, we have you covered.

Table of Contents:
1. Welcome message for Beauty Salon
2. Ask clients to review your Salon
4. Thank clients for Referrals
5. After service care instructions
6. Product purchase follow-ups
8. Celebrate clients' birthdays
Welcome message for Beauty Salon
Most salons skip Welcome message; however, it is an important one. Remember, the first impression is the last impression. If you make your clients feel valued before they come in for their first appointment schedule, it can make all the difference.
Set up an automatic text message or email stating that you look forward to seeing them. Additionally, you could also include other relevant details such as where to park and what they can expect from their treatment. You could also ask them to arrive five minutes early before the intended time. Also, a good practice is to leave them with a thank you message after the appointment is over.
Ask clients to review your Salon
Your salon or spa is mainly thriving because of reviews. If someone stumbles upon a Google review of your salon, they're more likely to drop by for a service than otherwise. Set up a message on your hair salon software asking clients to write a review about your salon and its services along with a link to your review pages such as Facebook or Google. Positive reviews make users visit your Salon. If you want to encourage more reviews from your existing clientele, make their message a little more valuable. While you could offer them some loyalty points for leaving a review, you could also bribe them with a free nail polish application on their next visit.
Requesting feedback
Many salons often confuse feedback and reviews as one and the same thing. However, they're poles apart. Reviews help in getting your salon found on search engines while feedback helps you improve your existing services and facility. In the beauty business, client feedback matters. Most clients find it awkward to give you feedback face-to-face. The best practice is to create a questionnaire on your salon software or any other survey platform and send clients a text message along with a link. Make sure you frame your questions logically which will result in mostly positive feedback. If there is any negative feedback, it's a good time to work on them.
Thank Salon clients for Referrals
Word-of-mouth marketing is a powerful tool. So, if you have clients recommending your salon or spa to their friends and family, thank them for it. Every time a new client walks into your salon, ask them if they were referred by anyone and add this information to the client profile. This will help you send out thank you messages to the referrer. If your salon follows a referral program, you could include those details in the message as well. Such kind of marketing creates positivity.
After-service care instructions
It's important for salons and spas to provide clients with aftercare instructions, but many don't do it regularly. While it's necessary to give instructions in person, it's a good practice to also follow up with a message. This shows that you care about the client and encourages them to return in the future. To make this process easier, salons can use beauty salon software to set up instruction-based emails based on the service availed by the client. For example, after a special hair care treatment, an automated message can be sent with washing instructions and recommendations for the appropriate shampoo and conditioner to use. This will help clients avoid mistakes with their aftercare routine. Salon offer messages can also be set up to promote new services or discounts to encourage repeat business. By using salon software to automate these messages, salons can provide better service and increase client satisfaction.
Product purchase follow-ups
Upselling is an art and most stylists these days excel at it. You should definitely Train your Salon staff on Upselling. If your client has purchased a few products from you, it's obvious they'll be due for repurchase in the next three or four months depending on the quantity and frequency of usage. It is a good idea to automate an email on your beauty salon software asking them if they'd like to repurchase. If you've introduced any new products, you could include links to them as well which can lead them to your online store if you have one.
Remind Salon clients to rebook
Some clients are just lazy when it comes to rebooking an appointment. If you haven't seen a client in four-five weeks, send out a message reminding them to book their next appointment. If they still don't after that, you could even lure them using Salon Offer Messages with a 10% discount voucher or an add-on service. Since they belong to the lax segment, you must make it easy for them to book by including a link in your message to your online booking page on your salon scheduling software.
Celebrate clients' birthdays
Never forget to wish a client a birthday. Collect every client's date of birth and store it on your software. Create an email that contains a fun birthday greeting along with your logo and a discount coupon. Once you set up an Email campaign for your Clients' birthdays, all your clients will receive this message around their birthday in a personalized format. This is a great way to delight your clients.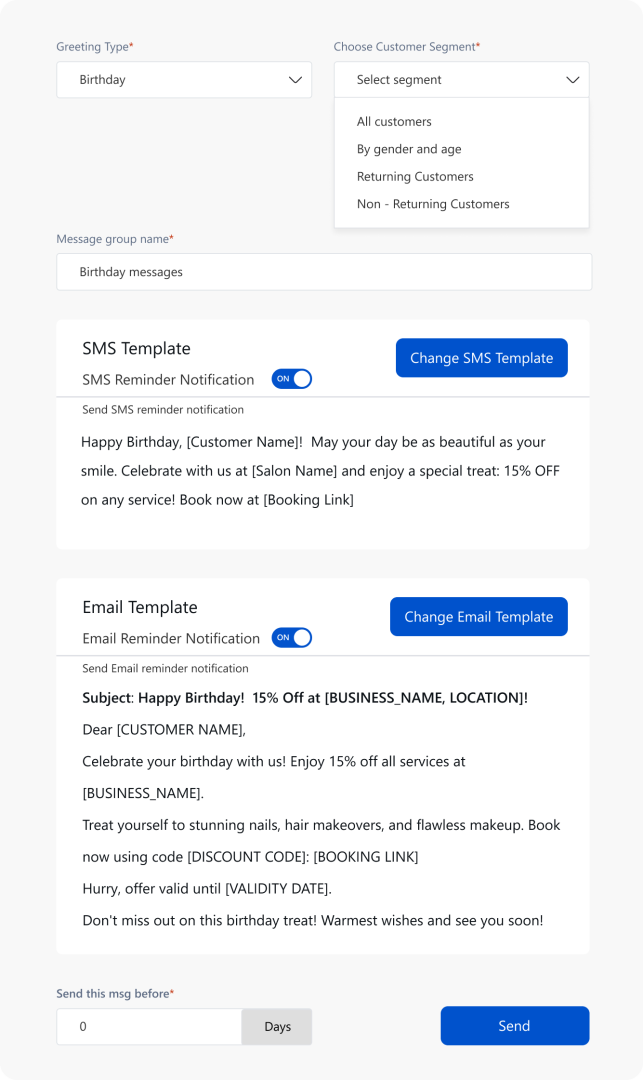 Contact inactive clients
Use your hair salon software to see who the clients are who haven't visited in a while. Reengage lost clients with a friendly message and state that you've missed them. Only to urge them to book an appointment, you can include your booking link. You could also include an incentive to book such as a discount coupon that they must use within the next few days. Your clients might also be dissatisfied with your service. Identify your dissatisfied clients and turn them into bookers again. A deadline creates urgency and encourages clients to act quickly.
If you are looking for salon software to automate all your text messages, MioSalon is at your service. Be mindful while creating text messages as sending them out often can hamper your relationship with clients or urge them to opt out of receiving your messages in the near future.