Beauty Salon Rules and Regulations: The Complete Guide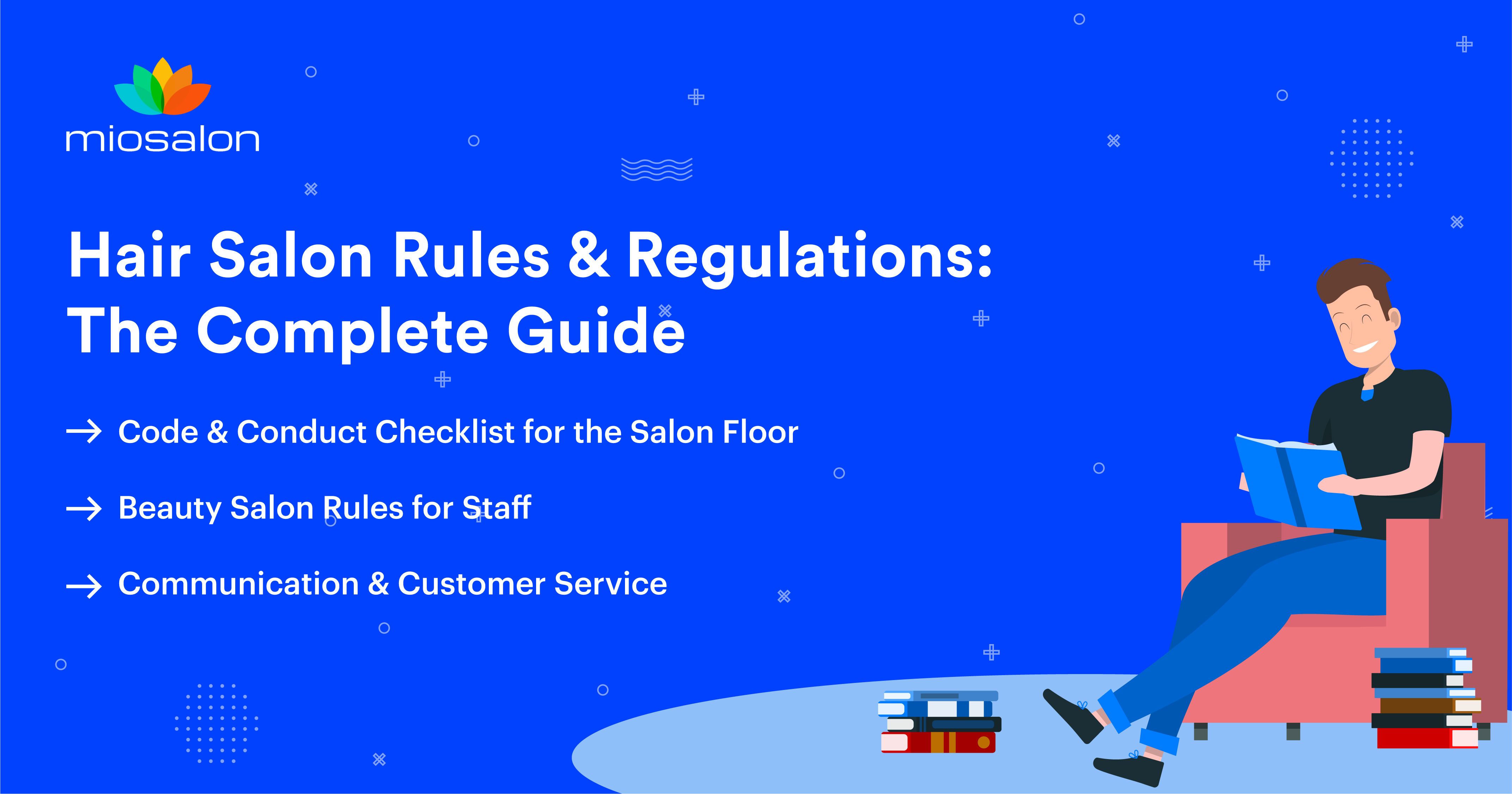 Customer service standards exist in every industry and the beauty salon industry is no exception. Every entity has certain Salon Rules and code of conduct to comply with. Whether it's an unwritten set of rules or a verbal set of instructions communicated by the salon owner to the staff, regulations are certain procedures that lay the foundation of a salon's standard.
Imagine, if your salon, spa, or beauty business had absolutely no rules or norms, your staff would behave as they wished. This will not just hurt your salon business but will also result in you losing clients regularly. If you don't want this to happen, now is the time to enforce Salon rules for employees. 
Table of Contents:
Code & Conduct Checklist for the Salon Floor
Beauty Salon Rules for Staff: Checklist
3. Provide Working instructions
Salon Rules: Communication & Customer Service
Code & Conduct Checklist for the Salon Floor
Depending on the type of beauty salon you own and the location, the rules of the salon vary. However, these are certain generic procedures every beauty establishment must follow on their salon floor.
Sanitation
1. Sanitation in a beauty salon should be of utmost importance in Salon Rules. Each day, there are dozens of people moving in and out of your salon which means proper cleaning and storing of supplies and equipment is imperative. A salon owner must set the standard of sanitation and encourage employees and stylists to practice washing hands after every appointment, disposing of one-time-use supplies, and disinfecting reusable tools. 
2. Hold regular meetings to teach your team how a salon can be regularly sterilized and disinfected. Ensure proper storage of tools and equipment and sanitary condition of every workstation. 
3. Besides the salon floor, the restroom should also be maintained. Ensure it is cleaned after every use, sufficient tissues and handwash liquid is available and running water is at all times.
4. Brushes, combs, razors, and scissors must be disinfected frequently. Also, if any service requires a towel to be used, make sure a fresh one is used. Besides this, hair wash sinks and floor mats must be sanitized regularly. 
Health and safety regulations in a salon also include dealing with hazardous chemicals, which will come under Salon Rules as well. Make sure your salon is properly ventilated. Store flammable beauty products in a place that is cool and dry where no spillage is prone to occur. Make sure all supplies are adequately capped in between uses. 
Licensing
To open a beauty salon, you need a business license to operate. Make sure you secure all certifications from health inspectors and the building where your salon is located. Also, make sure all your stylists and cosmetologists have their licenses in hand at all times. Whether an employee specializes in hair, nails, or skin, they must be properly certified. Failure to execute a procedure accurately can land your salon in a soup. Therefore, test the skills of every stylist or technician before you hire them. One glitch in a procedure may pull the shutters down of your salon forever.
Beauty Salon Rules for Staff: Checklist
As a salon owner, it is your duty to lay the salon rules for employees. More than just writing the rules on paper, they should be communicated to them during meetings. This is the only way to ensure they are actually followed.
1. Be on time:
Make sure every employee/stylist reaches work on time. A stylist should be prepared to serve a client even before he/she walks in. All the tools to conduct the procedure must also be laid out. 
2. Staff Appearance:
No one wants to be greeted by an unkempt stylist. Remember, a client is about to trust your employee with their hair and skin. They would feel rest assured if their stylist or technician is someone who looks and behaves professionally from head to toe. If your salon has a specific uniform, make sure employees wear it on a day-to-day basis. It should be thoroughly ironed as well. As a salon owner, you also need to lay the rules of what's permissible and what's not. Tell your staff the gestures and mannerisms that are allowed and teach them the basics of hair and makeup allowed in your salon.  
How To Choose The Perfect Salon Staff Uniform & Its Importance
3. Provide Working instructions:
A salon owner must tell every administrator, professional, client manager, and specialist, the operating procedure of his/her role. There should be no confusion in that whatsoever. Also, make sure stylists keep their phones away during work especially while servicing a client. Only in case of an emergency, they should take an important call. Also, teach them how to engage in light, positive conversations with the client in the chair. At all times, they must refrain from using bad language or swear words. Also, every employee must be trained to be realistic as to what they can do. No false promises should be made to a client. 
Salon rules and code of conduct do not just apply to the employees and the overall business. There are certain instructions that need to be followed when communicating with a client and addressing customer service issues as well.
The appointment booking process of a salon should be seamless. To provide customers with the best experience, consider using salon scheduling software. It is also a great way to get customers acquainted with your products and services, send out appointment reminders and offer a pre-payment option.  
Another important component of salon etiquette is communication with the client. Train your front-desk manager, employees and stylists to communicate in a clean and professional manner with new as well as existing employees. Whether it's answering calls, resolving conflict issues, conducting surveys, performing a consultation or answering questions, salon employees should always express themselves in a clear and concise manner. At no point in the process must they lose their cool or behave inappropriately with a client.
Salon rules are a mainstay in the beauty business. Ideally, every potential salon owner must draft the rules and regulations even before opening their business. When you have the rules written in black and white, it makes it easier for it to implement once you get down to doing actual business. 
In the beauty business, it is essential to improve day-to-day employee efficiency. Managing a salon can be a daunting task. The best way to enhance daily efficiency in your salon is by automating important processes and operations using MioSalon, salon software. It will not just help you structure your business, but also help in implementing salon rules and standards better. To get acquainted with the capabilities of the software, get a free demo here https://www.miosalon.com/signup.