Recurring Appointments: Bi-weekly Beauty Revival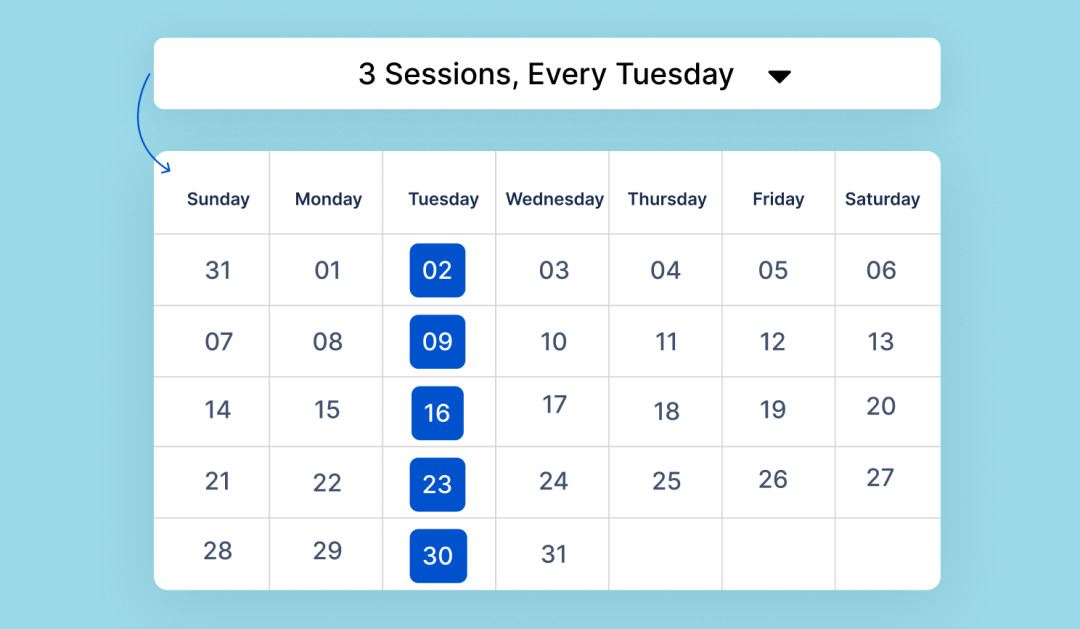 Imagine being a busy professional, exhausted from a long day, and stepping into a tranquil spa. She indulges in a heavenly massage and a rejuvenating facial, feeling the stress melt away. As she leaves, she schedules her next appointment, not just for one session, but for a series of delightful experiences. Welcome to the world of recurring appointments!
"The Essence of Repetition: Unveiling the Significance of Recurring Appointments"
Recurring appointments offer the convenience of scheduling multiple sessions in advance, tailored to your preferences and needs.
With MioSalon, you can customize recurring appointments to occur daily, every two days, every three days, or even on specific days of the week.
MioSalon scheduling feature allows customers to effortlessly book recurring appointments ahead of time, ensuring a seamless experience.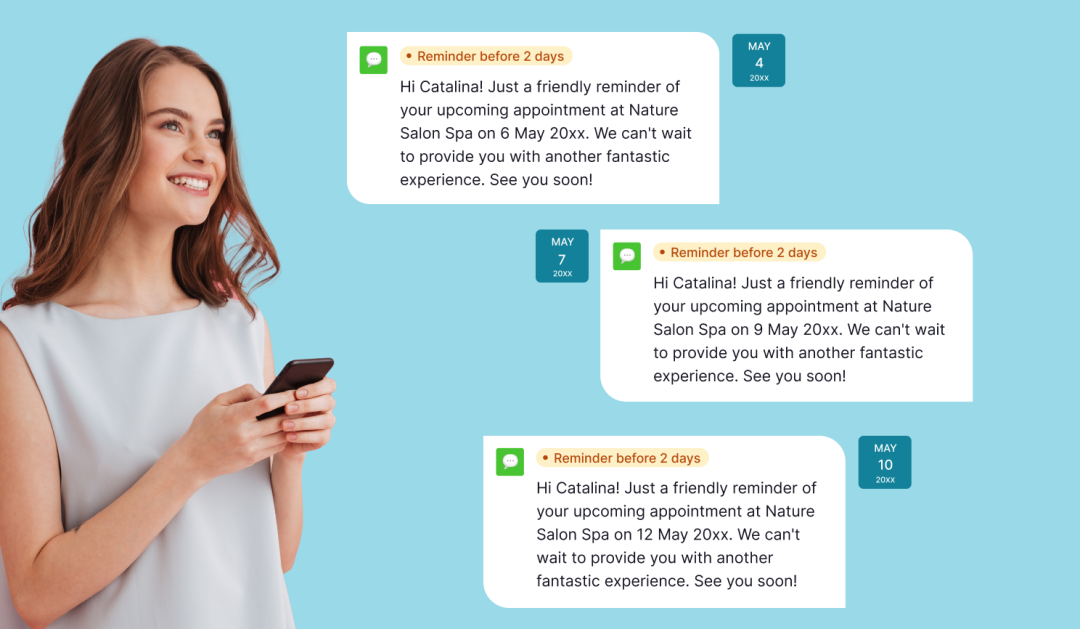 Illustration: Sarah, a regular spa-goer, books a series of weekly massages using MioSalon recurring appointments feature. She selects Mondays and Wednesdays for the next six weeks, guaranteeing her preferred time slots without the hassle of multiple bookings.
The Challenges of Not Having Recurring Appointments
Managing appointments on busy days can be challenging for both customers and salons.
No-shows disrupt the salon's schedule, leading to wasted time and revenue loss.
Tracking appointments manually becomes overwhelming, increasing the risk of errors and confusion.
Imagine a fully booked salon struggling to accommodate walk-ins due to no-shows. This leads to frustrated customers and a chaotic atmosphere, negatively impacting the salon's reputation.
MioSalon comes to the rescue by addressing the challenges faced by salon's and customers alike. Let's explore how MioSalon helps solve these problems.
MioSalon offers automated reminders, eliminating the need for manual calls or messages. It enables spas to schedule multiple appointments in advance, ensuring efficient management.
Example: Lisa receives automated reminders for her monthly facial, reducing the chance of missed appointments. For instance, if she has an appointment on Monday at 12 pm the Miosalon can automatically send the reminder on Saturday at 12pm, Sunday at 12 pm, and Monday at 9 am.
Minimizing No-Shows: Preventing Missed Appointments with MioSalon Automated Reminders
Last-minute cancellations and no-shows can positively impact business revenue and save time and resources.
MioSalon sent automated reminders via email and SMS, prompt clients to confirm or reschedule appointments in advance.
This initiates a fair cancellation policy, reducing revenue loss and ensuring maximum appointment availability.
Example: John receives a friendly reminder from MioSalon a day before his haircut appointment. He confirms his attendance, preventing a potential no-show and allowing the salon to manage its schedule and provide timely services efficiently.
Customized Bliss: Personalized Recurring Appointments
MioSalon empowers salons to personalize services based on clients' preferences, moods, and availability.
Customers can choose specific treatments, therapists, or variations in their recurring appointments.
This personal touch enhances the overall experience, making clients feel valued and pampered.
Illustration: Emma, a client using MioSalon, customizes her recurring appointments with specific treatments, therapists, and availability. Each session is tailored to her needs and preferences, ensuring a personalized and enjoyable spa experience.
To set up a recurring appointment in MioSalon, you can use the following steps:
1. Click the Appointment menu from the left navigation bar.
2. Click Add New dropdown menu in the top left corner. You can also click anywhere on the calendar to pick a time slot for creating a new appointment.
3. In the New Booking screen, click the drop-down Recurring/Does not Recur. or Repeat/Does not Repeat.
4. Enter the frequency and visit time end duration.
5. Click Save after adding services, staff, and other details.
Conclusion
Recurring appointments offer a multitude of benefits for both customers and salons. They provide the opportunity for multiple sessions, reduce no-shows, enhance client engagement, boost customer satisfaction, and strengthen the success of the spa business. With MioSalon intuitive features, the journey to beauty and wellness becomes a delightful and stress-free experience. Embrace the power of recurring appointments and unlock a world of beauty revival!