Unleashing the Power of MioSalon: 9 Strategies to Optimize Time Management in Your Salon
Managing a salon is not a cakewalk. It involves several tasks that demand time and attention. However, with technology like MioSalon, you can turn the tables in your favor. MioSalon is an all-in-one salon management system that can help optimize your time and automate your daily tasks. This article highlights nine strategies to leverage the power of MioSalon and boost your salon's productivity.
Tip 1: Utilize Online Booking
Problem Statement: The conventional method of booking appointments through phone calls can be time-consuming and burdensome for both the salon staff and the clients.
Benefits:
Facilitates convenient and immediate bookings for clients.
Relieves the front desk staff from answering endless calls.
The front desk can utilize saved time for other productive tasks.
For example, let's assume your salon receives 30 appointments daily, with 60% booked online. This translates into saving considerable time that would otherwise be spent on handling phone calls.
Time-saving illustration: Suppose each booking call lasts about 5 minutes, 18 calls (60% of 30) would take 90 minutes. Therefore, using MioSalon' online booking, you save about 90 minutes a day.
Tip 2: Optimize Staff Scheduling
Problem Statement: Managing staff schedules manually can lead to confusion, resulting in overlaps or clashes in appointments.
Benefits:
Simplifies appointment scheduling to just a few clicks.
Reduces the cost of paper-based bookings.
Enables recurring appointments, saving time on repeated bookings.
For instance, a front desk staff using MioSalon can create appointments for multiple days in a few clicks.
Time-saving illustration: If it takes 10 minutes to manually schedule an appointment, MioSalon reduces this to merely a minute, saving approximately 9 minutes per booking.
Tip 3: Automate Appointment Reminder
Problem Statement: Manually reminding clients of their appointments can be tedious and time-consuming.
Benefits:
Automatic reminder calls/emails save time and effort.
Reduces the risk of missed appointments and no-shows.
Enhances customer experience with timely reminders.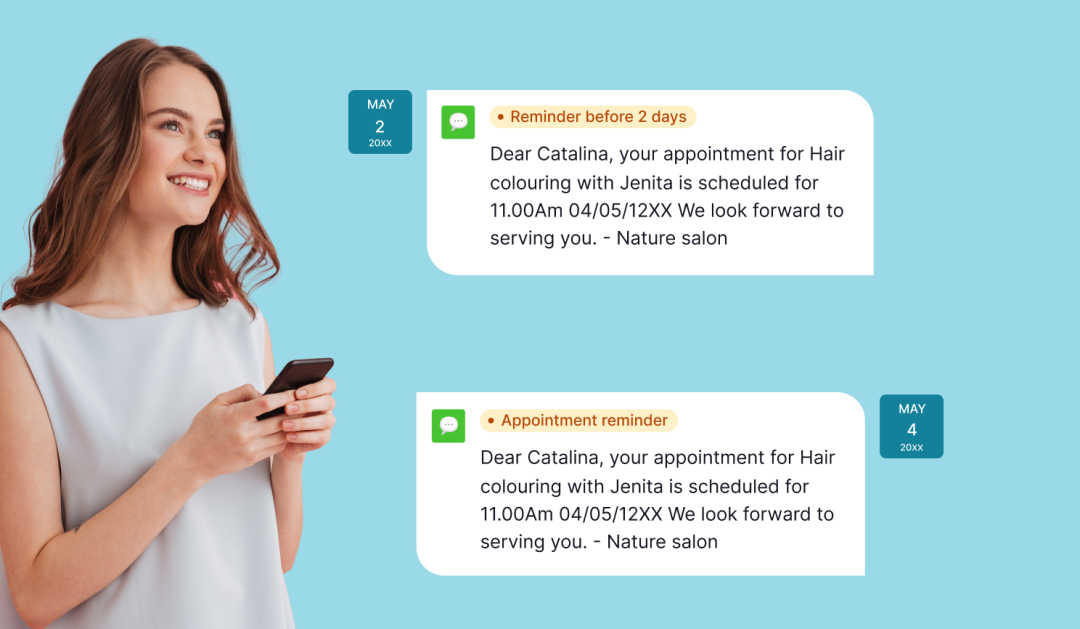 For example, with 2000 clients to manage, the system's automatic reminders can save enormous time compared to manual calls.
Time-saving illustration: If a reminder call takes 2 minutes, for 20 reminders a day, you save 40 minutes daily.
Tip-4 Service Reminders
Problem Statement: Tracking and reminding clients about their next service manually is inefficient and prone to errors.
Benefits:
Automates service reminders, saving staff time.
Increases client retention by timely reminding them of their next service.
Enhances client loyalty and repeat visits.
Suppose 25% of 2000 clients don't visit as expected, MioSalon can automatically remind them, saving considerable staff time.
Time-saving illustration: If each call takes 2 minutes, for 500 clients, it saves approximately 16 hours.
Tip 5: Commission Profile and Incentive Calculation
Problem Statement: Manually calculating commissions can be complex, error-prone, and time-consuming.
Benefits:
Automatically calculates commission for each service.
Allows custom rules for different services.
Saves time and ensures accurate incentive calculation.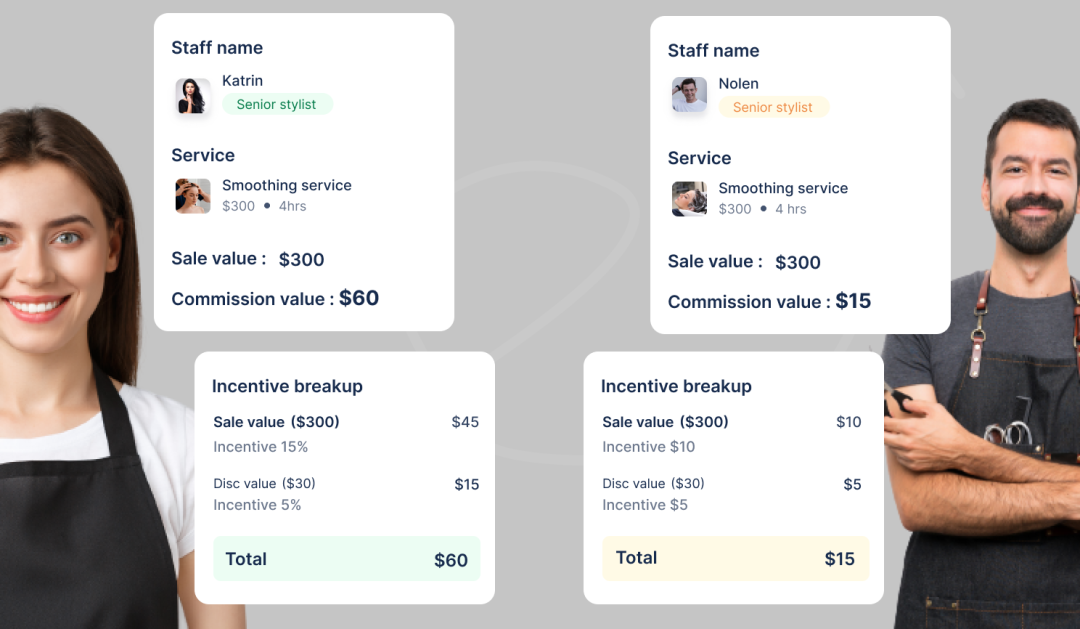 Time-saving illustration: Assuming it takes about 5 minutes to calculate a single staff's commission, for 10 staff, it's almost an hour. MioSalon eliminates this, saving around 1 hour daily.
Tip 6: 360 Client Data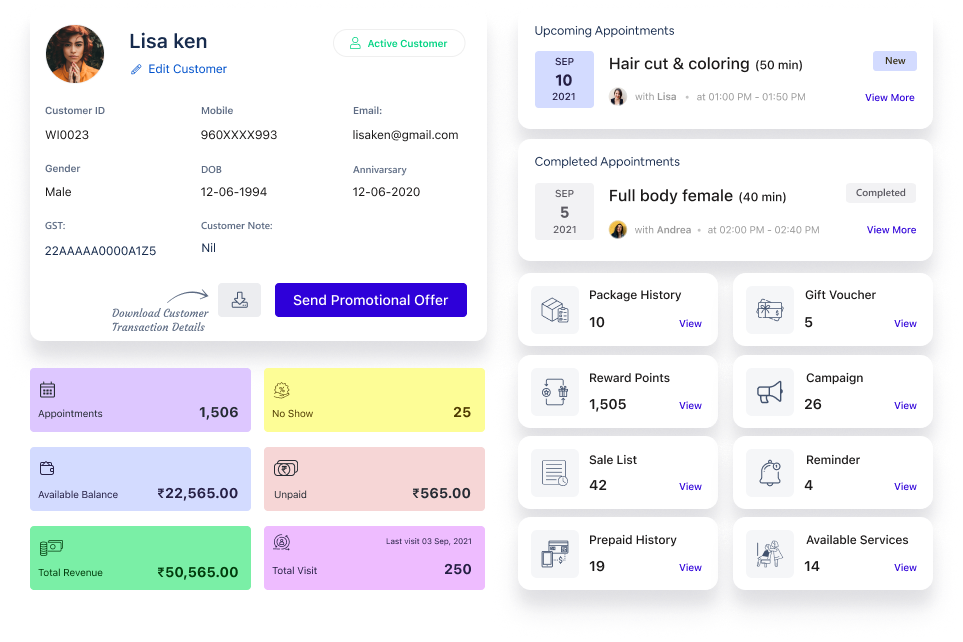 Problem Statement: Maintaining paper-based client records is cumbersome, and accessing the required information can be time-consuming.
Benefits:
Provides instant access to complete client history.
Enhances client experience by personalizing services based on past preferences.
Reduces time spent searching through paper-based records.
Time-saving illustration: Assuming it takes 10 minutes to retrieve and read through a paper-based client record, for 30 clients a day, you save 5 hours daily.
Tip 7: Customer Segmentation
problem Statement: Manually segmenting customers based on various parameters can be tedious and time-consuming.
Benefits:
Automatically segments clients based on service history, spend, gender, etc.
Helps in targeted marketing, improving campaign success.
Saves time spent on manual segmentation.
Time-saving illustration: If it takes approximately 5 minutes to segment one client, for a clientele of 2000, MioSalon saves around 167 hours.
Tip 8: Track Inventory
Problem Statement: Manual inventory tracking can be challenging and time-consuming, resulting in stockouts or excess stock.
Benefits:
Manages both retail and internal product usage inventory.
Automatic alerts for low stock levels.
Saves time spent on manual inventory tracking.
Time-saving illustration: Assuming it takes 30 minutes a day for manual inventory tracking, MioSalon saves 30 minutes daily.
Tip 9: Generate Reports and Analytics
Problem Statement: Compiling data and generating reports manually is time-consuming and can lead to inaccuracies.
Benefits:
Generates detailed reports for sales, customer experience, inventories, etc.
Saves time spent on manual report generation.
Time-saving illustration: If it takes 1 hour daily to generate and distribute reports manually, MioSalon saves 1 hour each day.
Try Miosalon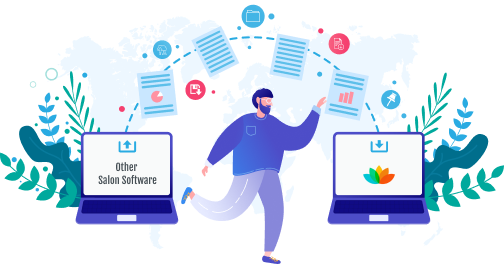 MioSalon is not just a salon management system; it's your partner in growth. It is designed to simplify salon operations, optimize staff time, and enhance customer experience. With MioSalon, you save time, money, and effort, leading to a more profitable and efficient salon business.
Conclusion
The essence of good salon management lies in the efficient use of time. With MioSalon advanced features, you can automate most of your routine tasks, saving considerable time and resources. By unleashing the power of MioSalon, you're not only optimizing your salon's operations but also paving the way for enhanced client satisfaction and business growth. Time saved is indeed money earned.