How to Increase Online Reviews for Your Hair Salon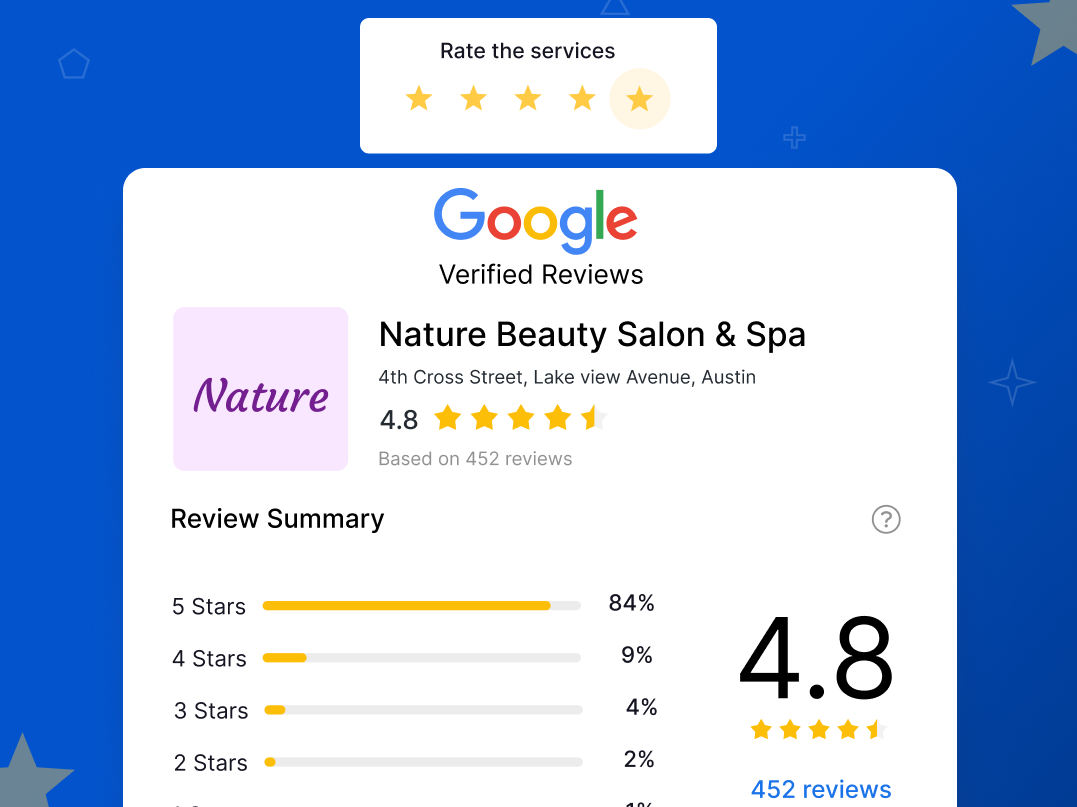 Introduction
In today's digital age, online reviews play a crucial role in shaping consumer decisions. Positive reviews can attract new clients and build trust in your hair salon, while negative reviews can deter potential customers. This article explores the importance of salon online reviews, platforms for reviews, strategies to increase reviews, the role of MioSalon software feedback system, and how it helps automate and enhance 5-star online reviews.
Why Salon Online Reviews Are Important?
Online reviews are a powerful marketing tool for hair salons. Statistics show that a significant percentage of clients check online reviews before visiting a salon.
Positive reviews can build credibility, influence purchase decisions, and boost your salon's online reputation. Platforms like Google prominently display top-rated salons, making positive reviews essential for visibility and attracting new clients.
List of Online Review Platforms
There are several popular online review platforms where clients can leave reviews, including Google, Yelp, Facebook, and specialized salon directories. Each platform has its pros and cons, and it's important to consider factors such as reach, user base, and credibility when choosing where to focus your efforts.
Comparison of Online Review Platforms:
| | | |
| --- | --- | --- |
| Platform | Pros | Cons |
| Google | High visibility, large user base | Reviews may be publicly visible, no control over content |
| Yelp | Trusted platform, extensive review features | Advertisements may overshadow organic search results |
| Facebook | Easy access for existing customers, social media integration | Limited visibility outside of Facebook ecosystem |
| Salon Directories | Targeted audience, focused on salon industry | Limited user base compared to general platforms |
How to Check if You Have a Good Rating?
Step 1: Perform a Google search for hair salons within a 3-mile radius of your location.
Step 2: Review the search results. Google typically displays the top three salons with high ratings.
Step 3: Assess your salon's reviews and ratings. Ensure that your salon has a substantial number of reviews.
Step 4: Compare your salon's average rating with that of your competitors in the area. Aim for an average rating higher than your competitors to stand out.
Step 5: Strive for consistent positive reviews to maintain a strong online presence and attract potential clients.
How to Ask for Online Reviews?
Step 1: Ask for Instant Feedback: Request feedback from clients while they are still at the salon. The likelihood of providing feedback is higher when the experience is fresh in their minds.
Step 2: Automate the Feedback Request: Incorporate feedback requests into your automated messaging system. This ensures consistent and timely requests for reviews.
Step 3: Identify Happy Clients: Determine if clients are happy by using your feedback form. If they provide a 5-star rating, immediately ask if they would be willing to leave a review on an online platform.
Step 4: Request Online Reviews: Provide direct links to your preferred review platforms, making it easy for clients to leave their feedback.
Step 5: Address Negative Feedback: If a client gives a 1 or 2-star rating, dynamically change the question sequence in your feedback form. Ask for more detailed feedback to understand what went wrong and how to rectify the issue.
Step 6: Use Dynamic Questioning: Have a feedback system that can adapt and change the question sequence based on client satisfaction. This allows you to gather specific feedback and make necessary improvements.
Remember, timing and convenience are key when asking for online reviews. By implementing these steps, you can effectively gather positive reviews and address any concerns from your clients.
How to Automate Online Review Requests?
MioSalon's salon feedback system streamlines the process of requesting online reviews. It enables you to automate review requests via SMS or email, making it convenient for clients to leave their feedback. Automation saves time and ensures consistent follow-up, increasing the likelihood of receiving more reviews.
Which Online Platform Should You Request Clients to Review?
Consider your target audience and the platforms they are most likely to use. Google is a popular choice due to its high visibility and wide reach. However, it's beneficial to encourage clients to leave reviews on multiple platforms to increase your online presence and diversify your online reputation.
Online Reviews as a Sustainable Marketing Asset
Online reviews are a long-term marketing asset for salons. Assuming a 25% client churn rate, positive reviews can help fill the gap with new clients. Consistently collecting reviews can contribute to a steady stream of new clients without additional marketing costs.
MioSalon's Salon Feedback System
MioSalon's salon feedback system simplifies the process of gathering client reviews. It integrates seamlessly with your salon management software, allowing you to automate review requests, monitor feedback, and enhance your online reputation effortlessly.
How MioSalon Helps Automate and Increase 5-Star Online Reviews
MioSalon, our salon management software, offers powerful features to automate and increase 5-star online reviews. Here's how MioSalon helps in achieving this:
Ask for Instant Feedback: With MioSalon, you can collect instant feedback from clients while they are at the salon. This increases the likelihood of receiving positive reviews when clients are most satisfied.
Automate Feedback Requests: MioSalon enables you to automate the process of requesting feedback. You can set up personalized email or SMS notifications to be sent after each appointment, making it convenient for clients to leave their reviews.
Identify Happy Clients: Our software allows you to identify happy clients who have provided a 5-star rating on your feedback form. You can then prompt them to leave a review on popular online platforms.
Address Negative Feedback: If a client gives a lower rating, MioSalon's dynamic feedback system allows you to gather more detailed feedback to understand and address any issues. This helps in resolving concerns and improving client satisfaction.
Customize Review Platforms: MioSalon lets you choose the online review platforms that best suit your salon. You can customize the review request to direct clients to your preferred platforms, maximizing your online presence.
By utilizing MioSalon's automation and feedback management features, you can streamline the process of collecting reviews, increase positive ratings, and enhance your salon's online reputation. Experience the benefits of MioSalon in automating and boosting 5-star online reviews for your salon business.
Conclusion
Online reviews have a significant impact on a hair salon's success. By implementing effective strategies, leveraging MioSalon's salon feedback system, and focusing on platforms with the most reach and credibility, you can increase your salon's online reviews, attract new clients, and build a strong online reputation. Join-MioSalon now