Top 50  Creative And Unique Salon Business Names In India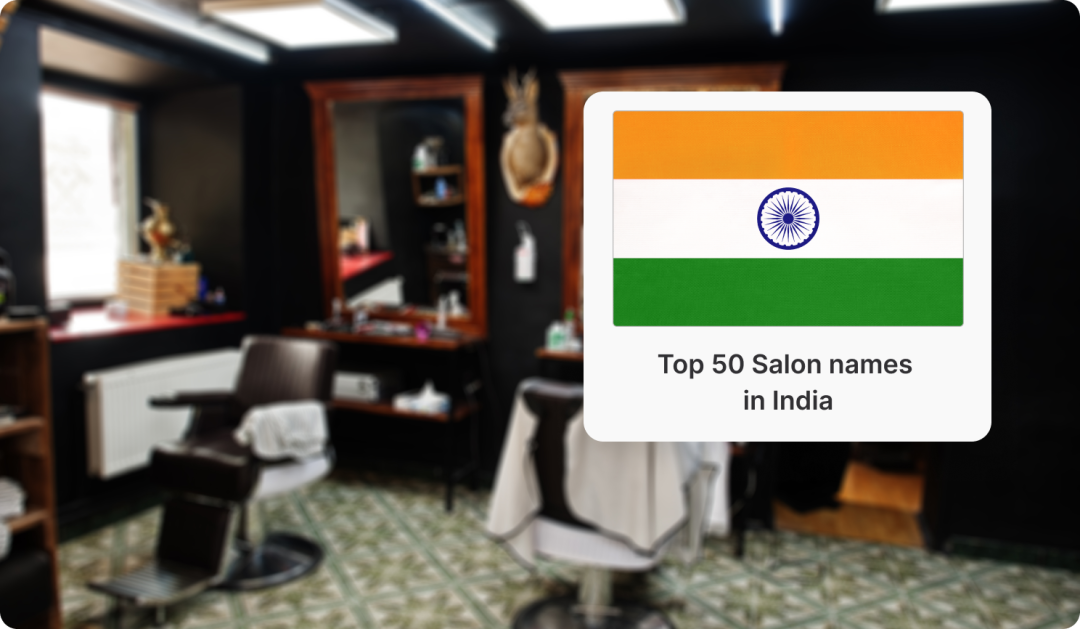 Are you prepared to launch your very own salon brand in India? or want to give your existing hairdressing business a fresh new look? The basic step is to figure out the right name for your brand. Whether your venture involves a salon, tanning studio, beauty clinic or nail art center, if you're struck with finding the perfect name that resonates with your salon, don't worry! We're here to assist MioSalon, a leading salon management software development company, guiding clients to make informed decisions for their businesses. In this article, we'll dive deep into finding the perfect unique Indian salon name that really fits your business's identity and style.
Importance Of Finding The Right Salon Name For Your Business
When a customer thinks of a salon, the first name that comes to mind holds paramount importance. Customers usually remember just a couple of salon names, even with many choices available. Creating the right name isn't just important; it's necessary. It should be unique, concise and easy to remember, which helps you stand out from the competition.
Here are the top 5 keys to the importance of salon names:
First Impression: Your salon name is the initial introduction to potential clients, influencing their perception of your business from the start.
Brand Identity: A well-crafted salon name establishes a distinctive brand identity, conveying your salon's personality and values.
Market Standout: A unique and memorable name helps your salon stand out amidst competitors, increasing recognition and recall.
Client Connection: The right name creates an emotional connection with clients, making them feel aligned with your salon's offerings.
Online Presence: An apt salon name enhances your digital visibility, making it easier for clients to find you online and engage with your services.
List Of 50 Indian Salon Name Ideas For Your Salon Business
Now you have a clear idea of the importance of perfect salon name for your business. Here's a list of 50 Indian salon name ideas that you can consider for your salon business.
| | |
| --- | --- |
| Name | Description |
| The Glam Room | Where glamour converges with impeccable beauty services. |
| Hair Haven | An oasis of comfort dedicated to lavish hair care. |
| Sassy Scissors | Embellishing trends with an infusion of style. |
| Flawless Beauty | A realm where beauty knows no blemishes. |
| Style Station | Your definitive station for all things chic and trendy. |
| Beauty Bazaar | A vibrant marketplace of diverse beauty odysseys. |
| Mane Mingle | A rendezvous for people to enhance their beauty bonds. |
| The Hair Hub | Your central hub for comprehensive hair care solutions. |
| En Vogue Salon | Redefining beauty through the prism of cutting-edge trends. |
| Lavish Locks | Embarking on a journey of opulent hair care. |
| Tress Trendz | Unveiling the latest trends and styles in hair. |
| The Makeover Studio | Transformative artistry creates complete makeovers. |
| Gloss & Glow | Radiant allure for an everlasting luminosity. |
| Mane Attraction | Captivating hair services that steal the spotlight. |
| Beauty Bar | A social haven for diverse and delightful beauty pursuits. |
| The Style Lounge | A fusion of comfort and style for the discerning. |
| Pure Elegance | Elevating beauty through the prism of refinement. |
| Chic Cuts | Where avant-garde style seamlessly meets chic cuts. |
| Sparkle Salon | Unleashing your inner sparkle through beauty indulgence. |
| Serene Beauty | Tranquility and beauty converge in harmonious treatments. |
| The Mane Event | Crafting indelible memories through transformative hair care. |
| Glamorous Grooming | Elevating grooming to the realm of glamour. |
| The Beauty Spot | Personalized care enhancing your natural allure. |
| Hair Harmony | Attaining equilibrium and serenity through hair care. |
| Salon Secrets | Exclusive, enigmatic, and extraordinary beauty experiences. |
| The Nail Nook | A sanctuary for flawless nails and pampering indulgence. |
| Elite Elegance | Where elegance intertwines with sophistication. |
| Trendy Tresses | Embracing the avant-garde in hair trends and fashion. |
| The Vanity Room | Luxurious indulgence in beauty's inner sanctum. |
| Crown & Glory | Celebrating the majesty of natural beauty. |
| Beauty Bliss | A blissful journey into the realms of beauty. |
| The Mane House | Where hair care finds solace and warmth. |
| The Style Suite | Luxurious seclusion for beauty's finest. |
| The Beauty Den | Intimate elegance for the discerning connoisseur. |
| The Glamour Lounge | Chic and glamour intertwine in a sophisticated setting. |
| Hairitage | A celebration of timeless hair traditions and legacy. |
| The Makeover Spot | Elevating beauty through transformative artistry. |
| Elegant Edges | Polished beauty and elegance at their finest. |
| The Beauty Bar | A social epicenter of interactive beauty escapades. |
| The Hair Haven | Where hair care intertwines with a serene sanctuary. |
| The Glamorous Room | Captivating glamour graces every corner. |
| Pretty Parlor | A charming haven for exquisite transformations. |
| Mane Mantra | Nurturing hair care through mindful and soulful practices. |
| The Style Sanctuary | Finding tranquility and serenity in style. |
| Beauty Box | Compact indulgence for comprehensive beauty seekers. |
| The Chic Studio | Where style marries sophistication. |
| The Hair Spot | Your destination for unrivaled hair excellence. |
| The Glamorous Gazebo | Luxurious allure within a unique setting. |
| Mane Majesty | Crafting regal and majestic hair creations. |
| The Beauty Boutique | Exclusivity and elegance in every treatment. |
Conclusion
Remember, a great name isn't just memorable; it's an invitation. In this list of 50 Indian salon name ideas, MioSalon ventured into the realm where creativity and elegance collide. These names encompass a variety of styles and themes, catering to different preferences for your Indian salon business. Choose one that resonates with your brand's identity and captures the essence of your services.