Ask these 5 Questions Before Choosing a Salon Software That's Best for Your Salon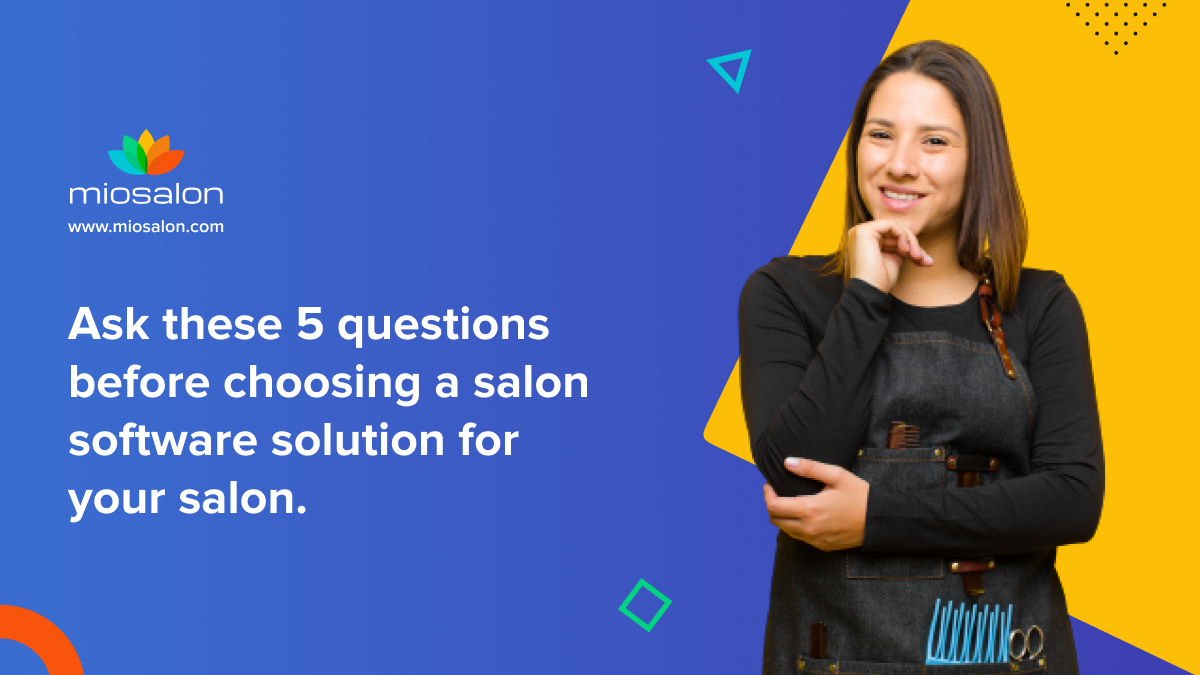 An efficient Salon Software can easily manifest every salon and spa owner's dreams of bringing a hint of automation to their daily operations. Whether it's simplifying the appointment scheduling process or ensuring the cash flow is maintained, Salon Booking Software does make life easier. With a plethora of options available, choosing the right one isn't the most straightforward task. Your competitor might suggest a spa software they are using. However, always remember, it isn't a one-size-fits-all deal. What might work for them may not work for you, and vice-versa. You must select a Salon Management Software that fits your business model and drives the results you wish to achieve.
Table of Contents:
5 Questions to Ask Before Choose the Best Salon Software
1. How long has the company been in the business?
2. Does the company offer technical support?
3. What level of security does the best salon software offer?
4. How much does the software cost? What value does it offer?
5. Is the software easy to use and user-friendly?
How to Choose the Best Salon Software?
To help you find the best spa management software, we've put together five essential questions you should be asking before investing in one.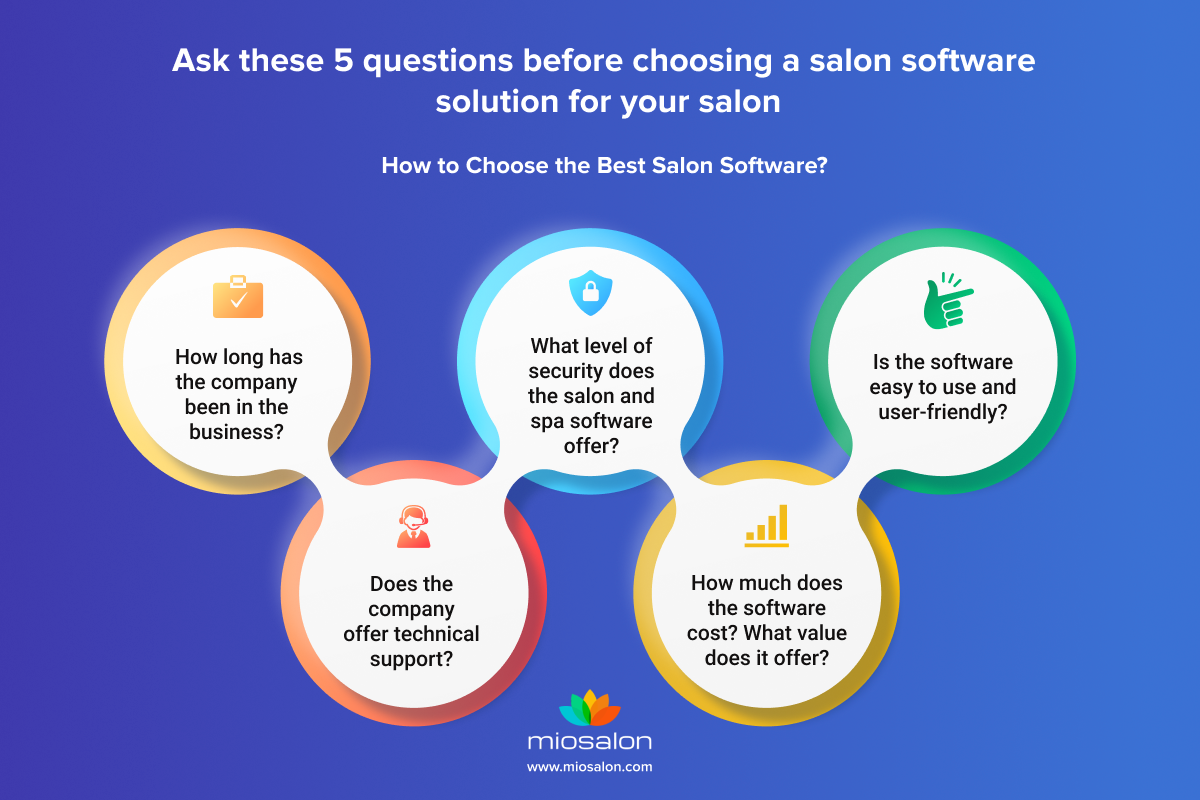 1. How long has the company been in the business?
It might be tempting to purchase Salon Software from a company that has just started its business since their inaugural offers may be exciting. Well, don't fall into that trap. Choose a company that's been around for a while and knows the tricks of the trade. Remember, you're not just getting the software because everyone's getting it. After a few months, it's going to become an integral part of your business. Therefore, it should be by a company that has served an industry similar to yours. Also, with an established company, there's less risk of losing critical business data.
2. Does the company offer technical support?
Before investing in salon management software, check the level of support available. What if you face any issues with your software and can't figure out what to do? It can be not very pleasant, especially if you have a client waiting. To avoid such situations, you should know the company's policy concerning technical support. Ideally, the Salon Booking Software companies offer round-the-clock support, which gives the business owner the liberty to call the concerned person in case of any doubt. Certain companies even provide a live chat option.
When you have technical support available, you can rest assured that your software will work even during downtime or internet connection failure.
3. What level of security does the best salon software offer?
The salon software you choose might have the best features, but it's of no use if your business security is going to be compromised. The software is going to be the heart of your business. You will be storing critical business data, client information, credit card numbers, and other confidential information. The last thing you'd want is to become a victim of digital threats and internet hackers. Therefore, do a background check on the level of security offered by the company. Ideally, the software should be SSL and TLS enabled. It should offer OTP verification logins and send out alerts in case of any unauthorized use. If the software meets these prerequisites, it is safe to use.
4. How much does the software cost? What value does it offer?
Though salon software is an investment and not an expenditure, it is important to keep cost and budget in mind. Since every company is different, the prices might vary too based on the features they are offering. We would suggest you shortlist a few options and choose the one that gives you the best price and the most value. If you have any questions regarding the cost, remember to ask. Also, make sure you examine if there are any hidden costs. Most Salon Management Software providers offer all-inclusive plans for three months, six months, or a year. Check which method suits your business best, and go for it.
Another thing to consider at this stage is free trials. This gives you considerable time to understand the accessibility, features, and user interface. If it matches your goals and budget, you shouldn't think twice.
5. Is the software easy to use and user-friendly?
When purchasing Salon Software, you have to keep all your staff members in mind. Not everyone may be as tech-savvy as you are. It should be smooth and easy to use. Whether it's making an appointment or completing a sales transaction, everything should happen at the click of a button without much effort. To get software that can perform basic functionalities with ease, look for responsiveness, an intuitive interface, and great speed.
Though some companies claim to have these features, they fail the actual test. A perfect way to gauge the workability of the software is by taking a demo or free trial.
One salon management software that ticks all the boxes is MioSalon. The forte of the software includes eliminating business challenges and making the daily operations on the salon or spa floor less stressful. While it meets the above criteria, it also offers additional resources to make it easier for you to run and manage your business.
To understand more about the capabilities of MioSalon Salon Software