25 Best Hairstylist Quotes to help you Attract and Acquire More Customers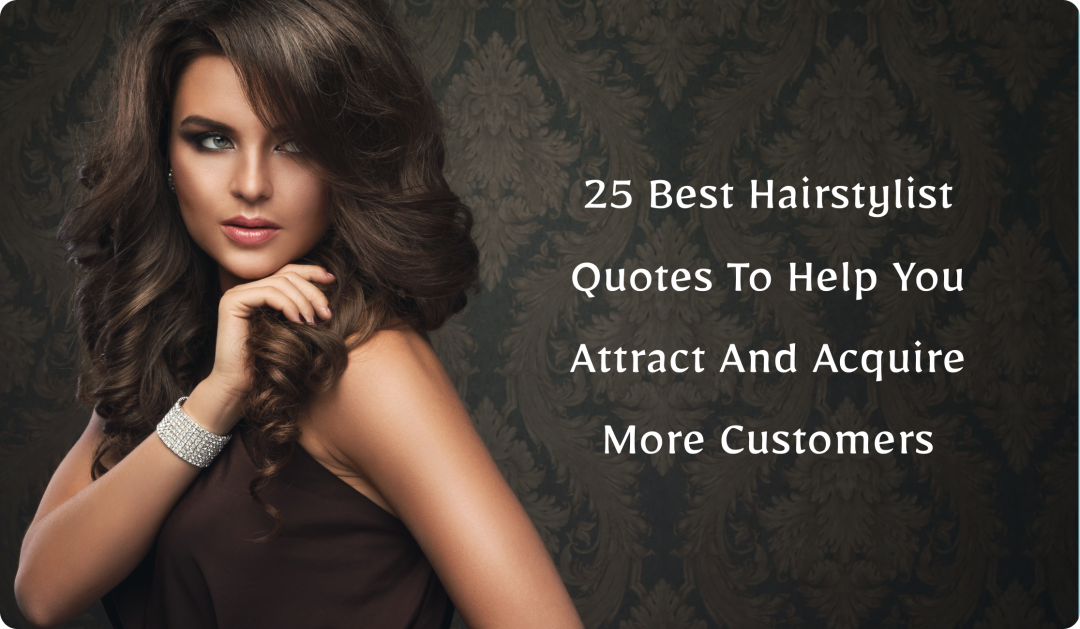 Whether you're a freelance hairstylist or someone working at a salon, you have to agree that attracting clients is a full-time job. With so much competition out there, what is it that makes you pretty-darn good? You are the one who can turn a bad hair day into a good hair day, but do your clients know that?
A perfect way to attract, inspire and acquire clients is by using creative hairstylist quotes and sayings. You can use them on your marketing material such as posters, flyers, and social media pages. It is really all you need to add a touch of finesse to your website.
It is also a simple way to differentiate yourself from your competitors. Besides connecting and engaging with your clients, hairstylist quotes can also be used to express your business values and sell your services with originality. You can add these quotes and sayings to offers, seasons, and trends.
tip for you: 25 Unique Salon Quotes For Marketing and Attracting New Clients
Positive hairstylist quotes create a connection between a hairdresser and a client. It is the key to establishing long-lasting relationships of trust. Thus, if you're looking to spruce up your space, add some oomph to your marketing messages or simply inspire your clients, we have some interesting quotes for hairstylists that you will love.
Here we've got some best quotes for hairstylists that you can use it to flaunt your skills across social media like Instagram & Facebook.
Here are 25 Best Hairstylist Quotes To Attract More Clients:
1. "Hairdresser: A magician who creates a hairstyle you can never duplicate"
2. "Invest in your hair, it is the crown you never take off"
3. "Everything feels better after a haircut"
4.
"The best hairdressers never stop learning"
5.
"Life is too short to have boring hair"
6.
"Fuelled by passion and hairspray"
7. "Hairdresser: An artist whose work is always on display"
Bonus Tip for you: 25 Best Salon Quotes to Boost your Salon's Online Presence
8. "Great hair doesn't happen by chance; it happens by appointment"
9. "Don't cut your hair yourself, we are here to help"
10. "Beauty comes from inside. Inside the hair salon"
11. "Happiness is…washing your hair with a great smelling shampoo"
12. "They told me I could be anything I wanted. So, I became a hairstylist"
13. "A salon chair: A spot where great hair happens"
14. "Friends come and go, but a good hairstylist is forever"
15. "There's really no such thing as bad hair, you just haven't found the RIGHT hairstylist"
16. "When you sit in a hairstylist's chair, you're no less than a movie star" 
17. "Hairdressing is not a JOB, it's a CRAFT"
18. "Don't waste a good hair day. Step out, be beautiful"
19. "Hairstylists – the only people who know how to deal with hair-raising situations"
20. "First I do the coffee then I do the hair"
21. "Life is more beautiful with balayage"
22. "Never give up on your hair because we're there"
23. "Life of a hairstylist: Eat, Sleep, Do Hair, Repeat"
24. "Shake Dreams from your Hair"
25. "A moment of silence for all those good hair days where no one saw us"
We hope these hairstylist quotes will helpful. Being a hairstylist is no easy job. Kudos to all those hairstylists & hairdressers that are absolutely killing it with their skills. You are the people giving clients the makeover they dream of. More Power to you!