Get More Clients Now: 8 Must-Try Salon Offers That Attract!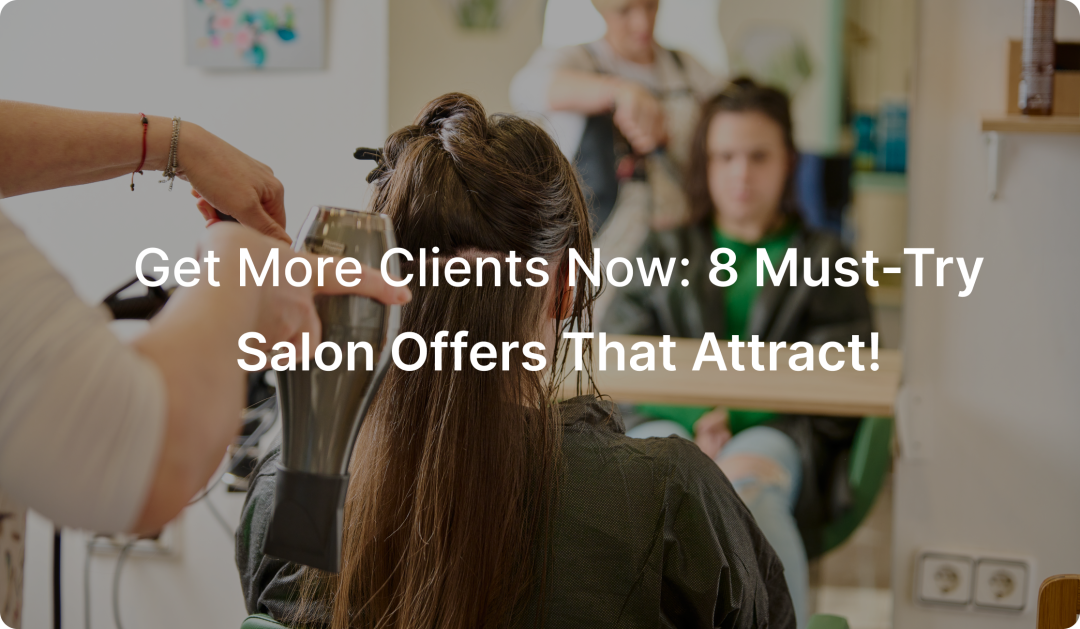 Running a salon is a serious business and getting clients through the door is a big part of that business. Let's face it, your salon business would be nowhere if you didn't get repeat business from returning customers. Your business is thriving because of them and you need to give it your all to retain them. The best way to make sure they stay is by rolling out attractive salon offers.
Promotions offer, and deals are a fool-proof way to attract new clients and retain old ones. However, do not end up lowering your prices to such an extent that you hurt long-term business. Your offers for the salon should be such that you are bringing clients through the door by adding value but not compromising on your prices.
8 Attractive Offer Ideas For Your Salon
To maintain a steady flow of clients, we've rounded up eight parlor package offers that you can start using today!
1. Bring A Friend Along
The 'bring a friend' promotion is a classic beauty salon offer idea. It has saved the day for salons for years and continues to be a fool-proof customer retention tactic. It's a win-win for everyone because the salon is gaining an extra customer while the client who brought in that friend also gets to enjoy certain rewards. However, make sure the offer is sustainable. The trick about running salon offers is to find the balance between the attractiveness of the deal and the value to your salon. For example, each time a client refers their friend, you can reward them with a 10% discount coupon on their next service. You can also create a referral points system in which clients can avail themselves once they've referred a pre-set limit of customers.
2. On The Spot Discounts
Salon offer ideas that don't always have to be pre-planned. They can be spontaneous too. For example, if it seems like a dull day at your salon, give a push on your social media page that you are offering a discount only for the day. This will tempt clients and they'll want to book an appointment at that very moment. Such offers maintain the productivity of your staff while helping you not completely lose revenue for the day. Some revenue is better than no revenue. 
3. Enjoy 3 For The Price Of 2
The favorite supermarket offer can work for salons as well; probably one of the best offers for salons. Technically, it is a discount but will prompt your clients to spend more in order to avail of that discount. You can apply these 3 for the price of 2 deals on your retail products and services. However, make sure the free item will be the lowest-priced item to protect your margins. For example, if a client is availing a manicure and pedicure, give them a free 15-minute shoulder massage. This will not hurt your prices because no product is involved in this service and at the same time your clients will be happy too. Similarly, use the same drill for products too.
4. Birthday Discounts
Another special offer for beauty salons is birthday discounts. Use extensively by retail outlets and restaurants, this offer holds good for the beauty business as well. Pamper your favorite clients on their special day by sending out a discount coupon. With salon software, you get a complete list of birthdays in a given month ensuring you never miss a client's special day. A birthday discount doesn't have to be something very big. It's just a gesture to show your clients that you truly care about them. Anywhere between 15-20% is ideal. Also, set a minimum billing amount for them to avail of the discount. Here are some best Birthday marketing ideas to attract more clients to your Beauty Salon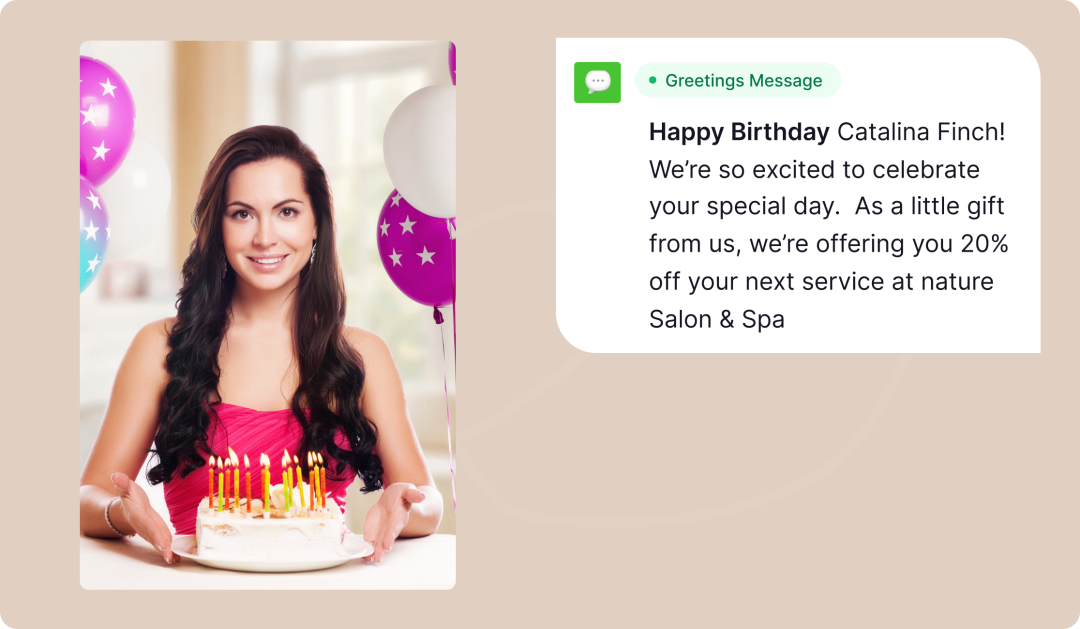 5. Reviews For Discounts
Maintaining the online reputation of your business is a serious task. Despite being a good social media manager, nothing beats real customer reviews. Entice customers to say good things about your salon or spa in exchange for a discount or a free express service on their next visit. This also keeps clients exchanged for your salon.
6. Provide A Value-Added Service
There are a certain set of clients that visit your salon more often than the others. It's mandatory that you appreciate them for this. The best way to thank them for their loyalty is by giving them salon vouchers that they can use on their next couple of visits or by providing express value-added services. Upgrading clients is another way to thank them. For example, if a client books a regular pedicure, upgrade them to a deluxe/spa pedicure. This little gesture will make them happy.
7. Seasonal Salon Offers
Always have a reason and a season for parlor package offers. Don't make your clients feel like you're desperate for business. Try and link an offer to a seasonal promo or event. We've rounded up a whole lot of SMS templates you can send out to your clients on Valentine's Day, Women's Day, Black Friday, Christmas, and more special occasions and festivals. There is the best days to promote your services, pamper your clients and ensure your overall bottom line increases.
8. Make Each Day A Happy Day
There are some days in a salon when it is quieter than the other days. Leverage on these 'dull days' and create offers for salon that will boost revenue. Using Salon Offer Messages, you can roll out different offers each day of the week and have it valid only for a couple of hours on a first come first serve basis. For example, for a theme such as Manicure Monday, Waxing Wednesday, Facial Friday, Sangria Sunday, and so on. These attractive salon offers can immensely increase your bottom line. 
Whether you're a new salon or an established one, at some point in the business life-cycle you will realize that the only way to attract clients is by running attractive salon offers. The human mind is attuned to deals, promotions, and freebies. It not just entices clients to take action but also excites them. Whenever you run an offer in your hair salon, make sure to measure the results from time to time on your beauty salon software. If you feel like a certain offer is hurting your overall revenue or isn't working for the long-term success of your business, discontinue it right away.
If you have any better salon offers ideas and examples, we would love to know in the comment section below.