Salon Etiquette The Do's & Don'ts

Every now and then we visit a salon to make ourselves feel good. Our stylists play a major role in how we look. They're the ones working on our hair and skin, and thus in order to make sure everything goes smoothly, it is vital to build that rapport with your stylist.
Also Read: How To Evaluate Your Salon Staff & Stylist's Performance?
Like any other interaction, a successful relationship is all about communication. Regardless of the salon you go to, sometimes you end up with a stylist who's not so competent. But, you just have to let go. On the other hand, you shouldn't be the kind of client who cribs about everything. Stylists should be given utmost respect. They don't want to deal with someone who demeans or disrespects them.
Thus, the goal of every stylist-client relationship is a two-way streak. Both sides need to focus on creating a long-lasting and healthy relationship. When it comes to Salon Etiquette, it is important to know why Cleanliness is important in Salons.
You might like: Know The Importance of Everyday Salon Cleaning
Always remember, stylists have a difficult job. They're on their feet all day trying to make clients look good. No matter how damaged or difficult to manage your hair is, they work out a way that makes the end result look good. Every client needs to understand their hairstylist. If their hair is seriously damaged, you cannot expect to walk out with long, lustrous, and shiny locks. Of course, the stylists will do their best, however you need to learn to adjust in certain cases.
Most Read: Ways To Retain Clients If Their Favourite Stylist Has Quit Your Salon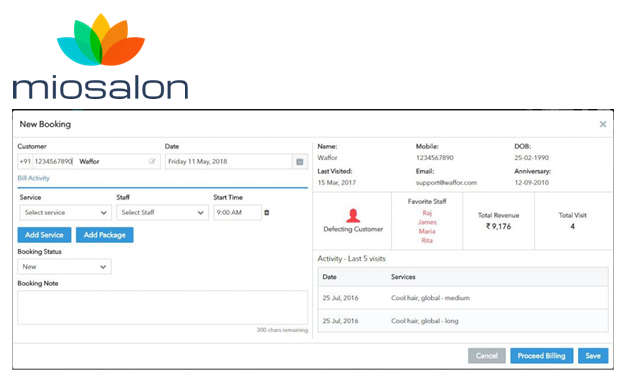 Thus, there is a certain code and conduct and etiquette you need to maintain while visiting a salon.
Salon Etiquette The Do's & Don'ts
1) Don't be late:
If you're overbooked for the day, tell your clients beforehand. You don't want your clients to walk in and wait for you for 30 minutes. As a stylist, it is always important to be respectful of a client's time. If you're unable to manage the situation, ask your front desk staff to handle it. You have to Create an inviting Front Desk within your Salon. 
2) Be honest:
As a stylist, it is very important to be a good listener. Make sure you sound reassuring. For any chance, you can't meet the client's expectations, tell them during the consultation. As a Hairdresser, you have to master the Salon client conversation. Instead of blatantly saying 'no', give them a positive alternative.
3) Be patient:
Typically speaking, there are two types of clients you generally have in the chair – one who knows everything about hairstyling and one who's a novice. Even if a client knows it all, it's your responsibility to explain everything to them so that there's no room for any kind of blame game. Be sure to ask them if they have any questions about the treatment you've recommended.
Also Read: How To Master The Art Of Salon Client Consultation?
4) Be clear about the costs:
A client only books an appointment after reviewing your costs on your beauty salon software. However, sometimes a client walks in unawares. In such a case, make sure to discuss the cost of the treatment so that there are no disputes later on. Know how to excel in the art of client consultation in your Salon. 
5) Put away your cell phone:
You should mean business when you're serving a client. Don't keep them waiting while you respond to a text message or surf through your social media. All your attention should be focused on the client. Thus, keep the phone away and only check it during your free time in between appointments.
The Do's and Don'ts for the Client
1) Don't be late:
The best part about scheduling appointments on salon software is that you can amend them whenever you wish. In case you feel like you won't be able to make it for the appointment, just cancel your appointment. This way, a salon can also significantly reduce no-shows and save a stylist's time. In case you're running late for the appointment, call the stylist and let them know that you'll be 10 minutes late. However, in that much time if a client has taken up another client, be prepared to wait.
2) Bring pictures:
In case there's a particular haircut or style you admire, get some pictures on your phone that you can show your stylist. If the haircut or style is realistic, your stylists will instantly oblige. However, if it seems difficult, be prepared to hear a 'no'.
3) Tip your stylist:
If you're happy with the service rendered by a particular stylist, tip them. This is just a way of telling them that they've done their job well. Stylists remember clients who tip well even after they're gone.
4) Be courteous:
Each time you speak to a stylist, remember to have a gracious tone. You don't want to insult or offend them in any manner. In case you don't like something about your hair, tell them to fix it. They'll readily do it in case they too feel it's looking unpleasant.
5) Use your phone only if necessary:
Not using your phone during a salon treatment is basic salon etiquette. When you're in a salon chair, the only person you need to speak to is the stylist. In case there's an urgent phone call you need to make or text you need to send, tell them and do so. Spending too much time on your phone can interfere with a stylist's work and later you cannot blame them for that. In case you want to get pictures of your hairdo, wait till the stylist finishes and then you can click away as much as you want.
Maintaining some form of salon etiquette is important for the client as well as the stylist. In case a certain treatment or service goes wrong, here's how a client must behave:
➭ Tell your stylist you're unhappy with how your hair turned out. Even if a stylist disagrees, they never argue. They listen to the client, apologize sincerely, and offer to set things right as soon as possible.
➭ It's important to maintain your composure. Instead of lashing out at the stylist who seems to have ruined your hair, speak out calmly. Tell them what is wrong and they'll set it right for you.
➭ It's OK to withhold payment for a particular service until it has been done to your satisfaction. Do not pay for a salon service you're unhappy with. If the stylist fixes the problem, you can immediately make your payment. Leaving a client unhappy means bad reviews on your spa software.
➭ In the future, in case you happen to visit the same salon again, make sure to discuss thoroughly with the stylist so that the same mistake like the previous time isn't repeated.
To a client, the salon environment can be somewhat intimidating. These tips will make a client feel empowered and help them manage tricky situations. As a stylist, it is important to foster and maintain a positive relationship with every client. It is common for Clients to have a negative experience with Salons & Stylists. It is important to identify and deal with dissatisfied clients in an efficient manner. When you do so, you'll be able to reap plenty of rewards both personally as well as professionally.
Also Read: Fool-proof Ways to Handle Negative Feedback in your Spa
As a salon owner, if you're looking to take the first step towards maintaining salon etiquette, we'd suggest you get MioSalon, beauty salon software. The software has everything mentioned crystal clear and automates everyday salon processes. It leaves very little or no room for dispute and makes sure your client's experience is impeccable from the very beginning. It even serves as a window for the client to vent in case they're unhappy with a particular service.
If you want to see your salon succeed in this over-competitive world, MioSalon software is the one-stop solution.