Salon Tips || Things That Can Make Your Salon Unsuccessful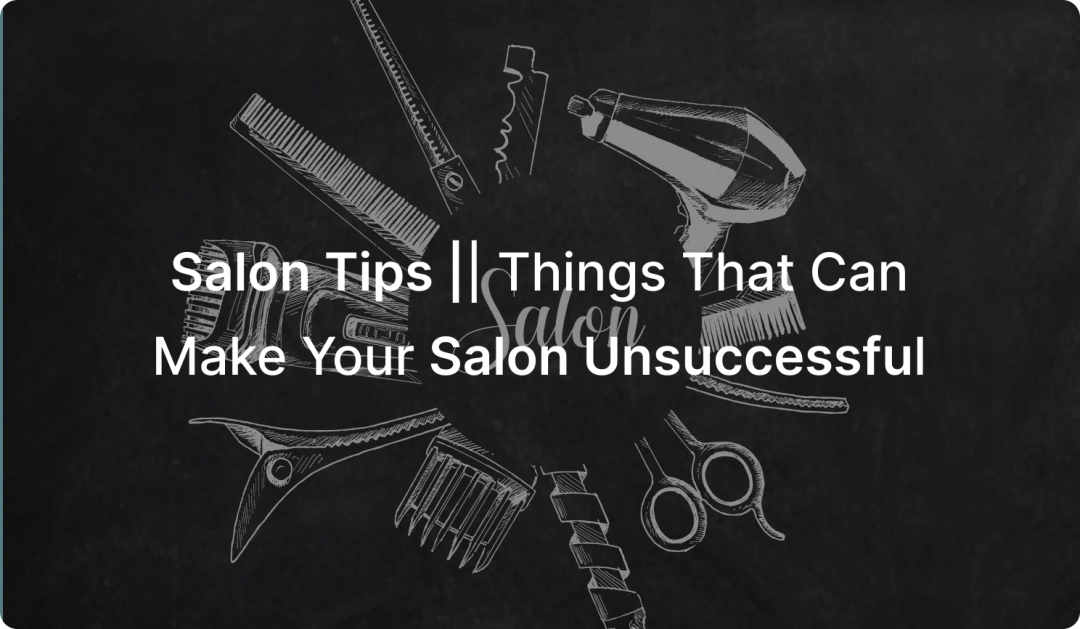 Being in the beauty business isn't easy. That's why we need some useful Salon Tips! So we have come up with those tips to help you out.
why do salons fail ?
Did you know? Almost 80% of salon businesses fail within the first eighteen months of operating.
A common mistake most salon owners make is that they only focus on a few limited aspects leaving out the mandatory ones. However, to make your salon business venture successful, you must concentrate on every aspect, before it becomes a major issue.
Table of Contents:
Most Common Things That Make Your Salon Business Unsuccessful
1. Prepaid or Credit Management
2. Bundled Service or Packages
Salon Client Retention: A Comparison
Most Common Things That Make Your Salon Business Unsuccessful
➭ Low client retention rate
➭ Aimless marketing
➭ Poor client service
➭ Less attention to staff performance
➭ Lack of technology use (salon software)
➭ Failure to maintain client records
If you can relate to any of these above-mentioned issues, it means your salon or spa is not functioning properly.
A low client retention rate can hurt your business the most among all these factors. In this article, we will be discussing all the ways to keep your clients repeating to you.
What does client retention mean?
If your best clients enjoy your services, they don't just stop with one visit but keep repeating to you. When a salon or spa can turn new clients into recurring clients, it is referred to as client retention. To prevent clients from switching to your competitors, a salon or spa owner has to start investing in various marketing activities to increase loyalty for your brand.
What is good client retention?
While every business owner dreams of a 100% client retention rate, it is way far from reality as the client churn rate is inevitable.
Client retention rates usually differ based on the industry and size of the company. If your retention rate is less than 50%, it is considered harmful to your salon business.
What is the average client retention of a salon?
Salon & spa industry has reported an average retention rate in the range of 55% to 83%, where the top salons have achieved 83% and low-performing salons were able to achieve only 55%.
Interestingly, the retention rate of first-time visitors is way less than the level of 20-30%, whereas the next subsequent visitor's retention rate falls between 65% to 90%.
Once a client starts repeating to you, their chance of visiting again is 5 times higher than a client visiting for the first time. Therefore, the salon & spa needs to differentiate the first-time visitors vs repeating clients and run retention strategies specific to them.
On the other note, we should also compare our investment for one new client's visit.
The cost of bringing a new client will be double when compared to attracting an existing client.
Being in this beauty and wellness industry for 6 years, We got an opportunity to interact with thousands of business owners to understand their expectations. Interestingly, we found that most of them are looking for solutions to attract more new clients, rather than retaining existing clients. Although we are not saying no to attracting new clients, More than new clients, concentrating on the existing clients is most important.
"One reality that many businesses are failing to understand is that the salon & spa businesses are a hyper-local business, where we are limited to clients in the range of a 2 sq. miles radius, which means the clients are certainly not unlimited. There will come a day when the new client's potential will exhaust. So it is most important to focus on client retention."
Repeating:
8 out of 10 salons fail in eighteen months because they quickly exhaust the new client opportunities.
Client Retention Overview
To bring clients into your salon or spa, you need to have a proper system. With the right salon management software, your salon management and client retention will become a breeze.
Here are the most popular loyalty programs practiced in the industry
1. Prepaid/e-Wallet – eg: Pay $2000 and get services worth $3500
2. Bundled packages – eg: Get 10 services worth $2500 for $1500
3. Discount Membership card – eg: Enjoy a 20% discount on all your services with a $100 membership card
4. Reward Points – eg: Get 5 points for every $10 spent
5. Discount Coupons – eg: Congratulations, you have got a $30 discount on the next service valued above $100
Another interesting fact about Salon & Spa Industry is that more than 95% run only one loyalty program (client retention). Unfortunately, there is a myth that this one loyalty program is good enough to take care of the whole client retention process. That might lead to a big disaster.
If you try to understand each of these programs, they are completely different in terms of their performance, what they serve, etc We will discuss further why a salon & spa needs to run all the loyalty programs.
"Remember that even a 5% increase in your client retention rate can increase your overall profits/revenue by 25-95%."
1. Prepaid or Credit Management
In the Prepaid loyalty program, Say, for instance, you ask the client to pay $2000 upfront, to which you are offering $3500 worth of services, which is like you are offering 75% worth more services for free to that client, He/she can take any service using $3500 credit for the next 1 year, which is a high risk for the client. Still, they get the high reward of 75% worth of free services. So you got a client who will not go to any other salon for the next 1 year. That is a win-win!
You will need salon software to collect, redeem, compute tax, compute incentives, extend/close the expired card, transfer the unused balance to the client's friends and family, etc. So check out what this salon management software, can offer you.
2. Bundled Service or Packages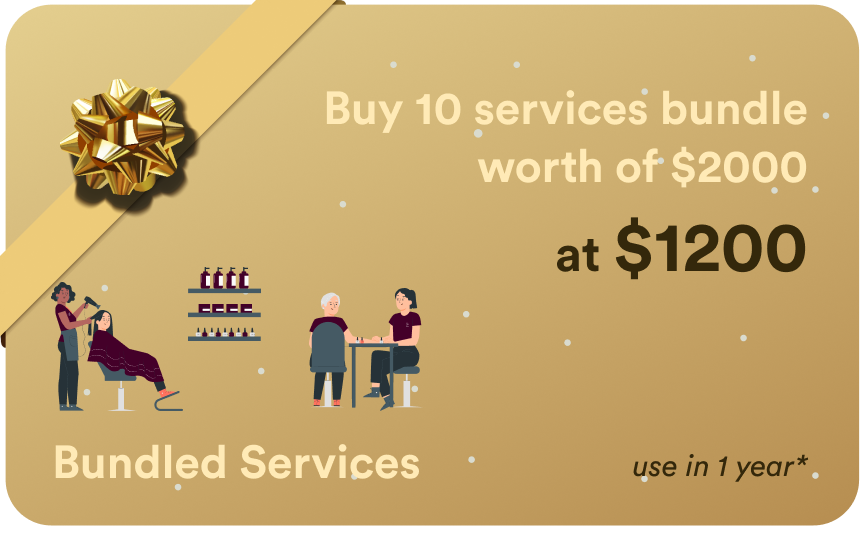 In Bundles services, the risk factor for the client is the same as the prepaid model, so the reward should be appealing for them to use. For the salon & spa, the big stress, that is "client retention" is guaranteed.
There is also a variant of this bundled service model where you can sell a bundle of 20 services, in which clients can choose 10 of them they like at the cost of 7 services. Interesting isn't it, this makes the bundled services more personalized to their need. You might need efficient salon software that can sell and track the service.
To win a client's trust and make sure they return to you, it is necessary that we offer highly personalized services. Go to the extra mile by educating them on the benefits of a certain product. It's always better to create a package of related services and products. For example, you can bundle the services such as a manicure, pedicure, and nail polish at a particular price.
3. Run a Membership Program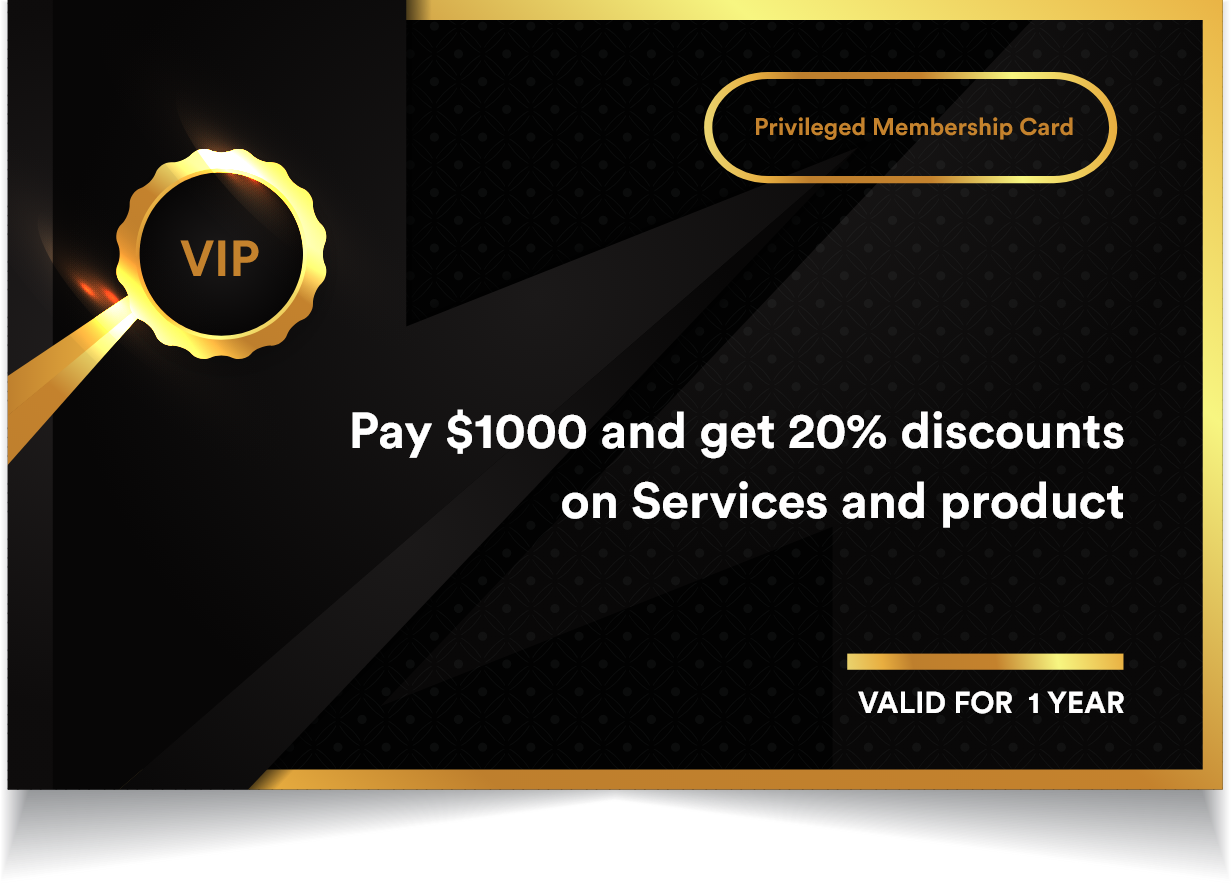 Introducing a membership program in your salon or spa offers numerous benefits. First, the client gets a 20% discount on all services upon buying a membership card for $100. It is a win-win situation for you and your clients, as they will get the services at discounted rates that make them feel privileged, also you will have them coming back because of the discount they get for each service.
When you create a membership program, you need to be sure of the services you plan to offer, their duration, and their price. Your clients will value you for offering valued services through a world-class membership program.
The membership program is less risky for the client than Prepaid and Bundled Packages, but the benefit it's offering might be less rewarding.
4. Reward or Loyalty Points
Let's see how Reward points work. Say a client is offered 5 points for every $10 spent, They can redeem the points for a free service once the total accumulated points equal the value of any service cost.
Reward points are completely free credits and have no risk for the clients compared to the previous models. But it is also very less attractive and happens at a slow pace than the above models.
Some salon loyalty program ideas you can use include:
➣ Creating a salon VIP program for all your regular clients
➣ Issue reward points when a client refers a friend
➣ Offer birthday and anniversary reward points
➣ Offer rewards for social media reviews
➣ Introduce a punch card system
5. Discount Coupons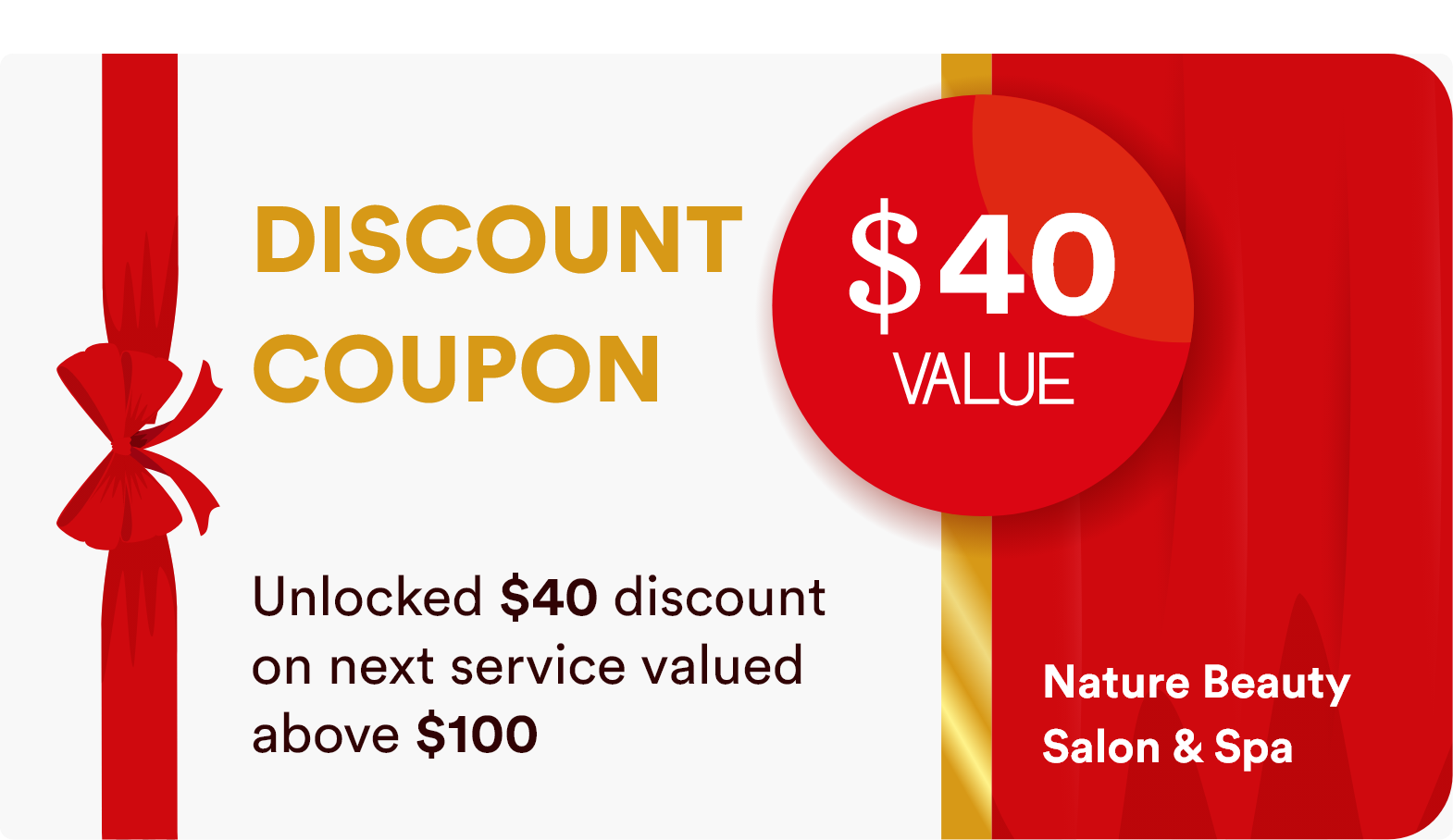 To create a top-notch experience for your salon clients, you must regularly send out personalized offers and deals. Discounts can also help you acquire new clients while retaining the old ones.
Discount coupons work very well in retaining first-time clients. As we already discussed, 75% of first-time clients don't repeat, but if they repeat the next time, there is up to 80% probability they will repeat the next subsequent times. With automated discount coupons, you can send an "only for you offer" for first-time visitors to make them visit for the second time. Then, you can push them into one of the above-mentioned loyalty programs on the second or subsequent visit.
Compared to the other loyalty programs, this has zero risk for the client, but the reward they get is one-time or limited. For the Salon or Spa, the coupon will have the power to pull clients for the next visit only.
You could also use a discount coupon in other scenarios to retain the churned clients by targeting them with a personalized offer. You could use SMS and email marketing to make them aware of these offers. When your salon or spa creates tailored marketing campaigns, you'll have more clients coming through the door.
Benefits:
➢ Gives clients a reason to shop from you
➢ Helps create a focused marketing approach
➢ Gives you a chance to communicate with your clients via SMS, email, and social media
➢ Creates brand awareness
➢ Makes your salon desirable amongst millennials
6. Sell Gift Vouchers
If you want to encourage your client loyalty, build brand transparency and improve your overall client retention rate, consider selling gift vouchers or gift cards. When your client gives a gift voucher to their friends or family, it brings happiness while generating revenue for your business.
Salon gift cards ensure you make money even during slump months. For example, many clients bought gift cards for their friends during the pandemic, which can be later used when the business resumes. It is a great marketing tool too.
Instead of selling physical gift cards, just incorporate them into your hair salon software to make it convenient for your clients to purchase.
Here are some relevant statistics related to gift cards:
➢ More than 70% of people have spent more on gift cards than the card's value.
➢ About 55% of clients had to return to the business to just use all the money on the card.
➢ More than 60% prefer gift cards over gifts.
➢ The gift card industry alone has a $160 billion business
Salon Client Retention: A Comparison
Not all loyalty programs will have the same impact. Some have advantages for clients, but disadvantages for salons and vice-versa. So let's see how they differ.
Prepaid Card: The client has high risk but gets high rewards. Salon also gets revenue upfront for the next 1 year. It's a win-win.
Bundled Service: Like prepaid, the client has high risk but gets high rewards. Salon also gets revenue upfront for the next 1 year. So, it will create the same impact as the Prepaid module.
Membership: The client has less risk and fewer rewards as well. The salon has just got only a fraction of its revenue. With the increased spending culture, the cost of membership cards has become throwaway money for the client. If the client gets bitterness in service or is attracted by the other competitors, they don't care about the membership card. On average, the client has 3-4 membership cards from different salons.
Rewards Points & Discount Coupons: Both these programs have zero risk to the client and hence rewards are very very limited, That's why this has a very low retention rate compared to the above three models.
Gift Vouchers: Generally, selling gift vouchers is considered a strategy to attract new clients through existing clients. In this millennium world, gifting these vouchers has become very common and it is growing very fast with 16.2% year-over-year growth. However, if you don't sell gift vouchers, your client has to visit a competitor to get a voucher, where you tend to lose your client and potential new clients coming through vouchers.
Any business will have clients ranging from high spending to conservative profiles. Some are ready to take high risks for high rewards, while some are conservative and are not ready to try new things. Therefore, a salon must run all these programs to cover all the clients having different mid-sets to be enrolled in any one of these programs so that no one's left out.
Today, client retention is more important than what you think. Keeping in mind these times we live in, your beauty business needs to take all the necessary steps to retain its clients. If you are looking to manage all of these in one go, then try exploring the technology that fulfills all of your needs. You can also explore MioSalon, salon management software, as it has a chock-full of features to enhance your average client retention rate.