Enhancing Salon Experience: Definition, Importance & Tips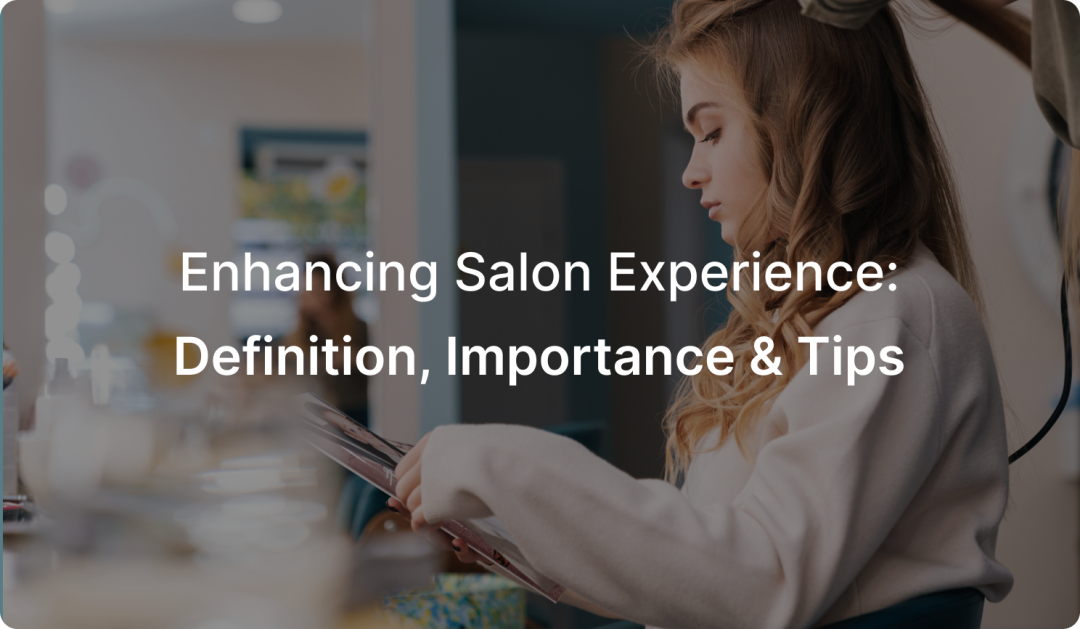 According to a report published by Interactive, 86% of customers are willing to pay more for a better customer experience, and 89% stopped going to a particular salon because they had a bad customer experience.
If you're a salon or spa owner, never underestimate the value of a good customer experience. You are surviving because of your customers. They are the heart of your business. Even if your guest leaves with a service they loved, they're unlikely to schedule an appointment with you again if the experience you offered them was not up-to-the-mark.
Post-COVID, salons, and spas are tasked with the challenge to 'WOW' their guests every single time. Well, you have to do that while keeping safe too. When you set a standard in your salon, the results are positive too. You can expect increased customer spending, more revenue, and reduced customer churn.
Table of Contents:
What is Salon Customer Experience?
Importance of Customer Experience in a Salon
5 Actionable Tips to Improve Salon Customer Experience
1. Start with an Efficient Communication System
2. Be Warm from the Beginning till the End
3. Offer Complimentary Services
4. Show Clients you're Excited about them
5. Keep up with Client Details
Things that Ruin Customer Experience in a Salon
Role of Salon Software in Creating a Great Customer Experience
What is Salon Customer Experience?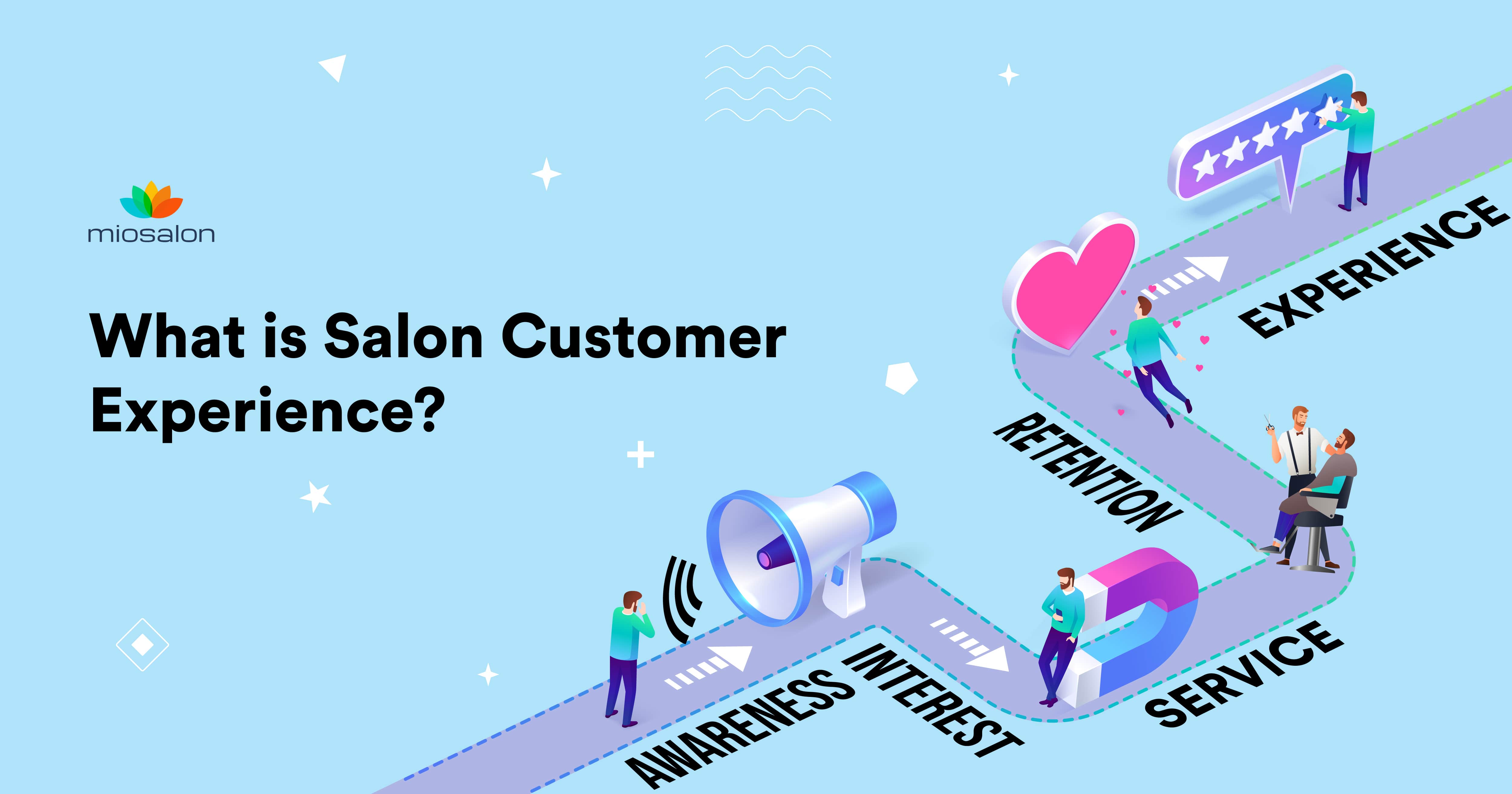 Salon customer experience includes all the things you do from the time a customer schedules an appointment to when they leave your premises. The relationship and interaction you share with them also encompass customer experience.
A customer experience is considered good when it matches their expectations. It usually starts from the first point of contact with your salon business. It may be via your website, phone call, social media page, or salon management software. Therefore, you also have to ensure your online reputation is top-notch and updated.
Importance of Customer Experience in a Salon
Customer Experience in a salon is more important than you think. When you offer a great service, your client retention rate increases. Also, loyal customers become your greatest marketing ambassadors. Other advantages of an exceptional salon customer experience include:
➢ Increased rebooking rate
➢ Improved client retention rate
5 Actionable Tips to Improve Salon Customer Experience
If you're looking for tips to improve your overall salon customer experience, check out our handy guide:
1. Start with an Efficient Communication System
As mentioned earlier, communication is the first important step when you're establishing a relationship with new as well as existing customers. Every good salon experience starts with a simple appointment. Ditch the age-old method of making appointments over the phone, and switch to salon management software instead.
It does not just help you keep a track of your upcoming appointments, but also gives clients the liberty to tweak them. When you have a seamless booking system, clients are more likely to book subsequent appointments with you. Since the software comes with an automated reminders feature, your clients will constantly be notified. It's a convenient system for you and your clients.
2. Be Warm from the Beginning till the End
Sometimes, being thoughtful can go a long way. To create a positive first impression, there are a few things you should do before, during, and after the appointment.
We suggest you start with a warm welcome. The way you greet your clients genuinely sets the first impression. Ask them how they are and invite them to be seated in the waiting area. If you have a salon beverage menu, ask them if they'd like to have anything. Else, offering bottled water is imperative. When you do this, your clients will already feel welcomed.
Next, focus on the vibe you are going to create during the appointment. If they're not in the mood to talk, don't force a conversation. Give the client time to refresh and relax. Make sure the background music is soothing. If they do happen to enquire about any product, don't miss this opportunity to upsell and cross-sell.
Once the service is complete, compliment them on their new look. They're likely to thank you and head to the reception to make the payment. At this point, ask them if they'd like to schedule their next appointment. Finish it off with a smile.
3. Offer Complimentary Services
Tailoring a great salon customer experience is all about going the extra mile. When we say complimentary services, we don't mean a haircut or facial on the house. It should be something small that will not affect the overall revenue of your business. Some examples include a complimentary nail polish application, scalp massage, or consultation.
While these are a few complimentary services you can offer, knowing when to offer them is equally important. If your stylists are having a busy day, refrain from offering them. A slow day or slump season is the best time to throw in a free service. If a customer is waiting and a stylist is busy, make up for it by giving them any one of the above services. Anything that shows extra care can mean a great customer experience.
4. Show Clients you're Excited about them
If your salon uses Instagram to bring in new clients, you might find this tip helpful. Since it is a photo-sharing social media platform, utilize it to the best of your ability. You can make your clients feel you're excited about them by posting a picture of their new look on your Instagram story. Take before and after pictures, and post those on your professional salon handle.
When potential clients and your followers see these images, they might be tempted to visit your salon too. However, make sure you take high-quality images that showcase your work in the best possible way. Everyone likes being a social media star. Use this to your advantage. Tag them so that they too can re-share it on their profile.
Making your salon clients feel wanted and happy is an important aspect of crafting a customer experience.
5. Keep up with Client Details
When you're in the beauty business, client database management is important. After a customer visits your salon, make notes about them on your beauty salon software. This will also help you learn their preferences. Before they come in next time, remember to check your notes.
The more information you have, the easier it will be to improve the client experience. Think of it as a chance to offer each and every client a personalized service.
Also, among the various details you note about your clients, make sure you include their birthday and anniversary date too. Utilize this information by offering them a freebie or discount code on their special day.
When you're in the business of making people feel and look good, you have to do all that you can. With these tips, you'll definitely be able to woo your clients and offer them an experience that is second-to-none.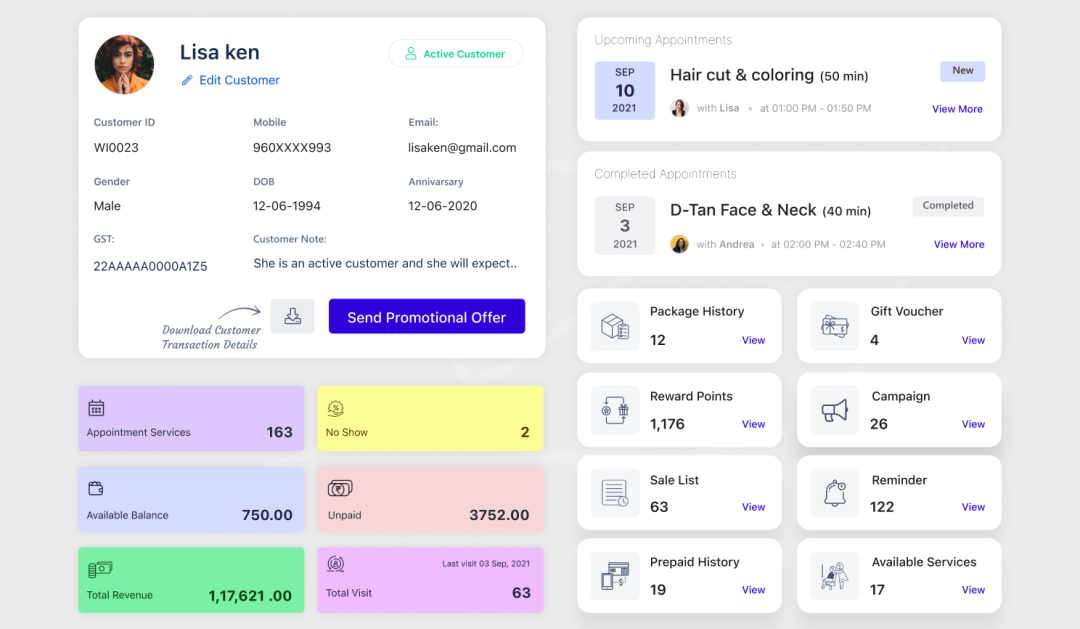 Things that Ruin Customer Experience in a Salon
Now that we've spoken about the things you can do to improve customer experience in your salon, it's important that you know the things you should not be doing either. Statistics reveal that 91% of customers choose not to complain and simply walk away from your business. Based on popular reviews left by salon customers online, we've come up with a list of things that annoy customers the most. Here are some of them:
➭ Loud music
➭ Smelly fingers during threading and hair wash
➭ Poor time management
➭ Poor personal hygiene
➭ Lack of salon etiquette
➭ Not offering water/beverages
➭ No head massage at the basin
➭ No SMS reminders
➭ Uncomfortable chairs
➭ Gossiping
➭ Lack of phone etiquette
➭ No reading material in the waiting area
➭ Lack of valet parking at the salon location
➭ Inconsistent treatment
➭ Bill shock
➭ Poor outcomes
If you relate to any of these things in your salon, it's time you mend your ways. Bad customer experience = no rebooking.
Role of Salon Software in Creating a Great Customer Experience
If you're looking to create a consistent experience for your salon clients, you should use MioSalon, hair salon software. It helps in making the booking process seamless, sends out automated appointment confirmation messages and reminders, maintains the online presence and reputation of your business, helps clients redeem their membership consistently, and works as a one-stop marketing solution. Whether you own a single or multi-location salon or spa, salon software plays a crucial role in improving the overall customer experience.