Grow Your Salon & Spa Referral Business With Salon Management Software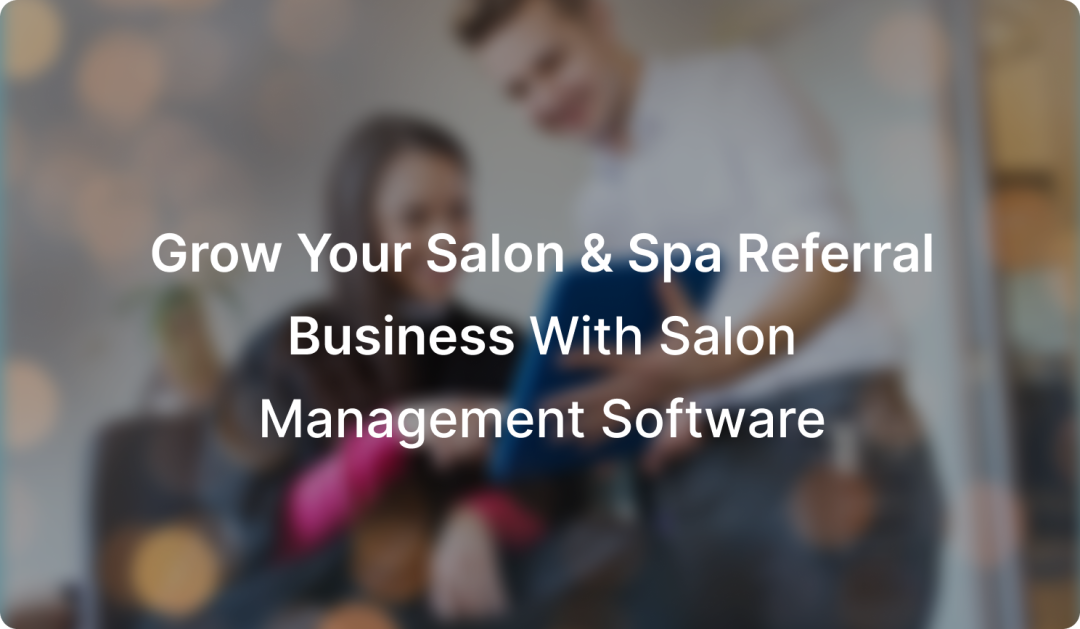 Let's now look at how to increase your Salon & Spa Referral business using Salon Management Software. It's no secret that word of mouth is vital to growing your salon business. You want your loyal customers to spread the word. While there are many ways to do that, you can even reach out to your clients and reward them for the referrals they make. Therefore, it makes sense to run a salon referral program.
A referral system is more cost-effective than you think. You don't need to offer large rewards, nor do you need an elaborate plan. Even small incentives go a long way in making future customers your biggest fans. If the idea of running a rewards system seems daunting, you can use salon management software. It makes it possible to track guest referrals and reward existing customers. The incentive program you create can include discounts or gift vouchers. However, make sure the reward you offer will attract clients and convince them to refer their close friends and family. However, you have to make sure your customers are happy with your services even before you do that.
Quick read: Important Features of Spa And Salon Management Software
Table of Contents:
Benefits of Running a Salon Referral Program
6 Steps Increase Your Spa and Salon Referral Card Business Using Salon Software
3. Make a List of your Clients
Benefits of Running a Salon Referral Program
➢ Works wonders when implemented correctly
➢ Improves client retention rate
➢ Easy to execute
➢ Cost-effective
➢ Increases customer loyalty
➢ Enhances brand awareness
➢ Referred customers are likely to become regular customers
A more extensive client database is stored in your salon management software
6 Steps Increase Your Salon & Spa Referral Business Using Salon Software
To reward your existing client base and give your revenue a boost, you should systematically structure your referral program. Here are a few tips that will help you:
1. Define your Objectives:
Even before you create a Salon & Spa Referral business program, understand why you have it in the first place. What do you want to increase – is it service bookings, hair and makeup bookings, product sales, or anything else? When you have clear goals, you will also track results accordingly.
2. Think of the Incentives:
The incentive/reward you offer should be good. However, in the quest to provide your existing client with something, you shouldn't end up losing money on the service. Be willing to offer your referring guests a small gift voucher, product sample, or other incentives.
3. Make a List of your Clients:
Clients who visit you frequently are more likely to refer their friends. Asking a client who visits you just once or twice a year isn't the best method to go about referrals. Instead, make a list of regular customers. Check social media to see which clients are saying positive things about your business. You can even generate a list of your high-spending and active clients on your beauty salon management software. It is usually the best place to begin your Salon & Spa Referral business program.
4. Choose a Delivery Method:
Once you set up your referral program, you need to let your customers know. When you widely market your Salon & Spa Referral business program, you will have customers come through the door. Create a simple email asking customers to bring or refer a friend. Also, make sure to include the benefit to the customer.
For example, if you're offering a 20% discount, mention that. You can even tell your existing customers that they will get a free minor service if they bring their friends along. To market your offering, make use of your spa management software. Please put it on Facebook, Instagram, Twitter, and Pinterest. This will instantly give you access to hundreds of potential clients.
5. Create a Loyalty Program:
To keep customers invested in your Salon, create a loyalty program. Instead of having punch cards or points system, track your loyalty program with your hair salon management software. This way, not just you but even your customers can track how many points they've accumulated over all their visits. It is also a fantastic way to attract local clients and encourage more referrals. The salon software will automatically add points to every customer's profile after their visit.
6. Measure Results:
Once you have strategized your Salon & Spa Referral business system, you need to convert. A lot of salon owners create the program and forget about it. However, tracking and measuring results is of paramount importance. If doing it manually seems complicated, use good Salon Booking Software. It will help you identify your top referring clients and ensure the same people are not making the referrals again and again. Besides this, it also helps you stay organized and boost results.
Referrals are the heart of your salon business don't limit it, and encourage them as much as possible. Please take advantage of MioSalon, Salon Management Software to structure your Salon & Spa Referral business program, market it, and track results along the way. It increases your Salon referral cards business and helps your customer base grow. To know more about the capabilities of MioSalon, visit https://www.miosalon.com/features.