Tips To Throw The Perfect Client Get Together At Your Salon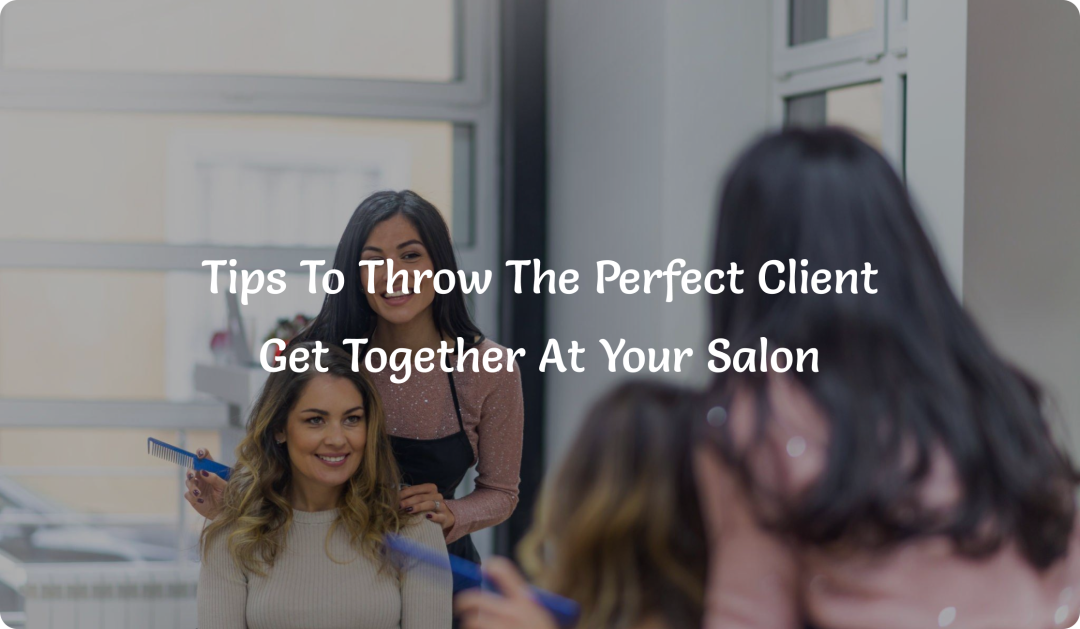 Visiting a salon every now and then is considered downright therapeutic for the perfect client of yours. They look at it as a moment to relax and unwind. A salon is also a great place to socialize. Thus, hosting events in your salon can be great for your business. Whether you've just opened your doors or have been around for years, it's always nice to remind your clients that you're still in the business. There's no better way to do that than host a little client evening or get together for your most loyal clients. It not just reinforces their trust in your business but also makes them feel special.
There are numerous occasions you can host a party for –to celebrate the holiday season, a milestone, a client appreciation party, or simply welcome clients to your new salon with an open house.
A successful salon soirée will:
Boost retail revenue
Improve customer loyalty
Win new salon clients
Throw your salon in good light
Create local networking opportunities
If you have no prior experience in throwing a fun yet memorable the perfect client evening, we have you sorted with some ideas. These ideas will not just make the event a success but will also ensure you're well within your budget.
Things To Be Done To Organize the Perfect Client Event:
1. Choose the date for the event:
When organizing an event, it is important to choose the date carefully. You wouldn't want it coinciding with religious or state holidays and community events. Thus, you need to choose a date when you think most of your clients will show up.
2. Choose a theme:
Once you've selected the date for the perfect client event, the next step is to select the theme. You can't just randomly host an event. You need to give clients a good enough reason to attend your event. It should be something that interests them. Offer discounts and offers that will actually make clients give you their free time to attend your event. Here are a few occasions for which you can run salon events:
Christmas gatherings
New product line launch
Makeup and hair demonstration/workshop
Anniversary/Milestone
Launch event
In-salon events are also a great way to encourage new customers to book a treatment. You could also offer them a coupon that they can avail of on their next visit. This will make sure they come back to redeem the coupon.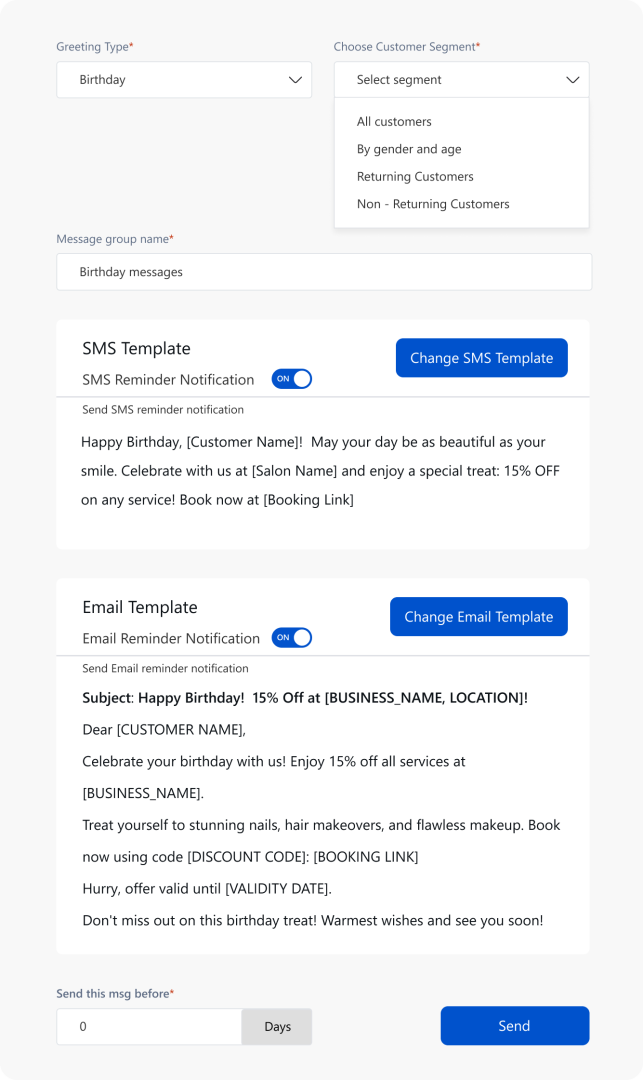 3. Select guests using salon management software:
Client evenings take time and thought to execute, thus, it is very important to invite the right guests. You need to focus on inviting your ideal clients –those who love your salon and come in for treatments regularly. Your ideal clients are the profitable clients for your business. Using salon scheduling software is the perfect way to find out who your top spenders are. Once you've selected the people you want to invite, it's time to start sending out the invites.
Invite via email:
You would have already recorded client information on your salon management software. All you have to do is select the clients you would like to invite and send out emails to them. You could create a simple yet interactive creative stating the details of the event. You could also ask them to RSVP by replying to the same email. Once you start receiving replies, you could also record them on the software so that when you're planning for food and beverage, you know how much to order.
Send SMS invitations:
Another way to draw clients to your salon event is by SMS. SMS marketing is quick and direct and has a 95% open rate. You can be sure that your clients will open your message. Here are few SMS invitation templates we've rounded up for you:
You are cordially invited to <salon name>for the launch of our new beauty products on <date> at <time>! RSVP <number>.
Hi, we've missed you! We're delighted to invite you to a fun evening as we celebrate our first anniversary. Exciting offers too at <salon name> on <date>. <Time> onwards!
Hi there! It's holiday time at <salon name>. Spread the cheer around with us as we host a special client evening for you. Be there on <date> at <time>. Free treatments, offers, discounts, and more.
4. Encourage clients to bring a friend:
Since you'll only be inviting your most loyal clients, you can ask them to bring a plus one. This is a great opportunity to collect a database of your potential clients. Also, many clients dislike attending events alone. They're more likely to be comfortable when they know they can get someone along.
5. Partner with other businesses:
It's always nice to give clients more reasons to attend your event. One sure shot method that works is by tying up with other businesses. A fashion boutique, jewelry store, florist, or high-end restaurant is an ideal partner. However, don't forget to make a mention of this in the email you are sending out. You can also create a Facebook page to promote the event and also ask your partners to announce the same on their social media handles.
6. Should you charge:
One dilemma most salons face is that if they should charge for the event or not. Well, it depends on the type of event you're hosting. If the event is about celebrating a milestone, don't. On the other hand, if you're organizing a makeup workshop by a celebrity makeup artist, then you have to charge clients. Another way to do it is by making the ticket price redeemable against your services. This way, new clients will get a feel of your treatments. If they like what you offer, then you've just won yourself another client.
7. Giveaways:
When clients attend events in your salon, they like a little something to take back home. It doesn't have to be something expensive. Something like a promotional coupon, product sample, gift voucher, or a curated goody bag works.
8. After your client evening:
Once the event is over, use your salon and spa software to send clients a little thank you note. Tell your clients that it was great having them and you would love to see them again. You could also include a feedback form link where clients can share their experiences. Also, don't forget to share photos of your event on Facebook and Instagram. This will definitely increase the attendees at your next event.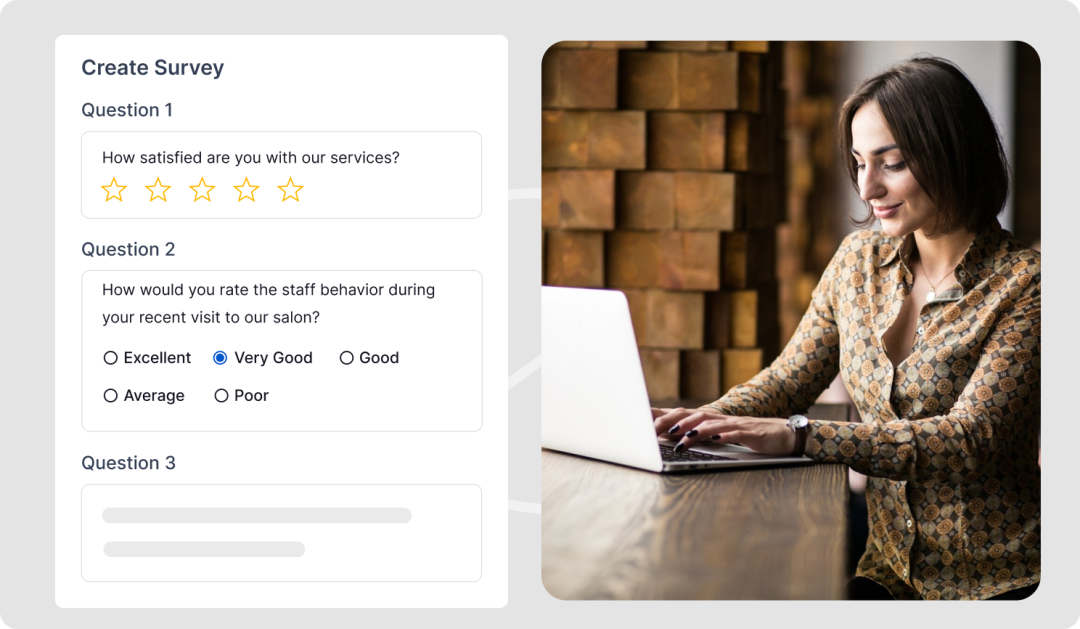 9. Measure success:
It is important to review the success of your client's evening. You can easily track your client spending on your salon management software. Also, check how much more databases you have received from new clients. Make a group of new clients and send out offers only to them. This will increase your chances of seeing them soon at your salon. If certain things didn't work the way you wanted them to, make sure you don't repeat them in the future.
Don't shy away from hosting the perfect client event in your salon. With MioSalon, salon scheduling software by your side, you can easily find your loyal clients, invite them, curate offers for them, and later track the success of your event. Learn more about MioSalon for the hair and beauty business here or request a demo here.