5 Ideas to Rock Your Next Spa Event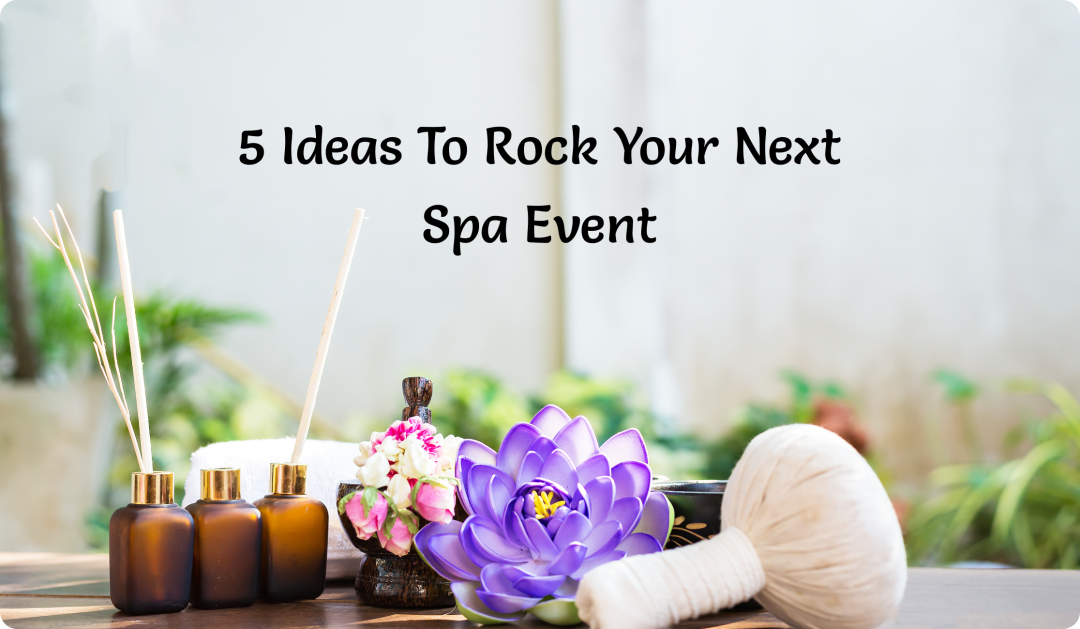 Spa event hosting is a fool-proof engagement marketing strategy. Every now and then spa owners are looking for opportunities to meet their revenue goals. They not just create unforgettable experiences for your customers but also give them a chance to interact with your other clients, and relax and unwind. Person-to-person engagement is a great opportunity to upsell and convert first-time clients into forever clients.
Here Are The Different Types Of Spa Event You Can Consider Hosting:
• Grand Opening:
If you're a new spa or a spa moving to a new location, hosting a grand opening is a smart investment. It's a great chance for you to show off your spa including your treatment rooms and other amenities.
• Open House:
For spa owners looking to gain new clientele or upsell to existing clientele, open house works. It's also the perfect opportunity for the community to interact with the spa owner and ask questions. The best way to bring potential clients to your spa is by offering special prices on goods and services and giving them a small take-home in the form of a goodie bag filled with product samples.
• Educational Seminars:
Most of the time, spa clients end up purchasing some products but don't know the benefits or application instructions. A perfect way to educate them on the products is by hosting an educational seminar. Use this as a time to answer product questions and provide a treatment demonstration. Attendees who purchase products should be given a discount on their next treatment. Educational seminars are enjoyed by most clients. When they see that you're good at your job, they're more likely to book later.
Now that you're well aware of the kind of events you can host at your spa,
We've Discussed Five Cracking Ideas For You To Rock Your Next Spa Event:
1) Build a Database:
What's a spa event without attendees? Before you begin the planning process and compiling event details, ensure you have a database of clients and potential clients. Check your spa software to see who your regular clients are and who you haven't seen in a while. Never miss an opportunity to get an email address from a client. Securing such information will help you organize your marketing initiatives better. In case you're able to secure more than an email address from a client, build a viable database that you can refer to at any point in your spa lifecycle. Refer to how to Build your Salon Client Database real quick like a pro.
2) Create an Event Calendar:
Event planning must begin at least two months prior. To spread the word around, you need to have a whole lot of marketing collateral ready such as flyers and invitations. You could also send out save-the-date emails. Make sure to personally event local bloggers to the event. They're the ones who can make all the difference to your event. Also, one month prior start posting on social media using relevant hashtags so that more people get to learn about your spa event.
You could also use SMS marketing from your spa management software to enhance your promotion efforts. Once you've successfully planned your event, it's important to decide the theme. Capitalize on events such as Mother's Day, Valentine's Day, Women's Day, etc. When done right, you can instantly double up your brand's reach in a fun and inventive setting.
3) Finalize a Budget:
It's impossible to host an event without shelling out. During the pre-planning phase, it is important to decide all the expenses in your budget. Use the expense management feature on the spa management software to know exactly how much money is being spent. A great way to share expenses or reduce the load is by cross-promoting your spa with another brand. When a spa partners up with other vendors, they get to leverage each other's audience. When the assets of the two entities are combined, the end result creates a better event.
4) Promote Your Event:
Overspending is easy when it comes to events. Thus, it is important to keep in mind to use low-cost marketing options. The most cost-effective way of promoting a spa event is by creating a Facebook event page. Once you do so, you could also put a little amount of money on a sponsored post so that your event gains more traction. You could also get your staff involved and encourage them to promote the event.
Ask them to mention the event details to a client while attending to them. This can really make a difference to the success of your event. In case you're inviting certain high-profile bloggers, go the extra mile and send them handwritten invites with maybe a product sample or goody bag. They love receiving such things. Lastly, don't forget to send out email newsletters from your spa software.
5) Post-event Evaluation:
Once the event is complete, make sure to evaluate its success of the event. Your spa appointment software is a major giveaway. Check if there has been a spurt in the number of bookings after the event. Also, measure if your goals were met or if your relationship with your existing clients was strengthened. Also, if you've taken videos of your event, post them on all your social media pages. You can also host an Instagram live during the event.
The rest of the world and the other customers who didn't make it to the event should know what they missed. These are some best possible ways to engage with your Audience in the Instagram world. If the videos you share are worthy enough to create FOMO (fear of missing out), you can successfully create brand awareness, online following, and ultimately in-house sales.
More than just driving a sales motive at your spa event, you must successfully be able to create an unforgettable experience for your clients. That is when they will remember you for long. This will add some kind of excitement and compel them to partake in future events as well. They might even get their friends and family too. A well-designed and planned event has the power to make people smile and get a whole community to engage together.
If event planning, promotion, and evaluation seem like a major headache, invest in MioSalon, spa software for your business. The in-built features of the software are a perfect recipe to host a successful event.
In conclusion, if you've never hosted an event in your spa, now is the time. By organizing one, you can:
Generate Leads
Create product and treatment awareness
Engage with existing as well as potential clients
Increase demand for certain treatments
Provide education to attendees
Showcasing/launch new products/treatments
How about trying the software for an upcoming spa event to see how it can benefit you? Start your free trial and we assure you that you'll want to sign-up instantly.