23 Spooktacular Halloween SMS templates for Salons to delight your Client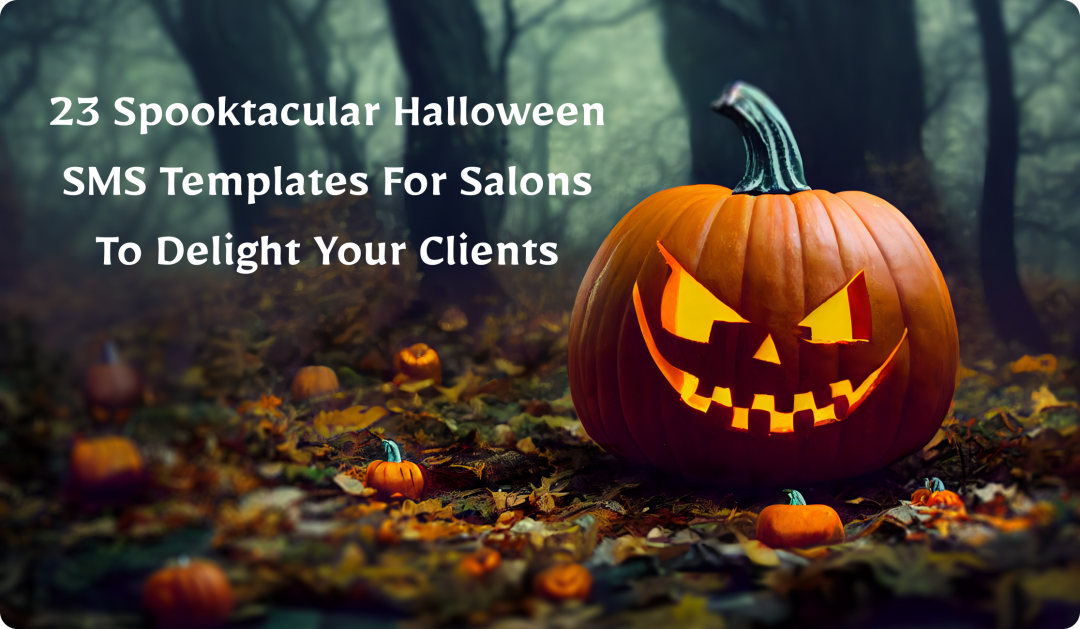 Introduction
The Halloween season brings with it a world of costumes, candies and spooky tales. Yet, for salon owners, Halloween offers a unique opportunity to captivate their clientele with a thrilling twist. By utilizing Halloween-themed SMS messages, salons can create a memorable and engaging experience for their clients. What adds to the enchantment is the ability to automate this process using salon management software like Miosalon, which will save valuable time and boost client engagement.
Within this article, we provide 23 meticulously designed Halloween SMS templates, each carefully tailored to maintain professionalism and a personalized touch while infusing the Halloween spirit. Use these SMS templates for your salon's marketing campaigns, and let your salon software handle the rest. Get ready to enchant your clients with these 23 spooktacular Halloween SMS templates!
The Importance Of Sending SMS During Halloween
Sending SMS messages during Halloween holds significant importance for businesses, especially those in retail, hospitality and service industries like salons. Here are some reasons why SMS messaging during Halloween is vital:
Boosts Customer Engagement: Halloween is a time of festivity and excitement. sending themed SMS messages captures the spirit of the season, making your clients feel more engaged and connected to your business.
Drives Sales: With special Halloween offers and discounts, SMS messages can drive sales. It creates a sense of urgency that encourages clients to make purchases before the limited-time promotions expire.
Strengthens Customer Loyalty: Sending SMS messages with exclusive offers to loyal customers shows appreciation and encourages them to keep coming back. It strengthens their bond with your business.
Promotes Seasonal Products: If your business offers Halloween-themed products or services, SMS messages are an excellent way to promote them. For example, salons can offer Halloween hair and makeup services.
Creates Buzz and Excitement: Contests, giveaways and sneak peeks through SMS messages create anticipation and excitement. Clients look forward to your messages, making your business a part of their Halloween experience.
Direct and Personal Communication: SMS messages provide a direct and personal means of communication. Clients are likely to open and read text messages promptly, ensuring your message reaches them.
Cost-Effective Marketing: SMS marketing is a cost-effective way to reach your audience. It doesn't require printing materials or postage costs, making it budget-friendly for businesses of all sizes.
Trackable and Measurable: Through the use of salon software or SMS marketing platforms, you can track the success of your SMS campaigns. This data helps you refine your marketing strategies.
23 Spooktacular Halloween Salon SMS Templates
Here are a collection of Halloween-themed SMS templates for you to use.
1. Spooky Discounts and Offers
Salons can entice clients with irresistible Halloween discounts and offers. From bewitching price cuts on various treatments to exclusive codes and limited-time promotions, these templates will help you create a sense of urgency and excitement, making your customers eager to book their Halloween appointments with your salon.
The Classic Spooky Offer– Halloween is here, and we've brewed up a treat just for you! Enjoy a bewitching 20% off on all hair and nail treatments. Hurry, this enchanting offer vanishes on Halloween night. Use code: SPOOKY20.
Hauntingly Good Haircare– Give your tresses a hauntingly good treat this October! Book a hair treatment with us and receive a free Halloween-themed hair accessory. Show off your spooktacular style at every party!
Halloween Mani-Pedi Special:– Banish dry skin with our devilishly good mani-pedi combo. Book now and enjoy a free pumpkin spice hand scrub! Use code: FALLSPA for 15% off your first booking.
Join Our Costume Contest:– Unleash Your Creativity! Share a pic of your costume-inspired hair or nails on social media using #SalonSpooks. The spookiest entry wins a $50 gift card! Book now with code: SPOOKY15 for 15% off your Halloween appointment.
Pro Tip: Use phrases like "expires soon" to create urgency and provide a code for easy tracking, utilizing salon software like MioSalon to manage campaign outcomes effectively.
2. Ghostly Good Discounts for Loyal Customers:
By offering special discounts and promotions exclusively to your valued clients, you can strengthen their connection with your salon. These templates will showcase your appreciation and encourage them to keep coming back.
A Treat for Our Loyal Customers– Dear [Customer's Name], as a token of our appreciation, enjoy a spooktacular 25% off your next treatment. Happy Halloween! We're grateful for your loyalty.
Wickedly Relaxing Massage Offer– Trick or treat your body to relaxation this Halloween! Book a massage with us this week and receive a free pumpkin-infused aromatherapy upgrade. It's wickedly good!
Haunted Hair Coloring– Transform your hair into a work of art! Book a color treatment this Halloween with us and get a free ghoul-green temporary hair dye. Limited slots are available—reserve yours now!
Vampire-Friendly Skin Treatments– Unveil your freshest face this Halloween! Book a rejuvenating facial and get a free vampire-inspired skincare gift. Your skin will love this spooky treat.
3. Mummy Makeover and Family Packages:
The concept of Halloween-themed salon experiences, such as the "Mummy Makeover" and family packages. These unique offers are designed to add a touch of festive fun to your salon services. Whether it's mummy-inspired headbands or special deals for families, these templates will help you create a memorable Halloween experience for your clients and their loved ones.
Mummy Makeover– Wrap yourself in beauty this Halloween. Book a spa day and get a free mummy-inspired spa headband. Look and feel your best this season!
Spooky Kids Special– Make this Halloween extra special for your little monsters. Bring them for a Halloween haircut and receive a free ghostly hair clip for them. It's our treat for your little treats!
Scary Good Family Package– Make it a family affair this Halloween! Book haircuts for the entire family and receive a spooky family portrait to cherish for years. Memories that haunt you forever!
Trick or Treat for Your Tresses– Trick or treat for your tresses! Book a hair treatment this Halloween and choose between a surprise hair product (the trick) or a 15% discount (the treat). What will it be? Book now and find out!
4. Halloween Hair and Makeup for Kids
Halloween isn't just a night of frights for adults; it's a time for young trick-or-treaters to embrace the magic with costumes, makeup, and excitement. In this article, we offer invaluable tips to parents on creating delightful Halloween looks for their little ones. Additionally, we explore how salons can cater to kids by providing special services during this enchanting season.
DIY Halloween Makeup for Kids– Get your hands on our DIY Halloween makeup guide for kids with a fantastic 20% discount! This limited-time offer won't last long, so don't miss out!
Salon's Special Kids' Halloween Look– Make this Halloween extra magical for your child! Book a Halloween-themed hair and makeup session at [Your Salon Name]. They'll be the stars of the trick-or-treating parade!
Kids' Costume Contest– Is your child's costume the spookiest or sweetest? Join our Kids' Costume Contest! Capture a snapshot, tag us, and use #KidsCostumeContest for a chance to win a special prize.
Spooktacular Salon Services for Kids– Transform your child into a Halloween sensation with our salon's specialized Kids' Halloween Look service. From playful makeup to enchanting hair styling, we're here to make their Halloween dreams come true. Book now and watch the magic unfold!
5. Excitement with Halloween Giveaways and Contests
Halloween is the season for thrills and chills, and it's also the perfect time for businesses to brew up excitement with contests and giveaways. In this article, we'll explore how to turn the giddy anticipation of Halloween into engaging text message campaigns. Discover creative ideas for contests and giveaways that will bewitch your audience and conjure up increased Halloween sales.
Spooky Costume Contest– Get ready to dazzle us with your spookiest attire! Enter our Halloween Costume Contest and stand a chance to win spooktacular prizes. Snap a pic in your Halloween outfit, tag us, and use #HalloweenCostumeContest. May the creepiest costume reign supreme!
Hauntingly Good Giveaway– Trick or treat yourself this Halloween with our exclusive giveaway! Book any hair or makeup service for Halloween, and you might win a devilishly delightful prize. Hurry, appointments are vanishing like ghosts!
Pumpkin Carving Challenge– Unleash your artistic spirit this Halloween! Participate in our Pumpkin Carving Challenge for a chance to score a hauntingly good gift card. Carve, capture, and share your pumpkin masterpiece using #PumpkinArtChallenge.
Spine-Chilling Discounts for Participants– As a token of our appreciation, all participants in our Halloween contests and giveaways can enjoy a hair-raising 15% discount on any salon service. Thank you for joining in the Halloween fun at [Your Salon Name]!
6. Launching a New Halloween Salon Treat
The enchanting ambiance of Halloween sets the stage for an exciting salon experience that goes beyond the usual tricks and treats. Salon owners, whether specializing in hair, makeup, or skincare, have a unique opportunity to introduce a fresh, captivating product during this spooky season. Halloween's air of novelty and celebration can spark the curiosity and enthusiasm of your clients.
The Teaser– Something enchanting is brewing in our salon cauldron… Stay tuned for a spooktacular product launch this Halloween season! The magic reveals itself on [Date]. Get ready to be bewitched!
The Sneak Peek– Are you ready to catch a glimpse of our Halloween salon surprise? It's a treat that will make you feel like a star! Here's a sneak peek: [Image or Description]. Stay tuned for more!
The Countdown– The witching hour approaches! Our new Halloween salon treat is just [Number] days away from its grand debut. Mark your calendar for the big reveal on [Date]. You won't want to miss this!
The Unveiling– It's finally here, and it's spooktacular! Introducing our newest Halloween-inspired salon treat: [Product Name]. Indulge in this delicious delight that's perfect for the season. Order now and experience a Halloween transformation like no other!
Halloween SMS Marketing with Salon Software
As we delve into the enchanting world of Halloween SMS marketing, we recognize that managing these campaigns efficiently is essential. This is where salon software like MioSalon, can be your magical wand. With this, salon owners have the power to automate and streamline SMS campaigns. You can segment your customers based on their preferences and behavior, ensuring that your Halloween messages reach the right audience. MioSalon's integration with SMS and marketing platforms simplifies the process, allowing you to focus on enchanting your clients. Embrace the convenience of technology and enhance your Halloween marketing strategy with MioSalon, your partner in making this season a howling success.
Effective salon marketing leverages digital channels like SMS, Email and WhatsApp. With salon software such as MioSalon, salon owners can automate SMS campaigns by segmenting customers based on their spending behavior and activity. These channels enable salon owners to engage with their current clientele, entice new customers, and improve client retention during the Halloween season.
Conclusion
This Halloween season, your salon can truly enchant your clients with these spooktacular SMS templates. From enticing discounts to fun contests and family-friendly offers, these messages are designed to create memorable experiences for your clients. Embrace the spirit of Halloween while keeping your communications professional and engaging. May your salon's Halloween season be a howling success, and remember, a little spookiness can go a long way in delighting your valued clientele during this enchanting season. Happy haunting!