Creative Salon Decor Ideas for an Amazing Look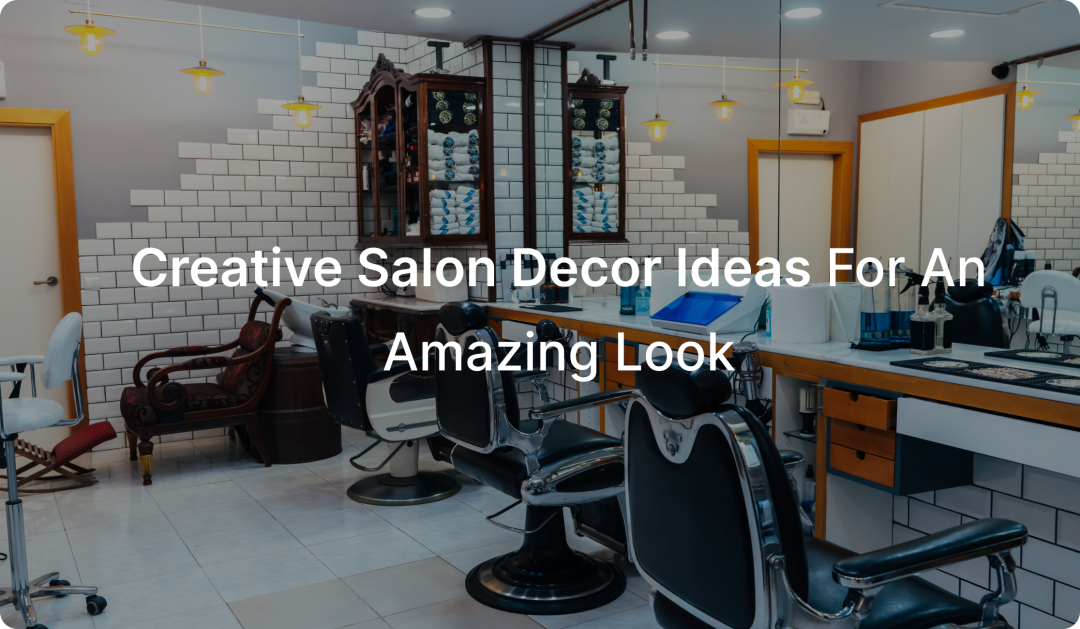 Salon Decor contributes to the major success of any salon. The hair and beauty industry is all about appearance and visual aesthetics. A client leaves their home and visits a salon to get pampered in an environment that is soothing, tranquilizing, and visually stunning. The goal is to make your customer feel good from the moment he or she walks into your salon. Without a doubt, salon decoration plays an important role in determining your success and bottom line.
Setting up a new or existing salon can be quite an overwhelming process because you have many things to look into such as salon layout, interior design schemes, services, products, hiring staff, and so on. However, designing your salon is supposed to be fun. Try not to make it stressful.
In this blog, we'll be discussing a whole lot of salon decoration ideas, interior inspiration, and clever hacks to maximize your space.
Begin with a Theme
The salon decoration reflects the kind of clientele you wish to attract. Thus, even before painting walls and setting up furniture, think of your ideal clientele. If you're an owner of an upmarket hair salon, think marble counters and an over-the-top chandelier whereas if attracting millennials is your aim, make sure your beauty salon wall decoration is Instagram-worthy.
A good place to start is by choosing a theme for your beauty salon. With a theme in mind, you'll be able to sketch out the bigger picture more realistically. Below we've listed a few theme ideas for salon decoration.
Bright and bold: Make a bold statement with bright colors. Studies reveal that colors such as red and yellow create a sense of urgency and stimulate the senses. The best way to create an upbeat atmosphere within a salon is by incorporating red-styling chairs. Colors are the best way to breathe life into your salon.
Rustic: Most barbershops follow a rustic theme where wrought iron furniture and deep colors rule the décor. Many day spas follow a traditional theme while planning their décor.
Asian-inspired: Asian-inspired themes work best in massage centers and spas. While it gives a sustainable feel, it also makes the client more conscious of the environment. To establish an Asian-inspired theme, natural wood furniture with clean lines, earthy fabrics, and mood lighting is used. Water fountains and indoor plants are also an invaluable addition to this theme.
Sleek and modern: Most salon owners today prefer going contemporary and sleek with their décor. Beautiful ceramics, sleek counters, and clean lines feature an upmarket salon decoration. If you really want to splurge, this is the theme you must pick. Include high-end chandeliers, plush seating, expensive shampoo bowls, and hi-tech workstations. Every nook and corner of this theme should spell luxury.
Choosing Colour & Lighting
When designing your salon, color, hues, and blends are vital. Choose a color scheme that resonates with your theme. The colors and lightings you choose play an important role in determining your overall success. If you want to provide a relaxed feeling, choose pastel colors and match them with a dark shade.
For a more contemporary touch, choose a royal blue and blend it with hints of gold and beige. In this day and age of Instagram, create a corner that begs for selfies to be taken. It's typical millennial human behavior that they will share a cute corner in your salon on their Instagram handle. This is a great way to get found by new clients. 
After picking the right colors, it's time to choose the perfect lighting. It is one of the most important aspects of salon decoration. If you can benefit from tons of natural light, great. However, make sure you incorporate lights that are flattering, offer fewer shadows, and make your client look and feel good.
Choose warm bulbs, ambient lights, ceiling lights, pendant lights, and standing lamps to make your salon look lit. Make sure to have a lighting fixture installed at every workstation and your retail section.
Choose the Right Furniture
While doing your salon decoration, you would want to make the most of your space. Instead of implementing an overhaul from scratch, leverage the elements your space already has. Maybe there are certain pieces of furniture that can help you create a rustic look. For example, a teak-wood coffee table would be the perfect pick for an Orient-themed salon.
If you're a new salon owner, look for furniture that is visually subtle yet worthy enough to make a statement. It is important to make sure your salon furniture and equipment match your vibe. Besides lofty salon chairs, pick accent furniture that would look great in the waiting area such as a low sofa or a couple of chairs with a square or rectangle coffee table. Of course, all the furniture you choose solely depends on your budget. Try and explore at least one of these options.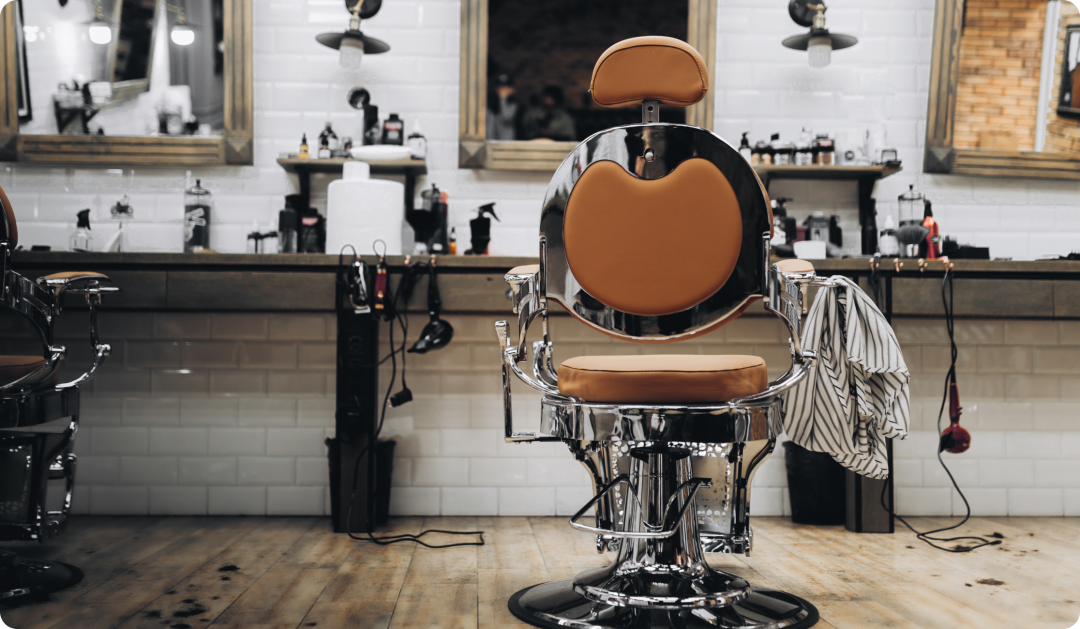 Make it Instagram-Worthy
The decor for the salon is beyond the four walls. Expand your design to the floor and ceiling as well. While you can brighten up your space with a colorful ceiling, you can also consider making an Instagram-worthy wall. Salon wall decoration ideas include having a quote painted on the wall, neon signs, decals, abstract prints, and more. You can also make the treatment rooms look wider and more spacious by painting the walls white.
Add a Hint of Green
Nature often has the best ideas for salon décor. The best way to boost the overall energy in your salon is by incorporating a few indoor plants. Not only do plants clean the air and provide oxygen but also add a pop of color by giving a natural and calm feeling. Plants in the reception or waiting area look good. Vertical gardening is another option you can consider.
Every Detail Matters
Everything that goes into your salon space matters. No detail is too small to neglect. From the layout to the colors on the walls, your product display, waiting area; everything matters. Make sure your linen matches your salon decoration elements, the workstations and chairs are lined in a cohesive manner, the approach is free-flowing, and the cabinets and countertops match your style.
Ditch the Clutter
Today, minimalism is the way to go. You may have the best salon decoration in town but if your space is messy, unorganized, and dirty, clients won't even give it a second look. Therefore, make sure your salon space does not look dated and eliminate the clutter on the countertops. Buy chic and cute organizers to store clips, combs, and other hair styling tools. Know how to create an inviting front desk in your salon
Wrapping Up
You may have the best stylists and equipment in your salon, but if your décor is not up to the mark, your clients may not want to visit you again. Make your salon an incredibly happy place so that clients leave your salon satisfied after their makeover. We can assure you that the above salon decoration ideas, tips, and inspiration will help you pull clients through the door.
Designing and decorating a salon is a time-consuming process. However, make it fun and rewarding by keeping your cool at all times. Just remember to pay attention to the little details and the energy in your salon will be unmatched.
Once you attract clients to your swanky salon space, with the best salon decor, manage and retain them with the best salon management software curated for your business.