How to Get Your Salon Text Messages Opened and Read Every Time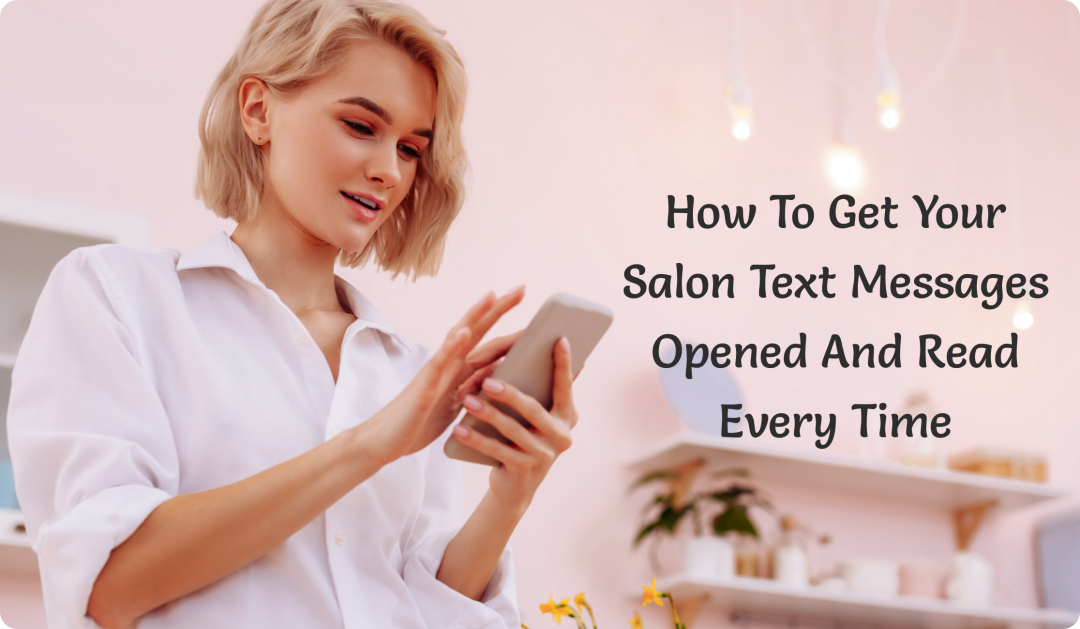 Hacks to get your Salon Text Messages Opened & Read
Those of you who run a salon or spa know exactly how important it is to stay in touch with clients in order to retain them. From email marketing to social media pages and SMS marketing, there are several different ways in which you can achieve this goal.
While we've already discussed how SMS can be a game-changer for your business, are you doing it right?
If you've neglected SMS marketing, it's high time you incorporate it into your promotional activities.
Most Read: How Salon SMS Marketing Can Be A Game-Changer For Your Salon Business?
Salon text messaging is certainly not rocket science. It's instant and intimate. We believe that it's the perfect tool to achieve the following:
➭ Reducing no-shows. Sending out automated text reminders from your salon software 24 to 48 hours before the appointment can make all the difference.
➭ It's a great way to fill in last-minute slots.
➭ Send out promotional offers to a niche target group
➭ Increase attendance at hair and beauty events and inform clients about important occasions at your salon
To master the art of savvy text messaging, here's a salon SMS marketing checklist you can follow to ensure your text messages are open and read by the client.
8 Simple Salon SMS Marketing Guidelines
1) Keep promotional texts short, sweet, and precise:
A text message carries only 160 characters. Thus, you must be as brief and precise as possible. Remember to stay focussed on your goal and to get to the point immediately. Avoid any kind of marketing fluff and unnecessary words. If you are sending out a message for an event, include the date, time, and place while if it's a promotional message, include the discount coupon value, offer period, etc. The aim of the game is to remember why you are sending out the message while framing it. Also, Check:Salon Offer & Promotional Messages
2) Keep in mind your salon standards:
Every salon or spa crafts a standard for itself. This means that people view you in certain ways and expect a certain level of service from you. Don't let your salon marketing standards slip while sending out a text message. It's a part of your salon brand and thus gives out an impression. You may use internet slang in your personal messaging but must be avoided when SMS marketing your business. Also, watch your spelling, punctuation, and grammar.
3) Target the right hair and beauty clients:
A common mistake most salon marketers make is that they send out text messages to a large audience in bulk. Just because SMS marketing is instant, it does not mean you disregard the fundamental rules of marketing. At every step of any marketing activity, it is important to keep your target group in mind. Think about who would be interested in this offer. You can also resort to your spa management software to see the kind of services clients have availed in the past. Based on such data, you can send out relevant text messages to a relevant audience.
4) Personalise salon texts:
As mentioned earlier, text message marketing is very simple and intimate. Thus, make sure to use a personalized tone in your marketing messages. A good practice is to use the client's name. Remember, your aim is to make them feel special and get them to schedule an appointment. Get salon SMS template inspiration! When you personalize the text message, it increases the likelihood of being opened and read. Everyone hates spam texts.
5) How to write a salon SMS:
Rounding up all the texting tips together, remember to get straight to the point. Make sure to tell your client exactly what the promotion is, how they can access it, and what they need to do next (call to action).
Here's an example: "Dear <client's name>, thank you for your last 5 appointments. Enjoy a free <service name> as a gift from us. Schedule your appointment online <link>."
6) When to send salon text messages:
While every salon or spa is sending out their clients' hair and beauty reminders, are you doing it at the right time? Remember, with text message marketing, timing is everything. Know the art of adding value to your Salon text messages. If a client has genuinely forgotten their appointment, it doesn't give them much time to reorganize their schedule if you send them the reminder a few hours before. Thus, sending out reminders 48 hours before the appointment is an ideal practice. You don't have to do it manually. Just schedule it on your spa software and the message will reach the clients a few days/hours before the appointment.
Also Read: The Art Of Adding Value To Your Spa Promotion Messages
7) Secure a real texting database:
The main reason you're resorting to SMS marketing is to get your clients through the door. What if all these marketing activities are going in vain? This usually happens when you send out texts to obsolete mobile numbers. When a client schedules an appointment, make sure to ask for their current mobile number. You can also use your salon software to regularly check text delivery reports and your client's mobile number database. If you're struggling to build a client database, here's how you can do it real quick like a pro.
Most Read: Important Steps To Build Your Salon Client Database Quickly Like a Pro
8) Measure your salon SMS marketing results:
Many salon marketers send out a text reminder and forget about it. Once you get into the habit of text messaging, you will realize your salon client no-shows will drop dramatically. However, for other promotional messages, you send out, you need to constantly measure the results and if they're actually working.
Also Read: Impactful Beauty Salon Marketing Tips To Beat Monsoon Woes
A good idea is to include a coupon code with the text promotions. This will enable you to monitor and measure results. Once you do so, you can evaluate what worked and what didn't.
SMS marketing tends to get too tempting and thus a lot of salon owners tend to overdo it. During a slow day, they get desperate and hit the send button without even thinking. This can result in irritated clients.
Look at SMS marketing as a potent tool to retain clients. If you are looking to automate your reminders and promotional messages, use MioSalon, spa management software. We've also framed SMS templates for important occasions, and Indian and international festivals. View them here.
MioSalon Software – Sign up for a FREE trial now!