5 Last Minute Salon Halloween Marketing Ideas!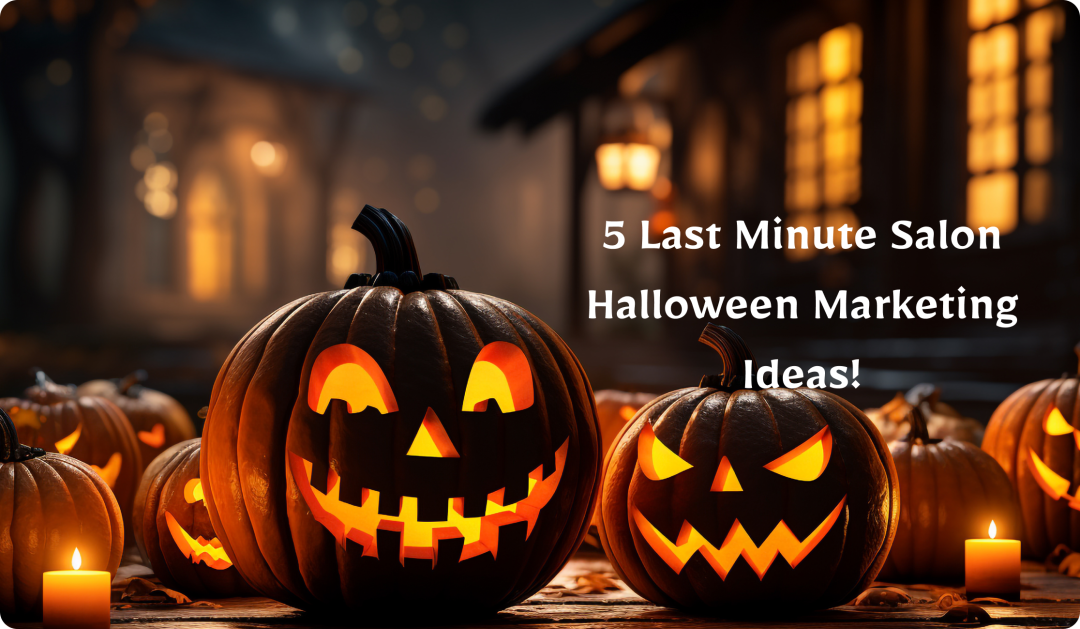 October promises to be an extremely busy month for salon owners with so many festivals and holidays around the corner. If you're not taking advantage of the holiday's revenue potential, now is the time to start.
Did you know? Halloween is the second holiday of the year after Christmas when most people spend their money. Beyond the opportunity for boosted revenue, Halloween is a great time to have fun and get creative with your client's looks.
Clients often drop by for monster makeup and spooky hairdos. This can result in directly-related service and product sales.
To make sure you are truly well prepared for Halloween this year, we thought we'll put together some Halloween salon marketing ideas that will give you the opportunity to maximize on this holiday.
Table of Contents:
Spine-chilling Halloween Marketing Ideas
Spine-chilling Halloween Marketing Ideas
1. Spirited décor:
The best way to let your clients know that you are in the mood to party is by creating that atmosphere. Decorate your salon in such a way that it will make a unique and fun statement. Your clients will absolutely love getting pampered in this spooky and terrifying atmosphere. While you don't have to make major changes to your existing salon décor, you just need to enhance it a bit. Having pumpkins painted black and gold can add a little glamour to the scene while you can also install a spooky antique mirror in one corner of your salon. There are a lot of party shops where you can find interesting and cheap items to hang in your salon. The idea of a Halloween-themed promotion is to make it look classy and not tacky.
2. Halloween promotions:
Clearly, dressing up isn't limited to kids anymore. Hair and makeup are an essential part of a great Halloween getup. With costumes becoming more elaborate, the demand for professional hair and make-up services is increasing. All through October, train your stylists and makeup artists to master some trending Halloween scary get-ups. You could also offer special deals for those looking to prep on the big day. Adding some spooky products to your retail is also a great idea to boost retail sales. Ghostly hair accessories, false eyelashes, witchy nail art, and glow-in-the-dark accessories are things you could sell in your salon two weeks before Halloween.
Some promotion ideas include:
➭ Halloween hair: A witchy up-do or a blowout for Rs. 1,500
➭ Halloween makeup: Glamorous to Gruesome makeup for Rs. 2,000.
➭ Halloween hair and makeup special: Includes full hair and scary makeup for Rs. 3,000.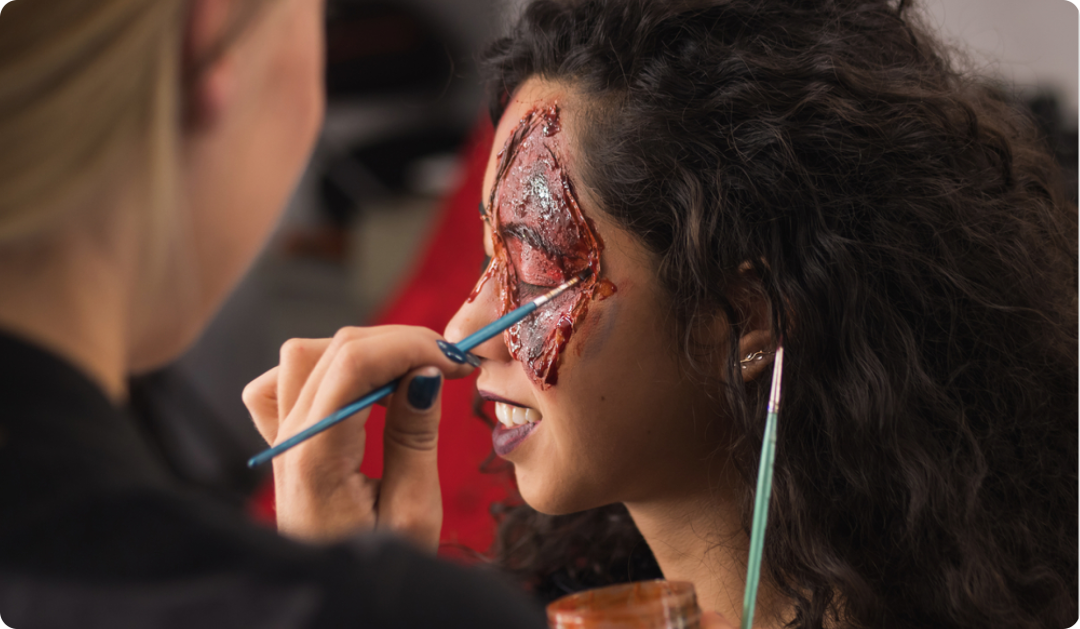 3. SMS Templates:
What's the point of running a Halloween promotion if nobody knows about it? This is your chance to show some personality in your SMS templates by engaging clients with some devilishly good offers 'which' can boost revenue for your salon.
We've rounded up some Halloween SMS templates for you that can get those creative juices flowing:
➭ Hey <client's name>, Look boo-tiful this Halloween with scary hair and makeup packages only at <salon name>. Schedule an appointment today <booking link>.
➭ Hi <client's name>, Spooktacular offers! Get hair-raising makeup and scream-tastic nails at <salon name> for Rs. 3,000 only! Hurry, limited slots available!
➭ <Client's name>, thinking about a new look this Halloween? <Salon name> has your back! Book any 2 treatments and get the 3rd completely FREE! T&C apply. Call <phone number>.
➭ This Halloween, it's only raining treats at <salon name>. Get a free spooky goodie bag from us with your appointment only on 31st Book here <link>.
➭ Hey <client's name>, Post Halloween Skin Recovery Plan! Book a refreshing facial and get a free cut, file, and polish only at <salon name>. Book here <link>.
4. Contests:
Contests are a great way to increase brand awareness, grow social and attract new clients. For a Halloween marketing promotion, you can hold a contest where you can ask your followers to send you their best Halloween hair and makeup photos. Ask them to get their followers and friends to like, share and comment. The person whose photo gets the most likes (votes) becomes the winner. Likes and shares are the lifeblood of a brand's social media reach. By asking your followers to share the contest post, your updates reach into the social media marketing stratosphere.
5. Email Marketing:
Sending out a ghostly email marketing campaign to your clients is also a great way to communicate your marketing efforts. While you need to remind them about the celebration, offer them something special that will make them feel like they cannot let go of this opportunity.
Here are some salon Halloween email templates:
Subject Line: Spook-tacular Halloween Hairstyling at <salon name>
Hello,
This Halloween, make all heads turn towards you as our team is all set to create some spooky hairstyles for your upcoming Halloween party. To reserve an appointment, visit <booking link>.
Always at your service,
<Salon name>.
Subject Line: Super Halloween Offer Inside!
Hey <clients name>,
Does your hair look like something straight out of a horror movie?
Well, we have an offer for you that you cannot refuse.
All through Halloween week, get a haircut with our top stylist and a free blowout for a terrifyingly low price.
Visit us as soon as possible or book an appointment today <link>
Call <phone number> to know more!
We cannot wait to host you,
<salon name>.
Subject Line: Halloween Makeup Special…
Dear <clients name>,
Is your Halloween costume ready? Are you ready to paint the town red?
We at <salon name> would like to help you prepare for the most spoo-tacular party in town by offering a special 10% discount on makeup packages.
Whether you want a simple look or something ghostly scary, let our team work their magic on your face.
We're now taking appointments for 31st October 2019. Limited slots available!
Waiting at your service,
<salon name>.
Subject Line: Scare the Hairy Horrors Away!
Hello <clients name>,
Are your arms and legs slowly starting to resemble a jungle? Well, it's time to scare the hairy horrors away as we at <salon name> are offering full arms and full legs waxing at an unbelievably low price.
Make your skin shine and glow as you step out for your Halloween party.
Drop by all through 20th to 30th October 2019 to get your glam look on.
Reserve an appointment, visit <booking link>.
Waiting to hear from you,
<salon name>.
Subject Line: Spooky Halloween Retail Ideas
Hello <clients' name>,
This Halloween, are you falling short of costume ideas? Well, fret not because we've got your back.
We at <salon name> are fully stocked with hair-raising products that might just make a valuable addition to your entire look.
Schedule an appointment with us for any service and take home these spooky items at terrifyingly low prices.
We have false eyelashes, horror nail art, theatrical make up, wash-out hair colour, glow in the dark nail varnish and a lot more.
So what are you waiting for? Schedule an appointment, today!
Looking forward to seeing you,
<salon name>.
Do any of these Halloween salon marketing ideas sound promising to you? If you have any other ideas, we would love to hear from you.
Halloween is a great time to attract and retain clients. Besides this spooky holiday, there are many other fun and unique holidays your salon can capitalize on to help drive traffic through your doors. With MioSalon, salon management software, automating your SMS and email marketing efforts is unbelievably easy. Sign up for a FREE trial