Effective Strategies to Boost Salon & Spa Customer Loyalty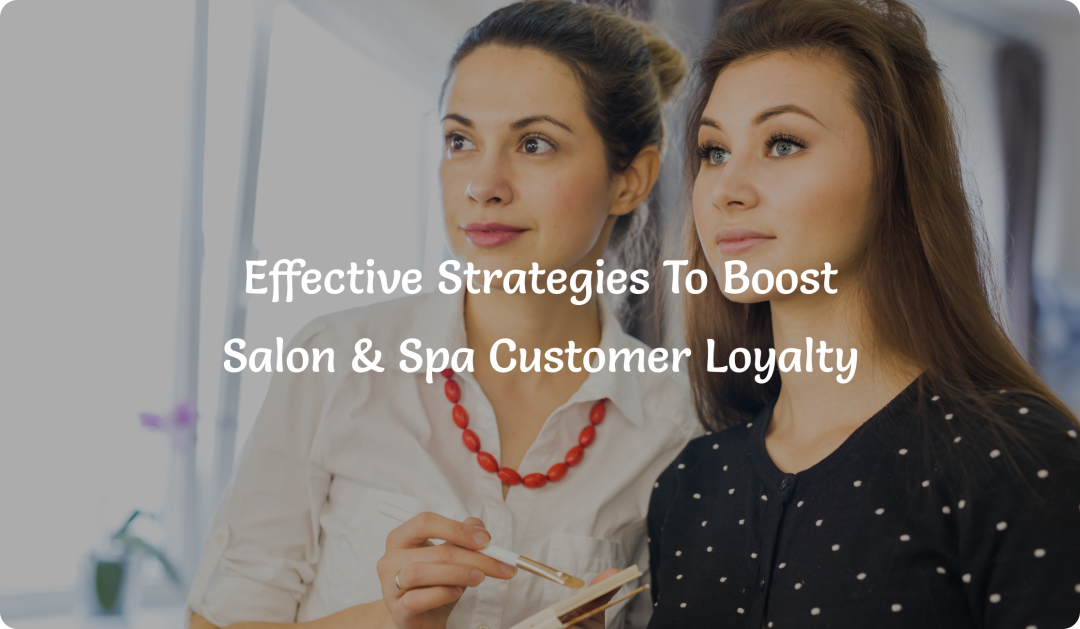 In the beauty industry, customers are the heart of your business. Having a steady set of clients visiting your salon determines your success. Did you know? It is six times more expensive to win a new client than retain an existing one. Also, returning clients spend 67% more than new customers. In light of these statistics, it goes without saying that customer loyalty programs are a great way to keep your clients happy. Your loyal customers are the brand ambassadors of your business. They are unpaid advocates that indirectly drive a big part of your revenue.
To keep customers loyal to your salon, you must implement various marketing strategies. An easy and effective way to maintain a strong base of repeat customers is by implementing a customer loyalty program. For those who are unaware, a customer loyalty program is a reward system that is offered by a salon or spa to its regular customers. It is a way of appreciating your customers for their repeated business. Salon loyalty programs or reward programs usually include giving customers coupons, merchandise, discounts, or even new products as an incentive or token of appreciation.
Today, most salons do run loyalty programs but are unable to use them to actually grow their business. For a loyalty program to work, a salon owner must spend time setting it up strategically.
Before shaping your rewards program, it is important to get salon scheduling software. Using the software, you can create a mutually-beneficial loyalty program that will not just benefit your customers but will also improve your key performance indicators (KPI).
In this blog, we have discussed some key pointers that will help you create effective loyalty programs and Loyalty card ideas for salons, spas & Beauty salons that compel your customers to stay.
Before creating a salon or spa loyalty program, you must understand your customers' buying patterns. Know where they are spending their money and on what service. There are typically three types of clients that visit a salon. They are:
➮ Regular customers
➮ Sporadic customers, and
➮ One-time customers
By enabling a loyalty program, you will be able to target each category of customers. Getting your clients through the door as often as possible is what you must aim for. The below list consists of the most successful salon loyalty program examples you'll need to run your Salon and Spa. Once you incorporate these proven salon reward program ideas into your business.
You'll be on your way to running a successful salon by accomplishing desired revenue. Here's how you can do it:
1) Points system:
Having a points system is one of the most popular methods to lure clients. It is easy to implement and straightforward for customers to understand. How clients can earn points is completely your discretion. For example, you can set 1 Rupee to be equivalent to 1 point. However, be sure to lay down the terms and conditions under which points can be redeemed. Every time a customer makes a purchase or avails of a service, you can add points to their loyalty card. They can check the number of points earned on the salon software. You can also assign points based on customer behavior. Here's how you can shape your points system:
➮ 1 customer referral = 200 points
➮ Birthday appointments = 100 points
➮ Appointment made through salon scheduling software = 200 points
➮ Appointments made through physical visit = 50 points
Encouraging such a system ensures more clients make more bookings on your software. This way, a salon owner also gets more traffic to their site.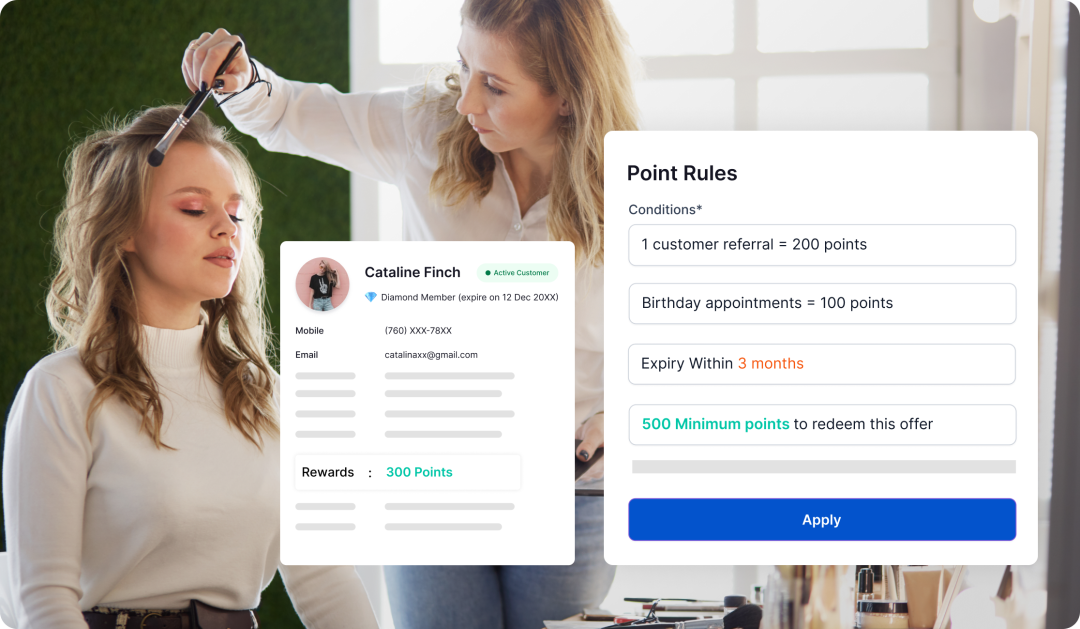 "Also, read this: Successful Salon Loyalty Program Ideas To Retain Customers"
2) Punch card loyalty program:
This simple yet effective punch card loyalty program works wonders when you need to drive customers to your salon. You can supply your customers' punch cards after their first visit. It's up to you to decide how many punches will equal a reward. Multiples of 5 work best. Every visit means a customer can make one punch in the card. This means after five purchases, you can offer your customers a reward. For example, it can be anything – 20% off on their next service, 50% off on their next service, or even a free service.
Remember, the more compelling your loyalty reward card is, the higher the chances of keeping clients coming back. Hand out punch cards to every client that walks into your salon. The more the number of people that gets their hands on your punch card, you will be more successful at building your salon client retention.
3) VIP loyalty program:
As the name implies, you can also implement a VIP loyalty program for your most frequent and loyal customers. It is a great way to reward customers who have acted as brand ambassadors by way of referrals. Giving your regular clients a VIP badge will make them feel truly special. You can also give them exclusive access to deals and discounts on retail products, special treatments, and more.
"Quick read: 8 Fool-proof Ways to Increase Salon & Spa Customer Loyalty"
4) Social network:
In the era of social media, don't miss rewarding your clients on networking platforms. Entice customers with exciting promotions and contests. You can ask satisfied customers to take pictures of their hair and nails and post them on their account. The picture that gets the most likes can be rewarded with a special discount on their next visit. You can also reward customers that post positive reviews of your salon.
Also read: How to fix your Salon Online Reputation
Customer loyalty programs are a fool-proof way to engage with your clients. It also helps a salon secure a client's contact details. Most often, online users hesitate to share their email addresses and phone number. However, if they are intimated about a loyalty program, they will readily do it. Anything for free always sells. This gives salon owners the opportunity to follow up with clients even after they avail of the service and engage with them later by sending salon offer messages and newsletters.
When you set up a loyalty program for a salon or spa, it is vital to record points redemption as well. For this, you can can use MioSalon – Salon & Spa software. Every time a client spends part of their points, deduct the same and notify them. You can pre-set email alerts to your clients on the software too.
A successful salon & spa loyalty program is that in which your customers take interest in. The rewards you offer must make a customer want to avail of another service. Put your loyalty program on your website and salon scheduling software. A few months after launching your loyalty program, start measuring business reports. Check if you are achieving your goals and if you have been successful in retaining clients. If you aren't seeing the desired results, investigate why your loyalty program is not working.
Managing your customer loyalty program is now easy with MioSalon – Salon & Spa software. It gives you insights on how your clients are redeeming points. You can also set point expiry dates and loyalty levels for different customers. Sign-up today and start your free Version https://www.miosalon.com/signup