MioSalon: January 2020 Product Update
In this month of January, we have updated our Salon Software with some effective enhancements like,
Digital Invoice Notification

Restructuring Prepaid Wallet Balance

Download Tax Report

Refer & Earn Option

Pay Now & Pay Later

Prepaid Report

POS Enhancement

Carry Forward

Enable Billing Option.
Here's a little more about each update in detail.
Digital Invoice Notification
MioSalon, Salon & Spa Software comes up with a Digital Invoice Notification feature that enables end customers to download and view their Invoice details with ease.
The end customers of your Salon can download and view the Invoice details after their billing process. The link of the Invoice will be sent to their Corresponding SMS and Email Id's.
It improves the communication between the customers and salon owners.
Restructuring Prepaid Wallet Balance
Restructuring Prepaid Wallet Balance for an Individual customer to view their Prepaid Wallet Details based on their separate payments.
For example, If one customer purchase prepaid money of 1500 INR to their wallet and again they purchase money of 1000 INR to their wallet, these two purchases gets updated separately in Prepaid Wallet Details.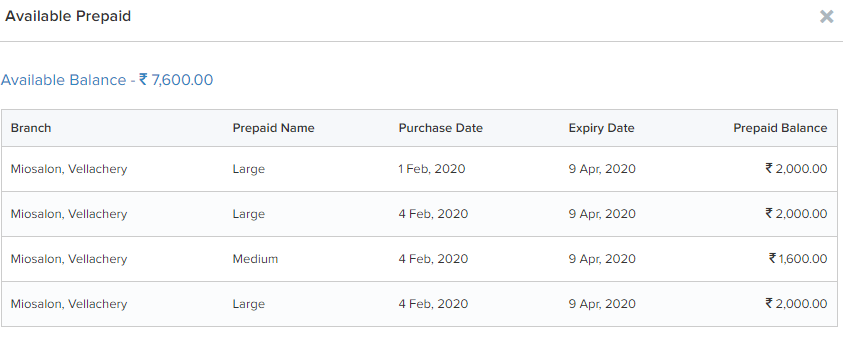 Download Tax Report
On billing a certain customer, the admin can add an extra "Custom Field" where they can enter details, which they can refer later after downloading excel from the "Reports" column.
For example, during billing of a customer, adds field "test field" and enters "sample" in that field and later admin can download and view the same details from the "Reports" column.
Refer & Earn Option
MioSalon Software exclusively added an "Refer & Earn" option where one can refer the Beauty salon software to their friend or colleague who also owns a salon or having an idea to start a salon business.
All you have to do is, just submit the details of the person whom you're referring along with your details
You will get an amazon gift voucher of 500 INR after you refer your friend.
When your reference gets confirmed, you get 3000 INR for successful invitation!
Pay Now and Pay Later
While booking appointment with Salon Software, now the customer can choose whether they can "Pay now" or "Pay later" after completing their service.
This option should be enabled in "Online Booking" tab so that it increases the trust and reputation of the Salon.
Prepaid Report
Now, Prepaid Report is updated with even more 'User friendly' functionalities. You can view the list of prepaid customers and their wallet balance and expiry dates all at one place.
One can view all the prepaid details on clicking the amount present in the "Quick Sale" option.
Prepaid details includes Prepaid Name, Purchase Date, Expiry Date and Prepaid Balance.
POS Enhancement
Preview invoice is now enabled. Previewing invoice allows you to display the Invoice Details including Estimated Tax, Footer, Header Message, Staff Total Amount, Tax.etc., before you send it to your corresponding client to make sure all the information is correct.
Carry Forward
This Option is added in Prepaid Settings. When it is enabled, the expired wallet balance amount will carry forward to the newly bought prepaid expiry date. This is applicable to the nearing expiry date, to the next one. The intention is to avoid the wallet balance when the option has gone in the money before/after expiration.
For example, if a person buys a first prepaid with expiry date of February 7, 2020 and then he buys a second prepaid with expiry date of February 14, 2020 now both of the prepaid's expiry date will automatically change to February 14, 2020. This takes the whole aspect of Customer Retention and Satisfaction to a whole new level.

Enable Billing
We've added an exclusive feature that only a store owner can view billing information or make changes to the Salon Software.
But admin can give or allow access to Staffs to View/Modify the Billing Page of the Software.

We have many more exciting salon software updates for 2020 specially crafted for you. Stay tuned!