5 Ways To Strengthen Your Relationship With Your Salon Suppliers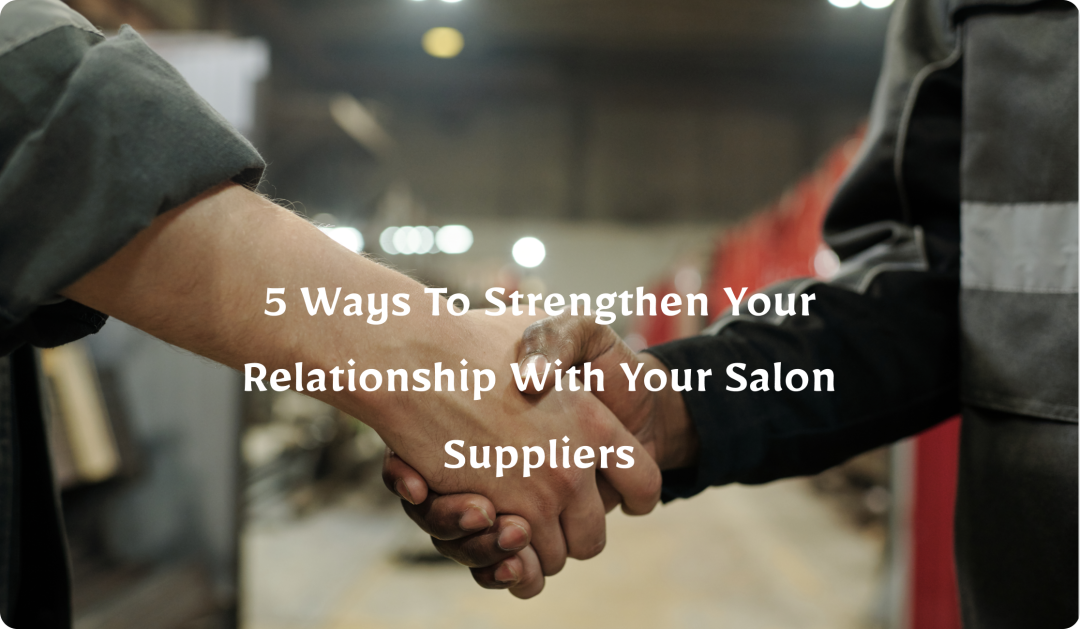 The beauty business is all about building relationships whether it is with your clients or salon suppliers. If you consider yourself a profitable hair and beauty venture, you need to actively market yourself to suppliers.
A lot of salons and spas find it absolutely unnecessary to improve their relationship with their suppliers. Instead of viewing your suppliers as just a 'cost to the business', view them as people who play an important role in bringing people through the door. If the products and equipment in your salon or spa are not up to the mark, no one will want to do business with you. Thus, view them as an asset and not a liability.
Only when you make your business important to them, they will be motivated to work hard for you and pump in the best products.
Also, when you implement supplier relationship management strategies, you will be able to improve supplier performance and squeeze more from your salon budget.
If you are a salon or spa owner struggling to build a good supplier relationship, we have you covered.
Top Ideas to Network with Salon Suppliers
1) Communicate consistently with key suppliers:
When it comes to communicating with suppliers, most salon owners are very selfish. They feel like once their products have reached them, there is no reason to maintain any kind of relationship with the suppliers. However, this can truly hamper your business as well as employee productivity.
Communicate often and consistently with your salon suppliers – exactly how you do with your salon clients. Since they're well-versed in the hair and beauty business, they can help you too. A good idea is to add them to your e-newsletter mailing list. It's a quick and effective way to keep them updated with your business.
Also, if they feel like you're not doing something right, they may even voice their opinion which can be beneficial to your business. When you meet them in person, you can also discuss your future salon business plans with them. However, make sure not to disclose any confidential details with them as they not just supply products to you but many other salons as well.
2) Compliments and complaints:
After an appointment, you'll usually find your salon software filled with reviews. Clients literally point out what they liked and disliked. If you hear a client say they enjoyed a facial or hair color, immediately intimate your salon suppliers about it. Let them know their products are being received well by the end client.
This way, they too will be motivated to introduce you to new launches in the market. The same goes for a negative review as well. If a certain cream, shampoo, or skin product has not suited a client, tell them about it. There is literally no scope for mistakes in the beauty business. Once they get to know the problem, they will make sure they fix it. 
3) Supplier needs and expectations:
Do you like it when your hair and beauty clients turn up late? No, you don't! The same code and conduct apply to your suppliers as well. It's important that you work to their business systems and expectations. If you are running short on a certain product, make sure to place the orders in time.
• With salon management software, never fall short of a product. The auto product consumption feature tells you exactly when a certain product is getting over and you can order it within a few clicks from the particular supplier. As a salon owner, when you are clear about delivery deadlines, the supplier too will be clear. Remember to pay on time and maintain a purchase order system
• Maintain stock control, purchases, and inventory on salon software to ensure nothing goes amiss.
• If there is any change from your end, keep your supplier in the loop before the situation blows out of proportion.
• If you are opening a new salon or spa branch, make sure you inform them about it so that they can check if they have the capacity to continue to supply what you need.
4) Benefits of good supplier relationship:
Remember when we spoke about retaining existing clients, we mentioned that it costs five times lesser than acquiring a new one? The same marketing principle applies to your supplier as well. Since you put a great deal of time and energy into finding a supplier, it makes sense to work in a relationship. Constantly switching from one supplier to the other will not just waste your time but will also result in unwanted expenditure. Train your front desk staff or receptionist to excel in communication. Here we offer the Best Tips to be a Great Receptionist. Keep a firm eye on your salon suppliers cost, quality, and performance, and everything will go smoothly.
5) Supplier referrals:
Another way by which you can make your supplier happy is by recommending them to other salon owners and spas. If you do not want to share their contact with your competitors, don't. However, if you feel like a new salon needs help shaping up, passing on a good contact is not a bad idea. When you recommend them to other businesses, they'll do the same for you with clients. As you already know, word of mouth is the best way to grow your business.
Relationships with salon suppliers are critical. Instead of hampering them, nurture them. That is when you will be able to squeeze out the maximum from each of them as per your salon budget. MioSalon, a spa software, notifies you when you are low on product and stock, and helps you manage product usage and expiry with its simplified inventory management tools. Also, see how MioSalon software can take your Salon Business to a whole new level.