Good to Great: 7 Tips to Elevate Your Salon Receptionist Skills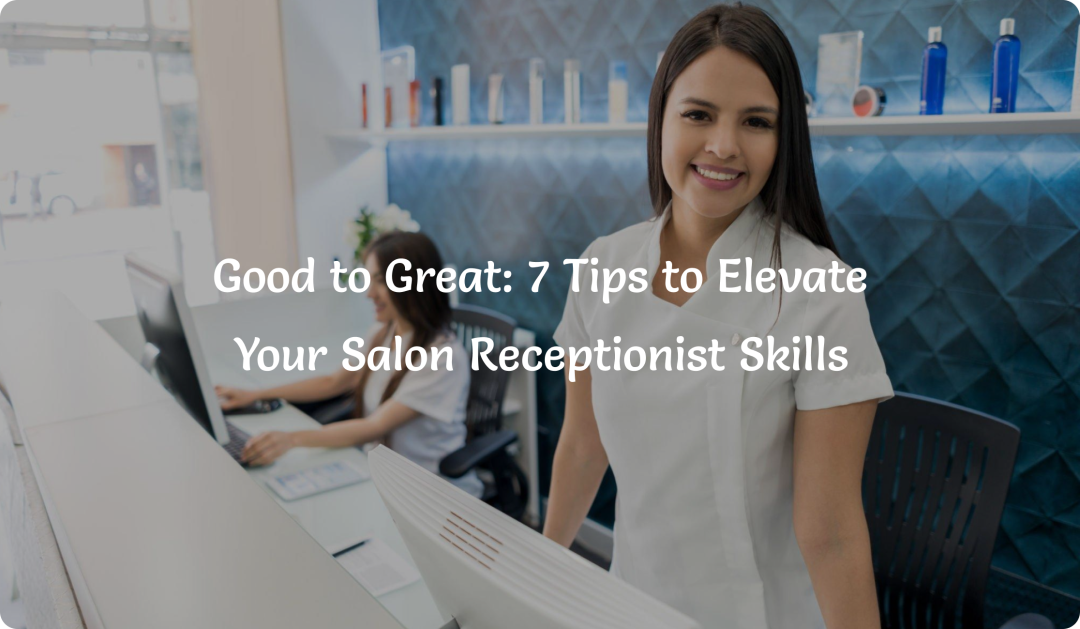 Each time a client walks into a salon, the first-ever communication they have is with the person sitting at the front desk. Being greeted with a cheerful and smiling face can just enhance the whole experience. Nobody likes to walk into a salon, only to be greeted by a sullen and expressionless receptionist.
Also Read: Technological Support You Must Have In Your Salon and Spa Reception
A front desk is the life of your salon. It is the first thing a client is going to see when they walk in. Remember, first impressions count. It is in the hands of a salon receptionist to attract new clients, improve client loyalty, increase client spending, and boost retail sales. While the role of a salon receptionist is vital to the salon business.
Here Are A Few Tips That Will Go A Long Way In Ensuring Top-notch Client Service:
1. Body Language:
A positive appearance is all about the kind of body language you use. When communicating with new and regular clients be aware of what you are saying. Choose your words wisely. Don't say something you're not supposed to say otherwise. Set a tone for your voice and pay attention to non-verbal body language such as posture. Whether you are seated or standing, maintain an upright posture.
Also Read: 5 Ways Salon Software Can Create a Good Client Experience
2. Organizational Skills:
Besides being pretty and smiley all the time, a great receptionist is someone who has outstanding organizational skills. From the way you maintain appointments and organization within the salon to promoting your brand, your boss will applaud if you have great managerial skills. To keep track of appointments, a salon should implement salon scheduling software. Gone are the days when a salon receptionist would maintain an appointment register. With such a system, the chances of human error are reduced significantly. It makes the appointment-taking and canceling process more streamlined. It also makes sure everything is done in a timely manner. Too many sheets of paper can make a front desk look ugly. Thus, it's high time salons eliminate the clutter and maintain a clean and organized system.
3. Phone Etiquette:
As a salon receptionist, you'll find the phone ring every now and then. Rule #1 – Be courteous. Answer the phone in a calm and friendly manner, and ask the caller how you can help them. No matter how busy you are, never let it reflect in your voice. When scheduling an appointment or taking a message, be sure to get the client's name and number. To be on the safer side, read the number back.
You might like: Salon Etiquette The Do's & Don'ts
4. Wear Your Brand On Your Sleeve:
A uniform instills a sense of discipline in your staff. While it is mandatory for the stylists to wear a uniform, give one to your salon receptionist as well. In case a client needs assistance, they know whom to go to. It creates an identity and promotes your brand too.
5. Recordkeeping:
The job of a salon receptionist may look simple. However, in reality, it's not. Every message pertaining to a salon is usually given to the salon receptionist. Whether it's an invoice, a holiday announcement, a tax receipt, or filing, it is all the duty of a receptionist. For efficient and structured recordkeeping, a salon should make use of salon scheduling software. This will help him/her keep the client's service history, appointments, and past purchases in place.
6. Be Aware Of The Services Your Salon Offers:
Once a salon hires a receptionist, it will be the duty of the manager or head to train the receptionist adequately. A clueless person at the front desk can leave clients irritated. Give your receptionist a thorough understanding of the kind of services you offer as well as the price. Once they are well-acquainted with all the services, they may be even able to give walk-in customers a mini-consultation.
Also Read: 10 Proven Tips For The First-time Salon Manager Duties
7. Go The Extra Mile:
A great receptionist at a salon is one who is ready to go the extra mile. Use the client's name when greeting him/her, use words such as 'please' and 'thank you' often, help unaware clients understand your services, offer a sincere compliment, work on multitasking, and keep smiling.
Also Read: 8 Top Attractive Salon Offers To Drive Clients
Your salon receptionist is the secret marketing tool in your salon. Train them well, and they'll be able to make the best impression that will ultimately result in client retention. Give them MioSalon, salon scheduling software, which will further help them streamline and smoother operations.