5 Hacks To Make Your Salon Get On Google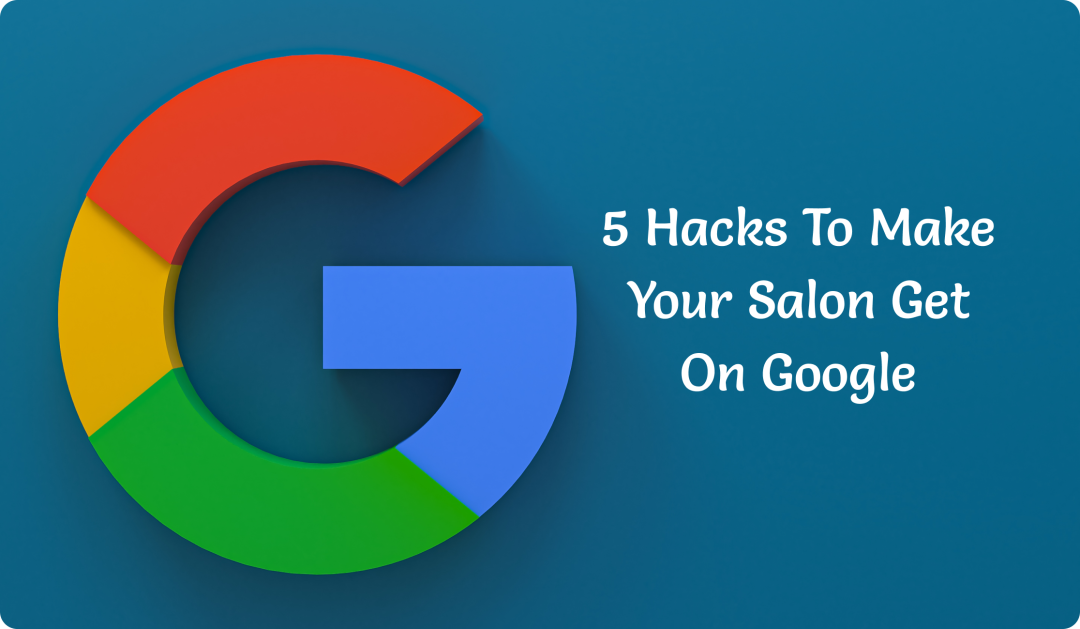 Importance of Google-My-Business For Salons
To Get on Google is always a winning game for every business. Whether we need to understand what a certain term means or find out the address of a business, Google is the first place most of us turn to.
For those who don't know, Google offers businesses a great opportunity to be found if the game is played the right way. Google My Business drives more Customers to your Salon than you think.
You might like: Why Should Salons Use Google My Business To Attract More Clients?
With Google SEO being pretty overwhelming, a lot of salons and spas tend to give up thinking the algorithm may seem confusing and there are many different ways to rank.
Always remember, to Get on Google ranking is not rocket science. You seriously don't need to be a technical wizard to rank well.
Just understand some points and you'll be well on your way. If you ignore certain things, you'll be hurting your business, fewer people will find you online and you'll be missing out on loads of potential clients.
So, if you want your salon or spa to show up when someone searches 'hair salon is Chennai' or 'best facial spa in India', you need to implement these hacks ASAP!
You just need to be willing to put in a few hours and you'll rank higher than your competitors and get more salon clients from Google.
Let's start!
Top 5 Hacks For Your Salon To Get On Google
1. Get 10 five-star reviews:
Google my business is an extremely important way for your salon to rank on Google. The way your GMB profile is written makes all the difference in where you show up. Most of the salons and spas that rank well have one thing in common which is 5-star reviews. Well, it takes time to get there. Just getting 20 or 30 5-star reviews immediately won't do the trick. Negative reviews can harm your business. Know to enhance your Salon Online Reputation.
Most Read: Tips to Fix the Online Reputation of your Salon
There's a process and you need to follow it. Here's how you can instantly get great salon reviews on Google:
➭ Send automated, follow-up emails to every client via your salon management software asking if they'd like to leave a review on Google. This one is easy to implement but very few salons are doing it.
➭ This one's a brainer but providing your customers with exceptional service is the key to getting great reviews. Even if you try to get fake reviews, ultimately your service will speak for it. Thus, be smart and get reviews from real customers.
➭ Once a week, reach out to top clients that had a great experience at your salon. Devise your Salon Email Marketing Strategy and write them a personalized email asking if they'd like to spare a few minutes to rate your salon or spa on Google. This is also a great way to acknowledge and reinforce your patronage with them.
You might like: Email Strategy To Boost Open Rates And Your Salon Revenue
➭ Constantly share your reviews on websites, emails, and Facebook. This shows your other clients how much you appreciate reviews and they're more likely to leave one too.
2. Write an optimized website description:
It's a good practice to Google your business name every few weeks to see what shows up. What you're seeing as your website description on Google is what dozens of existing as well as potential clients are seeing too. Does this description do justice to your business? Does it give a great impression to people and make them want to click to learn more? If not, it's time to change your website description on Google which can significantly improve your Google search presence. Here's how:
➭ First of all, make sure your title includes your business name, city, and a few other keywords.
➭ Underneath the title is the description that must include a few unique things about your salon or spa. Do you specialize in a certain kind of service? Is it an award-winning salon? How many years of experience?
➭ A Positive Online presence is a must-have for every salon. Salon's web presence is important to drive quality visitors.
Most Read: How To Optimize Your Spa Or Salon Website Presence?
➭ The Google website description limit is 155 characters. Thus, it's necessary to put together a sentence or two that will make your potential clients want to click on your website link. You can also include a call to action leading clients to your salon appointment software. If you're not too sure how to edit the title and description, you can always get someone to help you.
3. Make sure your NAP is consistent everywhere:
Your NAP is your business name, address, and phone number. Since most Google searches are location-based, you need to be sure that potential clients are finding your business exactly where it is located. Besides putting your contact information on Google, you need to make sure you appear the same way everywhere on the internet such as on Facebook, your website, Google profile, Instagram, and Yellow pages. If you've recently moved business or changed a number, make sure to update that ASAP. Getting your NAP updated everywhere can increase your Google rankings.
4. Write 5 blog posts:
The kind of keywords you use in your salon website description must appear in some places on your website that Google knows what you're all about. However, don't go overboard and stuff every page with keywords. If your website looks spammy, Google may even penalize you with bad rankings. Thus, you need to be very careful. Instead of keyword-stuffing, a great way to create useful content and sell your services is through blog posts. Write several short blog posts about your services and place some keywords in the title and sub-headings to rank well on Google. Another benefit of writing blog posts is that you can create and share educational and valuable information related to your business to those interested in reading. They don't have to be super long. 500 words should do. Using 3-4 keywords per blog should suffice.
5. List your business on online directories:
One of the biggest factors that help you rank on Google is because of other websites that link to yours. If a well-known online salon and spa directory ranks your business, your chances of appearing increase. Find the local business directories your city or town has and make sure you list your business there.
Getting your salon or spa optimized for Google does not have to be a massive, expensive, or time-consuming task. It has a lot to do with the kind of content on your website and where else you're listed online.
Using MioSalon, salon appointment software is another way to increase your search rankings on Google. Studies suggest that salons and spas that offer online booking have better chances to Get on Google than those that don't.