This 'World Smile Day', Make your Salon Clients Smile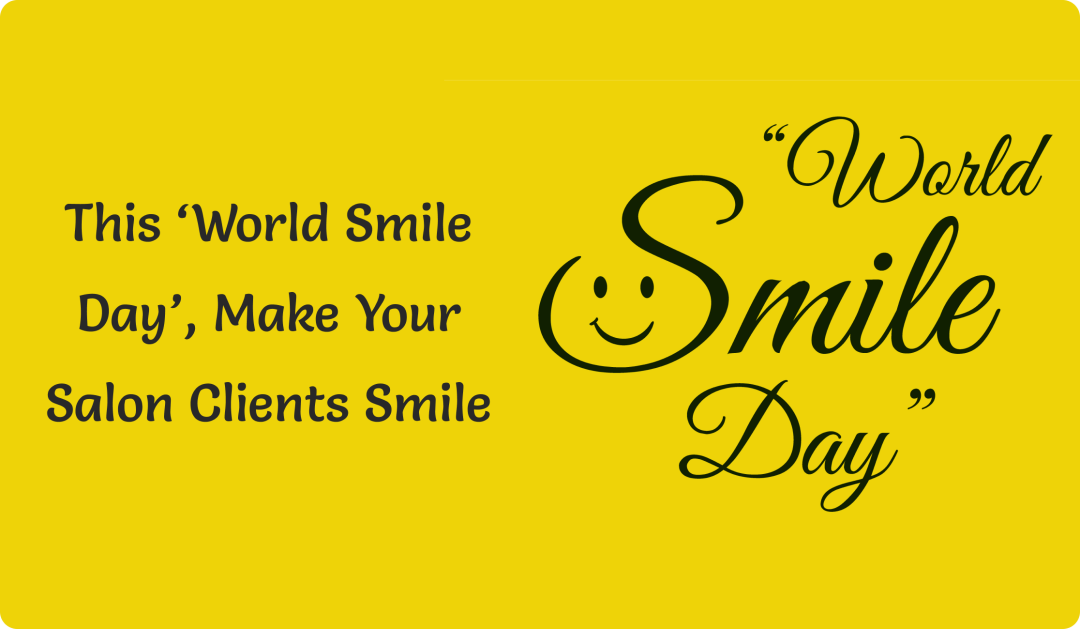 Importance of 'World Smile Day'
Have you ever realized that once in a while all you need to turn a bad day around is a smile? Regardless of whether it's one somebody provides for you or one you share with another person. This little demonstration of benevolence can make someone who has had a really awful day happy. It can really lighten the mood.
Thus, every year on the 4th October, 'World Smile Day' is celebrated. It's just a casual reminder for people to make it a point to smile through each day regardless of what circumstances they face.
Today's digitally-minded customer's often looking for positive experiences when interacting with brands across various categories. Thus, though it is not an official holiday, it's important that occupants in the beauty business such as salons and spas make the most of this day by coming up with creative social media posts and in-person experiences that will actually make their clientele smile.
If you are looking for ideas that will make your clients smile from ear to ear, we have you covered. Remember, you don't need to break the bank to make your clients smile. All it takes is a little gesture and you'll be surprised how happy your clients will be. The memory you etch for them on this day is what will enhance your relationship with them.
5 'World Smile Day' Marketing Ideas
1. Welcome and Greet Clients Warmly:
First things first, take a deep breath. If you are celebrating World Smile Day in your salon, it's important you practice it from the very beginning. Regardless of what mood you're in, always welcome and greet your clients warmly and maintain eye contact. A clear, warm tone imparts an air of capability that reassures your clients. When you practice smiling at clients that walk into your salon, the tone of your voice changes too automatically. Don't sound cold and abrupt. Train your receptionist and stylists to greet every client with a smile.
2. Contests:
The best way to remind your clients that you are celebrating a special day is by announcing a contest. It creates a sense of excitement especially when you have prizes and free stuff up for grabs. You can ask your social media followers to post a smiling selfie of them on Facebook, Instagram, or Twitter with a hashtag such as #EverySmileMatters or #SmileOften. Don't forget to mention when the contest will end. As entries pour in, you can zero down on one winner and reward them with a free salon service (the least expensive one on your menu).
Another way to do this is by having a photo booth in your salon only for this day. Get fancy props for your clients to pose with and get the photo printed instantly so that they can take it back with them.
3. Happy hours:
The whole point of World Smile Day is to make your clients happy. How about capitalizing on the idea of a happy hour? This year, World Smile Day falls on a Friday. Since it's the weekend, it is usually a busy period for salons and spas as most people drop by to get their hair and nails done. If the idea of a happy hour pinches on this day, maybe you can have it just for a short duration such as from 2 pm to 4 pm which is usually lunchtime. 3 for 2 offers during this time is a great way to bring a smile to your client's face.
While technically you are offering a discount to your clients, the truth is that they actually have to spend more to avail of that discount. This is a sure-shot winner for you and your overall salon bottom line. Everybody wins with such marketing!
4. The Take Home Gift:
We're pretty sure all your clients enjoy their time in your salon whether it is time with a hair stylist, massage therapist, or nail technician. However, once the service is over, the clients just have to pay their cheques and leave. Why not allow your salon clients to continue their salon visit at home with a little gift. You don't have to do this all the time. Only run this promotion on special days.
Hand out miniature relaxing bath products, nail color, or body cream. Each time they use it, they will be reminded of your salon and this will instantly bring a smile to their face. This also acts as a little reminder that they need to schedule their next appointment.
Along with these little beauty products, on World Smile Day, you can hand out smiley face squeeze stress balls which are easily available in the market. They're highly affordable and thus you can stock up on a few which you can give every client. It's just a cute little gesture of reminding your clients to smile often.
5. Send out SMS & Email Greetings:
In the world of social media, don't forget to make the most of old-school methods such as SMS and email to wish your clients on important days. Get your design team to make an interesting World Smile Day creative with something to go on it such as 'Smile – it makes the world a better place'. When your clients receive this in their inbox, they'll just have a broad smile on their faces. This also works as a friendly reminder by informing them that you're still in the business. Similarly, you can even send out personalized text messages offering a 5% discount coupon only for that day.
To streamline things for you, we at MioSalon have rounded up some SMS and email templates that will come in handy:
SMS Templates for World Smile Day
Hey <client's name>, Contest Alert! Head to the <salon name> Facebook page and upload your selfie to win exciting prizes and vouchers. Last date for entries – 2nd
Your smile makes the world a better place! This World Smile Day, celebrate with <salon name> as we're offering happy hours all through 4th June 2023. Schedule an appointment <link>.
This World Smile Day, we promise to make you and your friend smile. Bring along two friends or more and each of you get a free service*. To know more, call <phone number>.
What makes you smile? Reply to the SMS with your answer and the best response will win a special hamper from <salon name>.
To etch a smile on your face makes us happy! Drop by to <spa name> all through October and take home a goody bag on spends more than Rs. 2,000. Schedule a booking today <link>.
Email Templates for World Smile Day
Subject Line: Smile to Get Yourself a Discount!
Dear <client name>,
We believe that every person has a pretty smile. This World Smile Day, our team is doing something really cute to celebrate #EverySmileThatMatters.
All through October 4th 2019, enter our salon with a smile and get yourself a little gift to take home. To reserve an appointment, visit <booking link>.
Always at your service,
<Salon name>.
Subject Line: It's Raining Offers at <salon name>
Hey <clients name>,
We're celebrating World Smile Day at <salon name> and are super excited to invite you!
We are offering exciting offers on manicure and pedicure packages and hair treatments.
All you have to do is show this email at the front desk and you get to unlock special deals. Sounds interesting, right?
Visit us as soon as possible or book an appointment today <link>
Call <phone number> to know more!
We cannot wait to host you,
<salon name>.
Subject Line: Contest Alert!
Dear <clients name>,
On the occasion of World Smile Day, we're hosting a really special contest for all our patrons.
All you have to do is upload a selfie of yourself on Facebook or Instagram with #EverySmileCounts and share it with your friends and family. The last day for the entries is 3rd October 2019.
We will be announcing the winners on 4th October.
The selfie with the most likes wins.
What are you waiting for? Get posting J
Always at your service,
<salon name>.
Subject Line: Are you a good friend?
Hello <clients name>,
<Salon name> invites you and your friends to experience top-notch services offered by a highly trained team.
On the occasion of World Smile Day, drop by with your girl gang and enjoy 10% off on all our services.
Offer valid on group visits only!
Reserve an appointment today, visit <booking link>.
Waiting to host you,
<salon name>.
Subject Line: Are you free on Friday?
Hello <client's name>,
It's the weekend and we know you want to relax.
We have the perfect reason for you and are doubling the celebration this time around.
At <salon name>, we are not just celebrating World Smile Day but are even giving away a glass of wine on the house.
The offer is valid only on 4th June 2023.
Spend your Friday in our salon and get a refreshing, glowing look for your weekend plans.
Schedule an appointment, today! <Booking link>
Looking forward to having you over,
<salon name>.
Remember, a smile costs nothing. If you can make a person smile, you can make them do anything.
If this blog brought a smile to your face, it can bring one to your client's face too. What are you waiting for? Go out there and make the world a happy place with your 'World Smile Day' promotions.
To smile through every day of salon operation and management, sign-up for a FREE trial of MioSalon, beauty salon software!
Keep Smiling.