5 Christmas Marketing Ideas For Salon and Spa 2023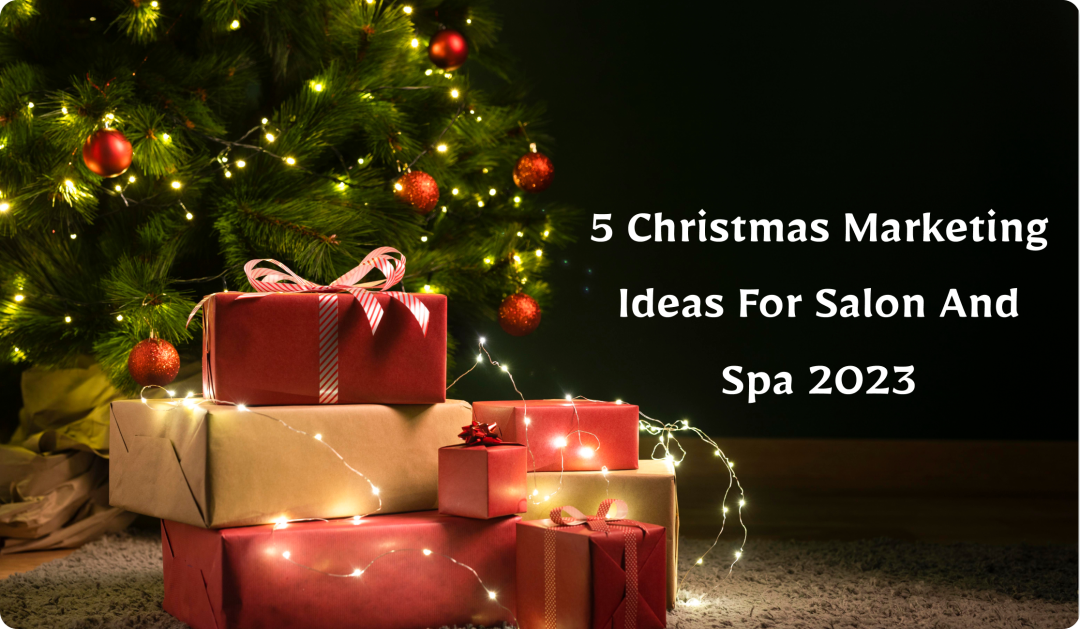 Christmas Salon Promotions
Well, December is the crucial time to do Christmas Salon Promotions and it's that time of the year when your appointment schedule begins to look fuller than usual. It's a pretty busy month for the beauty business as everyone likes to get their glam on before stepping out for any party or event.
Since it's primetime for your salon and spa, it's vital that you fuel up your festive planning to have a very merry Christmas.
As a salon owner, you must implement measures to make your salon fun and friendly.
Whether it's creating nice Christmas decorations or running festive offers, it's important to put your heart and soul into your marketing.
If you're looking for salon Christmas marketing ideas to fill in those gaps or attract new clientele, our marketing guide has you covered.
We've put together fool-proof hacks that will help you drive footfall into your salon and at the same time drive extra profits.
Top Ideas For Christmas Salon Promotions
1) Decorate Your Salon:
Remember your salon is your biggest advertisement. Even before you run promotions for the festive season, your space should give out a festive vibe and mood. Dress up the exterior and interior of your salon to grab the attention of street shoppers. The goal is to make it enticing, not gaudy. To make the space more appealing, hang graphics, posters, display stands, fairy lights, and outdoor decorations. If you are successful in making your salon stand out, you'll be able to drive traffic.
2) Christmas Salon SMS Marketing:
SMS marketing is one of the most effective ways to reach your clients for Christmas Salon Promotions. Schedule messages on salon software days in advance and send them out to your clients right in time for the festivities. It is truly the best way to connect with your target audience. To take the stress out of Christmas promotions, we've rounded up some salon Christmas SMS templates for you that tackle different offers. Besides Christmas, salons and spas should also look to host promotions, discounts, and deals on Boxing Day (the day after Christmas). It's given this name because people usually unbox their Christmas presents on this day. To ensure the month is full of cheer and profit for you, we've also rounded up some Boxing Day SMS templates.
3) 'Tis The Season To Be Selling:
The underlying motive of every marketing campaign is to make profits. Therefore, while getting Christmas ready is important, make sure you capitalize on some Christmas Salon Promotions ideas that may be sure-shot winners for your salon. Here are a few tips you can incorporate:
➢ Create a sense of urgency among your clients with countdowns and tell them that these many days are left to avail of the discount. Show that you're running low on certain popular items. This way, they will be prompted to buy it before it sells out.
➢ You could also create Christmas gift packs. Bundles some of your best retail products together in some fancy packaging. Clients often love picking up such stuff for their friends, family, and secret Santa.
➢ Reward and retain clients by encouraging gift card sales. Create cute Christmas-inspired gift cards and vouchers that you can stack at your reception for those looking for last-minute gifting ideas. Also, when people purchase gift cards, they tend to spend more than the actual amount. Know how to Run successful Salon Loyalty Programs
➢ Encourage clients to book for January and February. After the bustle of Christmas, these months usually tend to be quieter. You could have one day in the week where you tend to offer your services with a twist. From a discount to an add-on service, implement various measures to urge clients to come in during these times.
➢ Take a cue from supermarkets and run 3 for 2 promotions, while offering the third-cheapest product for free. However, make sure the profit margin supports your promotion and you don't make a loss. Calculate carefully your salon management software before running the promotion.
4) Social Media Competitions:
Did you know? Christmas is the best season to increase your social media engagement. We would recommend you take photos of your glitzy promotional displays, encourage clients to write online reviews, share your extended Christmas hours and run fun social media competitions. Here are a few ideas for you:
➢ Encourage social media followers to create a wish list of their favorite products and treatments on your website. Shuffle all the responses and pick one winner who gets their wish list for free during the ongoing festive season.
➢ Create Posts that are worth sharing and engaging with. Share creative wishes through videos and texts.
➢ Christmas is a time to dress up and look good. Ask your clients to send a picture of them in their best Christmas outfit. The best one wins a secret gift from you.
➢ Encourage festive salon selfies in your salon. Add some Christmas spirit to a bare wall and get clients to pose against it. The result of this is that you get umpteen eye-catching social media advertisements for free. You could also ask your clients to hashtag it to win exciting prizes.
5) Track And Measure Your Christmas Campaigns:
No matter how many Christmas promotions, campaigns, and offers you run, you have to promote it. The reason is simple. Unless you track your marketing efforts, you'll never know which promotion is working the best. The best way to measure ongoing campaigns is by putting a special promotion code in your text marketing or email marketing promotions. This way, you will get the perfect metrics of how many times a particular code has been used. Using spa software is the best way to generate post-campaign reports and gather relevant data that can help you plan your future marketing efforts as well.
Wishing you all a Merry Christmas and compliments of the season! Make the end of the year count with some great marketing ideas and hacks. Salon experts believe that Christmas and New Year is the best time to serve old clients, attract new ones, and retain them. Giving your best shot in December with these Christmas Salon Promotions tips ensures your January and February sales remain intact. To help you every path of the way, MioSalon, salon software is always at your service.