Dussehra Delight: Set Your Salon Aglow with these Promotions!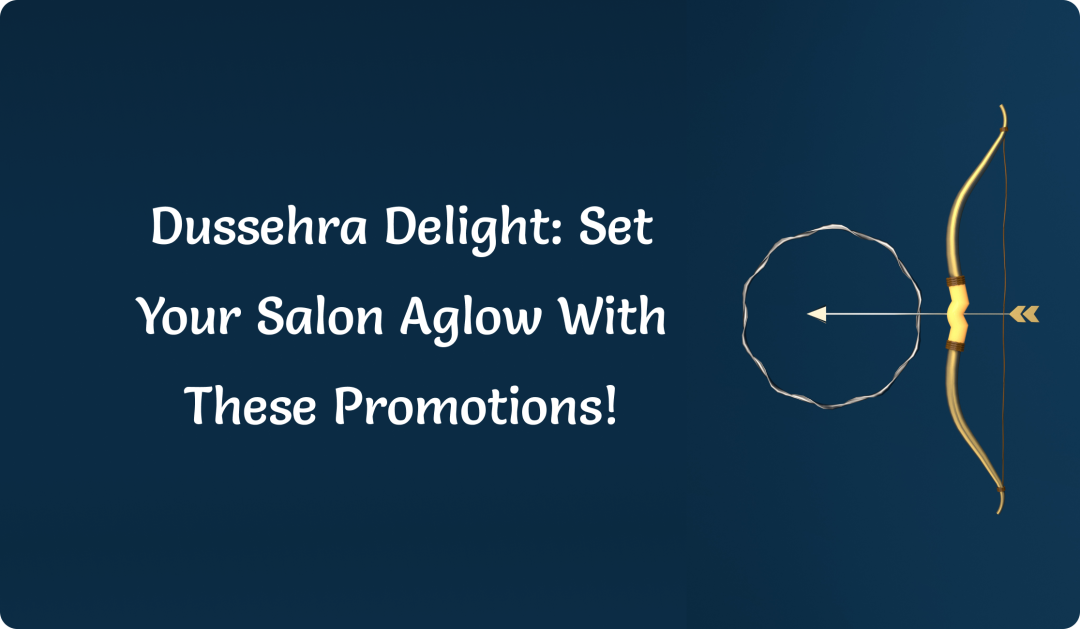 Table of Contents:
Marketing Ideas for the Festive Season
Dussehra Marketing Strategies for your Salon & Spa
2. Offer Head-to-Toe Makeover Packages
Marketing Ideas for the Festive Season
Between the months of October and November, we are all in the grip of festival fever. While there is a slew of major holidays, there's also a festive cheer in the air. From the business perspective, this is also a good time to add some punch to Dussehra Promotions and generate additional revenue.
If your sales results have been looking a bit dull, now is the time to light it up a little. With Durga Puja and Dussehra upon us, high-time salons and spas leverage the festive mood to up their sales.
Dussehra celebrated at the end of Navratri, is symptomatic of the glorious conquest of good over evil. The sales are major across various segments during these ten days as most consumers make major purchases as they are considered 'auspicious days'.
With customers being in a good mood to spend their money, don't you think it's the right time to offer them some exciting Dussehra Promotions that will entice them further?
Studies reveal that consumer spending on personal grooming has nearly doubled in the last five years. Maximum sales are witnessed during festivals like Durga Puja and Diwali in India.
Dussehra Marketing Strategies for your Salon & Spa
To create a real buzz and be the talk-of-the-town, here are a few ways in which you can attract clients to your beauty salon:
1. Dress up your Online Space
If you are trying to project a festive look to your clients, a good place to start is with your online presence. These days, most people spend their time online looking for deals and interacting with their friends. Thus, we would highly recommend dressing up your online space.
From your website to your social media pages, maintain a certain level of consistency with your posts. While you don't have to go through the process of a major overhaul, just add some celebratory motifs in the form of lamps and lights to your digital real estate to let your customers know that your business is getting into the spirit of the season.
Only when you are successful in creating a vibrant yet festive aura online will you be successful in retaining clients' offline.
2. Offer Head-to-Toe Makeover Packages
Offering bespoke treatment packages for the festive season work exceptionally well with existing as well as new clients. They are financially viable as well. Instead of looking at treatments as revenue boosters, look at them as meeting a client's needs.
Put yourself in a client's shoes. Before every festival, most people are in a mood for pure indulgence. Apart from splurging on clothes and sweets, the thought of achieving a natural and radiant look also enthrals them.
The best way to tempt your clients is by creating an irresistible festive package that takes care of all their beauty needs from head to toe. Believe us; they'll definitely sell like hot cakes.
You can even offer this experiential treat all through October. Some of the services you can include in your package are haircut, threading, waxing, de-tan services, facial, hair spa, manicure and pedicure.
It's important to make these packages flexible as not all clients will want to avail all these services. Maybe you can group hair services in one package and nail services in the other.
On the day of the festival, you can also offer special prices on saree draping, basic makeup and hairdos.
3. Meaningful Specials
As mentioned earlier, Dussehra is a great time to promote specials in your salon. However remember, this is also a time of promotion saturation. With paid-and-planted advertisements in every nook and corner, customers might become skeptical of the real worth of these deals. Thus, it is important to offer deals that are meaningful. Instead of just embarking on a discounting spree, Dussehra Promotions will really make a difference for a customer by limiting the scope and duration.
For example, as a salon owner, you could run a 'Nine Days of Navratri Special' when you discount one service on each of those nine days. This allows your clientele to explore all your services within the parameters of the promotion. Creating an atmosphere of hustle and bustle within your salon will also motivate your employees to do better.
4. Offer to Donate
Another way to attract clients to your seasonal specials is by demonstrating social consciousness. While they enjoy indulgences as part of the season, most people are also looking for ways to give back to the community. Tap into this by offering to donate a portion of your seasonal proceeds to charity. When you embrace visible sustainable practices, clients view your business as 'someone who cares'. 73% of customers support brands that are engaged in doing something meaningful.
Consumers feel better about a purchase when they know they are helping in making a difference in the process. This method works wonders to sell retail products.
5. Think Out-of-the-Box
Check your salon software to get your hands on a customer database with email addresses. Email marketing is a logical way to announce your seasonal promotions. However, there are some customers who completely alienate themselves from another 'buy me' appeal in their inbox. Thus, it's important to look for more engaging ways to target customers. Think about creating a lively YouTube video that allows you to tell your story to customers while informing them of your special promotions. You can also send out a newsletter with useful festive skincare and hair care tips. Such content is more likely to grab eyeballs than an email marketing blast. If you do a promotional emailer, try to grab the attention of your clients with a humorous and eye-catching graphic that gives out a bold statement.
SMS Templates
➢ Hi <clientsname>, This Dussehra, let your inner beauty reflect on your face. We at <salon name> are offering facials at special rates from 1st to 7th Call <phone number> to know more.
➢ Wishing you a very Happy Dussehra. Get ready with <salon name> this festive season. Reply to this SMS and get 10% off on saree draping and basic makeup services. Reserve an appointment <booking link>.
➢ Hey <clients name>, Nine Special Days = Nine Offers. On the auspicious occasion of Navratri, we at <salon name> are offering special discounts on our entire retail range. Drop by to pamper yourself.
➢ We miss you, <clients' name>. Let <salon name> help create the best festive look for you. Drop by for some fancy hairdos and simple makeup. On a billing of Rs. 2,500 or more, get a special festive gift from us.
➢ Your beauty starts with <salon name>. It's raining discounts, this Durga Puja. Drop by to take advantage of our special head-to-toe treatment packages. We have some exciting offers for you. Book online and get an additional 5% discount <link>.
Email Templates
Subject Line: Get a Head-to-Toe Festive Makeover!
Hello,
With the auspicious festival of Dussehra round the corner, how does a head-to-toe makeover at <salon name> sound?
To spread the festive cheer, we have curated special hair, skin and nail packages.
Get glowing this festive season like never before!
To reserve an appointment, visit <booking link>.
Always at your service,
<Salon name>.
Subject Line: Unlock 9 Special Navratri Offers!
Hey <clients name>,
The festive season is all about pampering yourself.
As you get prepped for the festivities, give us a chance to serve you better.
Starting 1st October, we have rounded up nine special offers on various treatments only for you!
Drop by each day and unlock a different service at a special price.
We have limited slots available and thus urge you to reserve an appointment soon.
Waiting to hear from you,
<salon name>.
Subject Line: Festive Beauty Hacks you'll Love!
Dear <clients name>,
Say goodbye to dull skin and say hello to glowing and radiant skin this festive season.
Too tired to step out for a parlour session?
Try this beauty hack at home and get radiant looking skin within few minutes:
➢ Combine 2 tablespoons of milk with 1 tablespoon of honey and apply it evenly all over your face. Let it stay for seven to ten minutes and then rinse off with cold water.
We have many such home beauty secrets for you. Subscribe to our newsletter today.
Don't miss this golden chance and visit us as soon as possible or book your appointment today <link>
Waiting at your service,
<spa name>.
Subject Line: Beat the Festive Blues with this Offer!
Hello <clients name>,
Are your hands and feet feeling tired after all the running around? Well, we feel you!
At <spa name>, avail a special 20% discount on hand and foot massage only on 13th October 2019.
We have just 10 slots available for the day!
Hurry! Book soon before someone else does…
Schedule an appointment, visit <booking link>.
We look forward to serving you,
<spa name>.
Subject Line: Do Something Good, this Dussehra!
Hello <clients' name>,
We at <salon name> believe in giving back to the community.
There are a lot of people out there who are not privileged enough to celebrate the spirit of the festive season.
Thus, here's a little activity we've planned.
For every service you avail all through the month of October 2019, 25% of the proceeds will go towards charity.
We have tied up with <NGO name>.
This Dussehra, let's celebrate the victory of good over evil.
Looking forward to hearing from you,
<salon name>.
This Dussehra, use these Dussehra Promotions ideas if you want to boost sales and build customer goodwill. These strategies are tried and tested and work wonders. Automate all your marketing strategies with MioSalon, beauty parlour software, and track how customers are responding to your campaigns too. Sign up for a free trial.