How to Handle Negative Feedback in your Salon or Spa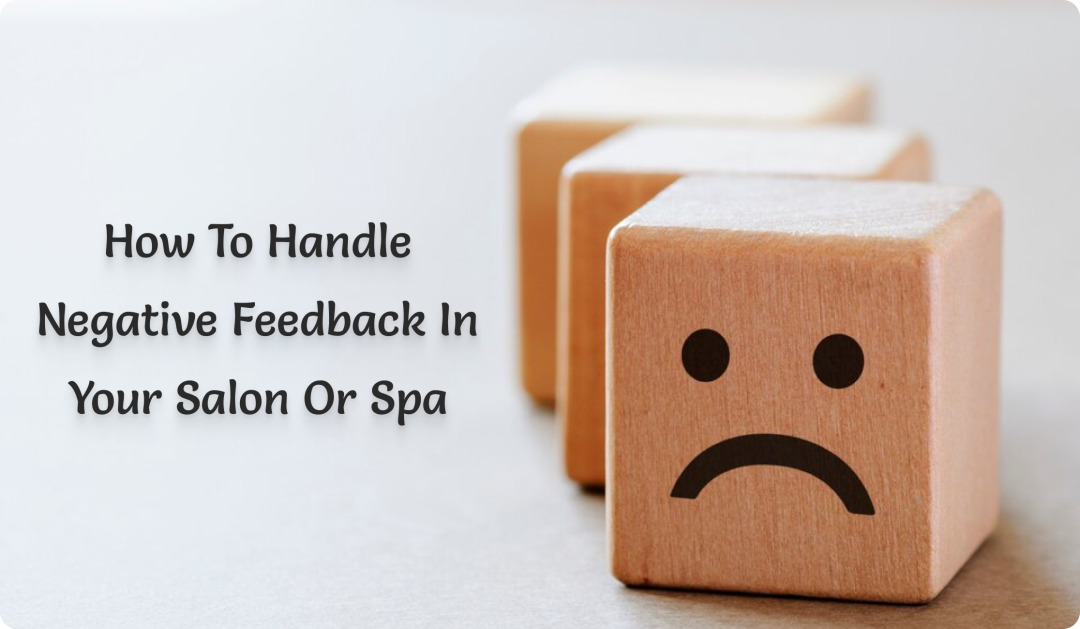 It's sad but true: No matter how hard you work, you cannot make every client happy and satisfied with the services you provide in your spa. Studies suggest that 1 in 25 unhappy clients complain directly to the spa owner if they are displeased with their service. It's important to take negative feedback seriously, as it can provide valuable insights into areas where your spa can improve. Negative feedback may include complaints about the quality of services provided, the behavior of staff members, or the overall customer experience.
Well, whether you hear it directly from the customer, they leave a negative review online, or on your spa software, or simply just go about spreading negative word-of-mouth to their friends and family; you will have to come up with ways to deal with such negative feedback.
If there are a lot of people expressing negative feedback towards your spa, there are few tried-and-true strategies to deal with it. Even before dealing with negative feedback, you have to be prepared for it. Especially, if you are new to business ownership, it is important to understand that customers are bound to say good as well as bad things, and you have no choice but to simply listen.
In this blog post, we've put together some tips to manage negative feedback in your spa.
Collect as much feedback as possible
You'll only know what your customers think about your spa when you have feedback. Hence, the first step toward dealing with negative feedback is to collect feedback. You'll have to collect feedback from as many clients as possible. Here are a few ways you can collect feedback:
➭ Ensure that every customer is given the chance to leave feedback. Put your salon and spa software to use. Send text messages and emails after a customer leaves your spa.
Also Read: The Best Way to Collect Feedback from your Salon Clients
➭ Make the process of leaving feedback easy. Most customers refrain from leaving feedback is because they find it a lengthy, time-consuming process. Ditch lengthy surveys, and instead opt for just ratings.
➭ Offering loyalty points is a great way to encourage customers to leave feedback. Customers are more likely to write reviews when it is in exchange for an incentive.
You might like: 8 Fool-proof Ways to Increase Salon & Spa Customer Loyalty
Look for customer salon and spa ratings
When a customer has something bad to say about your spa, they don't restrict to posting on just one platform. They tend to post on every place where your spa might have some kind of presence. Therefore, BEWARE! The second step towards dealing with customer ratings is to look for them.
These are the three places you must watch:
Facebook reviews:
In the age of social media, it makes it easy for customers to say whatever they feel about your business on online platforms. Your social media pages are definitely not immune to them. However, can you delete them? The answer is NO. With spa scheduling software, handling negative customer feedback becomes much easier. Each time a customer posts negative feedback, you can decide whether you want to share it on your Facebook, Twitter or Pinterest account. You can also set negative feedback alerts. For example, any rating below three stars will be concerned negatively, and you will automatically get notified when such an instance arises.
Also Read: How To Improve Social Media Presence By Salon Facebook Marketing?
Google reviews:
You are what you are on Google. If you haven't cared about Google reviews, it's time you do start looking into it. Ratings posted on review sites and Google are visible to all. Since there is no way to delete it, you must work towards addressing it before it goes unnoticed. While it's impossible to take off negative reviews from these sites, the only way to turn negative feedback to positive is by responding to clients and making them feel heard. Ask for a second chance and offer to make it worth their while.
Most Read: Major Problems Faced by Salon Owners to Gather Customer Feedback
Respond straight away and identify the issue
One boon of digital feedback is that you can configure your spa software to send text message alerts whenever negative feedback is submitted. This helps salon and spa managers deal with such comments instantly. Regardless of how you collect feedback, make it a point to respond to it promptly. Before even responding, it is vital to identify what the customer is saying and facing. Use this as an opportunity to win the customer back and show them that you truly care. Once you let your customers know that you truly care, you've won half the battle.
Every customer posts negative feedback about your spa for four main reasons:
➭ Due to an error caused by the business
➭ Misunderstanding or miscommunication
➭ Spam/trolling
When a customer says something negative about your spa, it is important to understand why they're saying it. It can be a great learning experience for you.
If you receive negative feedback from a customer, keep in mind the following:
➭ Are they your existing or potential customers?
➭ Can you use their feedback to improve certain areas of your business?
➭ Are they offering constructive criticism?
Once you understand the nature of the issue a customer is facing, respond to it right away.
Take the conversation offline
While responding to a negative review online or on your salon and spa software is an absolute must, go an extra mile by having a detailed conversation with the unsatisfied customer, offline. Let them know that you truly care about their experience. The best way to communicate is via phone or email. This not just speeds up the resolution process but also protects a customer's privacy. A salon owners personal touch with regard to feedback will simply make all the difference.
Drown negative reviews with positive reviews
As we've mentioned earlier, no matter how good your team is, you cannot escape negative reviews online. There will be a group of people who will simply dislike your spa. While you can't really remove negative reviews, you can simply drown them with positive reviews on your spa software.
To make sure you consistently get good ratings, ask every customer for feedback. Don't get pushy. The best way to do it is by integrating feedback with SMS notifications on your spa scheduling software. In the SMS invoice message template add the feedback link where clients can leave their comments. This makes it easy for both you as well as the customers.
Salon and spa reviews can be pretty overwhelming. Every owner wants to hear only good things. With MioSalon, spa software, managing negative feedback is a breeze. From collecting feedback on social media platforms to set notifications for negative feedback, the software ensures every salon and spa owner deals with feedback in an utmost professional manner thus preserving their brand image.
For those who still haven't leveraged on the benefits of salon and spa software, it's high time you do. Learn more about MioSalon's feedback management feature here.