Challenges Faced by Salon Owners in Collecting Customer Feedback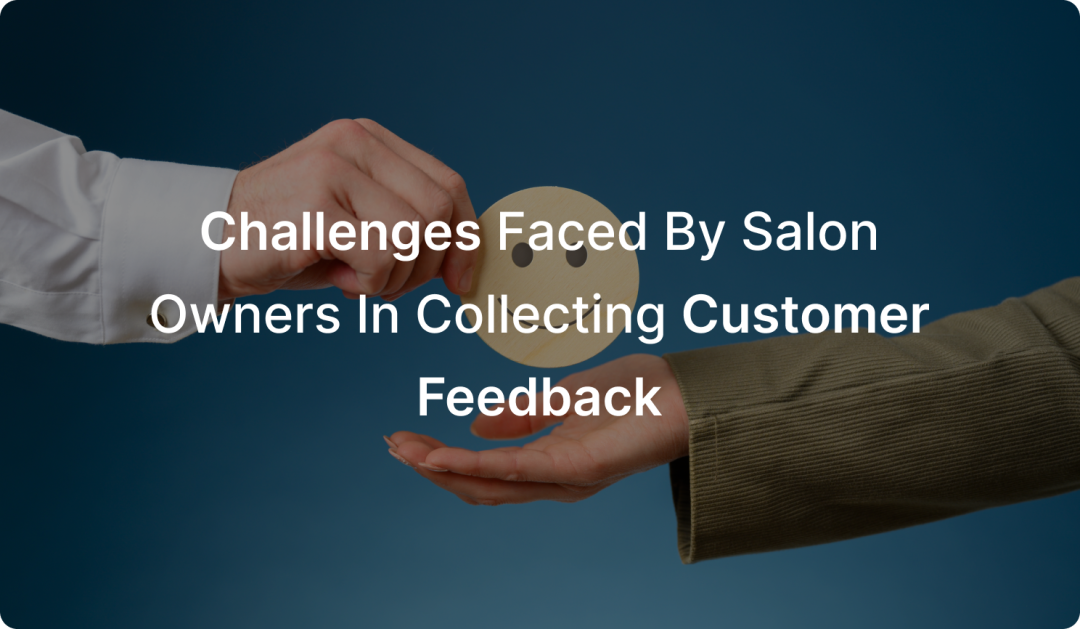 Though many salon owners are thoughtful, they're often challenged in making their business successful. Before we discuss the problems faced in collecting customer feedback, we should understand why is it important to gather customer feedback. GlobalWebIndex says that over 47% of the internet spent time posting feedback about the service they had each month. This shows how important it is to channel a proper Feedback system.
Feedback collection is a major challenge because it is difficult to have a good reputation with each of your salon customers. That's where Salon software can help you out by instantly collecting your customer's feedback without even missing out on a single customer making them feel important.
"When a customer says they are dissatisfied, the company gets a chance to turn them into a more Loyal Customer – Amex Open Forum."
By collecting feedback, we'll know where we lack and where improvement is needed. Gathering proper feedback drives the business on the right track hence, keeping our customers satisfied.
Challenges Faced by Salon Owners in Collecting Feedback:
1. Methods for Collecting Customer Feedback for Salon Owners
Though there are various Feedback collection modes, we should know what is appropriate to our customers. So we'll look at the primary ways to gather customer feedback. Salon owners need to choose the right mode of feedback collection to gather accurate and relevant feedback from their customers. Different modes such as in-person, online, or via a salon and spa software, offer varying benefits and challenges. Selecting the most suitable mode can help salon owners gather valuable insights that can improve their services and customer satisfaction levels.
Collecting Feedback Online:
As per facts, over 90% of the customers prefer online surveys, which means we need to concentrate more on the online mode of collecting feedback. What if Salon software itself does all this for you? Nothing else can be this amazing.
Significant modes of Online Reviews:
Google Reviews:
50% of the new customers choose salons through Google Reviews and Recommendation. This shows the dominance of Google reviews that can majorly impact your salon business.
Maintaining a good Google rating not only suggests your business when someone near your locality searches for a salon but also will increase your salon's reputation with your existing customers.
Miosalon's Feedback module can help you maintain a good Google rating. This will help convert happy clients into adding 5-star ratings to Google, eventually increasing your salon's reach.
Email Surveys:
Email surveys play a significant role in contributing to the online mode of collecting feedback. The reason for quoting this is that, According to the research of HubSpot, over 62% of customers have completed their feedback through email surveys. So, it is one primary mode to consider. We ourselves have helped many of our clients in the best Feedback collection through Miosalon Salon software.
Social Media:
No one can deny the dominance of social media nowadays and its role in each of our lives. According to Sprout Social, 47% of people like to share their feedback through social media. So your salon business being present on social media is mandatory.
Rating by SMS:
Though SMS is outdated technology and communication, it still plays a vital role in marketing and keeps us intact with our customers.
After every service, it is necessary to send an SMS asking for feedback. This need not necessarily be immediate action, but you can also do it within a period. This is a best practice to do after a week or even after a month because it reminds the customer that we care! Miosalon can do this for you.
Collecting feedback during checkout:
Any customer would appreciate asking for feedback immediately after service. So it is well and good if you collect input during checkout. It makes them want to repeat the service next time and increases the customer's bonding with your Salon.
Feedback Questionnaires:
We generally would have seen feedback questionnaires, and it is pretty lengthy at times. An average person can be distracted in less than 8 seconds.
According to SurveyMonkey, the lengthier the questionnaire is, the more inaccurate the answers.
This implies that a feedback questionnaire should be short and crisp.
2. Handling the Negative Feedback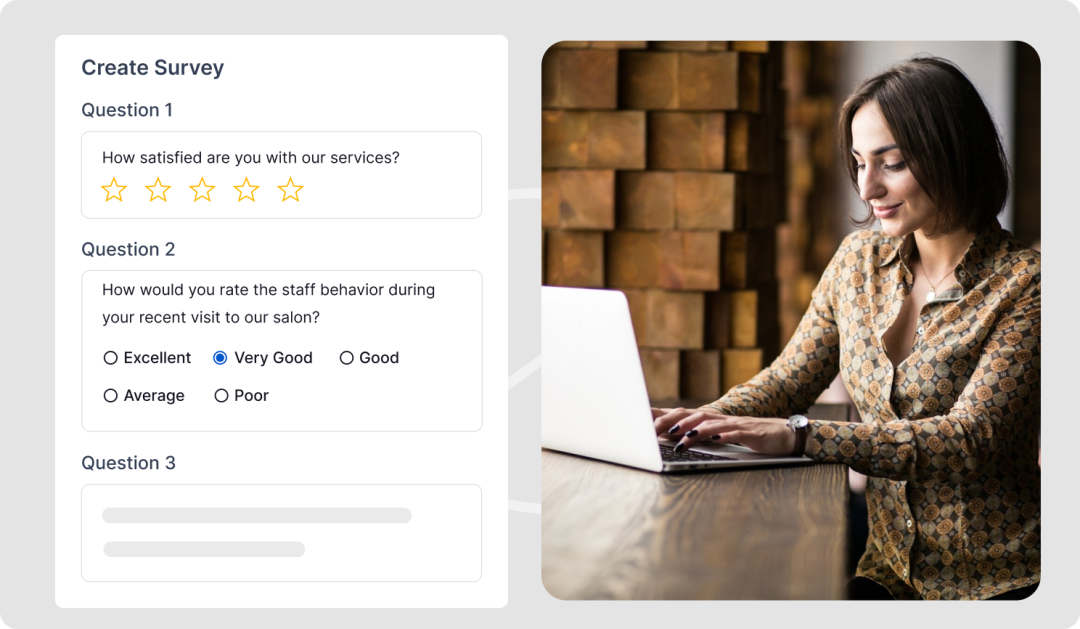 We heard you! At times, handling negative feedback would be challenging in any business. But, as we know, there can be no salon business without negative responses.
So we have to hear that from our customers and resolve it for customer satisfaction, and keep up your salon business' excellent reputation.
When customers leave negative feedback about your service, they expect it to be answered and ensure that you won't repeat it.
Review Trackers say that 53.3% of people expect to hear a reply for a negative review within a week. But unfortunately, about 63.3% of the customers are not responded to their negative feedback.
You need not worry about this as you won't miss a single customer with Miosalon. Our Salon Software helps by giving you instant alerts on your customer's negative feedback.
Yes, you heard it right! Before anyone, we would collect your customer's feedback from our software. So if they are not satisfied, you will be alerted immediately.
While we respond to negative feedback, certain etiquettes are to be followed. Firstly, no matter how rude the customer's comment is, we need to be polite while answering it. We need to understand their point of view in-depth; only then can we correct our mistake and stop it from happening again. By replying to each negative review, you might wonder how this might impact the growth of your Salon. If you are wondering so, then there's excellent news for you!
As per statistics, about 45% of customers are most likely to support your salon business if they've noticed your reply to all the negative reviews.
When we start responding to the negative reviews, we end up landing good customer service, which is ultimately needed to take your salon business to the next level. So by doing this, the rate of your positive reviews will eventually increase, drowning the negative feedback.
3. How Salon Owners Can Sustain a Positive Feedback Loop
Now that we have more positive feedback coming our way, it is time we need to be more responsible. As we know the essential task is to maintain this Positive Feedback Loop.
There are 4 stages to be undergone to maintain the loop. They are:
Ask
Categorize
Act
Follow Up
Using Salon software can surely help your business maintain this Feedback loop. In addition, you can watch your salon's success.
Tips on where improvement can be made
Many sources have stated that making a slight change to the basic foundation of your salon business can impact your business in a very positive way.
You can check on your staff's performance and their way of handling customers to know the root cause of your negative feedback.
There are specific ways to do this, and you can set particular standards by which you can bring a goal. For example, by using salon management software, salon owners can set goals for their staff and monitor their productivity at the same time.
After setting standards, you can evaluate their performance. By doing this, you can quickly bring your Staff to a set of standards, and they'll know where they stand.
You can even do salon staff appraisals which will boost them to work even better, eventually benefiting your customers and your business. All this can be quickly done using Salon Software!
Please get to know the benefits of using Miosalon by going through all the Features of our Salon software.