Top Strategies for Gathering Client Feedback at Your Salon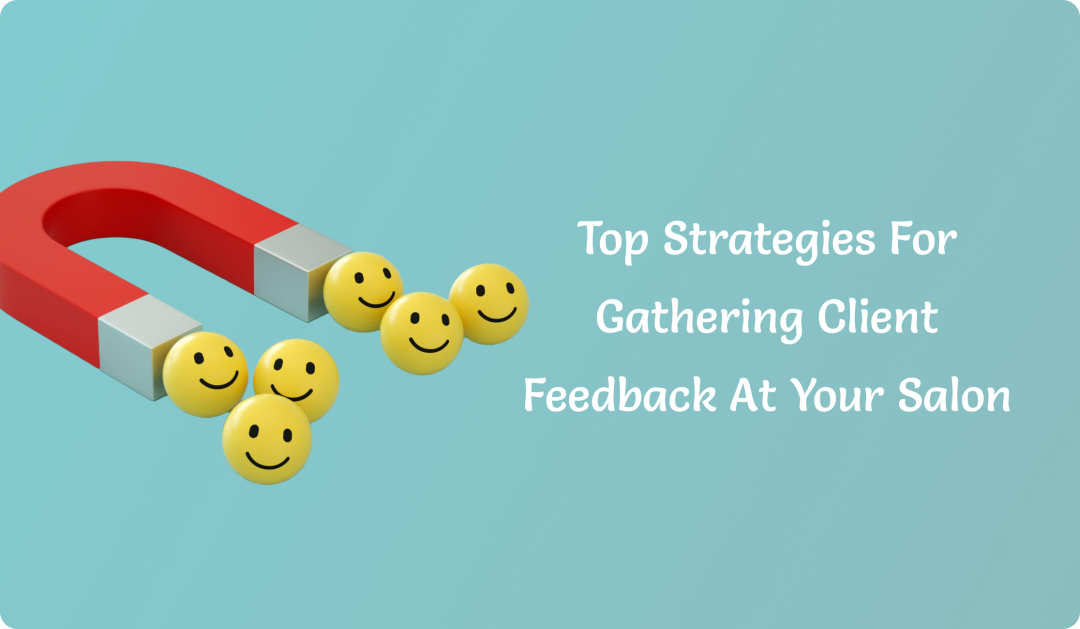 Therefore, consider interviewing five or six of them. Ask them what they like about your salon and what The beauty and salon business is all about establishing a bond between stylists and clients. Only when there is a bond, more customers come in and create a successful business. However, when customers feedback aren't fully satisfied with their service, they don't vent out, instead, they never return and end up sharing their negative experiences with friends and family.
This can put any salon or spa in a very weird position. To gain an authentic insight on what your clients think of your business is of utmost importance. The best way to gather true customer experience is by collecting feedback from your salon and spa clients.
If you are not in the habit of collecting feedback from your clients, it's high time you do. Remember, customer feedback is incredibly valuable to you. Using salon and spa software is the first step toward collecting feedback from clients. It also helps in creating customer feedback forms that enable salons to capture vital customer details.
Table of Contents:
Benefits of creating customer feedback forms on your salon software
Some tried and tested ways to collect priceless feedback from your salon clients
Write down your customer feedback goals
Which clients to collect feedback from?
Here are a few benefits of creating client feedback forms on your salon software:
➭ Helps in improving engagement with customers every time they visit.
➭ Capturing their real experience. You don't just want them to tell you they had a great experience; you need minute details about what they liked and what they disliked.
➭ Helps you build promotional campaigns, and reward and strengthen bonds with your most loyal clients.
➭ Enables you to go the extra mile and boosts the customer's likelihood of coming back.
➭ Real-time feedback helps you incorporate changes immediately.
➭ Helps you build an email list to send out promotions.
We'll take you through some tried and tested ways to collect priceless feedback from your salon clients:
Information is key
Typically speaking, there are three primary ways of collecting feedback from your clients –social media, email, and SMS. While all these methods have proven beneficial to collect client feedback, they are of no use if you do not have basic client information. Therefore, even before asking clients for their feedback, it is important to collect basic information about them.
When a new client is visiting your salon, ask them to enter basic details when they are taking an appointment on the salon software. Their name, phone number, and email address should suffice. For someone who is joining your membership or loyalty program, you can perhaps get some more details such as service/product preferences, birthdays, and postal address. This information will help you shape personalized marketing campaigns and reach out to them with relevant deals in the future.
As a general rule of thumb, never press a customer to provide any details they are not comfortable with sharing. While collecting the personal details of a customer, educate them on your privacy policy. Instill the confidence in them that you will not rent or sell their information to any third party from authorized staff.
Once you have the necessary information with you, you can work towards collecting customer feedback.
Write down your customer feedback goals
Every salon and spa does not collect feedback because it's their hobby or something. The underlying objective of customer feedback is to improve your overall business. Therefore, even before creating feedback questions make a note of the areas you want your clients to give you insights on.
Here's how you can collect salon client feedback
Here are a few ideas you can shape your questions around:
➢ What they think of your salon facilities
➢ Insights on your treatments and services
➢ Their views on your website and social media pages
➢ Ask them if they appreciate your retail counter
Your client feedback form should tackle everything, right from when a client takes an appointment, their visit, and as they walk out of your salon door.
Salon Feedback system
Get real-time opinions of your clients before they rant on social media.
Have complete control over how people treat, react, and rate your business online.
1. Get a Negative Feedback Alert
2. Boost Reputation
3. Feedback + Ratings At Store & SMS
4. Feedback Questionnaires
Check out how you can improve your Salon Business using a Salon Software integrated with a Feedback system: MioSalon Salon Software
Get client testimonials
If you have been in the salon and spa business for a while now, you may have realized that most of your business depends on your existing customers. Also, 90% of your new leads are brought in by existing customers and due to their reviews posted online or spread offline by word of mouth.
So, when one of your old clients tells you they love the service you offer, ask them if they are comfortable giving a testimonial that will appeal to your new visitors.
Getting reviews and testimonials from regulars is a brainer.
Offer incentives
The best way to motivate clients to leave positive feedback about your salon or spa is by offering some kind of incentive. It doesn't have to be anything big. Just a little something will go a long way in ensuring your clients take your feedback form very seriously. It could be a longer treatment if they are booked for a massage or an upgrade to a premium manicure or pedicure. Whatever incentive you choose, make sure it adds value to the service without burning a hole in your pocket.
Which clients to collect feedback from?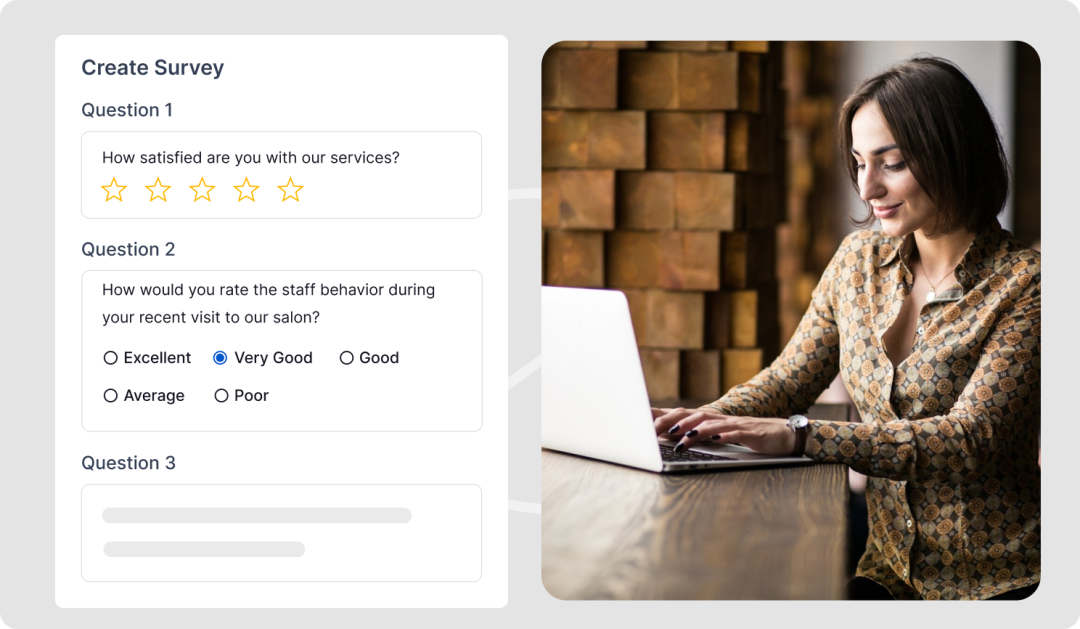 Most salon owners have this question. As a practice, you should ask all your clients for feedback. It can be automated on your salon management software. Since most salons are going paperless, they follow the practice of sending the invoice to the customers email after they avail of the service. In the same email, salon owners should include a link that will direct customers to the feedback form. Similarly, you can do the same by sending automated text messages from the salon software.
When you follow this practice, you can be sure that most of your clients will leave feedback about your business. With this method, you have to be open to both positive and negative feedback.
If you only want to hear good things about your salon and portray it to potential customers in good light, choose your ideal clients.
'Ideal customers' are the type of clients you want to see more of. They are familiar faces who always have nice things to say about your business.
Your salon's ideal clientele are those that:
➭ Love the treatments you offer
➭ Buy frequently from you
➭ Are easy to service and don't fuss too much
➭ Are constantly referring your business to their friends
➭ Enhance the profitability of your salon business
When you're selecting clients to leave feedback about your salon, choose a mixed bag. Don't have clients of just one age group. Instead, have a mix of:
➭ Genders
➭ Age groups
➭ High spenders
➭ Not-so-new clients
➭ A spread of treatments and services
Following this practice will enable you to get mixed views and ideas. Even when a potential client reads these reviews, they won't come across as forced.
Finally, tell your clients why their views and opinions matter to your business. Make them feel special.
Creating salon and spa feedback forms is quite simple with MioSalon, salon, and spa software. With numerous customization options, you can choose to include a variety of questions that you want to ask your clients. If you don't want to create questionnaires, you can even use the ready templates available.
Once the form is set up, you can choose which clients you want to make it available too. You can also create feedback forms for specific treatments.
MioSalon also gives salon and spa owners control what is being said about their business on social media and Google. This is possible by setting negative feedback alerts. Once a client posts their feedback, salon managers can even generate feedback reports to see the total number of responses received.
Sign-up for a FREE trial today! https://www.miosalon.com/signup.