Revealing the Secrets to Achieve Monthly Salon and Spa Goals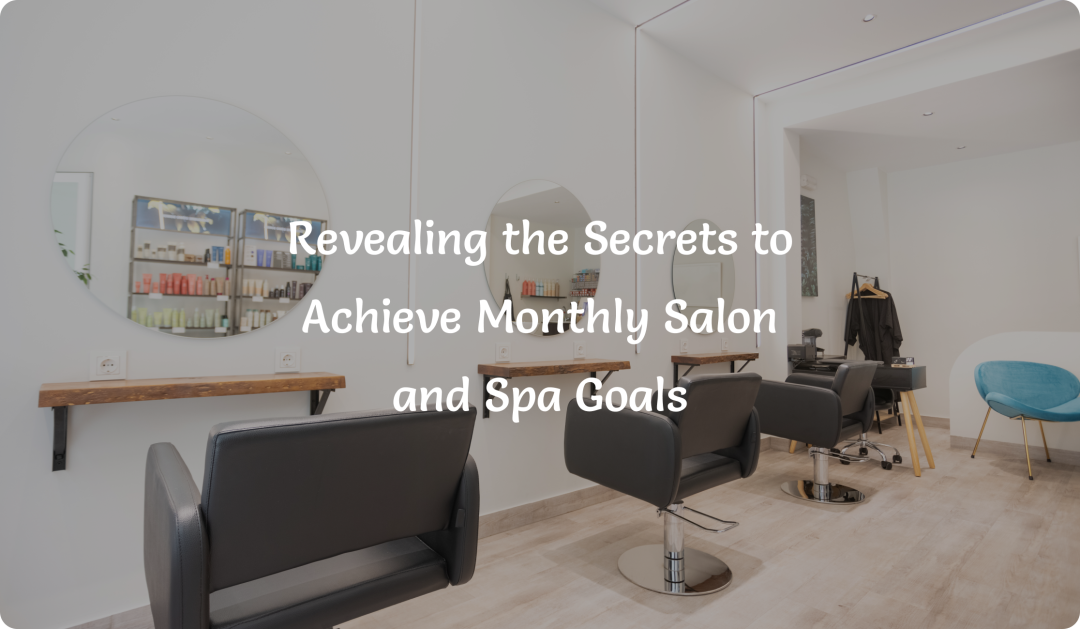 The backbone of every successful and strong business is goal setting. Effectively planned goals give you focus and direction. It is also a great way of growing your salon and spa business and making it profitable. When you set goals, your employees feel motivated too. With the right goals and objectives, you can turn your place into the most sought-after salon or spa in town. However, before you embark on the goal setting process, it's important to separate goals from objectives. Though they sound and mean something similar, they are vastly different.
Goals tell you where you want to see your salon and how you want to reach there whereas objectives are specific targets to reach in the process of achieving your goals. For example: 'I want my salon to be the best salon' is a goal while 'I want my salon to be the best salon by 2023' is an objective.
A study reveals that 92% of spas set goals and don't work towards achieving them. That's mainly because most spa owners don't know how to set SMART goals.
When you set a SMART framework, you'll automatically see things falling into place.
Specific: The goal you set must be clear, specific and well-defined.
Example: Don't just aim at attracting clients. Plan how you are going to achieve it too. A specific goal would be attracting new clients through website, spa software and online appointment booking.
Measurable: The next step is to make sure the goals are measurable.
Example: If your salon Facebook page has 1000 followers, set a goal that it should increase to 2000 by implementing various marketing activities.
Attainable: Set goals that you know you can achieve. Your goals should not be too large or too small.
Example: When setting goals for your salon be realistic. Create fresh content to engage with your followers and use social media marketing to attain the same.
Relevant: Your social media marketing strategy should be aligned to achieve your overall goals. Every marketing activity you execute should have some sort of return.
Example: If you post special hair and nail offers during one week, it should yield results the following week by selling out all your appointments.
Time-bound: For goals to be effective, the time-frame must be clearly stated before implementing them.
Example: If you want to attract3000 people to your Facebook page, don't just set the goal. Make it doable by setting the time frame – 3000 followers by 31st December 2022.
Goals every salon and spa should implement
Once you define the goals you want to achieve for your spa, you need to start working toward tracking and evaluating them. With reliable spa software such as MioSalon, you will be able to collect client information. You can check for a client's favourite services, favourite stylists, rebooking habits and most frequently availed service. If you wish to improve your bottom line in the future, collecting this data is important. You must also check – how many new clients visited your spa this month? What percentage of clients chose to rebook appointments?
Once you start reviewing all the reports, drill down into specifics. If you notice that this year's sales are down compared to last year, look at the marketing calendar on your spa software to check why this is happening this year. Maybe there's a particular campaign you missed? Only once you figure out the specific problem areas can you begin to start fixing it.
The first secret towards achieving your monthly salon and spa goals is to motivate your employees. They are the ones that drive profitability for your business. There's no point setting a goal when you don't have people to achieve them for you. To make sure you're on the right track, communicate your goals with every staff member. Your goals must align with your spa's mission and culture.
Once you frame the goals, your team must instantly start working towards them. It is something that should come naturally and not forcefully. However, don't leave it to your staff alone. Coach them from time to time to tell them why these goals are important to you and the growth of the spa.
The analytics and reports dashboard on MioSalon, spa software, is an effective way to get insights on revenue, clients and staff, customer segmentation and tax reports. It not just helps you smoothly achieve monthly salon and spa goals but also makes your spa a more profitable venture.