Fool-Proof Ways To Do Salon Marketing For Brides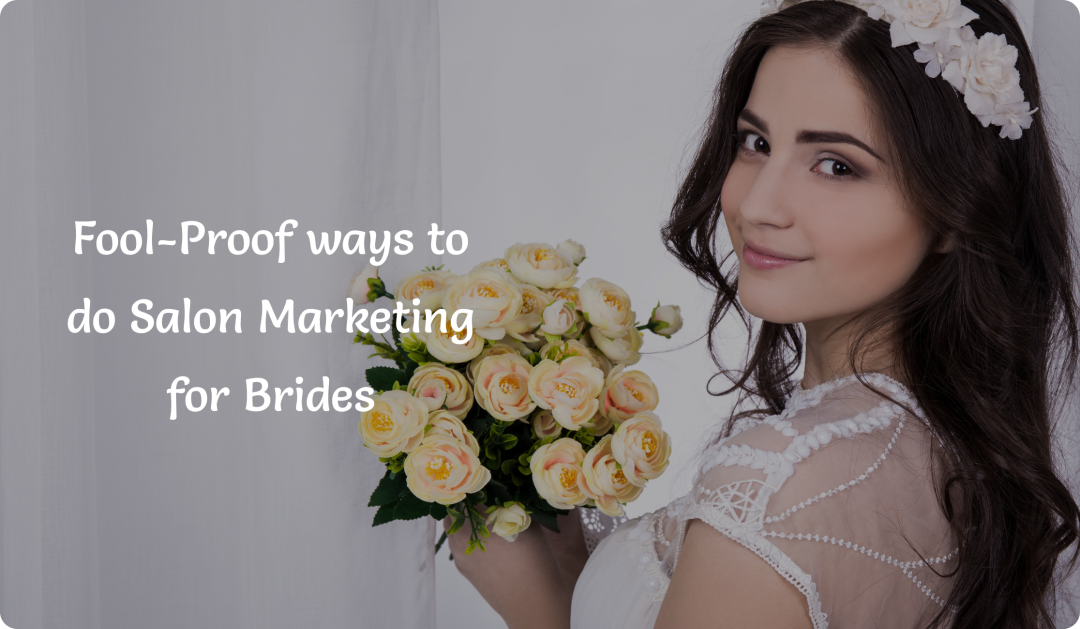 Did you know? Weddings are a highly profitable niche for the hair and beauty business, So, Salon Marketing For Brides plays a key role. The average spending by an Indian couple on their wedding is over Rs.1,00,000 crores. And, this is growing at 25-30% each year. Considering these figures, it's pretty obvious that wedding hair, makeup, and beauty are big businesses.
A wedding is one of the most cherished moments in a couple's life. That being said, they'll want to look their very best on this magical day, especially in the wedding photos. Thanks to Pinterest and Facebook, brides are facing the pressure even more.
Bridal bookings and wedding clientele alone can significantly increase your bottom line using great ideas for Salon Marketing For Brides. If you are really good, you may even earn the tag of a popular bridal salon. While we all believe in our craft, it's not necessary that your clients will believe in you. It takes a lot to get out there and attract brides to your salon and cater to their big beauty needs.
Follow These Tips To Do Salon Marketing For Brides, and you'll find more brides in your salon chair:
Salon Software:
Signing up with hair salon software is the first step toward marketing your salon. Most beauty service providers suffer mainly because they do not have an organized system to take down appointments, and manage more than one bride at once. Once you are signed up with one, everything will flow seamlessly.
Wedding Services Menu:
Create a separate menu for your bridal services. Makeup and hair count as the most availed services by brides and wedding attendees. A typical bridal menu usually comprises of bridal makeup application, eyelash extensions, hair and up-dos, manicure, pedicure, facials, massage packages, and grooming.
Once you decide what you are good at, work towards creating a lookback. 90% of brides choose their salon based on the pictures they see. Having a portfolio makes it easy for brides to choose and also instills a sense of confidence in them and serves as a great way to do Salon Marketing For Brides.
Utilize Social Media:
Having an up-to-date social media presence is vital in the bridal business. Salons can leverage Facebook, Instagram, Twitter, and Pinterest to generate a loyal fan base. Besides marketing to potential brides, you can also post before and after makeup photos, hairdo hacks, and much more.
By doing this, you are also allowing followers to post positive feedback and reviews about your salon. With hair salon software, you can filter out all the reviews, and have the best testimonials on your salon page.
Wedding Services Tab:
On your existing page on the hair salon software, you can add a wedding services tab. This makes it easier for brides to skim through your menu. Here you can include your bridal services menu, professional images, stylish details, and pricing.
Consultation, Trials, and Makeovers:
Once a wedding party decides to avail of service from your salon, offer them free consultation and makeovers at discounted prices. A bridal makeup trial is a must. This makes sure the day goes smoothly without any hiccups. Most salons offer two to three trial runs before the big day. Managing this can be quite difficult for every bride.
Thus, a salon can use hair salon software to make a note of the number of trial runs done, services required, date and time of the service, etc. Bridal salon management and some good plan to do Salon Marketing For Brides is vital if you want to survive. A little negligence from your end can worsen things for a bride. Once your salon gets into the bad books of a bride, your business is finished. Hence, plan, plan, and plan!
Word Of Mouth Marketing:
Most brides visit a particular hair salon based on referrals. Give out referral cards to the bride's friends. You can give them a discount coupon on their next service.
Stay In Touch With Bridal Customers:
One mistake most bridal salons make is that they forget about their customers after their big day. Well, your work is not finished yet. After you pamper them on their big day is when your role begins. Customer retention is key. Your salon should be their go-to choice for all the events and parties after their wedding including their friend's weddings, formal dinners, baby showers, etc. At the end of every service, send your clients a thank you note. This will not only leave a positive impression but also make them want to come back.
A bridal beauty salon can effectively use MioSalon, hair salon software to do Salon Marketing For Brides,to attract to-be brides, market their services, get testimonials, manage trials and consultation appointments and ultimately stay in touch with their clients.