Importance Salon Lighting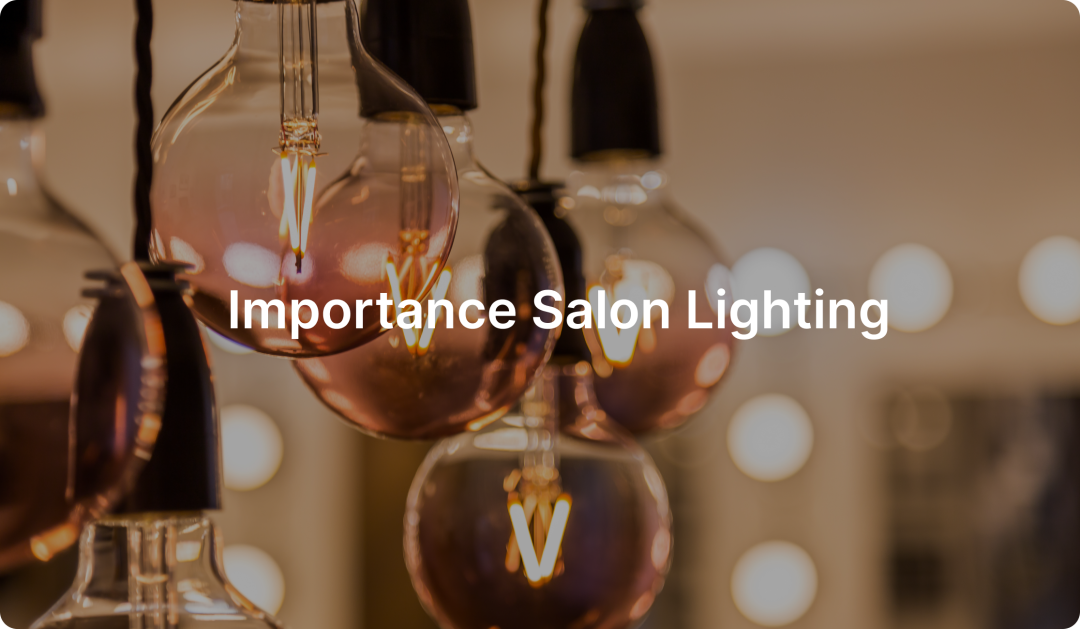 A salon is a visual environment where people come to make themselves look and feel good. You may have comfortable chairs, state-of-the-art sinks, luxurious towels, and fancy mirrors, but if the salon lighting is not flattering enough, your customers may not return. Whether you're planning to open a brand-new salon or want to refurbish your existing space, there are plenty of interior design elements you must take into consideration. Lighting for salon is the most important of them all.
Also Read: Top Ideas & Inspiration to An Amazing Salon Decor
What is Salon Lighting?
Good lighting in a salon does enhance a client's mood or retail sales, The way the lights are designed, positioned, and distributed can impact how a client will feel after they avail of their service and also shape their opinion about your salon.
Most Read: 7 Strategies to Boost Salon Retail Sales
If you're hitting the wall figuring out salon lighting or are looking to create an optimum environment that will flatter both employees as well as clients, we have you covered with salon lighting ideas, tricks, and tips.
Impact of Good Lighting in a Salon
1. Work comfort of your employees:
While good lighting in a salon does enhance a client's mood or retail sales, it is necessary for hairstylists to do their job efficiently. It starts at the reception area. The job of a receptionist involves reading and noting down important information all day. If they lack proper lighting, it can cause them serious eye strain. Consider having strong ceiling lights that will light up the whole area. Next, you need to focus on providing your hairstylists with proper lighting. Since most beauty services are visual, it is imperative for employees to be able to see what they're doing. Whether it's a hair coloring, a haircut, or nail art, it is important that the stylists are able to see the smallest of details. Bad lighting can actually ruin your stylist's work.
Most Read: The Best Way To Manage Salon Staff Efficiently
2. Interior design:
Lighting for the salon creates a mood and ambiance within your space. You would have noticed that most salons and spas use warm and dimmed lights that create a soothing and tranquilizing effect on the clients. Harsh, bright, and cold lights are a complete no-no. Properly set lighting makes your client look better in the mirror and sets the overall mood and tone for their service. Thus, salon mirror lighting is equally important. Sit with your interior designer and see what kind of lights fit your salon's mood. Classic ceiling lights and scones look good. You can also invest in lighted mirrors that are ideal for makeup areas. However, when you are opting for a warm ambiance, make sure you balance it with certain cool elements. Too much warmth can make your salon look old-fashioned.
3. Retail shelves presentation:
The best way to invite clients to your retail section is by installing bright lights around it. Accent lights directed to your retail shelves makes your products pop and catch the attention of your clients. Here, instead of warm lights, choose bright lights that ensure the products can be seen even from a distance or the waiting area. Create an effect that will draw people to this area.
Lighting for a Salon: Important Rules
1. Should accurately render color:
Lighting is every colorist's nightmare. In an industry where even the slightest color nuances matter, bad lighting can spoil even the best work. What if the hair color looks great in the chair but completely different in natural light? The simple solution is to utilize bulbs that accurately render color. Consider the color rendering index (CRI) of the bulb. The capacity of the light bulb to reflect colors should be 86 or above.
2. Incorporate natural light:
A lot of salon owners retail shelves are hesitant about incorporating natural light. Well, if there is a scope for natural light within the salon, make the most of it. However, remember to maintain the privacy of your clients. No one wants to be exposed to a busy street while availing of their service.
Most Read: Why Every Salon Owner Needs a Business Plan
3. Utilise a variety of lights:
Every salon utilizes four types of lighting – task, accent, ambient, and vanity. However, ensure the primary salon lighting lights up the whole area. Consider including a combination of wall and pendant lights. Besides the ambient lighting within a salon, install additional sources of light at workstations such as the reception, massage room, coloring station, and nail section. If your space is small, try and rely on one huge lighting piece. Don't have too many task lights as this can make the space seem cluttered. Another way to create an illusion of more space is by using sufficient salon mirror lighting.
You might like: Technological Support You Must Have In Your Salon and Spa Reception
4. Positioned to eliminate shadows:
The way a guest looks in a salon chair is paramount to your salon's success and environment. When a client feels good about their new haircut or hairstyle, it results in repeat business and increased revenue. The best way to eliminate shadows is by positioning the lighting on either side of the mirror rather than directly on the face of the person. Choose lighting that will be flattering. Overhead lighting is a major culprit that adds shadows. The best way to soften shadows is by adding diffused lights.
5. Invest in energy-efficient bulbs:
LED bulbs have set a new standard for energy efficiency since they are available in a wide variety of temperatures and CRI options. Though they are more expensive than regular bulbs, they are long-lasting and utilize low electricity.
6. Quality lighting matters:
Though LED and fluorescent bulbs are wonderful sources of light, they can be flat. Instead, look for LED bulbs that replicate halogen bulbs, have high-quality optics, and have a high CRI. These qualities are enough to show depth, dimension, and shine to all the amazing services you provide.
7. Lighting in miscellaneous areas:
Apart from the reception and workstations, consider the lighting in the waiting area and bathroom as well. Think of subdued recessed lights or wall scones that will help people read a magazine. When considering lighting for the washroom or powder room, choose something that will resonate with the overall lighting of your salon. Don't have dim lights in your salon and a brightly lit washroom. The change in brightness can be confusing and strenuous to the eyes. Maintain the same tone throughout your space.
Lighting for the salon will enhance the look of your space, lighten the mood of your clients and invite clients to your retail section. Keep the above salon lighting ideas and tips in mind to ensure every workstation is well-lit without being too overpowering. Remember, it's not just the quantity of lights you use but the quality of lights that truly affects the outcome of every haircut or hair color.
Besides lighting innovation, give your hair salon a digital helper or salon software that will automate your everyday processes.