Decoding the Importance of Choosing the Perfect Salon Staff Uniform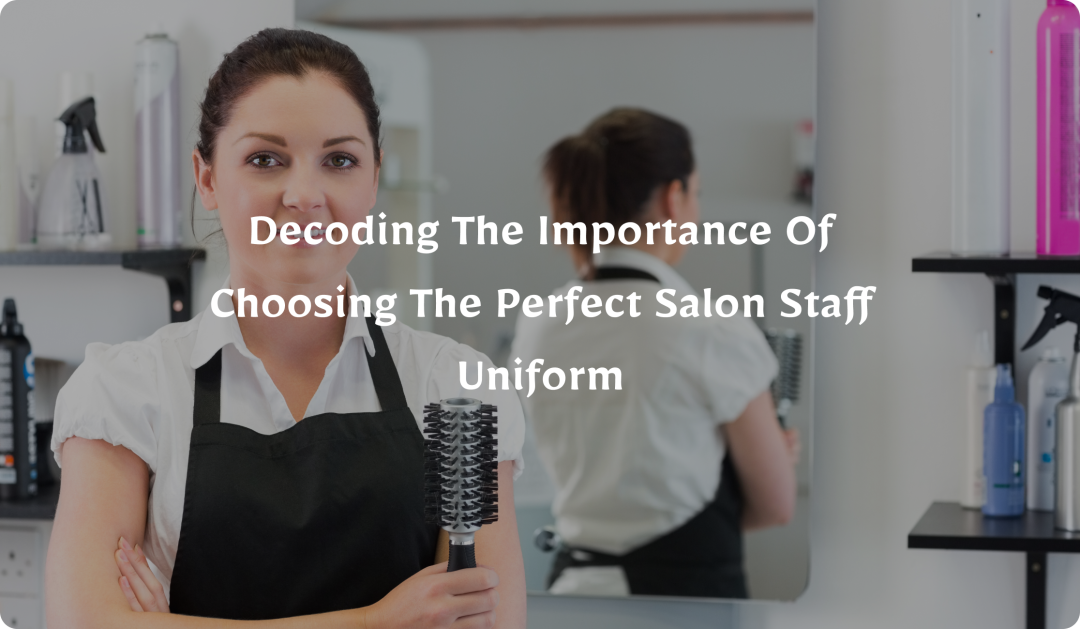 The salon staff uniform is one of the significant elements of a perfect salon and spa business. There are many elements that come together in order to run a successful beauty business. From the services you offer to the products and brands, you collaborate with to the way your team is groomed, as a salon owner it is imperative for you to wear many hats.
You might like: Why Every Salon Owner Needs a Business Plan?
Everything adds up. One slip in any area can lead to a decrease in profits. In an industry that thrives on the value of personal appearance and first impressions, it is very important for your salon and spa staff to look professional. Their behavior is what decides whether a client will return to your salon or not.
It all comes down to the brand image you want to create. Will it be strict or relaxed is completely up to you?
Importance of Choosing a Salon Staff Uniform for Your Staff
While you want every aspect of your salon to look professional and stylish, have you ever stopped and thought of the external professionalism of your employees?
Every stylist is unique in their own way that's why you have to measure their individual performances. You've trained them enough on phone manners and interacting with a client, it's time they wear their professionalism too.
Also Read: How To Evaluate Your Salon Staff & Stylist's Performance?
If you've been in two minds about whether to incorporate a uniform look for your staff or not, let's tell you that it does make all the difference in the beauty business.
Before we go ahead and discuss how you can choose the perfect Salon Staff Uniform for your staff, let's understand the importance of wearing one.
Here Are The 3 Main Important Reasons To Wear A Salon Staff Uniform:
1. Creates A Brand Identity
Take a cue from big brands. They're all successful because they've been able to create a memorable brand identity. When your employees wear your brand on their sleeves in the form of a logo, they'll be instantly recognized. Whether you're a freelancer or managing a whole team, a Salon Staff Uniform is a good place to start with. To add an extra professional touch, you can have your staff wear a badge with their name so that it becomes easier for a client to address them.
You might like: 7 Step-By-Step Process to Build your Salon Branding Identity
2. Comfortable & Stylish
Salon wear is usually designed keeping in mind the role of a salon stylist or hairdresser. It usually comes with side and front pockets where they can keep their combs, scissors, and other beauty accessories. Thus, in case you're contemplating whether to get a Salon Staff Uniform or not, think of functionality. It not just makes them look stylish but also gives them added comfort to clock long hours at work.
3. Creates Consistency
When a client is seeking professional beauty services, they like to feel reassured. If a first-time client visits your salon and sees your staff dressed professionally from head to toe, it injects a sense of assurance that their hair and nails are in the right hands. Therefore, uniforms create consistency among your stylists and technicians.
Always be proud of what you do and never be afraid to show it. Know the power of first impressions to your Salon Clients and by giving Salon Staff Uniforms to wear, you embrace the beauty business better.
Once you've decided to get your employees an inspiring Salon Staff Uniform, it's time to go shopping or contact a supplier who specializes in uniforms for the service industry.
The myriad of options available in the market can leave you perplexed. Before you step out, carry this fool-proof checklist of parameters that will help you choose the perfect salon and spa uniform for therapists, stylists, nail technicians, and cleaning staff.
Additional Resource: Salon Offer Messages & Templates to Maximize Revenue.
How to Choose the Right Salon Staff Uniform: A Complete Checklist
1. Comfort
Under no circumstances can you compromise on the comfort of the uniform. A beauty professional's job requires him/her to be on his/her feet all day. Therefore, make sure you choose something that is comfortable, easy to put on, and breathable. Some of the best fabrics are cotton or linen.
2. Fabric
Natural breathable fabrics like cotton and linen can be worn during any season. However, such fabrics are easily absorbable and tend to soak spills faster thus making them harder to remove later on. In case you do choose cotton or linen for the uniform fabric, get additional aprons made from a heavy fabric that will wear well in the long term. The majority of spa owners tend to select lightweight polyester uniforms that are priced well too. If your budget permits, you can also go in for luxurious fabrics such as silk.
3. Colour Retention:
Keep in mind that beauty uniforms are constantly exposed to chemicals, hair-coloring agents, oils, water, and soap on a daily basis. Regular maintenance of such clothes becomes very difficult. Therefore, make sure the fabric you select can be easily cared for, will retain its color, and is fade-resistant. Cotton and linen are not fabrics you must give your colorists as they are not bleach-proof. Look for synthetic fabrics that will look the same even after multiple washes.
4. Durable and Long-lasting:
If you are investing a considerable amount of money in a Salon Staff Uniform, make sure it's worth it. You need a uniform that is crinkle-proof and tear-resistant. It should literally survive the years to come. Also, make sure it requires little or no ironing. If your staff is running late to work, it can be annoying for them to iron their clothes and get ready. Also, even if they do iron their clothes, they will crinkle by the time they get to work. Thus, make it simple for them by choosing something that is 'low iron'. Since polyester does not breathe and absorbs body odor quickly, it can become stinky in no time. Thus, instead of going in for 100% polyester, choose a fabric blend that is 50% polyester and 50% cotton.
5. Practical Design:
When selecting a uniform for your salon staff, keep in mind their job. They're required to move constantly, be at the reception when called, and juggle different duties on the salon floor. Thus, their uniforms need to resonate with their job profiles. Practicality in the design is important. Go in for airy tunics, loose trousers, and knee-length spa dresses. Don't include any embellishments or extra details that will get in their way. Keep it simple yet stylish. The color of the Salon Staff Uniform can resonate with your brand image. However, black is the color most salon owners choose for their staff uniforms.
If your salon staff is reluctant to wear a uniform, explain to them how a stylish uniform when worn well will reflect on their professionalism. Sow the confidence for mastering the art of client consultation. Even if an employee is sloppy on the inside, a neat and tidy uniform can make up for it and keep up your salon's reputation in front of new clients.
There are many things you can do when giving your beauty business a touch of professionalism. While Salon Staff Uniform is one, getting salon management software is the other. In today's competitive space, clients choose a salon based on how automated they are and whether they're able to keep up with industry trends and technologies. Use MioSalon software to automate and manage all your administrative & marketing tasks effectively.