Surprising Benefits of Online Booking For Salons When Done Right!
Making a last-minute salon appointment is something we all dread. From finding the telephone number to speaking to a not-so-friendly receptionist, scheduling an appointment over the phone is not always the nicest of things.
You might like: Technological Support You Must Have In Your Salon and Spa Reception
Fortunately, technology has changed the way customers can schedule their appointments. Today, tech continues to play a crucial role in our everyday lives. From booking a taxi to work to buy groceries, we do it all at the touch of a button. Having taken over every aspect of our lives, the salon and spa industry is no exception.
Today, customers expect to access salon appointment software 24/7. They prefer a flexible booking system rather than a rigid one. According to a survey, 70% of salon and spa customers prefer online booking over calling in.
If you are still not convinced to make the switch to a salon online booking system and are continuing to use old-fashioned telephone-based systems, you need to read this then.
There are enormous benefits of using salon management software:
1. Customers that book online spend more:
When clients have the option of booking their salon or spa services online, they tend to spend more. This is mainly because they get a chance to carefully go through the salon menu and select the services they require with their preferred stylist. Also, customers tend to visit more often when a salon offers online booking. Using traditional methods to schedule an appointment might seem easy enough; however, customers will have to wait in line till the receptionist checks the availability of a particular stylist.
Also Read: 7 Amazing Benefits of Salon Booking Software
With salon appointment software, customers get access to real-time calendar updates. This way, they can see when their favorite stylists are available and schedule a booking instantly. The reason behind the increased booking frequency with an online booking system is that customers find the channel easy, intuitive, and flexible. Accessibility is a major factor that drives engagement. In short, customers appreciate this automated system which translates into increased revenue for your business.
2. Improves customer experience and your salon revenue:
Salon appointment software is a critical tool for businesses. One of the greatest benefits of an online booking platform is that chances of human error are completely eliminated. No more forgotten bookings, no-shows, and cancellations. In fact, online booking improves the customer experience. 32% of salon bookings are made outside of store hours.
If your salon or spa still doesn't have an online booking system, you may be losing out on customers. By providing your customers with the option of scheduling their appointment online, you are removing any kind of barrier that exists. It also gives your first-time clients and potential customers a fair idea of the services you offer along with the pricing. Online booking is also a great way to show off your service menu to your customers. It also enhances the rebooking experience for customers.
Most Read: Salon Customer Experience: Definition, Importance & Tips
A foolproof way in which salon management software increases your overall bottom line is by upselling. Every time a client schedules an appointment, you can push related services to them that they may not have come across earlier. This is a great way to help grow your business. Not just services but retail products too. For example, if a client books an appointment for a hair spa, you can suggest shampoos and conditioners that they may also want to buy.
3. Online booking is a great way to retain customers:
Are you a salon that is struggling to retain customers? If yes, switch to online booking. Clients are usually hesitant to try something new for the first time. However, once they get used to scheduling appointments online, they will stick to this channel for future bookings as well. This is mainly because of the ease that online booking offers. Whether it's finding the right services, a preferred therapist or stylist, or last-minute availability, salon online appointment booking can support every specific need of a client in an elegant and systematic way.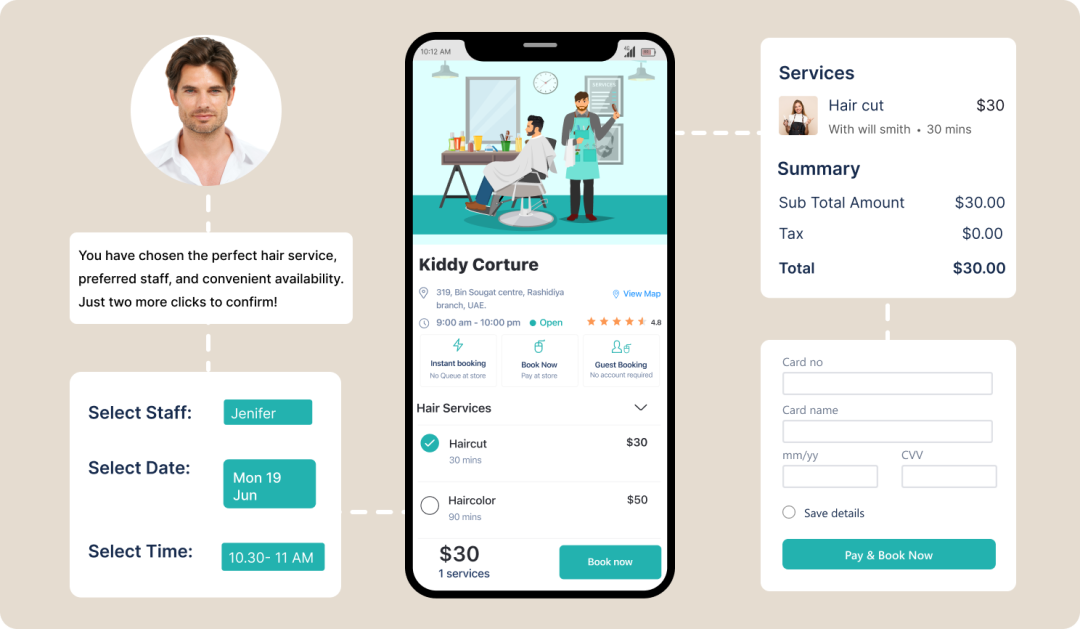 Why choose MioSalon for an effective online booking experience?
Salons and spas that use MioSalon, salon appointment software, see successful online booking rates. Our software's usability and functionality features make it the most sought-after choice for leading names in the beauty industry. Here's what you can expect with MioSalon:
➭ Mobile-friendly design:
In this age and day, customers spend more time on their smartphones than any other device. Thus, it is very important that the salon management software you choose offers a seamless mobile experience. MioSalon pays special attention to this and makes sure the online booking services are optimized keeping a client's mobile experiences in mind. A salon or spa can easily integrate the online booking widget on their website or Facebook page. This premium feature keeps your reception open 24/7.
Also Read: Important Features of Spa And Salon Management Software
➭ Easy-to-use login:
A customer is likely to make an online booking only if the process is simple from the very beginning. Keeping this in mind, we at MioSalon have made sure the process is incredibly easy for existing as well as new clients. In order to provide clients with a personalized experience, we recognize their phone numbers, email addresses, and user name. Using these credentials, they can easily access their past service history. Our online booking software also makes it simple for customers to check the availability of their preferred service provider. They can also schedule their appointments weeks in advance. To make sure no-shows and cancellations are reduced, our automated system will send reminders in the form of text messages and emails.
➭ Access to user profile:
When a customer gets on the software to schedule an appointment, it can be extremely frustrating for them if they have to enter all their details again. Since MioSalon is cloud-based software, all the information is stored securely and can be retrieved by the client or salon at any time. From the time a customer logs in, they can get access to their profile, past service history, upcoming appointments, package and membership benefits, reward points they've earned, and the credit and debit card information they've stored. MioSalon pays special attention to payment security, thus clients can rest assured that their information remains secure with multiple layers of security and encryption.
Whether it's creating super-fast booking experiences for your clients or encouraging new guest bookings, MioSalon's online booking system has your back. Your customers will not just appreciate this system but will also tend to spend more. This will further result in better customer retention. Are you curious to learn more about our salon appointment software?