Holiday Marketing Ideas For Salons & Spas 2023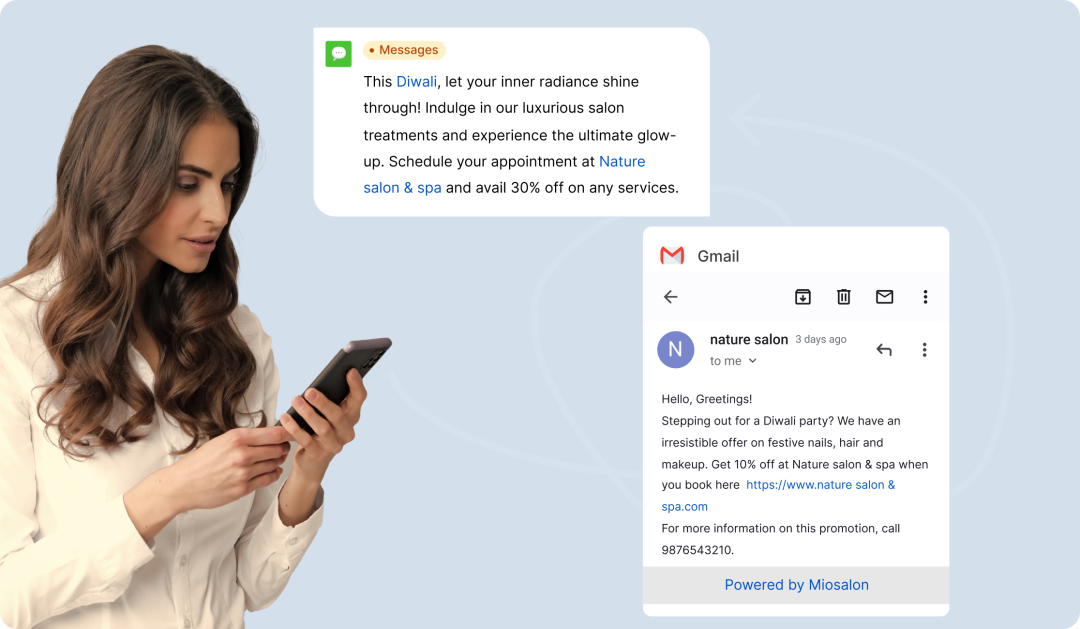 The holiday season might be and feel a little different this year due to the COVID-19 pandemic. However, don't let it dampen your festive spirit. Since it's the peak season for salons and spas, you cannot skip marketing altogether. With Halloween (31st October) and Diwali (4th November) being around the corner, you have to up your promotions game and ensure you have a steady flow of clients coming in while keeping safe. The best way to keep your clients engaged is by hosting virtual events, contests, and more. While hosting an in-house salon event might not happen this year, you can always have some fun virtually.
In this blog, we aim at discussing some exciting marketing ideas for the holiday season which will help you gain more social media followers and clients. Also, remember to have your beauty salon software handy as this will help you track all your marketing efforts.
Table of Contents:
Holiday Marketing Campaign for Salons & Spas
2. Set up your Email Marketing
3. Extend Social Media Reach with Virtual Tutorials
5. Use Salon Scheduling Software to Avoid Overcrowding
Holiday Marketing Campaign for Salons & Spas
1. Run a Gift Card Promotion
The holiday season is the best time to boost gift card sales. When people are out of ideas for Diwali gifting, vouchers are the ideal choice, and they are also the safest promotion ideas since you have nothing to lose.
Since you can never go wrong with gift cards, think of some fun themes to bring in new faces into your salon. Create spooky Halloween-themed and sparkly Diwali-themed gift cards. If you're feeling a bit generous, you can even have discounted gift cards (pay Rs. 3,000 for a Rs. 3,500 gift card). Once you've set them up, you have to ensure they sell like hotcakes. There are two ways to go about it – you can either sell physical vouchers at your salon front desk or include them within your salon management software. Since they're customizable and fully integrated into your software, they allow easy redemption too. Since everything is virtual these days, the latter is better. When you sell pre-designed gift cards from your software, you can also monitor sales which will further help you improve your overall bottom line.
2. Set up your Email Marketing
Don't wait till the last minute to tell your guests about upcoming holiday gifts, vouchers, and retail products. The best way to remind them about the celebration is by running an email marketing campaign. Work can get pretty hectic during the holiday season, which is why you should leverage the automated email marketing tools offered by salon and spa software. It does not just help you stay in touch with clients but also helps you craft appointment reminders and promotions. Holiday Marketing Ideas for Salons & Spas 2023 – two email templates for Halloween and Diwali:
Option 1
Subject line: Make your Halloween Spooktacular with <salon name>
Hello,
Greetings!
Looking for spooky nails, makeup, and hairstyles for an upcoming Halloween party? <Salon name> is at your service. Check out our specially curated services for the holiday season.
To schedule an appointment, visit <booking link>.
Always at your service,
<salon name>
Option 2
Subject line: This Diwali, Shine & Sparkle with us
Hello,
Greetings!
Stepping out for a Diwali party? We have an irresistible offer on festive nails, hair and makeup. Get 10% off at <salon name> when you book here <booking link>.
For more information on this promotion, call <phone number>.
Waiting at your service,
<salon name>
3. Extend Social Media Reach with Virtual Tutorials
The holiday season is a good time to enhance your social media reputation. There are various things you can do to keep your fan following engaged. Since an open house or live event may not be possible this year, you can probably host a virtual event that will give your customers a feel of the festivities. You can even give the beauty professionals in your salon a chance to go live on your Facebook and Instagram page. They can share hair and makeup tips that will help clients' doll up for the festive season. When your clients view you as a thought leader in a certain field, they're more likely to visit your salon in the future. This will also increase your followers.
Besides doing a quick tutorial, you can even partner up with leading industry professionals and other brands to host webinars. However, make sure all your social media posts carry relevant hashtags to ensure people find your content. Some popular hashtags for Halloween include: #HappyHalloween, #HalloweenMakeup #TrickorTreat #HalloweenParty, #SpookyOctober. Some popular hashtags for Diwali include: #Diwali2021 #DiwaliGifts #HappyDiwali #FestivalOfLights #Deepawali #DiwaliDecor.
4. Run a Contest/Giveaway
If you want to enhance brand awareness, grow your social following and attract new clients, plan on hosting a holiday contest/giveaway. Everybody loves freebies, so why not capitalise on them? Since Halloween and Diwali are just a few days apart, you can host a combined contest. Ask your followers to post their best festive hair and makeup photos and tag you with relevant hashtags. The one with the most likes can be declared the winner. It's a sure-shot method to enhance the reach of your brand. You can give the winners of the giveaway a bundle of free services from your salon.
5. Use Salon Scheduling Software to Avoid Overcrowding
Overcrowding your salon in the age of social distancing isn't a good idea. Therefore, if you want to effectively manage the crowd at your salon during the festive season, ask your clients to schedule their booking on your salon appointment scheduling software. This not just helps reduce overbooking and walk-ins but also ensures the time of your staff is used productively and gives your clients the assurance that you're adhering to safe COVID protocols. Furthermore, you can even get rid of no-shows by sending out a timely reminder to the clients before their appointment.
During trying times like these when salons and spas are struggling to get clients through the door, these simple yet effective ideas really help. To track your marketing efforts and make operations for the holiday season a tad bit easier, use MioSalon, hair salon software. You can even enjoy a FREE trial here.