Salon And Spa Trends That Will Dominate 2023
Today, the competition in the salon, spa, and beauty industry is fierce, and keeping up with the Spa trends is really important. If you want to survive, you have to be pretty darn good. Another important thing to survive is to keep up with the latest styles and trends. If you are able to adapt to change quickly, your business will thrive.
Also Read: Steps to Market your Newly Opened Spa Business
Owing to the dynamic nature of a salon, it's difficult for stylists to keep track of what's trending and what's not. That being said, it is important that salon owners keep track of the trends that are dominating the salon and beauty industry.
To save you time and effort, we've rounded up some of the hottest spa trends dominating the salon and spa industry. We're in the third month of the year, and you still have time to stay ahead of the game. These trends focus on every aspect of your business, from services to technology to marketing and employees.
Follow These Trends To Earn The Reputation As The Most Popular Neighborhood Salon Or Spa
1. Business Front
As a salon owner, it is of course mandatory to keep up with beauty trends, styles, and cuts. However, simultaneously, it is important to work towards developing your business, technology, and customer services.
Also Read: The Art of Adding Value to your Salon Services
Keep an eye on these business trends:
➢ Technology
Just like the previous years, technology will take center stage in the changing salon landscape in 2019 too. Technology is here to stay. Even if you're a chip off the old block, you'll have to get used to automating processes in your salon. Customers today crave digital experiences. If you want to come out as a successful salon, you will have to adapt to tech.
Also Read: Technological Support You Must Have In Your Salon and Spa Reception
MioSalon Online Bookings
Just about every industry today uses technology in some way or the other. The salon industry is no exception. Ditch the pen and paper register for salon scheduling software. Give your customers the freedom to book appointments at their own will. Using software also reduces the chances of cancellations and no-shows. Your business will only benefit.
➢ Desk-less Front Desk
In 2019, there will be no front desks. It's high time you remove any kind of physical barriers between your client and you. Customers expect engaging experiences and the first step towards that is to go desk-less. If salons and spas are using spa software, the whole question of having a desk is eliminated. This gives your employees more time to focus on meaningful work.
Also Read: Importance of Creating An Inviting Beauty Salon Reception Desk
Now that the desk goes, focus on equipping your waiting areas and seating areas with WiFi internet access, modern tech amenities, and tablets.
➢ Artificial Intelligence
In order to streamline the process, more salons and spas are using artificial intelligence. Chatbots will be used in full swing, from answering customer service questions to taking appointments on the salon scheduling software to purchasing retail and more.
Also Read: Spa's Five daily operations that need to be automated
Chatbots today has become a very regular part of every business. AI in the salon and spa industry will also help owners understand the needs and behavior of their clients. This will further help them make informed business decisions and tailor their marketing messages.
➢ Spalons
There was a time when salons and spas were two different entities. They still are, but this year will see the rise of a new concept called 'salon' (salon + spa). More and more beauty salons have started to offer amenities associated with a typical spa. Clients love this two-in-one convenience that offers them grooming and relaxation in the same room.
2. Corporate Social Responsibility
Eco-friendliness and sustainability will continue to be industry buzzwords in 2019. Salons and spas are embracing organic beauty products and business processes. Besides going deskless, they are going paperless too. Cloud-based spa management software is a new thing.
➢ Natural Beauty Products
Customers today have become more conscious than ever. They really care about the ingredients and chemicals that go into their products. As a result, the popularity of organic products will continue to be on the rise. Natural products are environmentally friendly and a safer alternative to products infused with chemicals. The global demand for organic personal care products is expected to reach $13.2 billion.
Vegan cosmetics have become popular too. Such cosmetics do not contain any kind of animal-derived ingredients. The product is free from animal testing as well.
3. Marketing trends
To get the word out about your beauty salon, it is important to leverage some of the hottest marketing trends this year.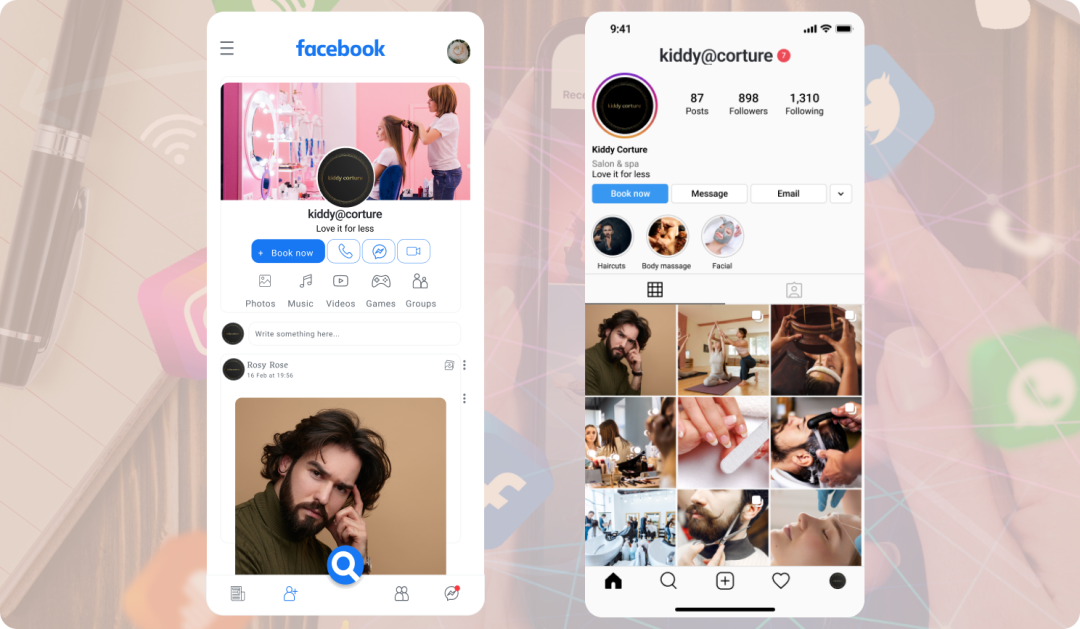 Also Read: 10 Powerful Salon Marketing Ideas To Get You More Customers
In this over-cluttered market, personalized marketing messages will help you break through the noise. The best way to do this is by finding your niche and catering to them with high-value and personalized content every step of the way.
The first step to personalizing client experiences is by finding out their preferences using the spa management software.
➢ Video Marketing
By 2019, it is estimated that video traffic will account for 80% of consumer internet traffic. Video marketing is the perfect marketing tool for your salon. Creating high-quality video content is a great way to make sure your brand grows. From tutorials on the latest styles and techniques to introducing new products, you can use leverage to deliver relevant and engaging content.
➢ Go Live
One of the most powerful marketing trends for salons is live content. Facebook or Instagram live is a great way to speak to your followers. You could also explain makeup steps to your followers while they can comment with questions, feedback, and praise. Live content is a great way to keep in touch with your clients and let them know you exist in the beauty business. When they see your work live, they are confident to avail your services whenever they are in need of them.
➢ Blogging
Beauty trends come and go, but well-written, relevant, and engaging content always stays in vogue. If your salon or spa doesn't have a blog page, this is your year. Make your blog a go-to place for clients to secure information on beauty trends, make-up hacks, product reviews, and announcements. You can also create newsletters and email it to your client database on your salon software. Clients love it when you add value to their lives. If blogging is not your thing, sharing tips and hacks on Instagram is also a great way to seal the deal with your potential and existing clients.
4. Employee Trends
Another trend seen in salons and spas is that 'Generation Z'or 'millennials' are being hired more. As a business, if you are looking to attract and retain young talent, it is important to adopt strategies to make sure they stay. Members of such generations are digital natives and seek technological experiences. They are the ones who want everything at the touch of a button. Thus, it is vital to make strategic use of spa management software so that every process is streamlined and they are urged to stay.
The salon, beauty, and spa industry is constantly changing. Exciting changes happen every now and then, and thus it is essential to stay abreast of the trends this dynamic industry has in store.
The trends mentioned above will be on the upswing in the year 2023. By staying ahead of the curve, you can gain a competitive edge and win clients.
The first step to adding new tech bells and whistles to your business is by using powerful spa management software like MioSalon.