The Art Of Adding Value To Your Spa Promotion Messages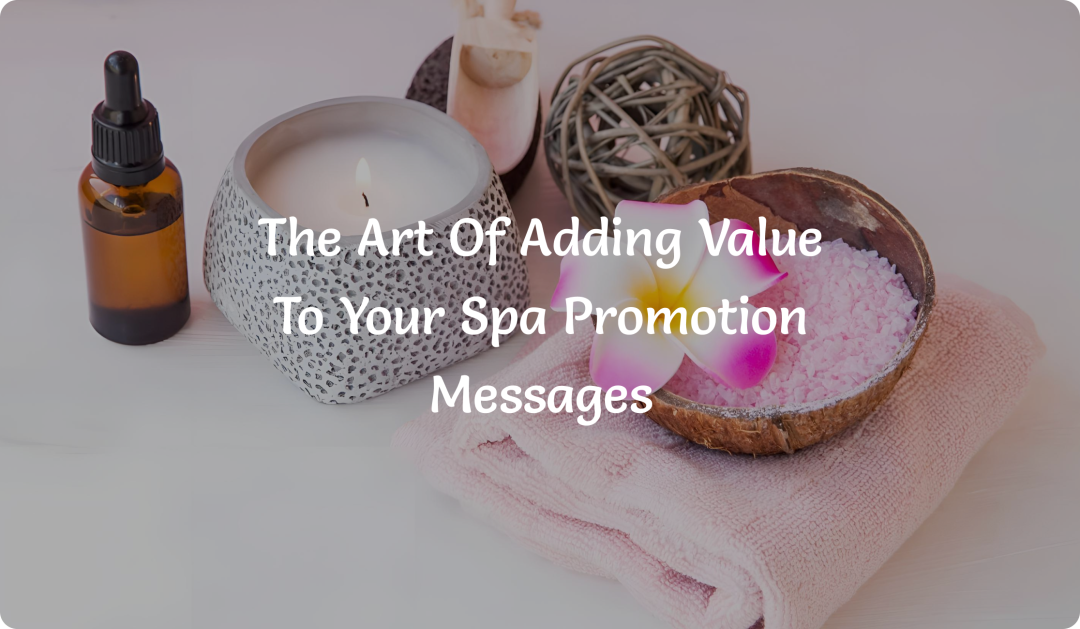 Did you know? 60% of the no-shows in a spa occur because clients forget when they're booked in for. Sending out a quick Spa Promotion Message or email reminder is good enough to do the trick and reduce that number. Now, you're probably doing that which is great. However, are you doing it right? Are you able to add value to your reminder messages?
How About Adding Value To A Client's Visit Using Spa Promotion Messages?
The first part of an SMS appointment reminder must remind the client of their booking and must be something like this:
➢ Hi <client's name>, looking forward to seeing you on <date><time> at <spa name>.
The second part of the message must contain the magic, something which should make the clients feel extra special. Have something like:
➢ Show this message upon arrival and get a chance to enter our lucky draw.
➢ Get additional loyalty points upon showing this message
When you structure your messages properly, more clients will want to visit your spa. Instead of manually typing messages, the process using spa software is automatic. As a client schedules an appointment, they will begin receiving reminder messages in advance and as the date of their appointment comes closer.
SMS salon advertising is the best way to fill up those empty slots in your calendar. You'll be surprised how fast you're able to fill in your appointment book on your spa management software.
Think about this – the only universal application present across all mobile phones is text messaging. It's ideal to utilize this as a marketing opportunity. 98% of SMS text messages are opened and read by recipients.
If you plan to send out Spa Promotion Messages to your clients regularly, be careful not to cross the line. In the United States, there's a law that requires businesses who want to send out marketing messages to their clients to abide by these two things:
➢ Give adequate notice of what you're going to be sending and how frequently will such messages be sent.
➢ Ask for an opt-in and opt-out possibility
Check this: Salon SMS Templates designed for All time promotions and festivals.
Only when you abide by this, you can start sending out messages to your clients. Most of these messages come under transactional messages. They are defined by any text that has a goal to facilitate a transaction that a customer has already agreed to. Three kinds of SMS that fall into that category include booking confirmations, review requests and appointment reminders.
Whenever you tweak your messages, make sure you do not fall into the marketing category. The main aim of appointment reminders is to discourage no-shows by encouraging loyalty. Making the most of every single text message is in your hands.
By incorporating a Spa Promotion Messages campaign in your salon or spa, you can:
➢ Instantly connect with your clients
➢ Increase revenue
➢ Increase customer engagement
➢ Fill empty slots on your spa scheduling software
➢ Easily target new clients
SMS Opt-in & Opt-out
➢ Opt-in: As the term suggests, when a customer opts-in, he/she is giving you the right to be targeted by regular marketing communication via SMS. Before consumers opt-in, it is very important to let them know what kind of messages they can expect to receive. Once they've given their consent to marketing, you can begin sending out the messages.
➢ Opt-out: This option is make your customers to opt-out or unsubscribe from the promotional campaigns. A short link will be generated automatically and sent along with the SMS campaigns. A STOP confirmation message should be sent to the consumer before they opt-out. Once they've successfully been removed from your SMS marketing list, you could send them a message which reads something like this – "You have opted out. You will not receive additional messages."
Most Read: Improve your Salon Business with Salon Offer Messages Templates
With MioSalon, spa software, SMS opt-in and opt-out is extremely simple. If you're looking to improve your salon bottom line with SMS marketing, here are some SMS promotional templates.
Owing to spam folders, most clients are used to ignoring the marketing messages they receive in their inbox. That's not the case with SMS. 98% of text messages are opened by smartphone users. However, just getting them to open the message is not enough. You'll need to work on finding what content will work for your spa and what won't. If done right, SMS can be the game-changer for your spa.
When to Send Spa Promotion Messages?
People usually share phone numbers with only friends, family and near and dear ones. So be careful not to take advantage of this and bombard them with marketing messages. Send not more than two marketing messages per month. The best way to determine the frequency of the marketing messages, check the client's purchase cycle. If they visit your spa once a month, you should them only one message besides their appointment reminders which are automated.
Most Read: 5 Creative Salon Promotion Ideas to Attract New Customers and Increase Revenue
If you're not in the habit of sending out text messages to your clients, it's high time you do. By doing so you can achieve three primary goals which are:
➢ Awareness: Top of the mind recall – it keeps your salon or spa at the forefront in your client's mind. Just be reading a message from you, they'll be urged to book an appointment if they haven't in a while.
➢ Information: YourSpa Promotion Messages should be able to inform your clients about current promotions, special offers and new retail products.
➢ Engagement: Use text messages as an opportunity to engage with your clients. Make sure to include a call to action (CTA) to book an appointment or purchase a retail product.
The best part of using our software is that it easily integrates with tools that you already use at no extra cost. With SMS integration, you can send your clients unlimited SMS reminders and marketing messages by creating your own SMS gateway account and integrating it with MioSalon.
Also read: Email Marketing Strategy to Boost Open rates and increase Salon Revenue
Are you looking for interactive ways to learn more about client retention? Stay updated with industry trends and insights with our blog page which is updated regularly.
A thriving spa business begins with the best salon management software. MioSalon Software comes up with every feature that your Salon & Spa requires to maximize revenue growth.