Attract New Customers: 5 Salon Promo Ideas for Revenue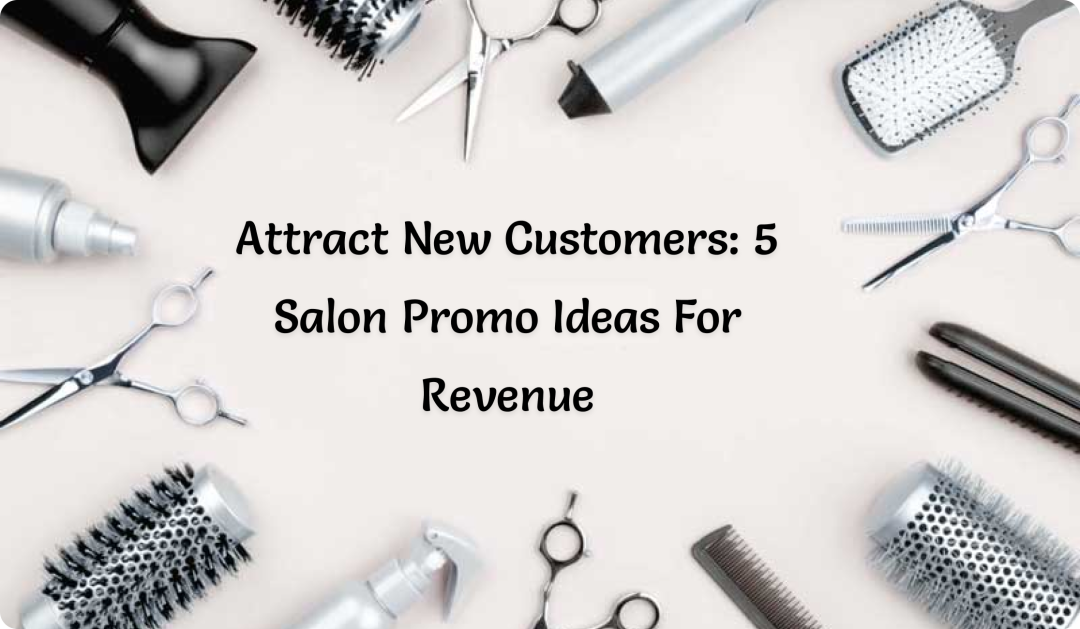 There's nothing quite like making the first client that walks into your salon satisfied. When they walk out of the door with a smile on their face, it definitely gives you a boost. Your goal should be to satisfy every client so that they speak good things about your spa to their friends and family. However, that's never enough.
The salon & spa industry is constantly changing and evolving. It is no longer categorized by only stand-alone spas or salons. There are destination spas, hotel spas, and spas that offer certain salon services too. Those in the spa business will know that attracting customers can sometimes be a challenge. To acquire new customers and boost sales, it is important to break through the clutter.
In order to attract new customers to your salon or spa, you need to
➣ Create a distinct campaign strategy
➣ Find your niche market
➣ Create bespoke spa packages
➣ Conduct exclusive salon promotions & put your money on marketing.
Your spa might have the best therapists and your salon might also have high-end products, but if your target audience is not aware of what you offer, your business is going to suffer. Before implementing a salon marketing strategy or campaign, it is a good idea to get salon management software. The software will help you track the progress of your campaign and give you key inputs that will help you plan the rest of your marketing efforts.
Here are a few tried and tested salon promotion ideas that really work and give the ROI you are looking for:
1) First Visit Special Offer:
Everyone loves a good deal. Think about the time when you purchased something because it was on sale. We all do that Discounts and offers excite us. In our everyday lives, when we are given a discount coupon for a place we've never visited, we make it a point to avail the offer rather than letting go of it.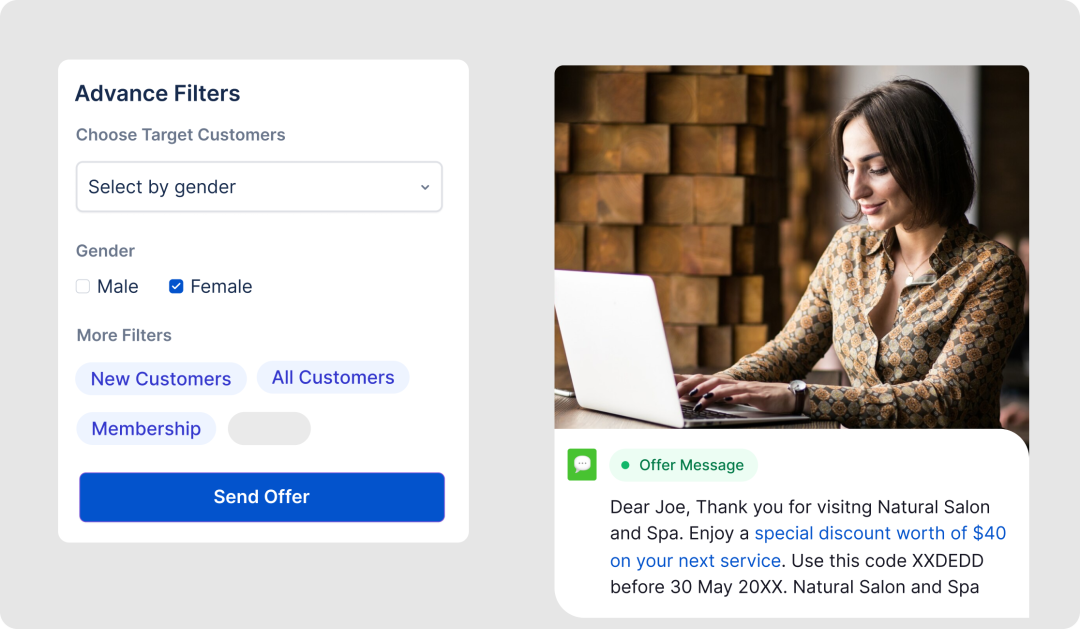 Apply the same thought process to your salon or spa. When you give your potential clients a discount coupon, they will want to make use of it. This is a great way to attract them to your store. Salons & spas can collect email addresses of their target group through their social media pages, website, or by conducting a survey. Once you have an email database, start sending out salon promotional messages.
2) Online Contests:
On the internet, you will find a large audience that takes a keen interest in online contests. Running an online contest is the best spa promotion idea you can try. It is also a great way to build a fan following on your social media pages. Besides putting some money on your contest post, you can also use popular hashtags related to the spa industry.
Every time a user is checking for a hashtag that matches your contest post, they are likely to take interest in it 71% of people look for spa deals and packages online. When running an online contest, there are no limitations. Make it fun and exciting for your existing as well as potential customers. Whatever contest you run, make sure it motivates people to enter.
3) Strengthen your Online Presence:
Your salon or spa is often judged by its online presence. If a client cannot find you on the internet, they are not going to visit you. It's sad, but that's the harsh truth. You may be pretty darn good at your work, but if there's no sight of your work on the internet, consider your business doomed. We are all occupants of a highly digitized age. Thus, you need to follow trends. Social media platforms are the best place to start off with. Facebook, Twitter, and Instagram should be your go-to platforms to promote your salon & spa business.
Create a social media calendar at the beginning of the month and make sure to post content that your audience will be interested in reading. Share pictures of your staff, your facility, products, and clients. If you are running a special discount or promotion, make sure to mention all those details as well. The best way to appear on Google search rankings is by creating a blog page for your salon. Post at least four blogs a month with popular keywords. This is a great way to engage with followers that you already have and with those who may be interested in your products and services.
4) Be Tech Savvy:
One major parameter people who are looking for new spas have is convenience and accessibility. Gone are the days when people have the time to make a phone call and schedule an appointment. Today, people want it at the touch of a button. When a salon or spa takes its appointment booking process online, more people will want to avail its services.
In general, salon & spa management software helps in appointment scheduling, inventory control, Facebook scheduling, and client management. Whether it's sending out emails and personalized salon offer messages to the clients or sorting online reviews, software definitely makes things easier. Automating your spa business also improves customer satisfaction. When customers realize yours is one of the few spas that offer a seamless experience, they are bound to be drawn toward you.
5) Networking:
Partnering with the right people is a great way to network with other business owners. There are several networking groups in several areas that are free to join. Surf the internet to find one in your area, and go for a couple of their meets. Networking in the first instance can be intimidating. However, it goes a long way in building the visibility of your spa. Take plenty of business cards and introduce your spa to people in the community. 50% of spa owners say that they have been able to attract new clients through networking events.
There are virtually hundreds of ways to increase consumer traffic for your spa. These are just a few of them. In the competitive world, we live in, it is crucial to continually develop creative spa promotion ideas to effectively drive ideal traffic through your door. You may offer the best facials, body massages, and nail services, but what's the point if most of your time goes into administrative tasks. Be on top of the curve with MioSalon, salon & spa management software, that's specifically created for the spa industry. Manage your business, automate appointment bookings, customize marketing campaigns, and much more – Try a free trial here!