Unleashing the Power of a Salon POS System: 7 Ways to Maximize Your Revenue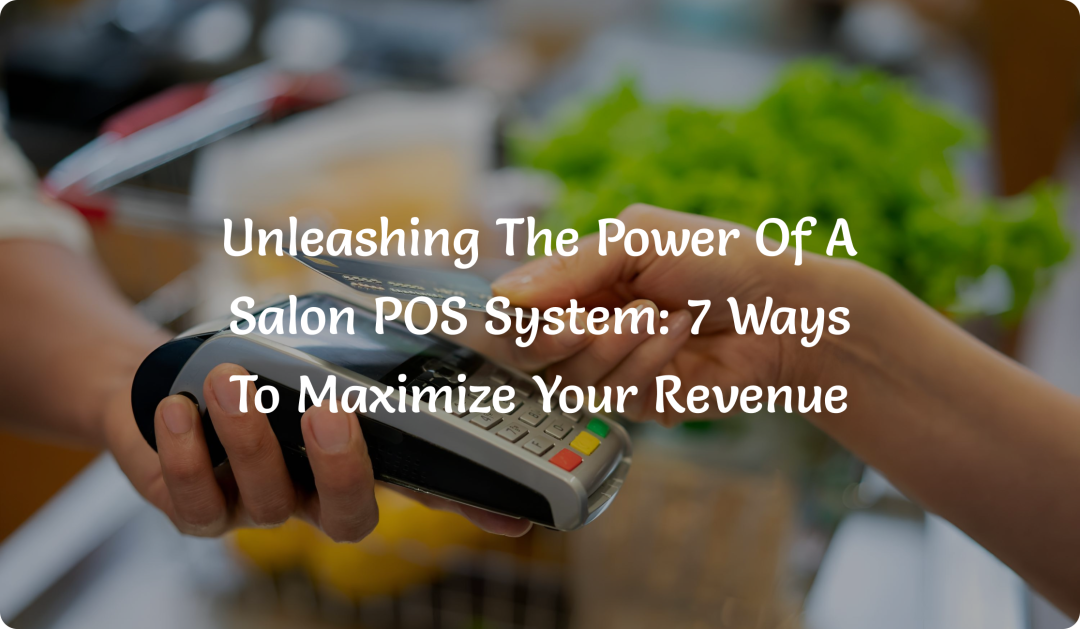 Running a salon is exhilarating yet time-consuming. A recent survey reveals that salon owners don't even remember the last time they took a vacation. The reason behind this is that when you run a hair salon, nail salon, or spa, there are many things to take care of. This is why you need a salon POS system.
While they feel like their time and flexibility are lost, there are always ways to bounce back stronger and maintain a work-life balance. The answer to making your salon business profitable and seamless is a Salon Point-of-Sale system (POS).
A salon POS system is a great asset for salon owners. Since it is an all-in-one device, it can be used to maintain inventory, appointments, cash registers, and merchant account credit card devices.
Miosalon – Salon and Spa Software has an integrated or built-in point-of-sale (POS) system that enables faster checkout for all your clients. From handling sales transactions to invoicing, receipts, retail product management, and chair upgrades, our POS system has all you need to increase profitability.
Benefits of a Salon POS System
Once you find yourself salon management software with an in-built POS, here's how you can use it to make your business more profitable: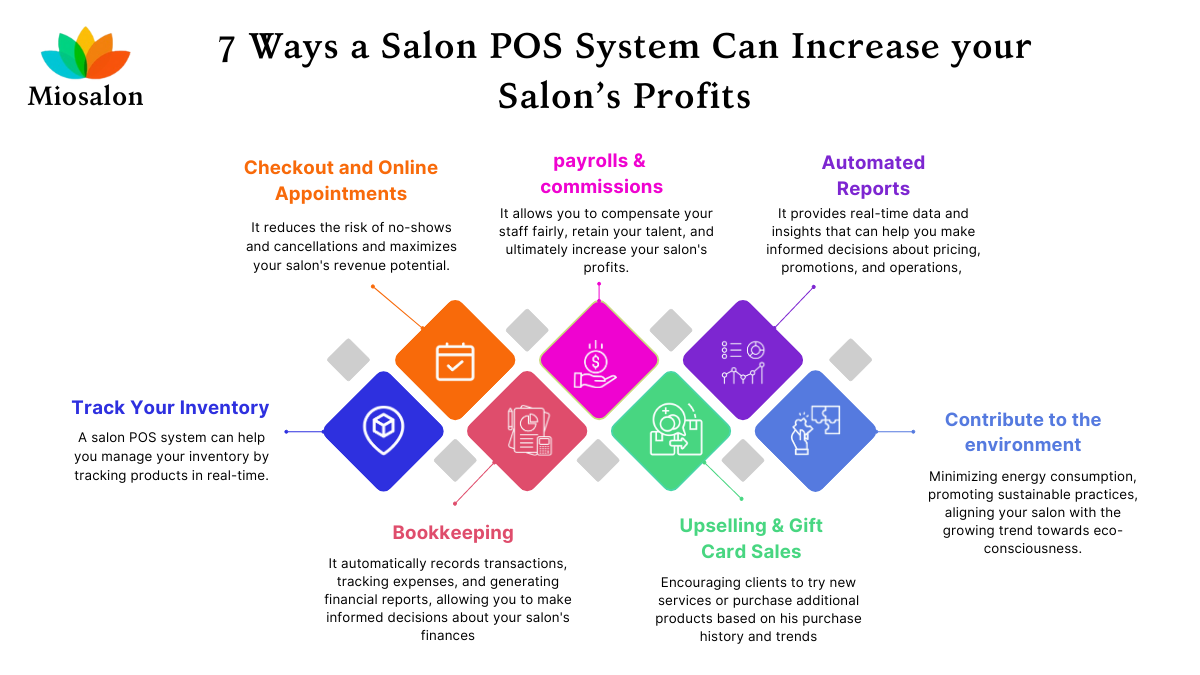 Track Your Inventory
One of the major benefits of salon POS is its ability to automatically track inventory. Imagine you run out of a particular hair product on a busy day. The revenue for that day is lost. But the salon and spa software will always prevent that from happening. It will help you better track and manage inventory, for your supplies and retail products. Since everything is barcoded into the software, you will get alerts every time a product is being sold and when new inventory has to be added. With inventory management, you can track what's being sold the most and what's not.
For example, let's say your salon offers a range of hair care products, from shampoos and conditioners to hair treatments and styling products. With a salon POS system, you can easily track the inventory levels of each product and set up automated alerts when inventory levels fall below a certain threshold. This way, you can order new products before you run out of stock, ensuring that your salon is always well-stocked and ready to meet customer demand.
Pro Tip: Maximize Your Profits with Salon Inventory Management Software
Faster Checkout and Online Appointments
Your clients are busy and they have a lot on their plate every single day. This may result in them forgetting to book an appointment. They would prefer to do it at their convenience. A salon POS system with an online booking feature gives clients the liberty to schedule appointments whenever they wish.
However, sometimes, a client ends up scheduling it weeks in advance and tends to forget about it. In such a case, not just a time slot is lost but a client loses wages for that hour as well. Automatic salon SMS reminders are the perfect solution for this. A salon POS System will definitely have this. If a client wants to cancel their appointment too, they can do so ahead of time.
Once the client has availed of the service, you can round out their great experience with built-in payment processing. Faster checkouts redefine how payments work and create an uber-cool experience for your clients.
Save time on bookkeeping
Bookkeeping can be a time-consuming and tedious task for salon owners, but a salon POS system can simplify this process and save valuable time. With this software the transactions are automatically recorded and categorized, reducing the need for manual data entry and minimizing the risk of errors.
Moreover, a salon POS system can help you track expenses and generate financial reports, providing you with valuable insights into your salon's financial performance. For example, you can use a salon POS system to track expenses such as rent, utilities, and supplies, and generate reports that show how much you're spending on each expense category. This information can help you identify areas where you can reduce costs and improve your salon's profitability.
Handle payrolls & commissions
We spoke to a few salon owners and asked them what they hate about salon management. Most of them answered payroll management. We understand the pain because managing payroll every couple of weeks can be time-consuming. On the other hand, outsourcing payroll can be an overhead expense.
With salon and spa software that has an integrated POS, handling commissions is extremely simple. You can create slab-wise commissions and map them to your employee profiles. The robust tracking system helps you better incentivize your employees. The system helps you track individual sales, commissions, and rental payments. Know the art of setting up the commission and automating it using Salon Software. This helps you save on a large number of accounting costs and also gives your employees the peace of mind that they will be paid accurately.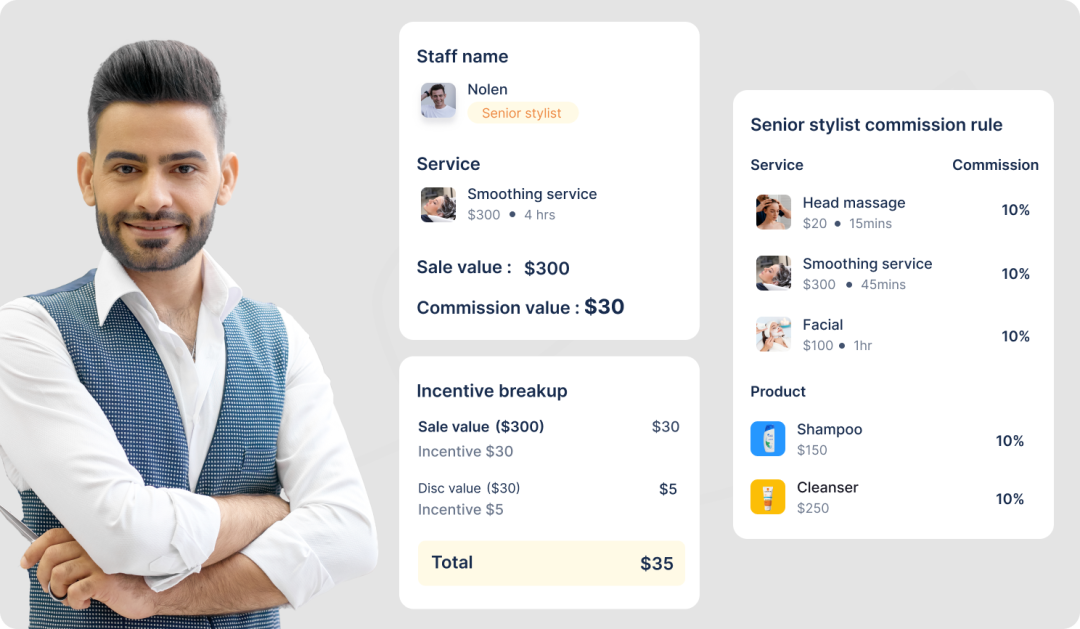 Easy Upselling & Gift Card Sales
Once you've ensured your products are in stock, selling them to clients successfully is the next step. Without a POS, you may be missing out on upselling opportunities. Did you know? Upselling can increase client retention and revenue per visit. Spa software equipped with the right POS will easily help you track your client's appointment histories without you having to go through a mountain of paper records.
You get access to all the client's past purchases and get to send them marketing messages paying attention to their preferences. Making recommendations to increase your sales always helps. There is also an integrated gift card sales tool that can improve your bottom line.
Automated Reports
When you have all the financials of your business managed in a central location, it is easy to think about the long-term goals of your business and plan growth strategies around the same. Our salon software helps you generate performance reports including profit and loss statements, sales reports, and client retention. With a manual procedure, you will have to generate the reports yourself. Automated reports generated by the salon and spa POS software will not just save you time but also help you make crucial business decisions directed toward growth and profitability.
Contribute to the environment
A conventional salon uses paper in the following ways:
➢ To take down appointments (maintaining a register).
➢ To print receipts once the client has availed of a service
➢ To maintain a client's history and past appointment information
➢ To conduct a consultation at the beginning of every service
And, for miscellaneous things such as maintenance of a sales report, inventory, staff record, bookkeeping, and tax.
The quantity of paper used in a salon every single day is appalling. The best way to stop this is by adopting a paperless office. Paperless office contributes toward a sustainable environment and also drives Salon Productivity. Using salon management software integrated with POS totally eliminates the need to use paper in your salon or spa. You can send your client's automated invoices directly into their inboxes or via text message. Other processes in the salon too that involve the use of paper can all be executed on the spa software.
Over 1500+ customers swear by MioSalon. What are you waiting for? Now is the time to give your beauty business a hint of automation. Visit MioSalon to work with the best salon POS System.