Boost Your Festive Sales this Onam With Creative SMS and Salon Email Templates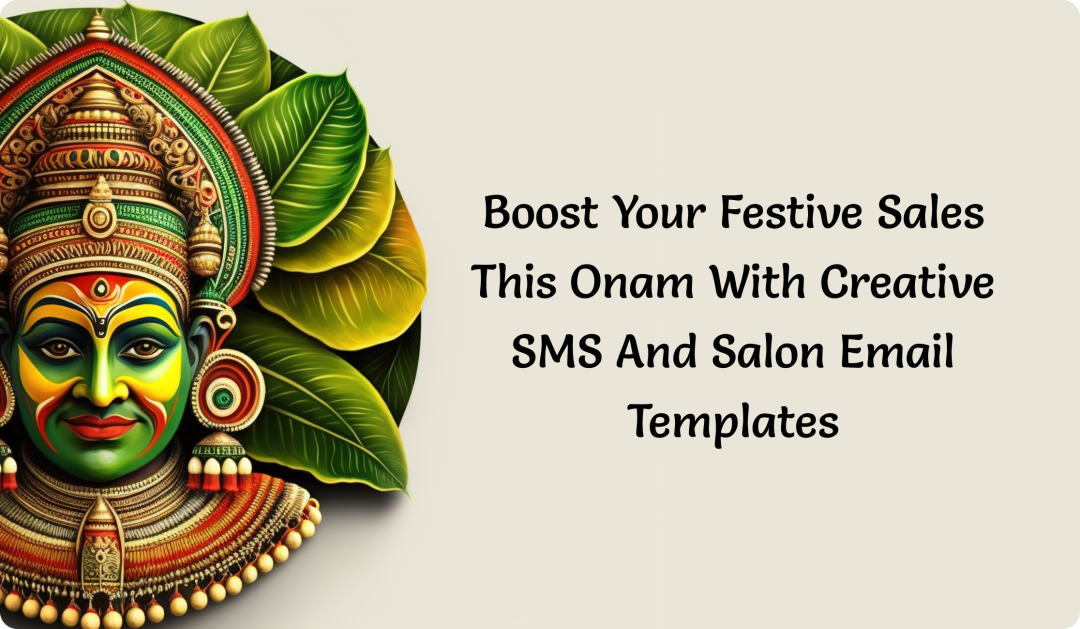 Onam holds a very symbolic significance with celebrations and festivities for Malayalees worldwide. For marketers, You can make use of these SMS and Salon Email Templates this Onam to Boost Sales. Also, on the other hand, the annual harvest festival is the best time to witness a lofty increase in their sales.
A festival that is celebrated with much pomp and fervor, snake boat rides, and intricately decorated pookolams, it is also the occasion when most purchase decisions are made in Kerala.
Thus, this is the best time for salons and spas to cash in on the festive mood. Also, months such as July and August usually witness a dip in customer sentiment. The best way to lift the spirit and morale of your stylists is by engaging in some festive marketing.
Also, read this : Email Strategy To Boost Open Rates And Your Salon Revenue
Of all the communication channels you use to get clients through the door, utilize the weapons of SMS and email. Since most people are with their phones all the time, they're more like to get tempted by an irresistible offer sent to them via SMS or email.
Also, during the auspicious festival of Onam, women in Kerala leave no stone unturned to beautify themselves. From getting makeup to trendy hairdos, they go an extra mile to look festive ready in their Kasavu embroidered attires.
This is a happy sign for the beauty business as the festival promises soaring sales and revenue.
If you really want to see hoards of clients walking through your salon or spa this Onam, create a unique marketing strategy.
To start off with, our experts have created the best Onam SMS and Salon Email Templates that will prompt your clients to book their next appointment with you.
Disclaimer: Make sure you don't just copy and paste the below templates into your software. You must change the name of the client, salon name, and number to suit your requirement.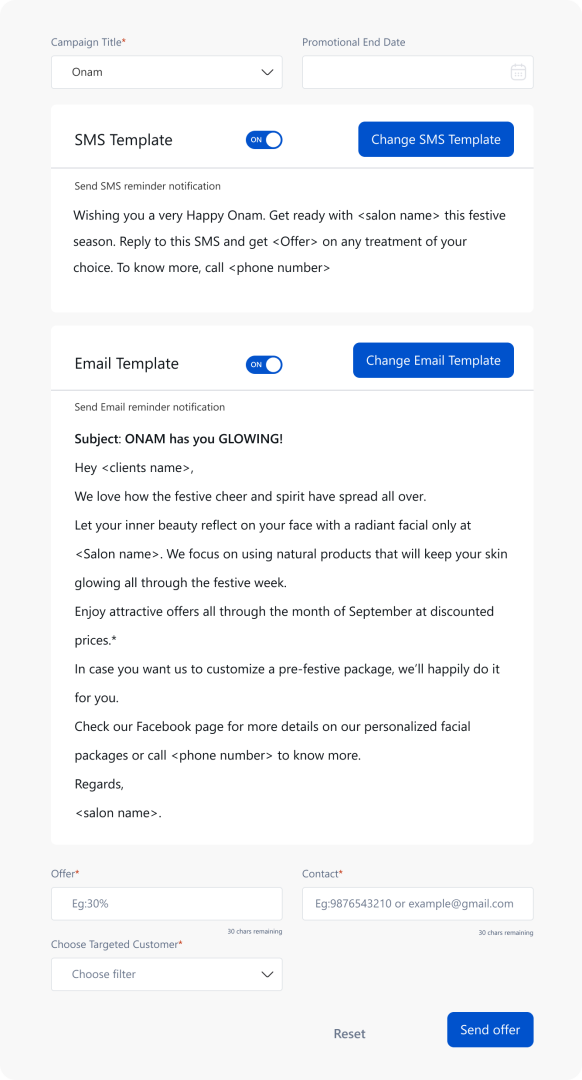 5 Onam SMS Templates for your Salon & Spa
Hi <clientsname>, This Onam, let your inner beauty show on your face. We at <salon name>are offering facials all through the week at special prices.* Call <phone number> to know more.
Wishing you a very Happy Onam. Get ready with <salon name> this festive season. Reply to this SMS and get 10% off on any treatment of your choice. To know more, call <phone number>.
Hey <clientsname>, Do you have the post-festive blues? How does a back and foot massage sound? Get a friend and grab 10% off on a massage of your choice. Use the booking link to schedule an appointment at <spa name>.
We miss you, <clients' name>. Let <salon name> help create the best Onam look for you. Drop by for some fancy hairdos and simple makeup. On a billing of Rs. 1,500 or more, get a special festive gift from us.
Your beauty starts with <salon name>. It's raining discounts, this Onam. Drop by to take advantage of our special festive packages. We have some exciting offers for you. Book an appointment, today!
5 Onam Salon Email Templates
Subject Line: Try these 5 NEW Saree draping styles, this Onam
Hello,
Festivals are all about dressing up in your best attire. Ditch the usual and boring way of draping a saree and try something new.
What <salon name> are super excited to help you look festive ready. Make all heads turn towards you at your Onam celebrations. To reserve an appointment, visit <booking link>.
Always at your service,
<Salon name>.
You may be interested in : Ways to Maximize Revenue with a Salon and Spa Marketing Campaign
Subject Line: ONAM has you GLOWING!
Hey <clients name>,
We love how the festive cheer and spirit have spread all over.
Let your inner beauty reflect on your face with a radiant facial only at <Salon name>. We focus on using natural products that will keep your skin glowing all through the festive week.
Enjoy attractive offers all through the month of September at discounted prices.*
In case you want us to customize a pre-festive package, we'll happily do it for you.
Check our Facebook page for more details on our personalized facial packages or call <phone number> to know more.
Regards,
<salon name>.
Also, read this : Create Your Salon Email Marketing Campaign With These Templates
Subject Line: Unwind with a Therapeutic Massage!
Dear <clients name>,
Festivals are a great way of celebrating yourself but they can also leave you tired. Are you looking at ways to get rid of those post-festive blues?
Well, we have you covered.
We've rounded up some great post-festive massage packages only for you. Our masseurs are trained to redefine relaxation.
Also, get a friend along to avail 5% additional discount on our special packages.
Don't miss this golden chance and visit us as soon as possible or book your appointment today!
Waiting at your service,
<salon name>.
Subject Line: Makeup and Hair under Rs. 1000
Hello <clients name>,
Is your Onam outfit ready? We're sure it is.
Why go through the hassle of doing your hair and makeup on your own when you can get professionals to do it for you.
<salon name> invites you all through the festive week to get your glam look on. What more than this? Get a simple blow dry and basic makeup within Rs. 1,000*. Is it too good to be true? Why don't you check for yourself by scheduling an appointment, visit <booking link>.
Waiting to hear from you,
<salon name>.
Subject Line: Amazing festive-ready Nails for you!
Hello <clients' name>,
Just in time for the festival season, we at<salon name> have created some really trendy nail art designs.
Based on your outfit, we have a whole spectrum of colors to choose from. Whether you fancy gel nails or a classic French manicure, let our expert nail technicians execute it for you.
Click here to unlock this special festive coupon that you can use all through the month of September.
Let us create a memorable experience for you! Schedule an appointment today!
Looking forward to meeting you,
<salon name>.
With MioSalon, Using these Salon Email Templates, you can automate your SMS and email campaigns in a breeze. Use these templates to inform your clients about ongoing discounts and special deals. Staying connected with your clients is the secret behind a profitable and fruitful business.
Send out these exciting festive offers before it's too late and Sign up for a free trial.