10 Ways to Drive Salon Clients With Ganesh Chaturthi SMS And Email Templates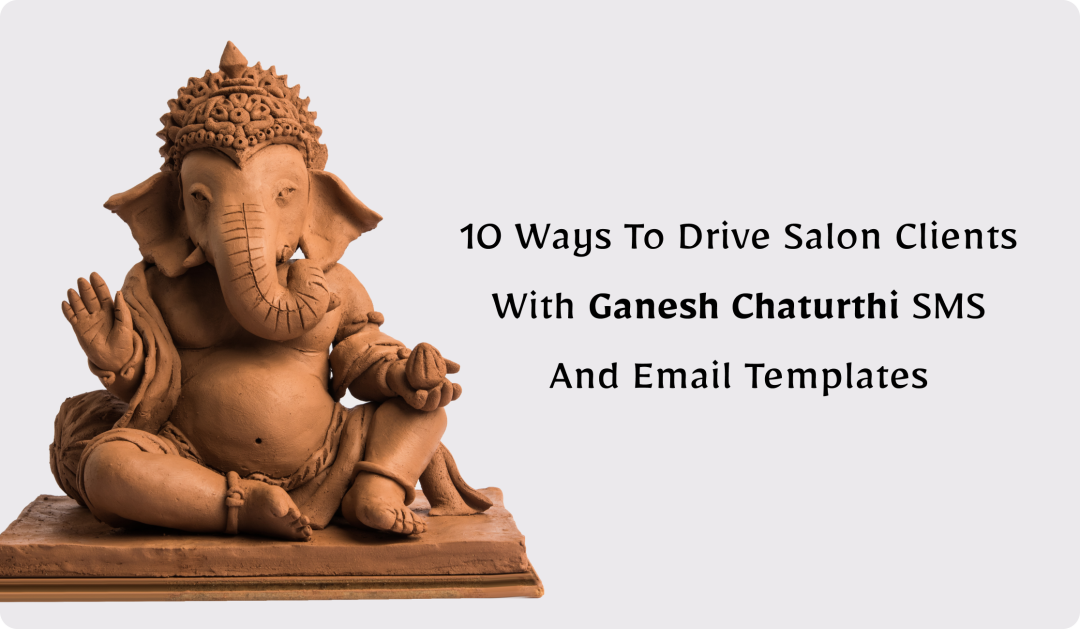 Every year around August or September, the entire country is shaken up by a storm of activities during the ten-day celebration of the auspicious fiesta of Ganesh Chaturthi.
With the celebrations in full swing, brands that belong to various segments are making the most of the festive fervor. They are infusing creativity and innovation in their campaigns to convert into festive sales.
From running contests to creating interesting Ganpati-inspired videos, brands are doing it all. With marketing in full swing, it's high time for salons and spas to start implementing their Ganesh Chaturthi SMS and email strategy.
You might like: Boost Your Festive Sales with Creative SMS and Salon Email Templates
One of the most effective ways to get clients through the door is by using SMS and email marketing. These mediums are usually the go-to strategy for small business owners during the high-volume market season. This is mainly used as the instant and personalized method of message delivery.
In comparison to other forms of marketing, SMS is considered the far most successful in terms of open rates.
Now that a vast majority of your clients are going to open your festive messages and emails, what are they going to read?
Your content has to be pretty darn good to drive them through your business doors during the festive season and after.
Well, our SMS and email experts have curated the best Ganesh Chaturthi SMS and email templates that you can use for a variety of different objectives. Whether it's up-selling gift cards or rewarding client loyalty, we have you covered.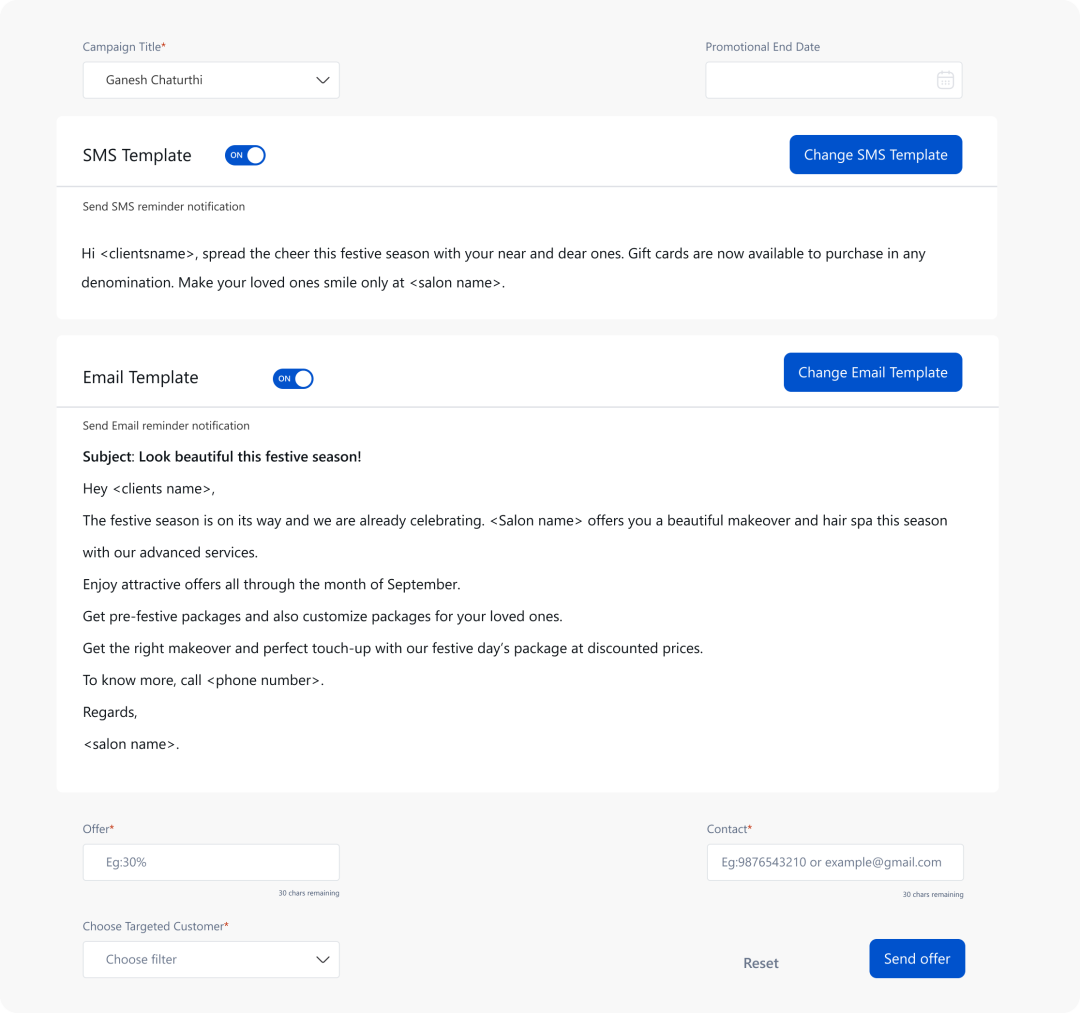 5 Ganesh Chaturthi SMS Templates for your Salon & Spa
➢ Hi <clientsname>, spread the cheer this festive season with your near and dear ones. Gift cards are now available to purchase in any denomination. Make your loved ones smile only at <salon name>.
➢ Hey there <clientsname>, wishing you a very happy Ganesh Chaturthi. Hop in any time until <date> to avail our 3 for 2 offers only at <salon name>.
➢ <Clients name>, what better time than a festival to rock a new look? Book in with us now for your Ganesh Chaturthi celebrations! Call now at <phone number>.
➢ Hey <clientsname>, pamper yourself this festive season! Grab a 10% off on any service* throughout the month of September. T&C apply!
➢ <Clients name>, look your radiant best on the auspicious festival of Ganesh Chaturthi with our facial and spa treatment only at <salon name>. Call <phone number> to book an appointment or avail 10% off when booking online.
Also Read: 5 Promotional Emails You Need To Send Your Spa Clients
5 Ganesh Chaturthi Email Templates for your Salon & Spa
Subject Line: Special offer for you this Ganesh Chaturthi
Hello,
Is the festive season tempting you to pamper yourself?
Well, we have the perfect reason for you. At <salon name>, we have made an attempt to make your holiday relaxing and surprising like never before. Spend time with us this Ganesh Chaturthi and get yourself a glowing look at special prices. To reserve an appointment, visit <booking link>.
Always at your service,
<Salon name>.
Subject Line: Look beautiful this festive season!
Hey <clients name>,
The festive season is on its way and we are already celebrating. <Salon name> offers you a beautiful makeover and hair spa this season with our advanced services.
Enjoy attractive offers all through the month of September.
Get pre-festive packages and also customize packages for your loved ones.
Get the right makeover and perfect touch-up with our festive day's package at discounted prices.
To know more, call <phone number>.
Regards,
<salon name>.
Subject Line: Unlock these festive offers now!
Dear <clients name>,
Festivals are a great way of celebrating yourself.
Here's wishing you a very Happy Ganesh Chaturthi.
We've rounded up some great pre-festive and festive offers for you. Get a new avatar for the festival at attractive prices.
Don't miss this golden chance and visit us as soon as possible or book your appointment today!
Waiting to hear from you,
<salon name>.
Subject Line: Ganesh Chaturthi offer for you and your friend!
Hello<clients name>,
<salon name> invites you and your friend all through the festive week to get your glam look on. Get your friend along and avail of 10% off on any hair treatment or blow-dry.
Embrace your friendship this Ganpati with our advanced treatments. Call your friends now!
To book an appointment, visit <booking link>.
Waiting to hear from you,
<salon name>.
Subject Line: Visit us again! Secret coupon inside!
Hello<clients' name>,
Thank you so much for dropping by <salon name>.
We absolutely loved serving you as much as you enjoyed our services. . It was a pleasure to have you today at our place and it will be an immense delight to have you again.
As the festive season is around the corner, here's a special coupon you can use all through the month of September*.
So, visit us again and get another memorable experience!
Looking forward to meeting you,
<salon name>.
With MioSalon, salon software, automating your SMS and email campaigns is extremely simple. It is a great way of informing your clients of ongoing promotions and getting in touch with those you haven't heard from in a while.
Maximize bookings and sales over the festive period by sending clients your salon offers, straight to their mobile wherever they are. Just set up your message within our software's marketing tool, choose your audience, and decide when you would like it to be sent. MioSalon will do the rest for you.
However, make sure you don't just copy and paste the above templates into your software. You must change the name, salon name, and number to suit your requirement.
Remember, SMS and email marketing are the biggest marketing assets any business can have and this is no different in the hair, beauty and salon, and spa industry. If you are new to SMS and email marketing, get all the guidance you need by reading our expert tips.
And if you are looking to kick off 2019 the right way, why not request a demo of our salon software today? Simply request a demo for our Free Software at this link https://www.miosalon.com/signup.