Summer-ize Your Salon Sales with Clever Marketing!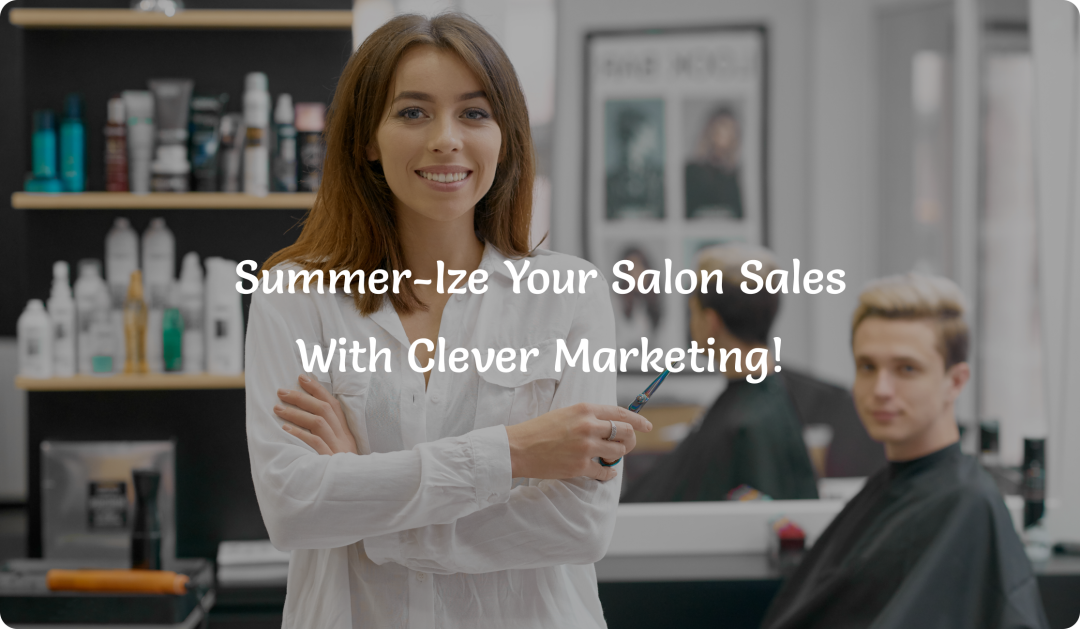 Summer is all about warmer weather, family vacations, kids' home from school, hitting the beach, and enjoying some fun in the sun. While families look forward to summer, it's not always the favorite time for salon and spa owners. Sales in the beauty industry during this time are usually sluggish and businesses face something known as the 'summer slump'.
Also Read: Why Every Salon Owner Needs a Business Plan?
If you own a salon or spa and rely on steady cash flow, this can be a disconcerting time. Summertime blues can slow down your business and affect your overall bottom line.
Instead of brooding over slow sales during summer, how about boosting your salon business with some sensational summer promotions?
Clever Salon Marketing Strategies That Will Ensure The Sales Figure Rises Along With The Temperatures In Your Salon:
1. Increase Your Pre-Booking:
The best way to ensure you have a steady flow of clients even during summer is by catching hold of them before they leave on their vacation. Check your salon appointment software to see when they visited last. When appointments are booked in advance it is beneficial for the client as well as the salon owner to manage their schedule. Once the client schedules their appointment, you can follow up with email and SMS reminders.
2. Add Value Instead Of Lowering Prices:
Many salons are in the habit of cutting down their prices as the temperatures rise. However, we would not root for this one. Unfortunately, cutting down prices reduces your business profits. Instead of selling services for sellers than their worth, boost the perceived value of the products. 3 for the price of 2 is a great offer to run. With this promotion, clients will feel like they are benefitting. However, little do they know that it's only your salon's gain! For example, for clients who opt for a pedicure and manicure, reward them with free nail art. This will surely make them happy. Your clients will appreciate this extra attention and thus want to pre-book their appointments even more.
3. Be Seasonal And Smart:
The maximum sales in the beauty business happen during November and December. Thus, once January comes, salons feel like the number of Salon Marketing Strategies and opportunities is dead. However, this is not always true. Brainstorm a list of summer events that you can take advantage of. The wedding season can help your salon stay busy during summer. You must look at maximizing your wedding offerings. Let your clients know on your salon software that you have curated special bridal packages. Blowouts, up-dos, nail services, and makeup should be part of even the salon's bridal menu while spas can capitalize on manicures, pedicures, and relaxing massages.
4. Summer-Themed Content:
The best way to heat up summer sales is by turning up the heat in your salon. We do not mean that you must switch off your air conditioner. Creating summer-themed marketing messages can attract potential clients. You could also display essential summer products that could boost your retail sales. During summer, a lot of clients come back from their beach holidays with a tan. Your salon is the first place they want to visit to get rid of their tan. You could shape your marketing messages along these lines. This is also a great time to promote massages, facials, and de-tanning treatments. Your retail counter can include sunscreens with a high SPF and self-tanning sprays. You could also create blogs and social media posts around summertime activities including cookouts and beach holidays. Your clients would love to read skincare hacks and general summer beauty tips. You could also conduct a survey on your salon software to ask your clients if they want any beauty hacks for the ongoing summer season.
5. Summer Blowout:
Nothing destroys the hair than humidity and heat. Let your clients know that you offer special treatments to control their frizzy hair. This is a great way to increase your summer revenue. Of course, your clients do not want to go for a brunch or community event with their hair looking like that. To entice them further, you could also offer a free hair wash before the blowout. A lot of women want to maintain a professional and polished look during meetings. Hence, target them with special offers and discounted prices.
6. Sandal Season:
With the temperatures rising, clients ditch their boots and socks for chic footwear, sandals, and flip-flops. This is the time, women want to flaunt their toes and treat those cracked heels. Thus, work towards creating content that will bring in more clients to have monthly manicures and pedicures. You could also offer minimal discounts for premium services. The best way to let your clients know you are doing something different during summer is by introducing new services only for those months. Offering services like skin brightening and deep conditioning treatments are a great way to bring clients through the door.
7. Ditch The Appointment Book:
One common reason why a lot of salons hit the wall during summer is that they are still using an appointment register. With a pen and paper system, keeping a track of your past clients can be quite a nightmare. With salon scheduling software, you can identify the days that appear slower than usual. You could also send out emails and reminders to a selected group of people who most likely need to book their appointments with you or those you haven't seen in a while. You can rest assured that your regular clients will not be spammed. The best source to attract new clients to your salon is by keeping the regular ones happy. They are the ones who are most likely to refer their friends and family to your salon.
8. Stay Positive:
Lastly, it is very important to stay positive. If you change your outlook on your business, there will be no dull season for you. When you speak to your stylists and salon managers, avoid using terms like 'downtime' and 'slump'. Instead, encourage each and every team member to boost personal performance and sales, and revenue in your salon. If any of your staff members is stressed, plan some fun summer activity or incentivize them.
Generally speaking, summer sales figures are low. However, it's in your hands to reverse this. If you follow the above Salon Marketing Strategies, your beauty business numbers will not suffer. At any point, if you feel like your business has slowed down, take advantage of automated marketing, and email and text message for appointment confirmations to target and reach customers better. Click here to learn more about MioSalon, salon software's full-fledged, built-in marketing capabilities.