Tips To Find Out Your Stylist Leaving Salon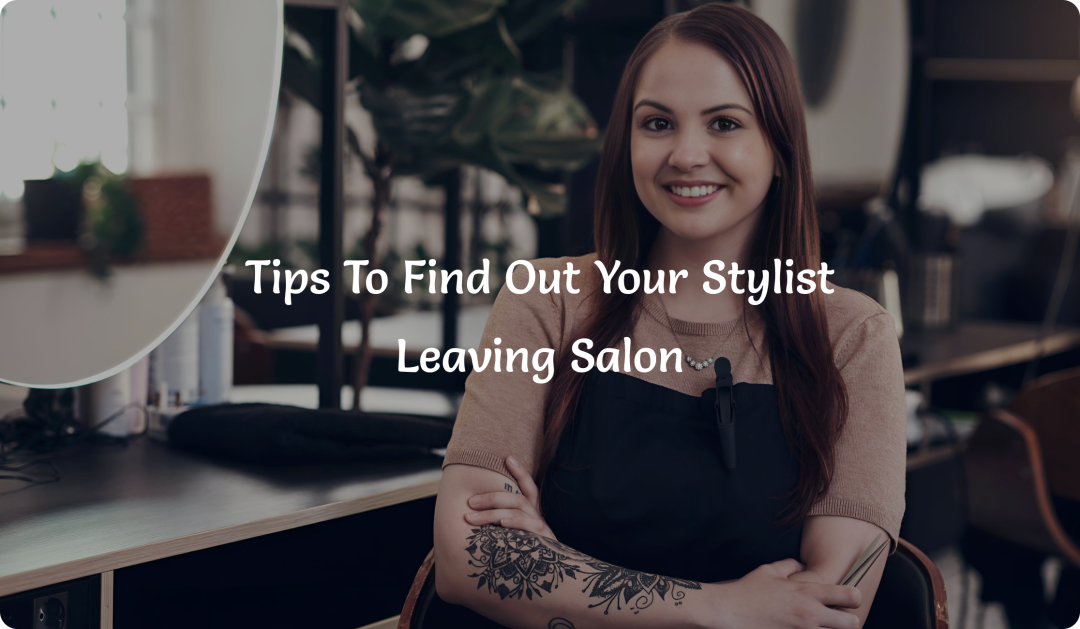 Hairdresser Leaving Salon is really not a good sign. Every salon owner would agree that their stylists and employees are the mainstays of their business. Well, what's a salon without a few good stylists, right? Certain salon owners are even ready to invest in staff training. They do so to reap the benefits of better-skilled employees, increased staff retention rates, happier clients and increased profits.
Also Read: 5 Strategies to Increase Your Salon Profitability
As a salon owner, despite you doing so much to manage and lead your employees, the truth is that they can never be yours. In the beauty business, stylists and therapists tend to move around from one salon to the other in search of better opportunities and job satisfaction.
If you have a stylist who adds more value to your salon than their intended role, you should consider yourself lucky. However, there are times when certain employees feel disengaged. This is the time when they start dropping little hints here and there. If you are prompt enough to catch them, you can turn things around. However, if you're unable to, it will be too late.
We've listed a few signs below that clearly state an employee or stylist in your salon is planning to quit. Read them carefully because it is a cause for concern.
Tips To Find Out Your Hairdresser Leaving Salon
1. Unpunctuality Is Kicking In:
Some people fail to understand the importance of time management. Others tend to develop the habit over time or pick it up from their co-workers. Lack of motivation is also a cause of tardiness. If an employee is regularly late to work, they are probably the future Hairdresser Leaving Salon, pull them up for it and tell them. You could also record their login time on your salon software and show them that they've been late to work continuously. Ask them what the issue is. This also gives them a chance to open up. However, even after you explain to them, if they continue walking in late for work shows they are clearly not interested.
Most Read: What is The Importance of Proper Engagement With Your Salon Staff?
2. They Seem Distracted:
If an employee seems distracted it shows they are unhappy in their current role. 10% of employee happiness comes from motivation and drive. If that is missing, they're bound to feel distracted. Thus, goal setting is extremely crucial for every employee. Give them a chance to prove themselves by setting targets. Beauty parlor software is a tried and tested method to set employee goals and track them.
Most Read: The Best Way To Manage Salon Staff Efficiently
3. They Seem Colder With Clients And Tend To Get Furious Easily:
Your stylists are the main reason you are able to retain clients in your salon. If they misbehave with a client, he/she will never return. Thus, if you notice one of your stylists is not being themselves for a prolonged period, speak to them. Tell them that being rude to a client is simply unacceptable. Most of the time, if a team member tends to express such behavior; it's mainly because of their personal problems.
Most Read: Why One-on-One Meetings Are the Secret to Motivate Salon Teams?
4. They update their social media often:
If you are connected with your employees on social media sites, chances are they post something every now and then. If they've been posting a lot of their work lately, especially on Instagram and LinkedIn, it's a cause for concern. They might be looking at ways to drop hints at other salon owners who are hiring as well. While you can't do much here, you will at least be prepared to kick off the recruitment process in your salon.
Also Check: Tips To Remember Before Setting Salon Software Staff Access Levels
5. Zero feedback from clients and no inputs from them:
Check your beauty salon software to see the feedback received from clients over the past few months. If no client has praised the employee who is showing signs of disengagement, there is a serious problem. Are the same employees even quiet during team meetings and group outings? If yes, they've started to care less about your salon.
Most Read: How To Evaluate Your Salon Staff & Stylist's Performance?
6. They've started to talk about what the future holds for them:
It's normal for a person to question the future every now and then. However, most people question their future, even more, when they find themselves stuck in a certain situation. If a team member is constantly seen discussing their future plans, it indicates they are planning to leave your salon. As a salon owner, it's a good idea to sit with them and ask them what they're going through. Sometimes, your interpretations can be wrong too. You may not be able to help them completely, but it will definitely give them the solace that someone is there for them. Just a little talk is all it takes to change their mind and make sure they stay.
7. They start feeling underpaid:
The beauty business is such that employees often tend to compare their salaries with that of their peers. If a stylist in another salon is getting paid twice as much as them, they begin feeling undervalued and underpaid. If they rattle words such as 'salary' and 'new job' more often than usual, it means they are going to leave very soon. Of course, you cannot fix someone's self-esteem, but you can always justify their salary to them. Your employees' salary depends on how your salon is doing. Of course, you should give them a raise every six to twelve months. If they're still unhappy, let them go.
If a team member is planning to leave your salon, you'll see it coming. These are just a few of the warning signs we've highlighted. As a salon owner or manager, it is important for you to be vigilant. You must try your best to get things together and take the time to listen to your staff. If there's no resolution and a team member comes across as reluctant, you have no choice but to invest in new talent.
The growth and success of your salon matter! Therefore, to simplify salon management, we've created MioSalon, beauty salon software. The goal of the software is to automate and streamline the everyday processes and operations a salon or spa goes through.
If you want your salon, spa, or beauty business to embark on the growth curve, invest in salon and spa software.