Increase Your Salon's Customer Base with Salon Gift Vouchers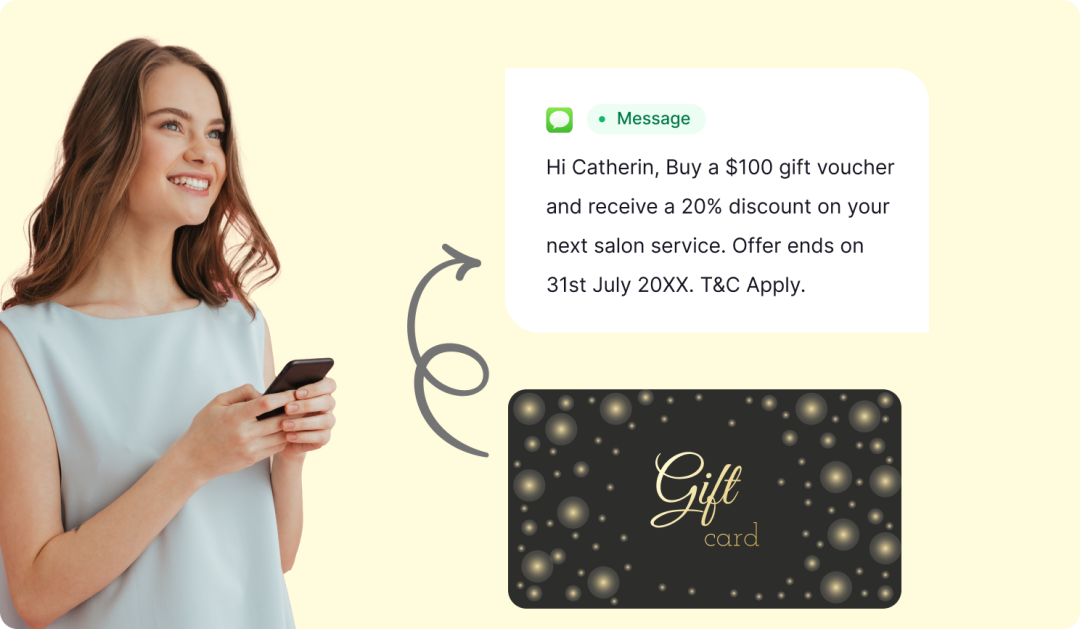 The term "Gifts" itself attracts people, you know why! The curiosity it creates makes it more interesting. Likewise, offering salon gift vouchers to your loyal customers makes bonding with them much more vital and helps you retain them.
Gift vouchers are a great way to retain your customers. It is economical for salon owners as well. You can quickly expand your customer base by using gift vouchers.
We'll discuss the impact of offering gift vouchers in salons and their fantastic benefits to your Business.
Table of Contents:
What is the Impact of Offering Gift Vouchers in Salons
How can you sell Gift Vouchers in Salons?
Why Promote Gift cards in your Salons?
1. Improves Customer Retention
Tips to Increase Salon Gift Card Sales
➢ They Should be a Reflection of your Business
➢ Inform Your Customers That You Sell Gift Cards
How To Set Up Gift Cards Via MioSalon?
What is the Impact of Offering Gift Vouchers in Salon
The impact of gift vouchers in the present world is way higher than we think. It has become so prevalent that even people started buying gift vouchers and gifting them to their dear ones, proving the evolution of gift vouchers.
As per a study, seven out of every ten gift-voucher users have spent more than the value of the voucher, which means that 70% of people spent at least 20% more than the card's value. Moreover, 55% of customers had to return to the Business to use up the whole amount on the card.
These studies show how crucial the role of gift vouchers is in your Business. Doing this not only retains the existing customers but also helps attract new customers.
Here are a few examples of how gift voucher promotions could be:
Buy 1, get one 40% off; Spend $150 and get a $15 gift card;
Buy a $150 gift card for $200 value, or the purchase of a $250 gift card will receive a FREE gift!
The odds are they will spend MORE than their gift card, and you also have an opportunity to re-book them for their next service.
After you start your gift card promotions, you can even run your marketing campaigns effortlessly. Using salon software, you can easily collect a list of your existing clients that you can specifically target and send them emails to promote your gift cards.
Don't forget to utilize your social media to advertise your gift cards. Even a small group of followers can have a high conversion rate if the promotion is enticing.
As your clients spend more time on their mobile devices, it may benefit your Business to allow customers to purchase e-gift cards right from your website. Your clients will appreciate the convenience. Online gift card sales are growing by 29% per year, and the amount loaded on a digital gift card is around 10-15%more than a plastic card.
So you can decide how you c online. You can promote your gift card by changing your call-to-action on your website or social media platforms to "Get a Gift Card."
How can you sell Gift vouchers in Salon?
Nowadays, gift voucher sales have become so prevalent that people have started giving gift cards to their near and dear ones instead of gifts.
The MagePlaza says that over 76% of consumers have bought gift cards for holiday shopping and for gifting their close family members.
This survey itself shows the impact of selling gift cards. So now we'll see how you can sell these Gift vouchers.
You can generate your gift cards and send them to your customers in messages, or if you own a website, you can have a separate page for gift voucher sales.
Doing this will retain your existing customers and bring in new customers quickly.
Why Promote Gift Cards in Your Salons?
1. Improves Customer Retention
Promoting gift cards come under the Loyalty program, which is one of the best customer retention strategies.
A survey by MagePlaza shows that 59% of customers spend more on gift cards than their actual value.
By selling Gift cards, you retain existing customers and quickly drive new customers without great effort.
2. Low Investment Marketing
Minimal investment in gift cards will serve as a good marketing strategy. Brandboy says that in 2015, almost 74.3% of customers said that they were thinking about buying gift cards.
As we discussed above, selling gift cards will drive new customers alongside retaining your existing customers. Both acquiring new customers and customer retention need some marketing strategy to be implemented.
These things are achieved by selling gift cards themselves, contributing to low marketing investment.
3. Increased Brand Awareness
Your brand has become well-known for selling and offering gift cards.
When people require a salon, and if they haven't visited your salon before, they have known you through your gift cards, this will automatically drive them to you.
As we know, many salons struggle with acquiring new customers, making it a significant challenge. However, increasing brand awareness can be achieved without much effort.
Tips to Increase Salon Gift Card Sales
Always remember, gift cards don't sell themselves. You cannot confine them to a dark cupboard and expect them to sell. If you want gift card sales to boom, they should look and play the part. Don't wait for clients to ask for gift cards. Instead, start proactively marketing them. Here are some practical ways to boost gift cards sales in your salon:
They Should be a Reflection of your Business
The design of your gift card should grab customers' attention. It should look like a salon gift card, not a supermarket discount coupon. Make it fancy and attractive because many people give it to their loved ones instead of sending gifts. Get someone to design it for you. If it isn't great looking, it can even put off customers. Also, unattractive gift cards reveal your salon's brand identity. Make sure your chosen color, font, and material resonate with your brand identity. When you invest time in the outlook of your salon gift cards, it drives assured returns too. Consider adding some text on the gift card too. Some examples include "A gift of love and happiness" or "Pamper yourself on your special occasion." As mentioned before, the voucher should reflect your hair and beauty brand.
Besides gift cards, you can even create a bespoke box for high-spending clients. People want a choice when it comes to gifting. Keep that in mind. Also, no gift card is complete without terms and conditions and the date of issue. Discreetly placing this will ensure there is no disappointment later.
Inform Your Customers That You Sell Gift Cards
You can't set up gift cards and not let your customers know. Once you've made your physical and e-gift cards, display them everywhere – on your front desk, website, social media pages, mobile app, salon software, etc. Start sending out emails to your customers informing them about these gift cards. However, don't ever discount gift vouchers. You can only redeem your gift card for service. While you can pre-set the value on the gift card, you can even allow customers to personalize it. For example, not everyone would want to give a gift voucher of Rs. 2,000. However, keep a minimum gift card value.
Run a Holiday Promotion
Which is the best time to promote gift cards? It is the holiday season. Make gift cards the prime instrument of your holiday marketing strategy. Focus on creating holiday-themed messages to lure customers into purchasing more gift cards. You can create unique gift cards for every festival or tie up with a neighborhood vendor to boost sales. For example, you can ask a florist if he wants to keep some of your salon gift cards at his outlet. The goal is to maximize sales.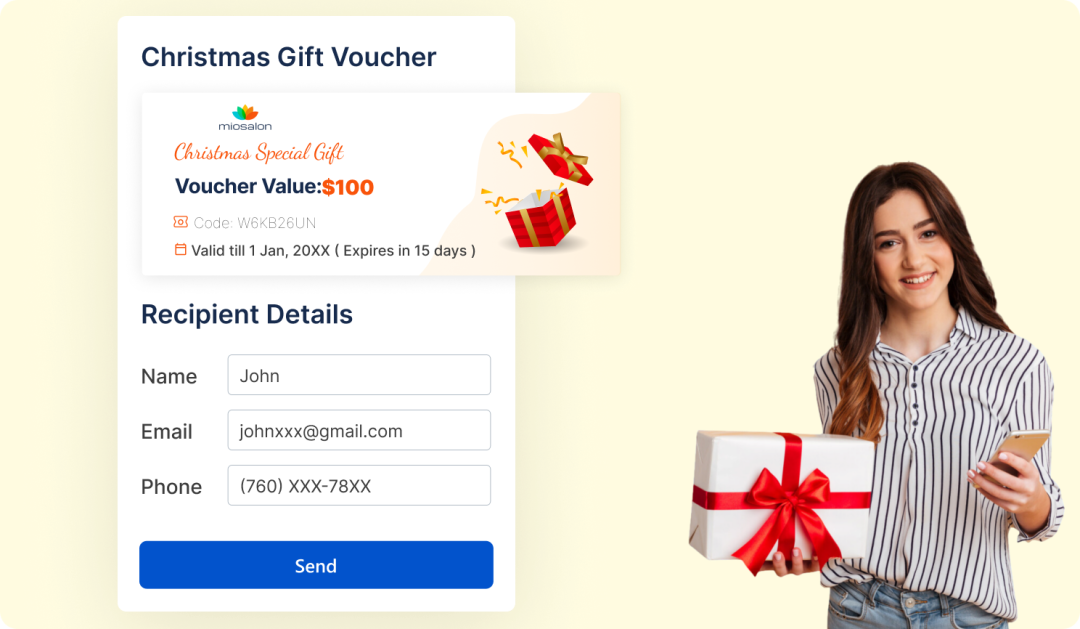 Try Gift Cards Give Away!
Well, we're not kidding! It's a rather versatile tool to market your offerings. Whenever you're feeling a bit generous, you can give your salon big spenders gift cards for free. Ensure the complimentary gift card you're giving them is not high-value. Doing this is a powerful way to remind your clients that you have gift cards for sale. Remember to put low-value gift cards in the goody bags during pop-ups and events.
Gift cards can change the game for your Business. Change your mindset towards them and watch how your business grows.
How To Set Up Gift Cards Via MioSalon?
➣ Navigate to Settings on the menu bar.
➣ Click on Gift Vouchers under Sales Settings.
➣ Click Add Gift Vouchers.
➣ Enter the required details.
➣ Select the required options.
➣ Click on Save.
You can create Gift Vouchers!
Gift cards are crucial to your salon business. When used correctly, it can boost your overall bottom line and bring new clients through the door. Use MioSalon, salon software, to develop your customer base with gift vouchers