Bulletproof Online Booking Experience Designs That Converts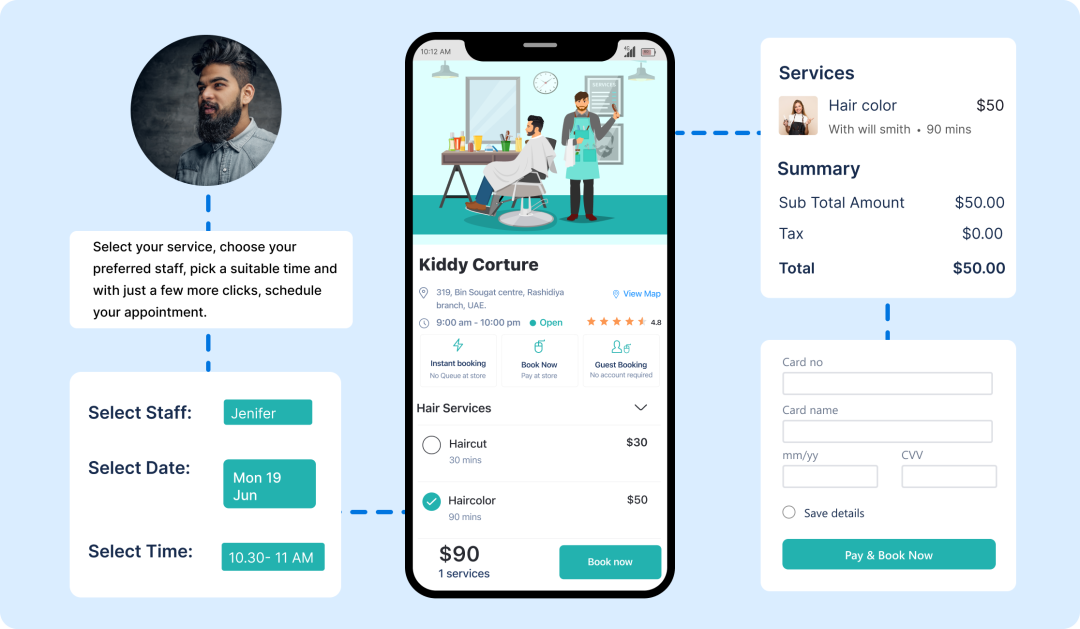 Most salons have a key staff member placed in the front desk of their facility. The role of a receptionist is to answer important customer queries and attend to clients walking in and out of the salon. Between all this, it is also noticed that a receptionist spends a lot of time scheduling appointments and calling clients to remind them of their upcoming appointments.
To be honest, such a practice is extremely time-consuming and offers very little reward. It also results in a significant portion of your day being spent unnecessarily on your phone.
What if the entire process could be automated? Well, with salon appointment software, it can be. It not just helps in providing a better customer experience but also helps salon owners and staff to put their time to better use. Thus, in this hyper-connected world, having a salon online booking system is more important than ever.
Did you know? 35% of salon guests prefer to book appointments online and 25% of millennials will only book online. Now that we know that clients do demand online booking experiences, we have to work to make sure it is fast, clear, seamless and personalised.
Ways To Create An Effective Online Booking Experience For Your Salon Clients
1. Be Quick:
Clients today demand experiences that are quick. If something is taking too longer, they may give up on it. That's mainly because they have so many other things to do. Therefore, while designing your salon online booking system.
Make sure it has the following features:
➢ Book In Few Clicks:
New customers expect to complete a booking in a few clicks. This means, the entire booking process should just take a few seconds. If it takes too long, clients will get frustrated.
➢ Make Download Time Short:
If your booking page is accompanied by any photos or logos, make sure to keep the download time really short. Use pictures of appropriate pixel sizes and modify them for faster download speeds.
➢ Integration:
The whole point of having salon appointment software is to give your clients the freedom of scheduling appointments from anywhere, at any time. Thus, you need to enable your booking widget in two major places that are Facebook and your salon website. With MioSalon, you can easily embed the widget to increase your revenue.
2. Clarity Matters:
Imagine, a client lands on your booking page only to find everything looking like Greek and Latin. Another practice you must try to avoid is confusing a client. For that, you can:
3. Ensure All The Text Is Readable:
Salon software gives salon owner the freedom to change the background and text color of the online appointment page at their will. It is very important to choose colours and contrasts that work well together. You can also use accessibility tools to validate the colour combinations. Also, while choosing fonts make sure they are readable. Using colors and fonts purposefully will create a consistent brand experience for your customers.
4. Use Photographs Sensibly:
The best way to engage with customers is by using visual tools. It also instils a sense of confidence in a customer. When using photos anywhere on your salon appointment software, make sure you don't repeat any images.
5. Keep It Simple:
As mentioned earlier, a client generally has very little time when they're scheduling their appointment. They want to be directed to their particular service easily.
6. Use Clear And Concise Language:
Studies reveal that customers read only 20% of the text on a screen. Hence, make sure your customers can understand what they're selecting without having to read too much. The information should be clear and concise and leave no room for any kind of misunderstanding. Also, avoid using any kind of marketing terms or industry jargons. Use simple language that can be understood by all.
7. Break Up Your Services:
Every salon and spa usually has an extensive service menu. Also, most of the times under every service category, there is a whole range of sub-services. When creating different services categories, make sure they make sense to your customers. For example, Massage can be the main category, under which you can include hot-stone massage, deep tissue massage, Swedish massage etc. Similarly, you can also categorize your services as per type, functionality, customer needs, demographics, customer preferences and convenience. Doing this will make it easier for customers to schedule their appointments quickly.
8. Limit The Number Of Options:
Once you've decided the main service category, list the services under them. A choice of 5-10 service options is ideal. In the first few options, have the primary services displayed without forcing the customer to scroll too far.
9. Personalisation Works:
If you want a potential client to visit your booking page and immediately be converted to a regular client, you have to go the extra mile to make things work. Clients love it when their favourite salon or spa personalises an experience for them. Here's what you can do:
10. Book With a Preferred Service Provider:
An existing salon or spa client will want to book with their preferred stylist or technician when they get to your booking page. Hence, it is important to allow visitors to see the availability and schedule of their preferred service provider at a glance. If you want clients that convert, you need to enable this feature.
11. Enable Rebooking:
Another highlight of salon online booking system is 'making it easy for clients to rebook their appointments'. For example, if you have a client visiting your salon every month for a haircut only, they may only want to see hair-related services and nothing else. Thus, for such clients, it is vital to offer quick rebook options. When you do so, visitors are less likely to abandon their bookings.
MioSalon, salon appointment software, has all the above features to streamline the appointment scheduling process for your clients. Using one can also cut down 80% of the time your receptionist spends on the phone. It's high time you retire your paper-based appointment book. Salon software does a lot more than this. From reducing no-shows to automating rebooking reminders, it saves you time and money.
To discover how MioSalon can help your salon, spa, health and wellness center or beauty business, contact support@waffor.comor request a demo today.