Navigating the Salon Industry in the Post-COVID Era: Tips for Healing and Growth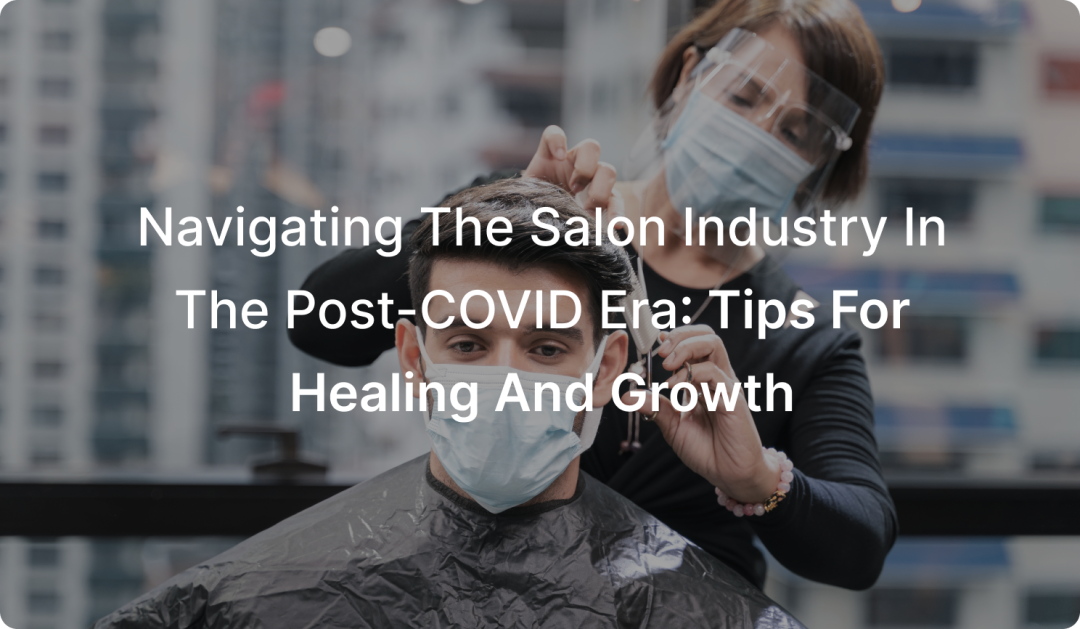 Ever since the world shut down in March 2020, life hasn't been easy. The COVID-19 pandemic hit the salon and spa industry exceptionally hard. A lot of small businesses were even forced to close. While the entire nation was working from home, several hairdressers and technicians lost their jobs. The success of a beauty business revolves around its clients. In fact, it would cease to exist without its loyal customers. However, the spell of the lockdown won't last forever. As they say "The show must go on".
With restrictions being lifted, the beauty industry is slowly reopening for business. Getting back on track after a long gap isn't an easy task. It's important to ensure that adequate safety measures are implemented at all levels to protect employees and clients alike. To get through the "new normal", it is important to provide a touchless and contact-less experience to all your clients. Well, thankfully, MioSalon is there for you every step of the way. The salon management system features have been tweaked to help business owners adapt to a post-COVID world. From easy filtering options to appointment screening, we at MioSalon have added several new and improved features to help you resume your business smartly.
Table of Contents:
Getting Back to the Business: New Features of Salon Online Booking System
1. Appointment Screening Feature
2. Pre-visit Consultation Forms
3. Miscellaneous Feature for Easy Invoicing
4. Retarget Customers with COVID-specific Filters
5. Boost Profitability by Selling Retail Online
Getting Back to the Business: New Features of Salon Online Booking System
1. Appointment Screening Feature
Health screening clients prior to being treated is mandatory in the beauty business since it is predominantly touch-oriented. It also helps you protect your employees. The beauty salon software helps you send out digital appointment screening forms prior to your visit. These consent/declaration forms are fully customizable as per the needs of your salon/spa. The forms are integrated with the MioSalon online appointment booking feature.
As the customer schedules an appointment, they will be asked to duly fill out the form. The form then reaches the concerned salon or spa for assessment. MioSalon then alerts the manager for any possible COVID-19/health risks from the customer. Based on the responses, the salon manager can decide whether they want to accept or decline the booking. The feature is offered free of cost for all businesses as a social cause. This particular feature can be used not just for online bookings but also for appointments taken on the phone.
For example, if a customer schedules an appointment on the phone, the manager simply has to create an appointment on MioSalon and the software automatically sends the customer the consent form via SMS/Email. Once the customer fills out the form, the same procedure follows and the manager can decide whether they want to go ahead with the appointment or not.
2. Pre-visit Consultation Forms
In the beauty business, conducting a consultation is a prerequisite. It ensures a hair stylist can serve their clients in the best possible way. However, owing to the COVID-19 pandemic, a lot of salons and spas are skipping the consultation process since they want the client to stay in the same chair for the entire duration of the service. Well, omitting a consultation doesn't quite work in the beauty business.
A consultation helps the hairdresser understand what exactly the client requires from the service. To tackle this challenge in the new normal, MioSalon has come up with a feature that allows salons and spas to create consultation forms/survey questionnaires on the software. The forms can be sent to all the clients before they arrive at the salon for their appointment. You can use the specific template on the software or customize it as per your own terms and conditions. Clients can choose to fill out the form during their booking or for an appointment taken on the phone, the link can be sent via SMS/email.
3. Miscellaneous Feature for Easy Invoicing
When you reopen your business after a temporary closure, there are several things you will have to do. Purchasing safety gear for your staff, and installing safety dividers and sanitizer foot pedals in your premises are all overheads your business didn't plan for. Well, the good news is that amid these trying times, you can reconsider your pricing structure. It's natural for your revenue to have taken a hit due to the closure.
The only way to make up for the additional expenses is by levying a COVID fee/tax from your clients. However, explain to them why you're charging this extra fee. When they understand that it's for their safety, they will be more than happy to shell out a few more bucks. To ensure the hike doesn't affect your existing prices, MioSalon has included a miscellaneous feature on the hair salon software which can be used during client checkout.
If there are any kind of miscellaneous expenses, you can account for them here. Whether it's the extra COVID fee or the single-use products (foot covers, masks, disposable aprons), you can mention them under this column. It not just helps in easy accounting later but also gives your clients a clear break up of what they're being charged for.
4. Retarget Customers with COVID-specific Filters
In the post-COVID world, reaching out to the right customers will be key as it is your recovery period. The customers who come in for a service are the ones who will be able to determine your revenue and help you bounce back. To ensure the right clients return to your business, you can use the COVID-specific filters on the MioSalon software. It helps you find the clients whose appointments were canceled owing to COVID-imposed restrictions.
It also gives you detailed insights into customer activity. With the customer segmentation feature, you can segment clients on different parameters, and group them as active, inactive, or lapsed. You can also analyze customer data to check if they're due for their hair coloring service since a lot of time may have passed since the lockdown. To lure them back to your business, you can also create special or personalized offers for every client. The key to moving ahead in the post-COVID world is to continuously review customer retention metrics.
5. Boost Profitability by Selling Retail Online
In the new normal, you will have to rethink retail. Having a designated area with all your retail products may no longer work as a lot of customers now prefer a contactless shopping experience. Having each person touch a shampoo bottle or beauty product doesn't go down too well considering the times we're in. With MioSalon, you can boost your retail revenue by having your own online store. This also reduces a customer's in-store visits.
They can purchase their favorite products from the comfort of their home. You can even send out emails to each client with personalized recommendations based on their past purchases. MioSalon's online retail store enables you to sell online even when your operations are off. Besides retail products, you can even sell gift vouchers and memberships which customers can redeem when you reopen. It is also a sure-shot way to maintain cash flow during such times.
Therefore, with these new salon management systems features you can ensure your beauty business thrives when it reopens. Enabling a contactless and touchless experience is the name of the game today. If you too want to automate your business or try out the new features designed for COVID-19, take a 14-day free trial of MioSalon.