MioSalon: The All-in-One Solution for Salon Management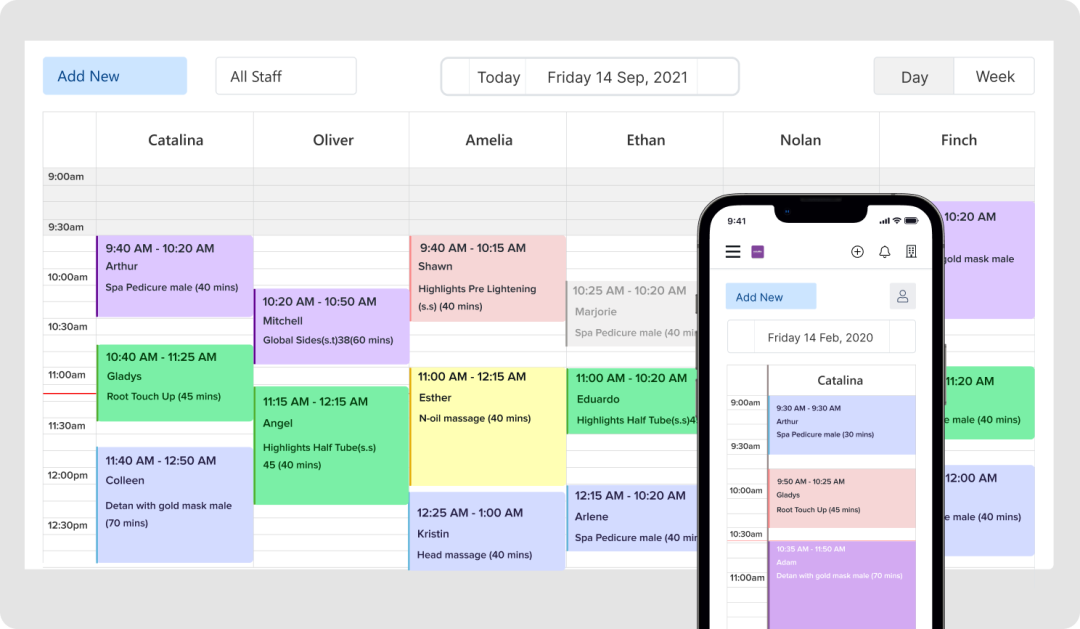 When you own a salon or spa, it is important to know how your business is tracking overall. These days, the beauty industry is extremely competitive. If you want to survive, you have to do things differently. While you can manually track key performance indicators (KPIs), it is quite a time-consuming and tedious process.
Whether you own a hair salon, nail salon, spa, or wellness center, bringing a hint of automation can enhance the profitability of your business. It helps you understand client retention rate, rebooking rate, retail, sales, and staff productivity. Thus, salon and spa management software is a foolproof way to manage your employees, clients, and salon effectively.
No matter what the scale of your salon or spa is, the right salon software can help you bring the best out of it. If you're still in a dilemma about whether you should get MioSalon or not, this guide has you covered. We have highlighted all the benefits of using hair salon software and how it can make a difference to your overall business.
Table of Contents:
1. Simplify Salon Appointment Scheduling Process
2. Implement Salon Stock Control & Monitoring
3. Gain Valuable Insights with Comprehensive Salon Performance Reports
4. One-stop Marketing Solution For Salon and Spa
5. Manage Salon Online Reputation
6. Integrated Point-of-Sale(POS) System for Salon
1. Simplify Salon Appointment Scheduling Process
When you open a salon or spa, you don't do it for yourself or your staff, you mainly do it for your clients. The goal is to offer a rejuvenating, seamless experience to every customer. Always remember, your business is not just defined by the service you offer a client in the chair but beyond that. From the time a client schedules an appointment till the time they get home, you have to ensure you're offering them an unforgettable experience. A good place to start is by offering them a seamless appointment booking process. In today's fast-paced world, nobody likes to wait. Therefore, offering ease in appointment scheduling is imperative. With the right salon software, a client can book their appointment online without going through several gatekeepers. It also gives them enough time to browse through your salon or spa menu.
Research reveals that when a client books online, they tend to spend more. Since they have access to your menu and online store, they might get tempted to book another service or purchase a product. Online booking also significantly prevents no-sand hows and reduces overbooking, walk-ins, and cancellations.
2. Implement Salon Stock Control & Monitoring
A good salon business management software should provide a full stock control system. Inventory control is one process that is often overlooked in the salon. Most salon and spa owners report that it is one aspect they find extremely time-consuming. Running a salon is all about keeping track of stock levels, stock value, and stock orders. With the right inventory management system in place, you can monitor how the internal stock is being used. MioSalon gives you a clear picture of which products you have in stock, in what quantity, and which are near expiry. With salon software, you will never run out of stock again.
Imagine a situation wherein a client comes in for a service and you've run out of product. It can be embarrassing, right? Stock control and monitoring will help you make important decisions. It will also help you understand which products are being used the most and which are not selling at all. Before reordering a particular product, track the appointments you're getting. Remember, the stock is usually a large portion of a salon's expenditure. Therefore, it makes sense to monitor how the money is being spent and what return it gives you.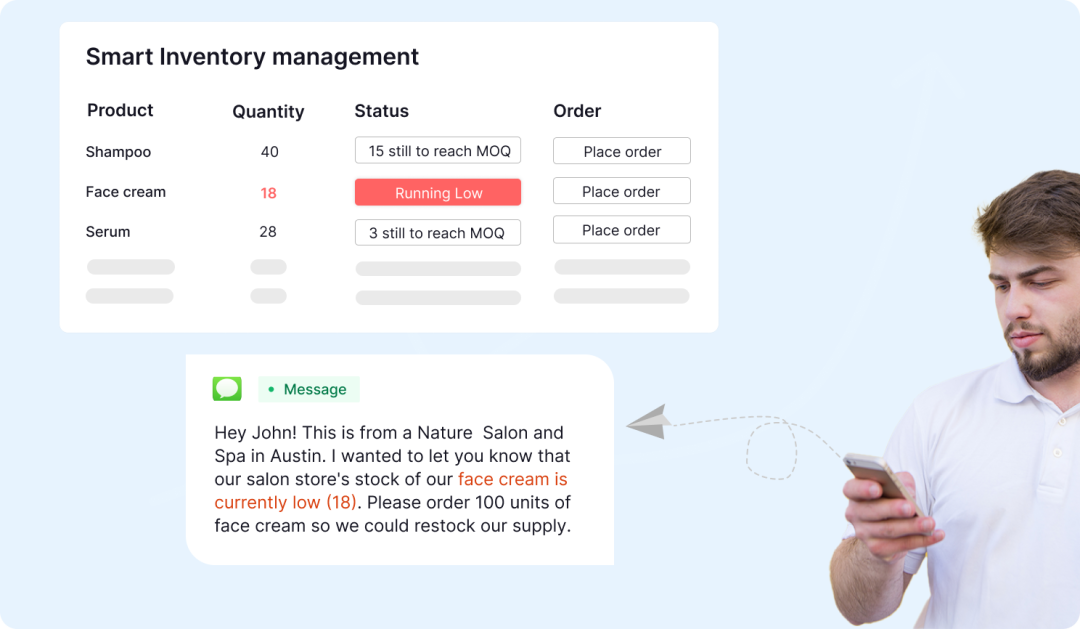 Also Read: Why Use Salon and Spa Product Inventory Management Software?
3. Gain Valuable Insights with Comprehensive Salon Performance Reports
As a salon owner, do you know which employee earns you the most profit, sells the most retail, or works the hardest? It may be difficult to answer these questions as it is impossible to track the productivity of each and every hairdresser or technician. Well, you may not have the answers to these questions but your salon management software definitely does. While you use the software to simplify your daily routine and track appointments, the software quietly collects and analyses all the numbers for you.
At the end of each week or month, all you have to do is just read the reports. Sounds so simple, right? Well, this is one of the major benefits of having salon management software. Think of it as your business partner or accountant. It gives you a clear picture of where your business is now and what you need to do to get where you want to be. Also, with spa software, you can bid goodbye to paper transactions as everything happens on the cloud.
All your business history is stored in one centralized location and you don't have to worry about anything.
Here are some of the reports you can generate on your salon and spa software:
➭ Client Retention Rates: An essential area you need to pay attention to in your salon is how many clients are returning and how many are not. It also gives you an idea of how well your employees are retaining your clients. The best part of having a salon management system is that you don't just get to see the reports but also take some kind of action. If the reports suggest that certain regular clients haven't rebooked with you in a while, you can automatically link it to your marketing and send out an automated reminder via SMS or email asking them to book. This plays a major role in retaining clients.
➭ Retail Sales: If your salon or spa has a retail counter, you obviously want your products to sell like hotcakes, right? The best way to boost the profitability of your business is by selling online and tracking the sales. A hair salon software will help you understand how many products are being sold in a month. Since it gives you a clear picture of retail sales, you can even prevent any kind of employee theft, fraud, and pilferage.
➭ Staff Productivity Analysis: As mentioned earlier, your salon software is effectively your "silent salon manager". It helps you every step of the way by analyzing neglected areas of your business. With MioSalon, you can ensure the wheels of your business are running smoothly. The software helps you generate staff performance reports, total hours booked, product sales, and client retention rate per employee. Based on the insights you draw; you can even incentivize each team member.
4. One-stop Marketing Solution For Salon and Spa
Marketing is an essential part of your business. You can't just open a salon and tell no one. To keep your business afloat, it is important to keep customers informed of new developments, offers, and promotions. In reality, marketing is a difficult process to coordinate. It can be very expensive too. However, with MioSalon, salon management software, creating positive word-of-mouth for your business isn't as difficult as it seems. The software helps you create campaigns for upcoming events and festivals and allows you to automate SMS and email communication for ongoing offers.
Both these features help you stay in touch with your clients. For example, for a first-time client, your system automatically sends out a welcome message, or if it's a special occasion such as a birthday or anniversary, automated discount coupons are sent out. Automated marketing allows you to set up responses for every kind of occasion. This means you don't have to personalize an email or SMS for each and every client. Based on the criteria you enter on the software; emails will be sent out. MioSalon also has a set of SMS and email templates that can be tweaked as per your marketing. This feature not just saves immense time but also allows you to stay in touch with your clients while you handle more important business processes.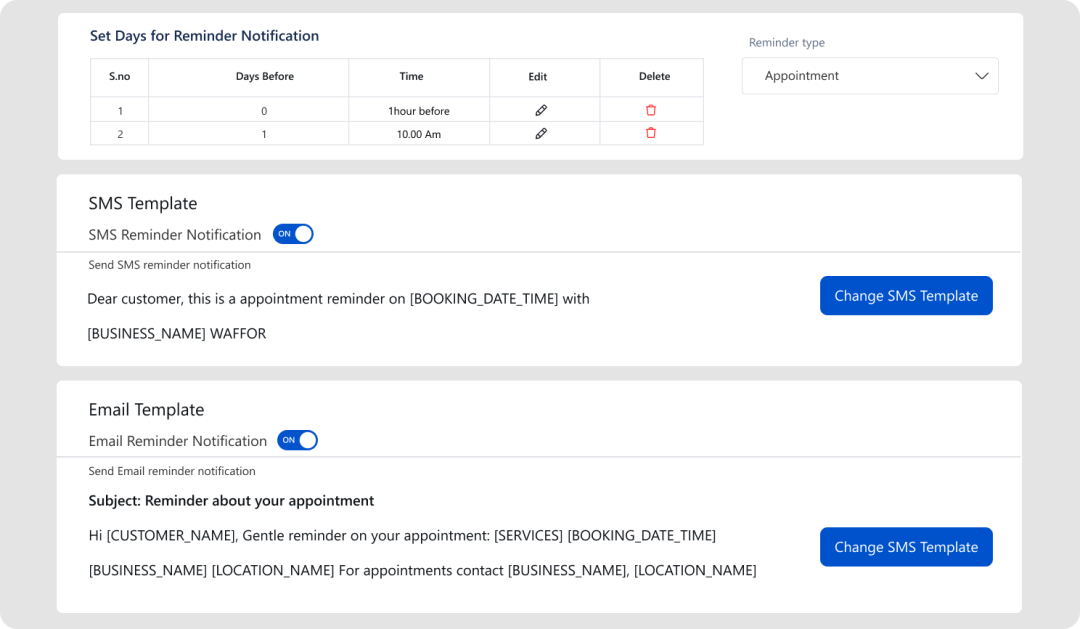 Another way in which salon software helps with your marketing activities is by recording key client information. Client phone numbers, email addresses, and past service and purchase history are all stored in a cloud. You don't have to worry about maintaining records. The entire process is paperless. This feature allows you to send out personalized messages to new as well as existing clients.
Once you gather enough data about every client, you can personalize the communication. For example, if you have a client coming for a hair colouring service, use your software to track when they're due for their next touch-up. A few days before, you can remind them that they're due for their service. Technology really helps enhance the overall bottom line of your salon. Amid the everyday hustle and bustle, salon management software is all you need to make the client journey smoother and instill a sense of trust and loyalty.
Also Read: How Salons Can Attract New Clients by Using Google My Business!
5. Manage Salon Online Reputation
Beyond managing the operations of your business, MioSalon also gives you complete control over how people treat, react to, and rate your business online. A salon and spa management system ensures your business shines in good light. It matters to your salon as it helps you manage feedback and helps you control what's being said about your business on social media.
Remember, in the beauty business, no matter how hard you work, you cannot make every client happy. There will be a certain percentage of clients who will express negative feedback towards your salon or spa. If steps are not taken to turn these negative reviews into positive ones, the reputation of your salon will be hampered forever.
The feedback feature in the MioSalon hair salon software ensures you gain more 5-star ratings through automated settings. It also helps your salon stand out from your competition online and improves the overall ranking on Google.
Another feature that helps you track negative reviews is feedback alerts. When anything bad is being said about your salon or if a client gives you a 1 or 2-star rating, an alert will immediately pop up. The clear and concise dashboard also allows you to respond to all feedback from one central location.
Tracking client feedback is an important aspect of managing your business and MioSalon is right here to help you every step of the way.
6. Integrated Point-of-Sale(POS) System for Salon
Another advantage of getting a salon management system is that it has an in-built point-of-sale system. Every salon owner would agree that handling client checkout can be quite a painful process. With MioSalon, guest check-in, sales transactions, invoicing, receipts, and payment management all happen at the click of a button.
Since it is a completely transparent process, it also enables easier accounting. Clients also have the option to pay through multiple payment modes such as cash, card, or UPI. With a centralized payment system, you can even track prepayments and pending payments. When you get proper financial control of your business, you can definitely run it better. It also minimizes any kind of loss and ensures you flourish in the long run.
Also Read: Unleashing the Power of a Salon POS System
7. Remote Access Management
Hair salon software makes it easy for salon owners to work from anywhere. Since not all salon and spa owners have the luxury of free time, they can monitor what's happening in their business without being physically present. You can look at reporting, handling stock orders, and setting up marketing from anywhere. It even simplifies the appointment booking process since it happens online. It keeps your business open even during non-operation hours.
The ability to handle multiple salon operations on the move is what makes MioSalon the most sought-after choice of most salon owners.
MioSalon, the beauty salon management software, is curated to help new as well as seasoned salon owners manage their businesses better. When you automate every single aspect of your business, you will realize that there is a significant improvement in your overall bottom line. The way you manage your salon or spa matters to us and thus to simplify the process, we have MioSalon for you. Try out our FREE version now!